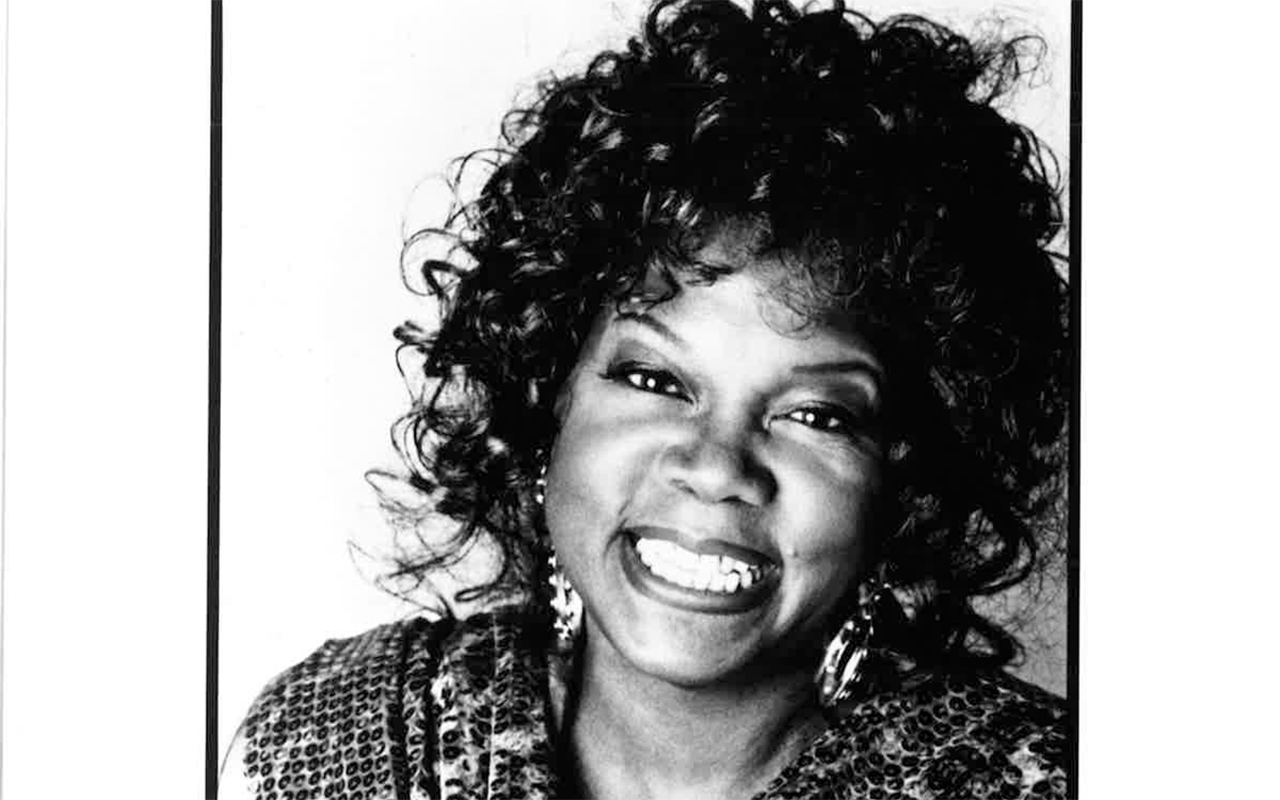 Ernestine Anderson photo by Kip Lott
International Jazz Giant Ernestine Anderson
November 11, 1928 – March 10, 2016
Born in Houston, Texas, international jazz great Ernestine Anderson passed away peacefully yesterday (March 10, 2016), surrounded by her family in Seattle where she had resided since the age of 16.
Anderson's career began in the early 1940's though she had begun to sing along with Bessie Smith records at age 3. Equally gifted at singing upbeat, spirited blues, big band/swing and jazzy pop, her early career led her to sing alongside Russell Jacquet, Eddie Heywood, Shifty Henry and Johnny Otis. By the 50's Anderson had become a prominent jazz stylist performing with Lionel Hampton on the New York Club scene.   Ernestine performed at the first and many subsequent Monterey Jazz Festivals. Prior to recording her breakout hit album Hot Cargo in 1956, Anderson had also performed with a Seattle contemporary and fellow Garfield High School graduate, Quincy Jones. Anderson and Jones would eventually reunite when in 1994 his Quest Records label produced her timeless album, Now and Then, followed by Blues Dues, and Love News, which featured songs penned by Anderson. Jones described Anderson's voice as, "honey at dusk."
Anderson first recorded in 1955 with bandleader Gigi Gryce. Recording two albums by 1959, Ernestine Anderson won the New Star Award from Downbeat critics. In 1969, Anderson's He Says He Loves Me, recorded for the soundtrack of the Sidney Poitier film "The Lost Man," garnered great international attention making her a highly in-demand singer and after signing to Concord Records she released Hello Like Before. By the mid 1980's Anderson was cutting sessions with her own quartet and her 1981 album Never Make Your Move Too Soon garnered her first Grammy Nomination. Anderson would be nominated for a total of 4 Grammy's, in the categories of Best Jazz Vocalist and Best Jazz Female Vocalist.
A significant contributor to jazz history, Anderson's six-plus decades career resulted in the release of more than 30 albums. In 1958, Time Magazine featured her stating, "The voice belongs to Negro Singer Ernestine Anderson, at 29 perhaps the best-kept jazz secret in the land." But Anderson was no secret to jazz lovers and admirers of accomplished African Americans around the world.   In 1999, Pulitzer Prize-winning photographer Brian Lanker selected Ernestine as one of only 75 women to be featured in his book, I Dream a World: Portraits of Black Women Who Changed America, alongside Rosa Parks, Coretta Scott King, Sarah Vaughn, Oprah Winfrey and others.
"Ernestine was mother of Seattle's soul music," said Congressman Jim McDermott. "Mississippi had BB King and Seattle had Ernestine Anderson. Ernestine's legacy remains unmatched in Seattle's music scene. She was a dear friend and will be greatly missed," he continued.
Ernestine Anderson created many memorable moments around the world, and at home in Seattle. She performed a tribute to Ella Fitzgerald at Carnegie Hall, performed with Billy Taylor at the Kennedy Center, and added her voice to The White House first inauguration event for President Dwight D. Eisenhower. A crowd of over 10,000 joined her at Marymoor Park in Kirkland, for the last strains of Never Make Your Move Too Soon, during the 1988 Kool Jazz Festival, and New Year's Eve at Dimitriou's Jazz Alley became a much-anticipated event for the many years that Ernestine was the evening's featured guest.
Ernestine lived a fulfilling life. Her devotion to family kept her in Seattle where she could be close to her beloved twin sister Josephine, who preceded Ernestine in death. One of Ernestine's proudest moments was in 1994 when she and her sister had a rare chance to do a benefit together for Childhaven. Pheeney & Me featured a concert by Ernestine and the watercolor art of her sister Josephine, at the Seattle Art Museum. The event was the subject of a documentary called The Very Fine Art of Ernestine and Josephine Anderson.
Her eldest daughter Shelley describes her mother as, "One of the most generous individuals you could ever meet, and extremely committed to her city." When the Pacific Northwest Branch of the National Academy of Recording Arts and Sciences (NARAS) opened its chapter in Seattle in 1997, Ernestine was an inaugural member of the Board of Governors.
"Ernestine was a giant of the jazz community and a Seattle ambassador to the world," said Mayor Murray. "She represented the best of our city. Her work was a vibrant part of our community's culture. I will never forget her performances and I feel fortunate to have witnessed her artistry and genius. Her recordings will live on and influence other musicians for years to come."
Anderson routinely accepted invitations to perform at benefits for local charities and causes. Her 1998 70th Birthday Bash at Seattle's Paramount Theatre was a benefit for Children's Hospital and the Rise n' Shine Foundation. At this event, Ernestine showcased the music of her beloved high school alma mater, performing with the Garfield Symphony Orchestra, conducted by Seattle's Marcus Tsutakawa.
Performing with and mentoring young Seattle musicians was a true passion for Ernestine. She was an early mentor for young musicians in the Seattle Theatre Group's More Music at the Moore, program and delighted in performing with a mixture of young and seasoned musicians on the Paramount stage again in 2008 for a Lifetime Achievement Award Tribute to Quincy Jones. Ernestine was his big surprise, joining Buddy Catlett and Clarence Acox anchoring a quartet, for a beautifully delivered rendition of My Ship.
Though her physical voice has been stilled, the sound of her beautiful and diverse vocal styling will continue to bring a unique kind of musical experience to listeners for decades to come.
The 2003 David Dicaire publication, Jazz Musicians of the Early Years, to 1945, lists Ernestine Anderson as among those whose influence stems from the legendary Ethel Waters. Among them, greats such as Lena Horne, Ella Fitzgerald, Billie Holiday and Josephine Baker. The influence Ernestine Anderson has had on generations of jazz vocalists will soon be recounted, while her voice lives on in the numerous recordings she so lovingly gave to the world. Perhaps her lasting impression is best illustrated in the words of Etta James, "She can sing the blues, and she can sing a ballad. She can swing you out of the country!"
Ernestine is survived by 3 children, 8 grandchildren, and 4 great grandchildren, and a host of friends around the world.
The family asks that their privacy be honored while they mourn their beloved and that all inquiries are sent to the above email address. A public memorial celebration is being planned for early April to take place in Seattle.
-Courtesy of Vivian Phillips, on behalf of the Anderson family