Ab Baars
November 5, 2020 @ 8:30 pm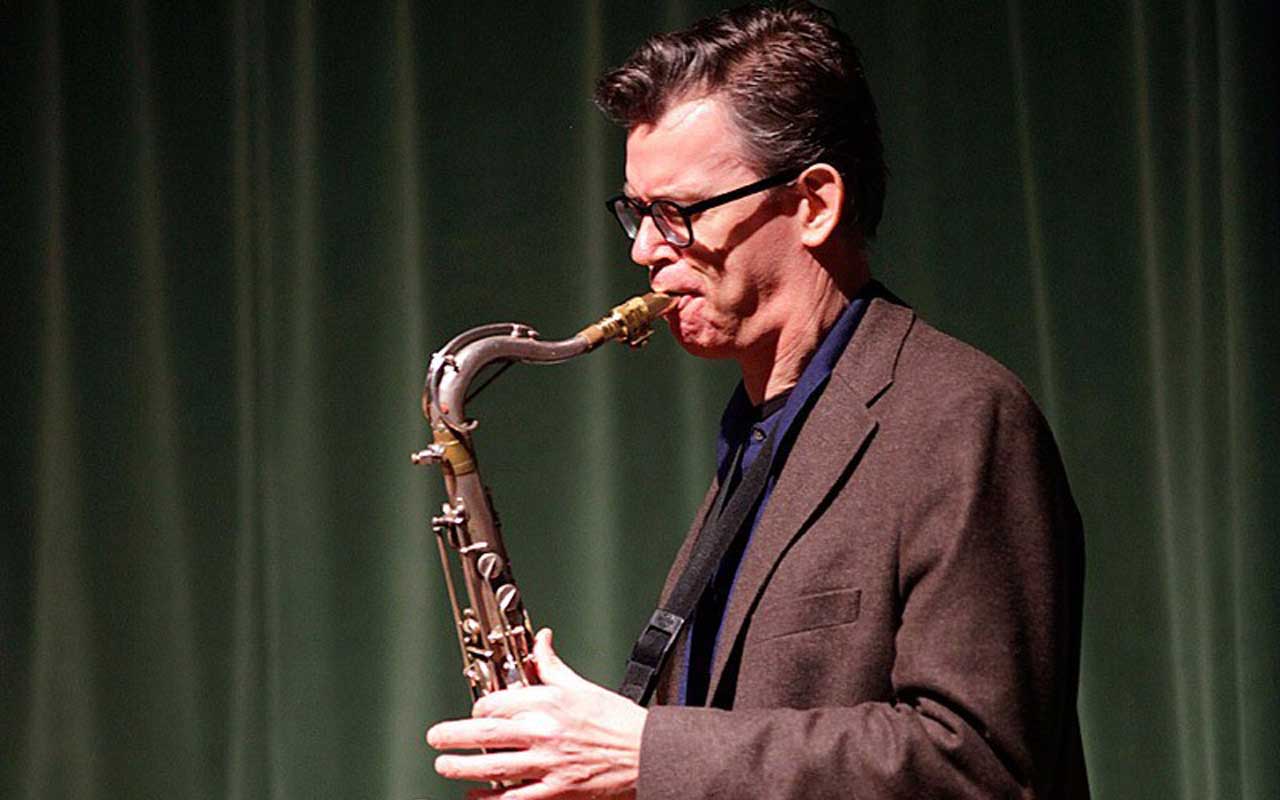 Ab Baars photo by Daniel Sheehan
TICKETS: $10-25
EVENT NOTES:
The is a solo event with Ab Baars.
This is a pre-recorded event filmed for Earshot Jazz on Friday September 25, 2020 at The Villa in Wormerveer, the Netherlands.
The video was created by Emma Fischer and the painting in the video was created by Ab Baars.
Livestream broadcast at 8:30PM PST. Not available on demand.
Dutch master Ab Baars performs solo on tenor saxophone, clarinet, and shakuhachi. Baars' music is characterized as joyfully obstinate and is as colorful as it is astonishing.
Earshot fans are no doubt familiar with stellar second-generation New Dutch Swing reed man Ab Baars, thanks to his many appearances here with the ICP Orchestra and his own small groups, but they may not know his estimable solo work, which will be the focus of Baars' festival show this year, streamed live from his Amsterdam studio. A 1989 recipient of Holland's most prestigious award, the Boy Edgar Prize, Baars is a unique reed player. He uses an Albert system clarinet, which has fewer keys than the more modern Boehm system, thus requiring a variety of alternate fingerings that coax players to make new choices and leave behind old habits, in much the same way Steve Lacy used to challenge himself by avoiding or creating certain practice patterns. Baars also plays shakuhachi, that most resistant of Japanese flutes, and tenor saxophone, on which he elicits a colorful, fearless palette that owes a debt to Archie Shepp. But whichever horn is in his mouth, Baars exercises consummate technical control while letting his improvisations fly where they might.
Baars plays all three instruments on his solo albums And She Speaks – A Collection of Ballads (2018) and Time to Do My Lions (2008), which reveal a subtle, nuanced, abstract approach to improvisation. Leaping in a trice from a lowing caress to a pyrotechnic squall—with judicious silences setting off his phrases—Baars can be a bit puzzling, at first, until you realize snippets of the melody or harmonic benchmarks are surreptitiously slipping into his lines. Favorites on And She Speaks include the hauntingly beautiful "Naima Blue Saphir" and the playful "Blame It On My Youth Cadmium Red." In an email Baars writes that he will be using his full arsenal for the Earshot show and will play "a few new compositions and something by Misha Mengelberg and John Carter."
–Paul de Barros
Information about the concert and a set list provided by Ab Baars.
Concert recorded on Friday September 25, 2020 at The Villa in Wormerveer, the Netherlands
Video created by Emma Fischer
Paining in video by Ab Baars
Ab Baars tenor saxophone, clarinet and shakuhachi
– How else will they touch the field of stars  tenor saxophone/composition Baars
words are an excerpt of an essay by Buddhist teacher Tarthang Tulku
– Gammer, for Misha Mengelberg  clarinet/composition Baars
– Open their wings of indigo color  clarinet/composition Baars
A line from the poem Bobo's Metamorphosis by Czeslaw Milosz
– Improvisation  shakuhachi/composition Baars
the temple bell stops/but the sound keeps coming/out of the flowers – Basho
– Woodmen Hall Blues  clarinet
a composition by John Carter
– Portrait of Bechet  tenor saxophone/composition Baars
excerpt from an interview with Evan Parker, who talks about Numar Lubin who talks about Sidney Bechet
– The nearness of you  tenor saxophone
words by Ned Washington, music by Hoagy Carmichael
These are challenging times for artists, please give them your support: http://stichtingwig.com/abBaars/AbBaars.html