Ahamefule J. Oluo Jazz Quartet
October 29, 2020 @ 8:30 pm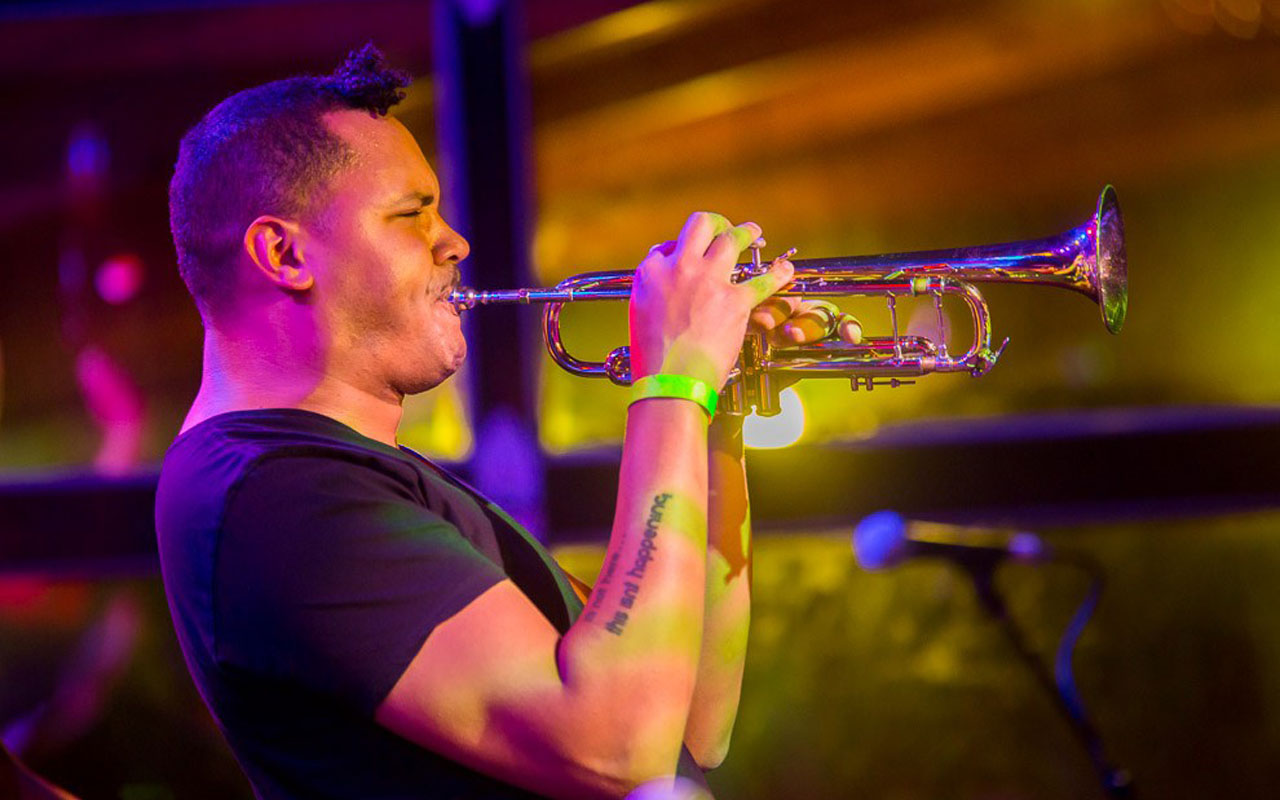 Ahamefule J. Oluo photo by Daniel Sheehan
TICKETS: $10-25
EVENT NOTES:
The Ahamefule J. Oluo Jazz Quartet ensemble includes Ahamefule J. Oluo (trumpet), Tim Kennedy (piano), Geoff Harper (bass), and D'Vonne Lewis (drums).
Presented live from The Royal Room Seattle.
Welcomed by Rainier Avenue Radio
The Resident Artist of this year's festival presents his driving new quartet from the jazz-friendly vibe of the Royal Room. Tim Kennedy (piano), Geoff Harper (bass), and D'Vonne Lewis (drums) accompany the outstanding trumpeter.
This live performance will be the debut of the Ahamefule Oluo Jazz Quartet on an official bill, plus will be Oluo's first time performing with real-time collaborators since the onset of COVID-19—what a treat! The multi-Award-winning polymath who brought us the indelible genius of Now I'm Fine, Susan, Thin Skin, and Industrial Revelation emerges from his cabin studio to stun us with his new line-up that satiates a more technical restraint and acoustic dimension of his jazzmanship.
When left to his own devices, Oluo innovates. He adapts. His artistic default is non-populist. His executive approach tweaks conventional assumptions of the jazz genre. However, he also simultaneously has amassed an archive of more relaxed originals that he is looking to dust off, which luckily for us comes in the articulate incarnation of Tim Kennedy (piano), Geoff Harper (bass), and D'Vonne Lewis (drums) accompanying the trumpeter ace himself.
The camaraderie of jazz is inherently collaborative, so COVID-19—the semi-truck-sized wrench in our 2020 lives—put Oluo's adaptation skills to the test. He optimistically shares, "Unfortunately, remote jamming has been difficult, but what has been great has been the opportunity to work on a small number of things that I wouldn't normally have been able to work on."
The musical pariah goes on to paint, "There's a lot of people that I love working with who are normally very busy with always touring…but now they're not doing that so I've had a chance, in a safe way, to bring individual people out to do songwriting sessions and recording experiments to try things without the expectation of having to make something."
Even before the pandemic, space and time have always been coveted resources for artists, which Oluo ratifies, "The only thing that we actually have right now is time… so it's been really great to use that time to try things I wouldn't normally try and collaborate with people that I don't normally get to collaborate with."
It's newly presented collaborations like this quartet that have surfaced for Oluo in 2020. Even though Oluo has uncompromisingly built his creative career out on the cliff's edge and thrown caution to the wind, the Ahamefule Oluo Jazz Quartet cements his ability to engage listeners during challenging times while remaining an erudite experimenter.
–Zach Frimmel
These are challenging times for artists, please give them your support: http://nowimfine.com/