Ahamefule J. Oluo: The Music from Susan
October 18, 2020 @ 7:00 pm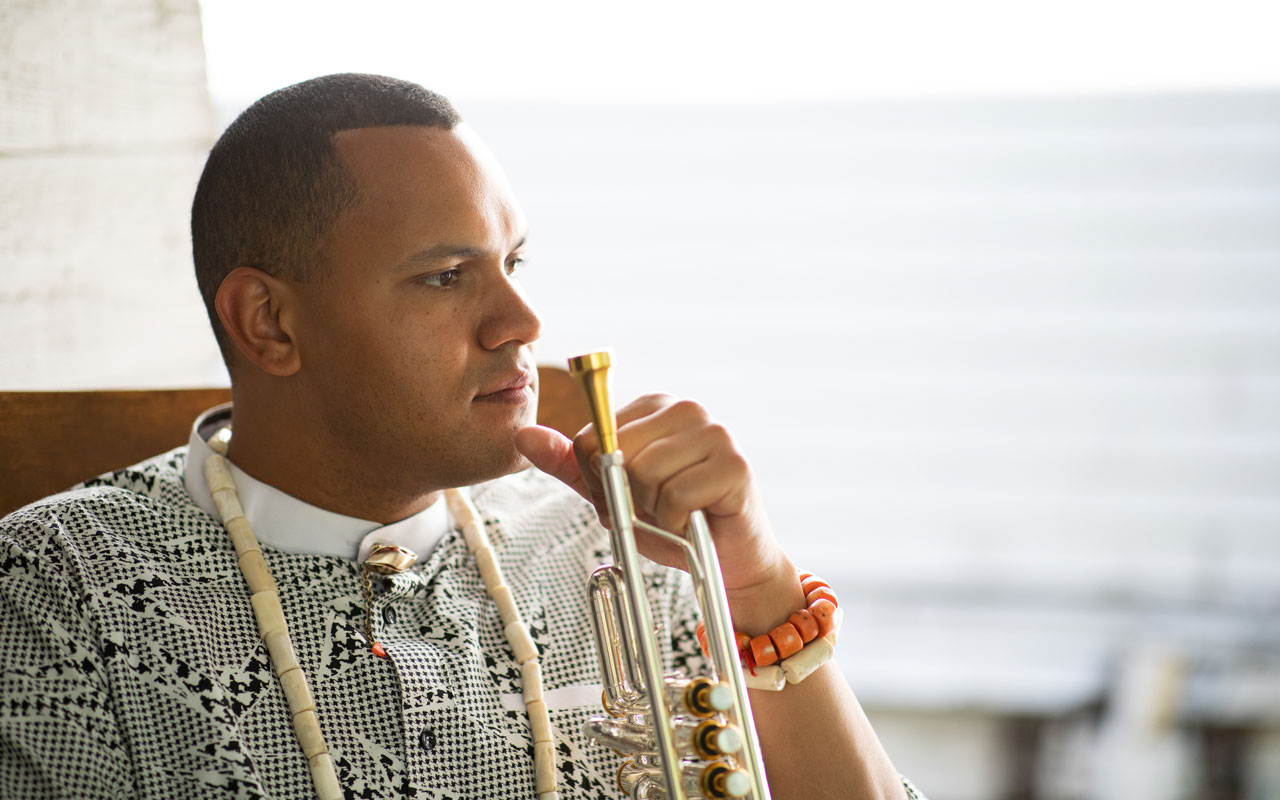 Ahamefule J. Oluo photo by Naomi Ishisaka.
TICKETS: $10-25
Welcomed by 91.3 KBCS
The first of three festival performances featuring this year's Resident Artist, Ahamefule J. Uluo
His Susan intersperses jazz with soul-baring stand-up to evoke his mother's astonishing life. Filmed at On The Boards, his large ensemble includes vocalists okanomode and Tiffany Wilson, saxophonist Skerik, and pianist Marina Albero.
Since March, Ahamefule J. Oluo—this year's Festival Resident Artist—has been creatively churning in his Pacific Northwest cabin studio (with tawdry Internet connection), honing his craft as one of Seattle's jazz com­posers, trumpeters, comedians, and experimental luminaries. Susan is one of Oluo's most immersive, dark-humored, and autobiographical jazz performances to date that features the unparalleled vocalists okanomodé and Tiffany Wilson, saxophonist Skerik, and pianist Marina Albero. Through the ensemble's max-flavored com­positions, Oluo's memoiristic stand-up comedy, and personally painful punchlines in Susan, Oluo has not only introduced his own neologism for performance, but has also begun to refine it.
Oluo says his 2020 has been "as good as it can be, given the circumstanc­es" as this year was supposed to be a (much deserved) banner year for Susan to finally take it on the road after five years of incubating. But obviously 2020 touring is not happening now as all engagements are on hold until it's safe to reconvene.
In the meantime, this event showcas­es the up-close footage and immersive jazz excellence while performing S_u_s_a_n_ _at On the Boards in Seattle. Susan is titled after Ahamefule Oluo's mother. Oluo's opus honors her as the support­ive-but-complex, white, Midwestern wife who married a Nigerian chief, but who was left to raise Oluo and his sib­lings single-handedly.
If Now I'm Fine, Oluo's 2014 avant-comedy jazz-opera, was an intimate exhibition of his own persistence to not give up on himself despite a series of dishearteningly unfortunate events, then Susan is about his and his moth­er's persistence to better understand their intersectional identities and nu­ances. As a second storyline, Oluo also chronicles his empirical exploration to visit his extended family back in his biological-but-mostly-absent father's village back in Nigeria.
The mellifluous compositions from Susan—like "Man from Obibi" from Industrial Revelation's 2015 Liberation & the Kingdom of Nri—take the au­dience on an holistic journey through the heart, mind, body, and logos of Ahamefule Oluo through tension-based storytelling and arrangements, honeyed melodies of hope, and sinu­soidal tempos that match the undulat­ing tempests of his episodic experience and relationships.
The orchestral energy of Susan is vis­ceral and powerful with a range of de­lightful and diminished euphoria that rises and crashes with the narrative, which all offer their own rawness as vulnerable as Ahamefule Oluo himself allows.
–Zach Frimmel
These are challenging times for artists, please give them your support: http://nowimfine.com/