Amy Denio & Tarik Abouzied
October 22, 2020 @ 7:00 pm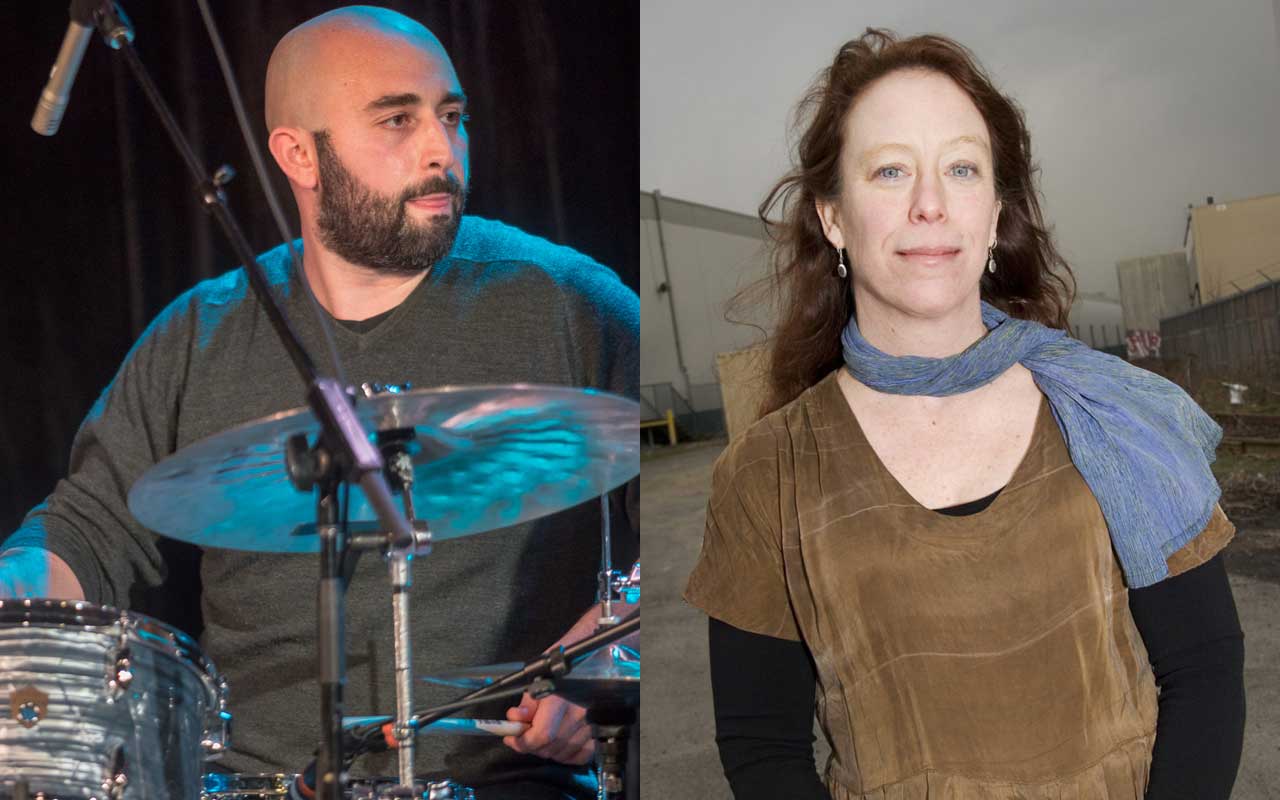 Amy Denio/Tarik Abouzied photo by Daniel Sheehan.
TICKETS: $10-25
Welcomed by Rainier Avenue Radio
Multi-instrumentalists Amy Denio and Tarik Abouzied are two steady lights in the Seattle music commu­nity. Denio, an eclectic vocalist and prolific performer on various instru­ments, combines her astounding skill with her radical curiosity in groups like Kultur Shock, a Balkan punk band, and the all-female Tiptons Sax Quartet. Abouzied, an accomplished drummer, bassist, and composer, is an on-call session musician and leader of various local groups, including award-winning Happy Orchestra.
Abouzied makes music from the heart, which also grooves to the bone. An outspoken member of the music community and generous educator, he leads the 12-piece Happy Orchestra, whose 2017 debut Baba was nomi­nated for the Earshot Golden Ear NW Jazz Recording of the Year award.
He has occasionally filled in on drums for the Tipton Sax Quartet, a group Denio founded in 1987. Their variety of influences, from classical composition to traditional jazz ar­rangements, Afro-Cuban to Klezmer, merge into a rhythmic bouillon that can be heard on 2020's release Wabi Sabi. These influences come naturally to Denio, who in addition to her stud­ies in Western music, has also studied vocal music in India, performed in festivals in Japan, Taiwan, and Brazil, and elsewhere.
Denio recently lent her composition­al skills to a film scoring commission by Kino Lorber, as well as releasing a recording of her chamber suite, Truth is Up For Grabs, a piece for 21 musi­cians sponsored by the Seattle Com­posers Alliance.
Collaborating together since 2015, both share an inclusive, forward-looking aesthetic, from composing to recording. For their performance—broadcast live from the Royal Room—Denio and Abouzied will perform a set of compositions and improvisations based on their experiences in various musical traditions.
–Ian Gwin
These are challenging times for artists, please give them your support:
www.amydenio.com
www.tarik-music.com