Elnah Jordan & Eric Verlinde
October 29, 2020 @ 7:00 pm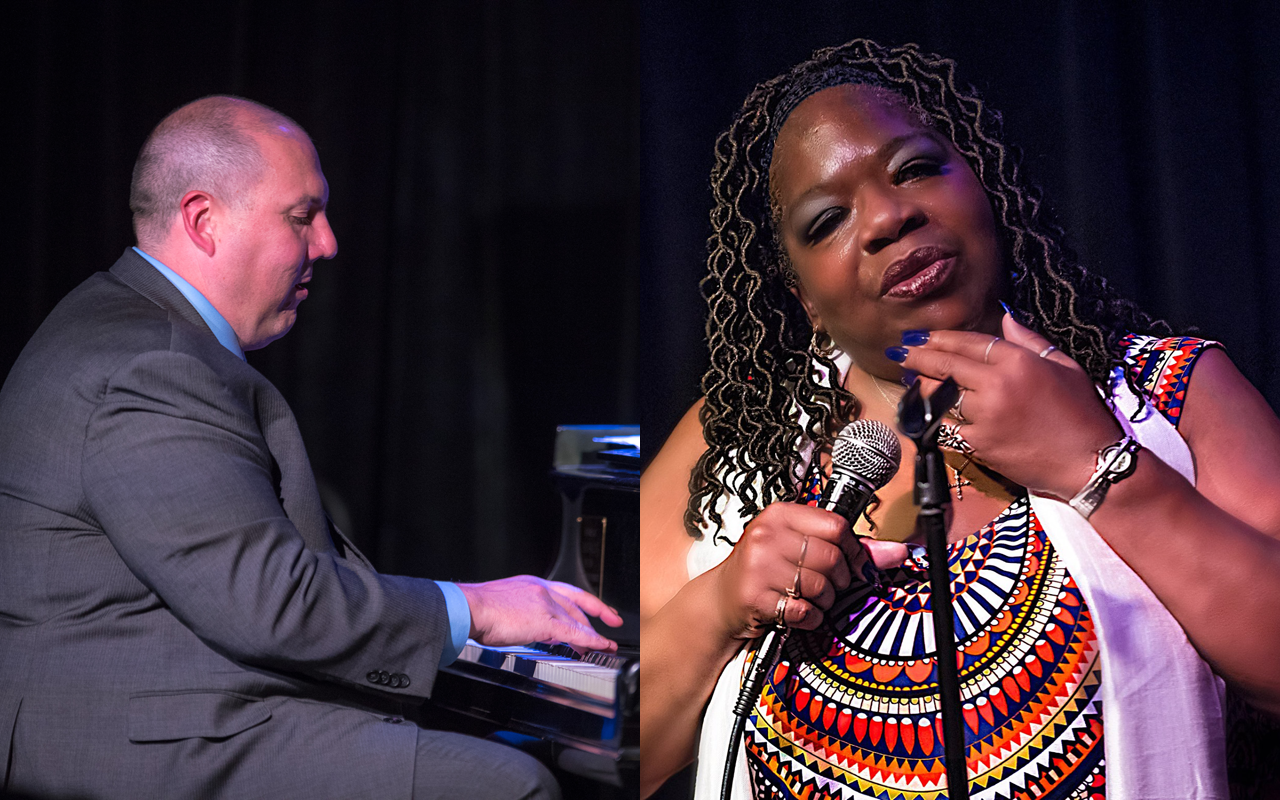 Eric Verlinde photo by Daniel Sheehan, and Elnah Jordan photo courtesy of the artist
TICKETS: $10-25
EVENT NOTES:
The ensemble includes Elnah Jordan (vocals) and Eric Verlinde (piano).
This is a pre-recorded event, filmed by Earshot Jazz at Langston Hughes Performing Arts Institute in October 2020.
Presented in partnership with Langston Seattle
The Seattle-based vocalist Elnah Jordan soulfully delivers gospel, jazz, blues, and R&B songs with keyboardist Eric Verlinde. Jordan's experience includes a long stint portraying Bessie Smith in Jon Hendricks's theater production Evolution of the Blues.
Ohio born and raised Elnah Jordan was introduced to singing as a child in church choir. The interconnectivity between that experience and the blues is what led her to a life dedicated to jazz, performing on the streets of San Francisco, in clubs, and Broadway theatre, all the while true to her roots at the crossroads of American ethnomusicology. She can belt out Bessie Smith as she did in Jon Hendrick's The Evolution of the Blues, or summon the spirit of Nina Simone. In a club setting, Jordan maintains a close connection with her audience, interpreting the vibe and energy of the room. In a duo format, that connection feels very personal.
Pianist Eric Verlinde has acquired a reputation for versatility and reliability in his 20-plus years on the Seattle scene. He may just be the hardest working, most in demand pianist in town. He has gained a reputation of being the pianist of choice for many singers, appearing often with Josephine Howell at El Gaucho, or with Brazilian vocalist Adriana Giordano in the Entremundos Quarteto. Verlinde transitions from Latin Jazz, to post-bop seamlessly. His depth as a pianist is best witnessed leading his trio featuring bassist Dean Schmidt and drummer Jeff Busch.
Together, Jordan and Verlinde show how thin the lines actually are between the blues, jazz, gospel, and rhythm & blues. They do so with a large measure of soul, with Jordan's positive, energetic style accompanied perfectly by Verlinde. His role as a soloist serves as an equal partner to Jordan's vocal aesthetic. His ability to swing hard, or beautifully articulate a ballad is colored by his melodic approach to improvisation,
Personality wise, the duo shares a penchant for inviting the audience into the performance. Their instinctive, beguiling music is social music, a tonic for these communally challenged modern times.
–Paul Rauch
These are challenging times for artists, please give them your support: https://elnahjordanexperience.com