John Hollenbeck: Epigraphs
October 24, 2020 @ 8:30 pm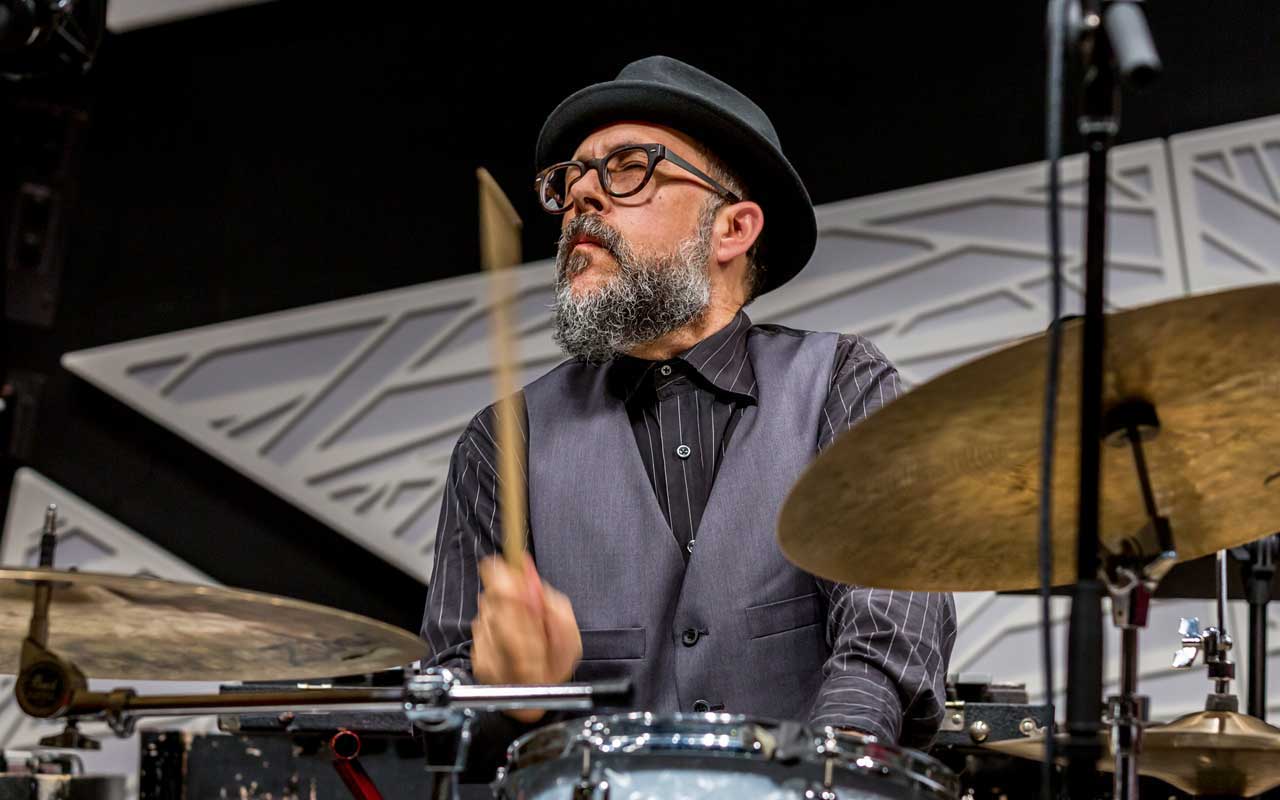 John Hollenbeck photo by Scott Friedlander
TICKETS: $10-25
In a new work entitled Epigraphs, the acclaimed, utterly distinctive percussionist (Claudia Quintet) joins Montreal guitarist Roman Munoz and epigraph-chanting vocalists Sarah Rossy and Jeanne Laforest to create mysterious, surprising, shape-shifting music.
John Hollenbeck is a composer without category, an abstract conceptualist who often applies his skills to non-abstract objects in music. Also a versatile drummer and percussionist, Hollenbeck applies a keenly objective thought process to every nuance of his artistic personality. He is profoundly influenced by trombonist/composer/arranger Bob Brookmeyer and composer/choreographer Meredith Monk. Whether directing his Large Ensemble, or writing and performing in the innovative Claudia Quintet, Hollenbeck's wit and personality always seems to shine through.
A four-time Grammy nominee, Hollenbeck has written and performed many commissioned works, including a career defining piece in 2001 inspired by, and written for his mentor Brookmeyer, "Processional and Desiderata" for Wind ensemble and Orator. Like most of his large ensemble pieces, the music relates to the label of "New Music," or "Modern Classical" as much as it does to jazz within the industry.
While so much attention is directed to Hollenbeck's elite credentials as a composer and arranger, his qualities as a master drummer and percussionist are often overlooked. Much like his persona as a composer, Hollenbeck's playing is groove-based and accessible. Within the confines of this approach are intricacies that could be described as orchestral in nature.
For the festival, Hollenbeck will perform with Montreal based guitarist Roman Munoz, in a duo enhanced by epigraph-chanting vocalists Sarah Rossy and Jeanne Laforest. The music is of a mystical nature that evolves in a constant state of change. Hollenbeck fans will not be surprised by the musical about-face. He has a special disdain for repetition, a quality that has kept his conceptions fresh and inspired over the course of his career.
–Paul Rauch
NOTES ABOUT THIS CONCERT
1.To enhance your enjoyment of this concert, John Hollenbeck recommends listening to this concert with headphones.
2. Audio engineering for this video by Ricardo Morejón
3. Video created by Bucky Illingworth
4. Following the concert, Earshot Jazz's Executive Director John Gilbreath will interview John Hollenbeck.
These are challenging times for artists, please give them your support: https://johnhollenbeck.com/