Le Mystère des Voix Bulgares
April 22, 2017 @ 8:00 pm
10:30 pm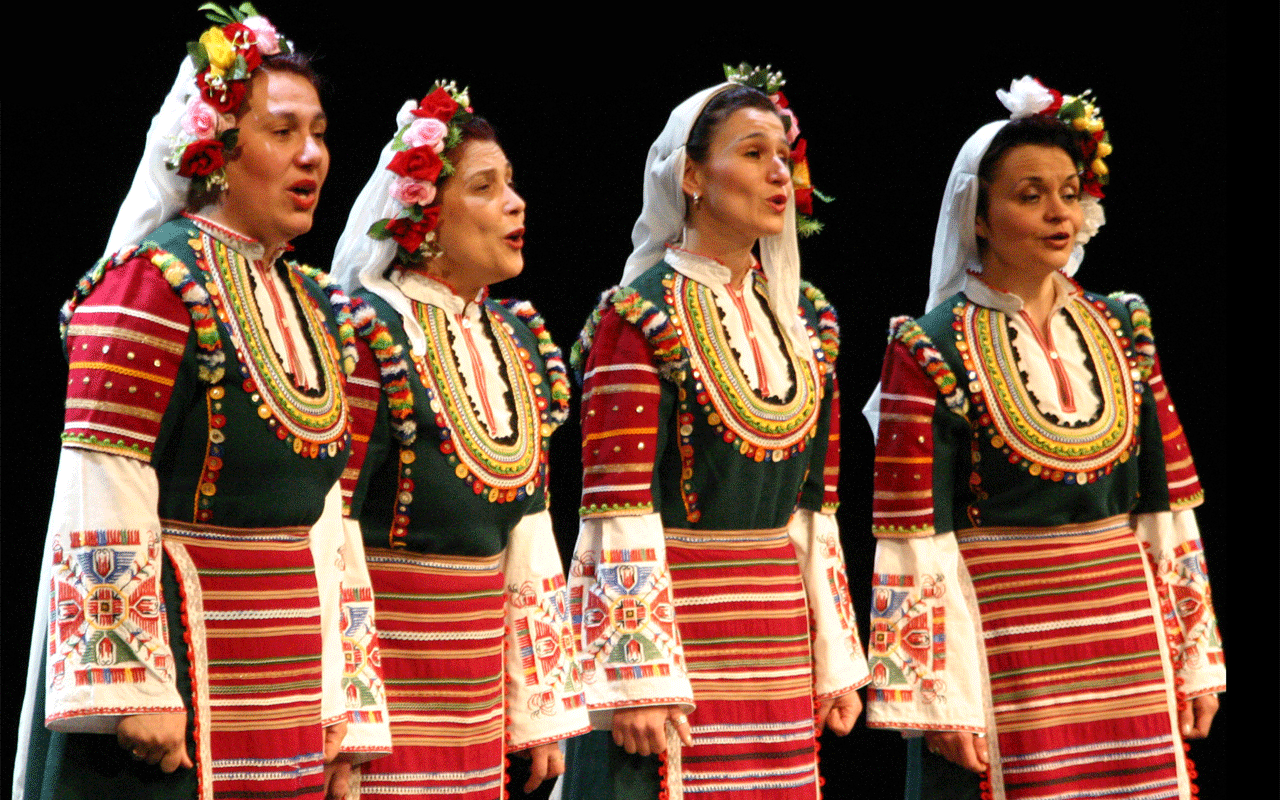 Welcomed by KBCS 91.3
Preferred Section: $35 Adult / $30 Earshot & Town Hall Members / $20 Students
Regular Section: $20 Adult / $15 Earshot & Town Hall Members / $10 Students
Co-presented with Town Hall Seattle Global Rhythms.
Last month may have scored International Women's Day, but one of April's brilliant follow-ups comes April 22 at Town Hall: the Grammy Award-winning women's chorus of traditional and contemporary Bulgarian folk music, Le Mystère des Voix Bulgares. The unamplified vocal ensemble carries a dense history, a rare artistic gift, and an unearthly beauty, dissolving the separation between East and West, new and old, and popular and traditional music.
The chorus has performed over 1,200 concerts in a slew of prestigious performance halls while touring internationally throughout their history, which in itself is a mysterious lineage. The women's choir seeded around 1952 under founding director of Bulgaria's State Ensemble for Folk Songs Filip Kutev. Decades later, Swiss musicologist Marcel Cellier would track down this roots-based, avant-garde choir and record them as the primary feature of his 1975 compilation Le Mystère Des Voix Bulgares. Nearly another decade would pass before Cellier licensed his disc to British indie label 4AD, who in turn licensed the US rights to Elektra/Nonesuch.
Once the Soviet Bulgarian choir received due Western European exposure, sales of Le Mystère Des Voix Bulgares became unprecedented for a foreign-language vocal album. The name Le Mystère Des Voix Bulgares, now a trademark of the choir, was registered in 1990 by Cellier himself.
Translated to "The Mystery of the Bulgarian Voices," the groups' vocalists combine diaphonic, often dissonant, singing to produce a breathtaking, otherworldly sound "somewhere between the Muslim call to prayer and the Beach Boys" (The Guardian). It's in part to this "magic" – and the group's unique choral arrangements – that the ensemble has found remarkable success in mastering Bulgaria's diverse and age-old vocal traditions, while sounding strikingly modern and original.
Over 20 women embodying different folklore regions in Bulgaria through traditional flowered costumes comprise the choir we see today. Their concert will be an unveiling of centuries of Bulgarian vocal tradition, through a gamut of repertoire containing complex layers of singular note punctuations, microtonal harmonies, and ancient melodies.
Over the course of a two-part concert, the choir performs songs that tell about daily life and traditions in Bulgaria, a cultural melting pot with Greek, Slavic, Ottoman, and Persian influences and a rich heritage of dance, music, and costumes. While most lyrics translate to describe the life of a Balkan woman, the act of singing has also remained a foundation for many women of this culture.
The event follows the expert direction of Dr. Dora Hristova, who has been Artistic Director and conductor of the female vocal choir for more than 25 years. A graduate of the Bulgarian State Conservatoire, Hristova contributes to academia as a lecturer at the Art Academy in Plovdiv, Bulgaria, and to the fields of sonority and vocal ensemble studies. Under her direction, the choir was appointed the Ambassador of European culture in 2007.
It's difficult to encapsulate just how widespread the affect of this enduring world music force is. It was in part due to the admiration by Bauhaus' Peter Murphy that the choral group was recognized by 4AD's co-founder Ivo Watts-Russell, who has called the original Le Mystère des Voix Bulgares album "a highlight of my life." More recently, the music of Le Mystère des Voix Bulgares extends into playlists and soundtracks from artists such as Gorillaz and Werner Herzog, and the women themselves have been a featured accompaniment to Bobby McFerrin.
–Halynn Blanchard
ARTIST WEBSITE: themysteryofthebulgarianvoices.com