Ravi Coltrane Quartet
November 8, 2020 @ 7:00 pm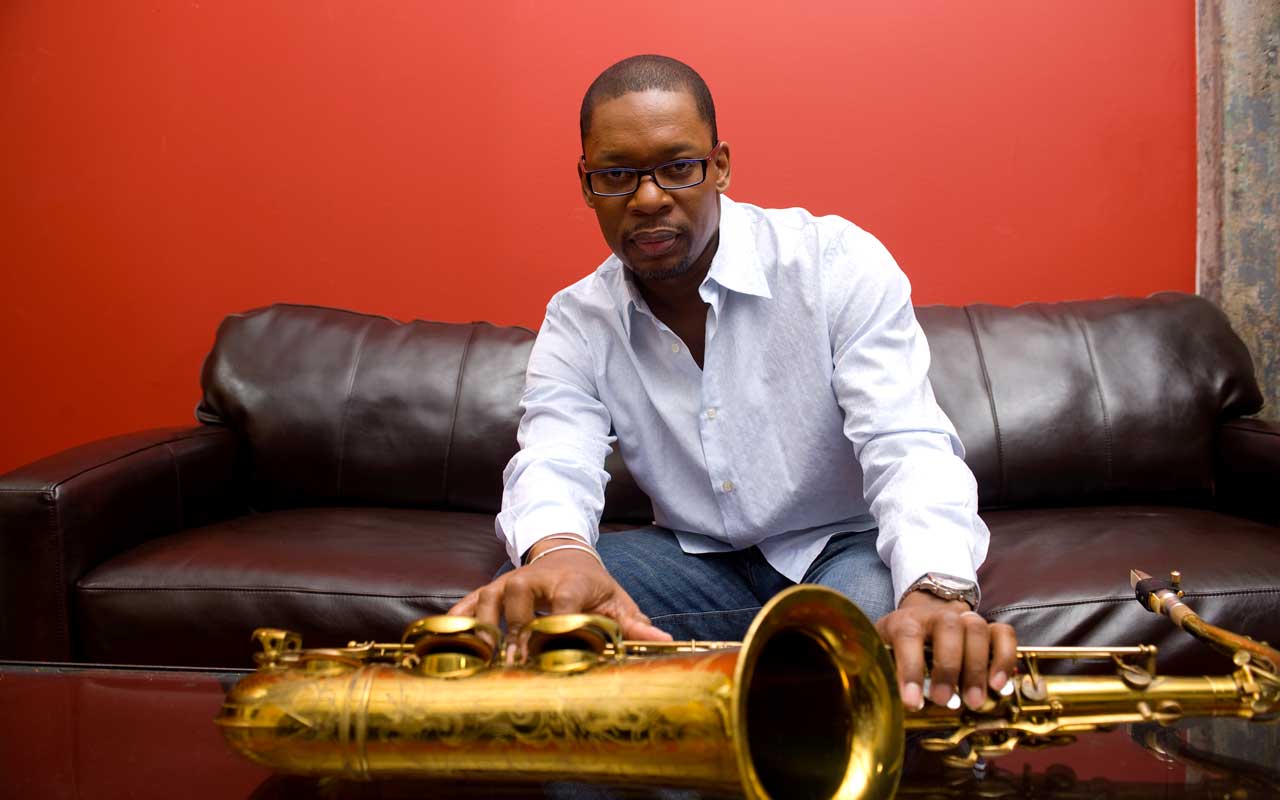 Ravi Coltrane photo by Michael Weintrob
TICKETS: $10-25

RAVI COLTRANE & friends
FEATURING BRANDEE YOUNGER
with Rashaan Carter and Allan Mednard
EVENT NOTES:
The ensemble includes Ravi Coltrane (saxophone), Brandee Younger (harp), Rashaan Carter (bass), and Allan Mednard (drums).
This is a pre-recorded event filmed for Earshot Jazz at Birdland Jazz Club, NYC September 8, 2020.
Anna M. Sala, Executive Producer; Ryan Paternite, Director/Producer; Alaina Gonzalez-White, Producer; Natasha Nermegut, Production Manager; Taylor Ryan, Sound Engineer; and Bob Polanco, Lighting Engineer.
C & P Copyright Ravi Coltrane and Ravi Coltrane Productions
Livestream broadcast at 7PM PST. Not available on demand.

Sponsored by Seed IP
From Birdland in New York City, and in the spirit of John and Alice Coltrane, their celebrated saxophonist son leads a riveting quartet that features Brandee Younger, a harpist inspired by Alice Coltrane, bassist Rashaan Carter, and drummer Allan Mednard.
Saxophonist Ravi Coltrane comes to the 2020 Earshot Jazz Festival via Birdland in New York City, performing with a quartet much in the spirit of his parents, John and Alice Coltrane.
As a child, young Ravi was shy, and played clarinet in school band, eventually leaning towards photography rather than music. Earlier, upon his father's death when he was just two years old, his mother had moved the family to Los Angeles, where she established herself as a musical force of her own. Featured on piano, and as a pioneering spirit of the harp, she took the flame she had nurtured together with her legendary husband, and moved forward. Eventually, a re-inspired Ravi began to play saxophone in high school, despite the suffocating scrutiny he was likely to face as the son of an iconic master like his father.
As a professional, Ravi appeared on over thirty albums before releasing his first album, Moving Pictures (RCA, 1997), an effort produced by saxophonist Steve Coleman. Coleman was a major influence in the developing style of the young Coltrane. Along the way, Ravi worked with major artists such as Geri Allen and Herbie Hancock. Most notably, he performed with pianist McCoy Tyner and saxophonist Pharoah Sanders, both of whom were major players in his father's career. Over the past thirty years, he has developed a personal sound that is musically very independent of his father's, but with the same spirit of adventure and introspection that nurtured the musical identity of both his parents.
That same spirit resides in his current quartet, which features eclectic harpist Brandee Younger. While engaging the stylistic lineage of Alice Coltrane and Dorothy Ashby, she is noted for her work with drummer/producer Makaya McCraven. Younger's most recent release as a leader, Soul Awakening (Self-Produced, 2019), features Coltrane on saxophone. In this quartet setting, Younger replaces the pianist's role—comping with beautiful harmonic voicings, and soloing utilizing bold single tones, and dynamic, cascading runs. She has abundant familiarity with bassist Rashaan Carter, who brings a dynamic all his own to the proceedings.
Carter fits perfectly into diverse musical communities that shade from Wallace Roney to María Grand. The same could be said for drummer Allan Mednard, who has earned his jazz stripes with the likes of Jeremy Pelt, Aaron Parks, and Kurt Rosenwinklel. This musical threesome serves as a perfect vehicle for Coltrane's probing, biting solos on both tenor and soprano saxophones.
Ravi Coltrane will never fully escape the shadow of his parents, but he continues to create his own legacy, embraced by the love and music they endowed him. This current incarnation of his quartet, is perhaps the perfect instrument to fully express his familial pride and the freedom it allows him.
–Paul Rauch 
The Ravi Coltrane Quartet's performance will be streamed twice in the festival—on Friday, October 16 and Sunday, November 8; both at 7pm. Tickets sold separately.
These are challenging times for artists, please give them your support: https://ravicoltrane.com/