Reggie Goings Quartet
November 1, 2020 @ 8:30 pm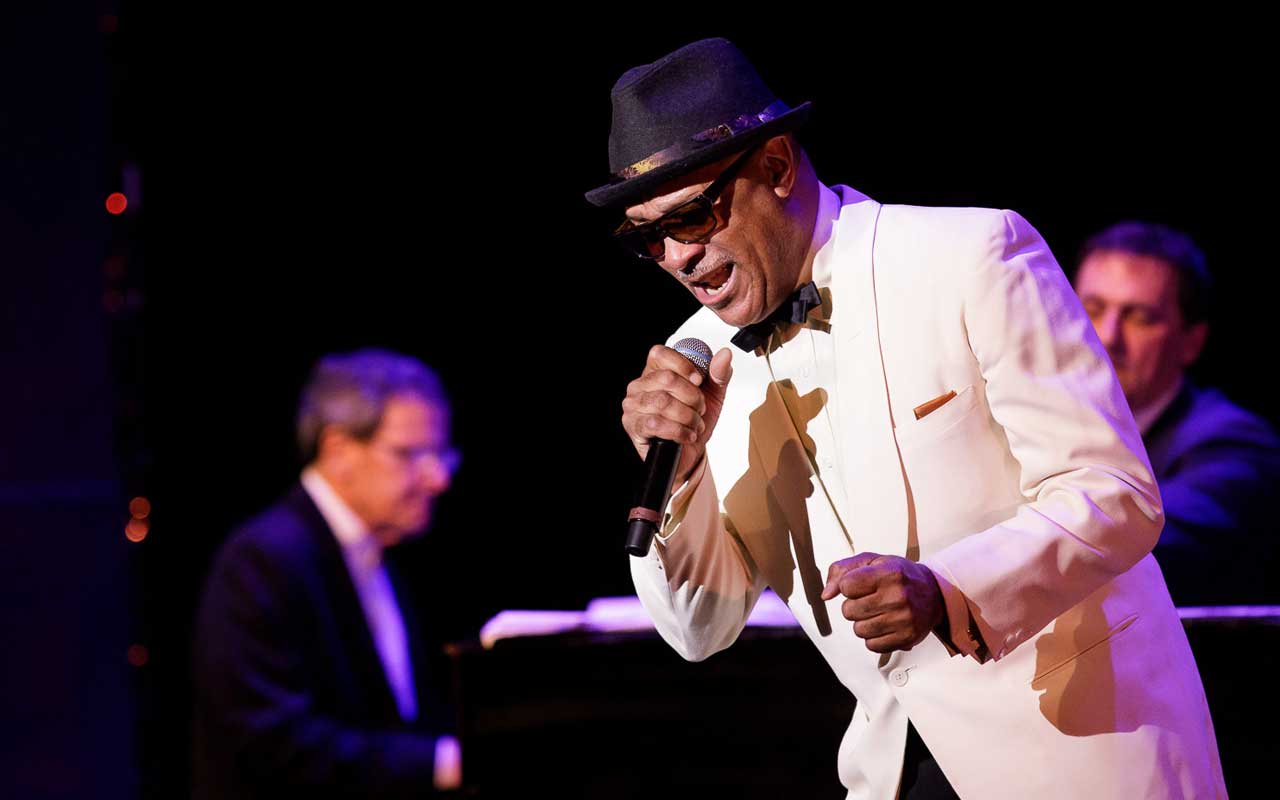 Reggie Goings photo by Jim Levitt
Free
Livestream broadcast at 8:30PM PST. Not available on demand.
EVENT NOTES:
This is a pre-recorded event that was filmed by Earshot Jazz at Langston Hughes Performing Arts Institute in October 2020. This event is free but requires registration.
Presented in partnership with Langston Seattle
Welcomed by 91.3 KBCS
Vocalist Reggie Goings, a beloved fixture of the Seattle jazz and blues continuum for years, performs standards, blues, bebop, and originals with home-town heroes Randy Halberstadt (piano), Phil Sparks (bass), and Jamael Nance (drums).
Vocalist Reggie Goings was once a frequent performer on the Seattle jazz scene, performing at venues like the New Orleans Creole Restaurant or hosting the Seattle Jazz Offering at Tula's for a decade. His musical and social circles included iconic local artists such as Hadley Caliman and Phil Sparks. In recent years, the soulful baritone had been less active, until Seattle Repertory Jazz Orchestra (SRJO) director Michael Brockman invited Goings to perform in the band's tribute to another soul legend, the great Ray Charles.
The performance reminded Seattle jazz fans of his blues infused baritone that acted as a perfect fit for the role. Like Charles, his influences are wide ranging, from the pioneering bebop sound of Billy Eckstine, to the suave sophistication of Lou Rawls. His sound is rooted in the blues, infused with the revolution of bop, and refined by the power of soul. The vibrant sensibility he delivers when articulating a standard sounds as if he was groomed on 52nd St., during the rise of Bird and Diz.
Goings will perform with a trio whose names have been etched prominently in the story of jazz music in Seattle over four decades. Pianist Randy Halberstadt has been impactful both as an educator at Cornish College of the Arts, and as a performer at the finest venues in town. He has gained a reputation as a stylish accompanist for vocalists, including Seattle greats Greta Matassa and Gail Pettis. His colorful voicings and harmonic elegance have graced the performances of the SRJO for many years. His SRJO bandmate Phil Sparks has been a first call bassist in Seattle since his arrival thirty years ago. Sparks has performed regularly with Thomas Marriott, Matt Jorgensen +451, and his latest ensemble, Nu Trio with Nathan Breedlove and Brian Kirk. Like Sparks, drummer Jamael Nance goes way back with Goings, frequenting gigs and sessions that centered on tenor saxophonist Hadley Caliman.
The language Goings draws from is steeped in history, and expressed by an artist dedicated to, and humbled by, this quintessential art form we call jazz. In a year when the festival is all about Seattle artists, having Goings in the house is a perfect fit, at a perfect time.
–Paul Rauch
These are challenging times for artists, please give them your support: https://www.facebook.com/thejazzsinger