Thomas Marriott's Trumpet Ship
November 5, 2020 @ 7:00 pm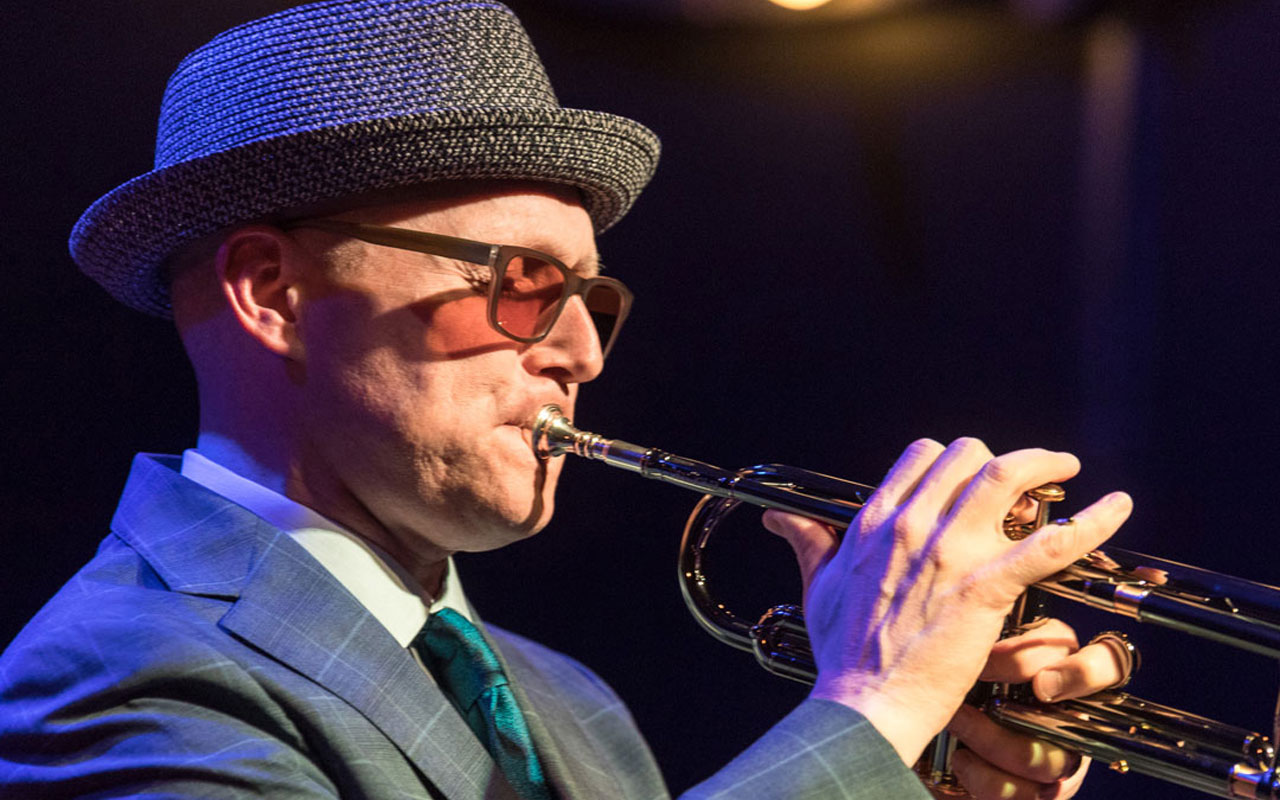 Thomas Marriott's Trumpet Ship photo by Daniel Sheehan
TICKETS: $10-25
EVENT NOTES:
The ensemble includes Thomas Marriott (trumpet), Marc Seales (piano), Jeff Johnson (bass), and John Bishop (drums).
This is a live stream event filmed from Town Hall Seattle.
Livestream broadcast at 7PM PST. Not available on demand.
Welcomed by KNKX 88.5
From poignant balladry to propulsive post post-bop expansion, the acclaimed trumpeter Thomas Marriott leads a polished quartet of some of the city's best: Marc Seales (piano), Jeff Johnson (bass), and John Bishop (drums).
Since his return to Seattle from New York City in 2004, trumpeter Thomas Marriott has recorded eleven albums as a leader or co-leader on the Seattle based Origin Records label. None have been more anticipated than Marriott's most recent release on Origin, Trumpet Ship (2020). The album focuses on first-take quartet offerings of Marriott originals and standards. Recorded in one three-hour session at Studio X in 2016, the album is a celebration of Marriott's friendship with Philadelphia based pianist, Orrin Evans. Joined by bassist Luques Curtis and drummer Mark Whitfield, Jr., the session captures the artistry of the quartet perfectly. The recordings sat unreleased over the course of three and a half years. Marriott leaked the title track on social media in 2019, a hard charging interpretation of Sonny Simmons' avant-bop tune. The street date was set for March 2020, with a tour to follow with the session's quartet intact.
Trumpet Ship was received well, upon the March release. It seemed the album and the tour with his Philly based bandmates would create a highlight in Marriott's career, after two decades of consistently high-quality work. But, as the story of 2020 has been told, tour plans were dropped due to the worldwide COVID-19 pandemic. Life for all of us became more internalized.
This performance takes advantage of the opportunity created by this unfortunate turn of events, to flip the script, and celebrate Marriott's original music that is so well presented on the album. To do so, the trumpeter has gathered his Seattle quartet, featuring three of the city's best, presently and historically. Pianist Marc Seales, bassist Jeff Johnson, and drummer John Bishop join Marriott, who has a lengthy history with this dynamic assemblage of talent. Considering the nature of his approach, that inherent intuition that can only be propagated over time, should become immediately apparent. All four musicians are counted among the finest to have appeared on the scene over a century of jazz history in Seattle. For one evening, they will regain the momentum that was brought to a grinding halt by the pandemic, and give the Earshot audience a performance to remember this epic year by.
–Paul Rauch
These are challenging times for artists, please give them your support: thomasmarriott.net