Thumbscrew (Mary Halvorson, Michael Formanek, Tomas Fujiwara)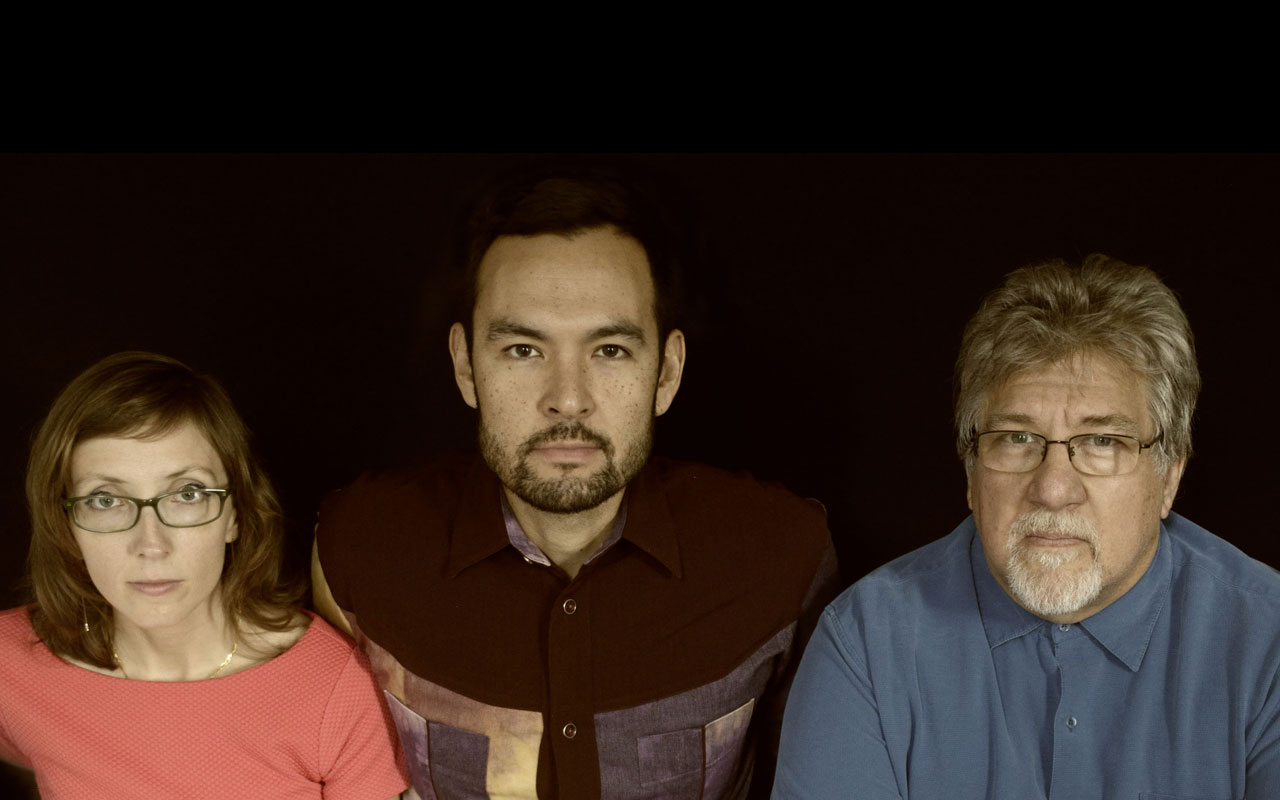 Presented by Earshot Jazz
Mary Halvorson – Guitar
Michael Formanek – Bass
Tomas Fujiwara – Drums
Photo by Amy Touchette
Thumbscrew is a ​collective trio consisting of​ longtime collaborators Michael Formanek (double bass), Tomas Fujiwara (drums), and Mary Halvorson (guitar)​, with all three members contributing at an equal rate both in terms of composition and improvisation. The band's name might conjure a fearsome image, but Thumbscrew makes inviting music full of wonder and discovery from creative catalysts on jazz's adventurous frontiers. "It is neither hierarchical, the way a soloist with accompaniment is, nor anti-hierarchical, the way free improv can be. The balance of governance and acquiescence is in constant flux, governed by a jointly shared sense of responsibility engendered by trust." (Bill Meyer, The Wire). It's a collaboration that works beautifully, producing music greater than the sum of its parts. Thumbscrew is refreshingly original, and works as a strong composer's vehicle. While many cooperative bands draw on material recycled from other projects, "one of the things we said at the beginning is let's just write music for Thumbscrew and it will only be Thumbscrew music," says Formanek. "It really is a three-composer trio, and all of our tunes have our basic aesthetics attached. But we want everybody to have input. Nobody's afraid to make a decision. It's one of the first co-ops I've been in where everyone's really willing to take control at any given moment."
Formed in 2011, Thumbscrew released its eponymous debut on Cuneiform Records in 2014​. ​Featuring three compositions apiece from each of its members, Thumbscrew was recognized as a top 10 release of 2014 by NPR, The Wire, The Jazz Journalists Association, and El Intruso, among others. The trio was voted a Rising Star Band by DownBeat Magazine in 2014 and 2015, as well as best new band of 2014 in the El Intruso Critics Poll. In the spring of 2016, Thumbscrew ​released​​ Convallaria, their second album on Cuneiform records.​ ​Most recently, in June 2018​ ​Thumbscrew will demonstrate​ ​their unique collective musical vision in contrasting but complementary ways on two exciting new CDs​, ​Ours and Theirs​, ​also on​​ ​Cuneiform Records​.​
Born out of a residency at Pittsburgh's City of Asylum​, Ours and Theirs showcase Thumbscrew in two different contexts.​ ​Ours, as its namesake suggests, is an album of original compositions with Fujiwara, Formanek and Halvorson contributing three works apiece.​ ​On the flipside, Theirs features covers penned by venerable composers, from North American jazz legends Benny Golson and Wayne Shorter, to South American composers Julio De Caro (Argentina) and Jacob Do Bandolim (Brazil), to songwriter Evelyn Danzig, and Dutch avant-gardist Misha Mengelberg. Thumbscrew covers considerable ground in bringing their unique arrangements and ensemble sensibility to this transfixing set of other composers' music.
Thumbscrew will tour throughout the United States, Canada, South America and Europe in the summer of 2018, in addition to a weeklong residency at the esteemed Village Vanguard in New York City from July 17th through 22nd. With their two bold new releases, Thumbscrew embodies the value of a working collective in the truest sense.