35th Annual Presentation of Sacred Music by Duke Ellington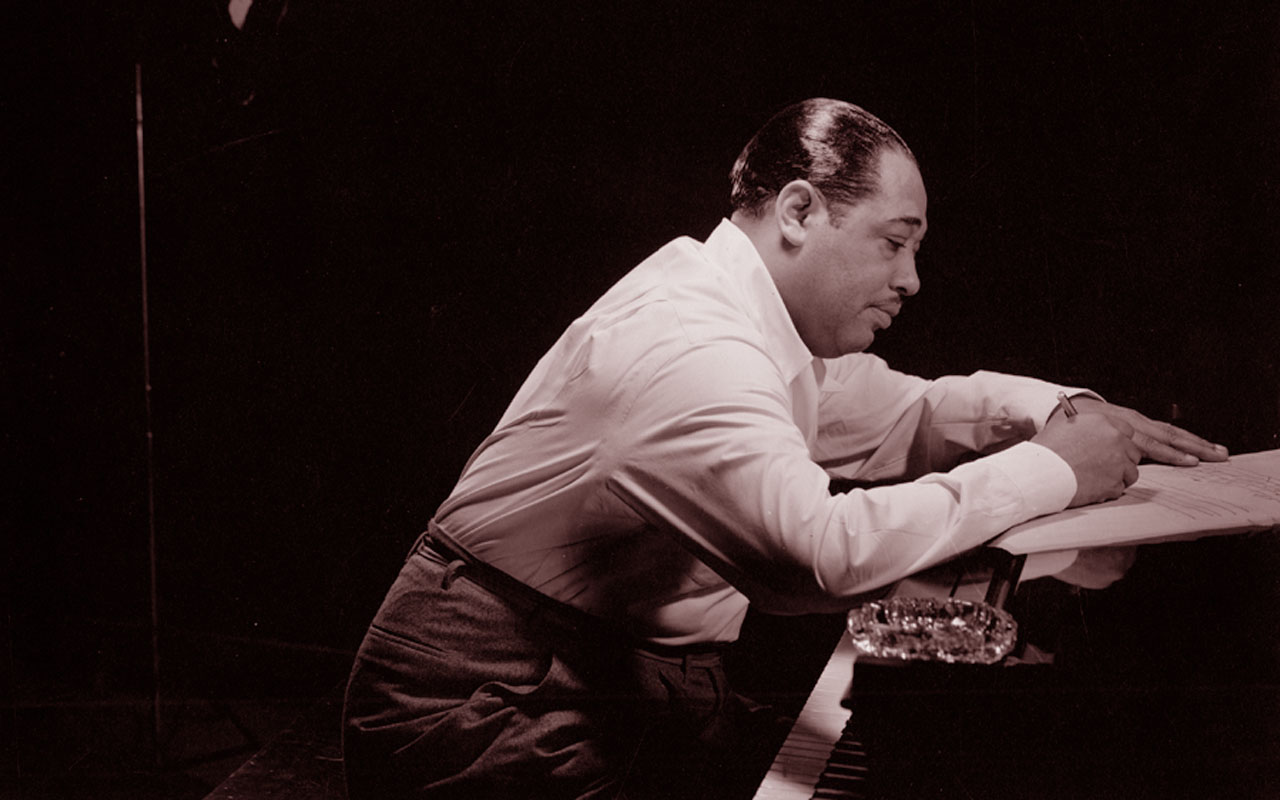 Join us in-person at Town Hall Great Hall or by livestream on Saturday, December 30 at 7:30 pm PST 
In-Person and livestream ticket options available
Join us for the world's longest running presentation of Duke Ellington's sacred music. Ellington's wonderful "Sacred Music" is both serious and swinging. It is a reverent and hip body of jazz composition, written late in his career, for jazz big band, vocal and instrumental soloists, gospel choir, and tap dancers.
---
History of Ellington's Sacred Music
"Every man prays in his own language." ~Duke Ellington
It is this quote that captures the spirit of the three Sacred Music concerts that Ellington premiered in 1965, 1968 and 1973, and that were the culmination of the last, liturgical phase of his life's work in music.
Ellington's inspiration for the Sacred Music concerts began during the civil rights movement of the 1960s. In his program notes for the first concert he wrote, "How can anyone expect to be understood unless he presents his thoughts with complete honesty? This situation is unfair because it asks too much of the world. In effect, we say, ' I don't dare show you what I am because I don't trust you for a minute but please love me anyway because I so need you to. And, of course, if you don't love me anyway, you're a dirty dog, just as I suspected, so I was right in the first place.' Yet, every time God's children have thrown away fear in pursuit of honesty-trying to communicate themselves, understood or not, miracles have happened."
The first sacred concert took place in Grace Cathedral in San Francisco in 1965. The Cathedral commissioned the work as part of its yearlong consecration celebration, and Ellington's star-studded orchestra, featuring such legends as Cootie Williams, Cat Anderson, and Pail Gonsalves, performed with a massed choir. The Second Sacred Concert took place in 1968 at the Cathedral of St. John in New York and St. Mark's Cathedral in New Canaan, CT.
Ellington spent most of his last full year of life composing a notably more pastoral Third Sacred Concert. The compositions were built around the voice of Alice Babs, the soulful baritone saxophone of Harry Carney, and Ellington himself on the piano. The third and final concert was premiered on October 24, 1973 at London's Westminster Abbey. Exactly seven months later Duke Ellington passed away, leaving an insurmountable legacy that included these sacred music concerts, performed hundreds of times during this last decade of his life.
Ellington's compositions for these concerts drew heavily on earlier pieces, which were then augmented to convey an intense emotion and reverence. The pieces belied Ellington's spirituality that was derived from his roots in the Baptist Church but was able to transcend denomination with a poignant universalism. The Sacred Concerts, wedding music and spirituality as it brought the great jazz tradition into the church.
In his lifetime, Ellington stated this was the most important music he'd ever written, but because of the scale of the music and the sheer number of artists needed to execute each work, Ellington's sacred concerts have rarely been performed in the 30 years since his death in 1974.
---
About Seattle Repertory Jazz Orchestra
Now celebrating its 21st concert season, the award-winning, 17-piece SRJO is co-directed by Michael Brockman and Clarence Acox and includes many of the region's best-loved jazz soloists and bandleaders. Recently, the cities of Seattle and Kirkland and the state of Washington proclaimed October 4th "Seattle Repertory Jazz Orchestra Day" in honor of the organization's achievements. Their newest compact disc, Benny Carter's Kansas City Suite, which features narration from Clarence Acox and a performance by the late Hadley Caliman, was a Kickstarter-funded 2014 release. For more information about the SRJO, visit srjo.org.
---
CD
Sacred Music of Duke Ellington
Performed by the Seattle Repertory Jazz Orchestra with special guest vocalists Dee Daniels, James Caddell, and the Oregon Repertory Singers
The two-CD set is a collection of the SRJO's best recordings made at concerts between 2001 and 2005 in performances at the annual Duke Ellington Sacred Music Concert presented each year by Earshot Jazz. The tradition of performing the Sacred Music began in the winter of 1989. In a sense, the SRJO began with that first concert. (more info)