KO Ensemble
KO Ensemble Live at the Royal Room
Self-released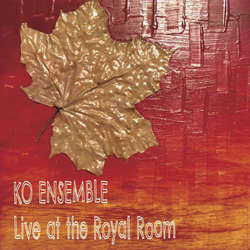 A knockout, commonly abbreviated to as K.O. or KO, is a fight-ending criterion in several combat sports, most notably boxing. A full knockout is considered any legal strike, or combination thereof, that renders an opponent unable to continue fighting.
Enter the no-holds-barred soprano saxophonist Kate Olson and her uncontested KO Ensemble. Their debut album, KO Ensemble Live at the Royal Room, is an honest venture into a contradictory realm of contemporary post-bop minimalism.
Strong, subtle, and squirrely high pitched heads, riffs, and solos float graciously above a refined rhythm section, propped up by the dexterous bassist Chris Symer and drummer extraordinaire Brad Gibson. The astute and engaging pianist Alex Guilbert and his insightful accompaniment grounds each piece with a delightful sense of balance and clarity. Guilbert's ability to seamlessly intermingle and meld with Olson's tonal aesthetic, while maintaining his own personal voice, is quite remarkable.
Light, coherent, and seemingly straight forward arrangements are infused with obtuse and irregular structural and melodic components, providing a suitable framework for her articulate improvisational execution. Olson's relaxed and imaginative original compositions duck back and forth, from familiar and comforting, to brash and introspective. While her more peculiar melodies confidently wander about in a state of creative innocence, untouched by ego and self doubt. And at the end of the bout, it's a winner by unanimous decision.
–Gus Marshall
Christopher Icasiano
Provinces
Origin Records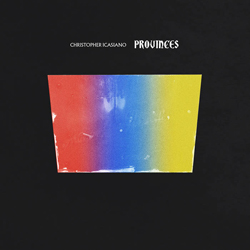 Chris Icasiano is a Seattle-based Filipino-American percussionist and composer of great presence in Seattle. One might know him as drummer of the iconic Bad Luck, as a social activist, music organizer and advocate, and/or around Café Racer for Racer Sessions.
Icasiano can find meaning and influence in just about any genre of music, and for his debut solo album, Provinces, a great many of those influences converge into a jaw-dropping personal experience that "explores the complexity of cultural identity and community as a second-generation immigrant in Seattle." It feels like a monumental presentation of someone driven to pull from a deep well of life experience and artistic mastery to find an honest and searching extension of self.
Much of the album is a meditative textural transportation. Gorgeous layers of synth, percussion, slipping and unanchored rhythms juxtaposed against steady drivers on the kit, and field recordings.
Provinces is a collection of two suites, "Provinces" and "Taho". The first suite, "Provinces", begins with Icasiano pushing forth a rapid and alternating pulse that maintains a high level of tension between the high hat and snare. Throughout the pulse, he weaves in subtle shifts in this minimalist and fragile rhythmic dynamic to explore unique tonal relationships that create their own melodies. All the while Icasiano supports his kit work with electronic sonic textures and harmonies that are both haunting and touching. You also get magical moments like explosions of grand-finale fireworks in an already smoke-filled sky, and a head-nod beat that you could stay with for an hour while you soak in a perfect summer evening on the town.
The second suite "Taho" fits right in with similar artistic concepts of "Provinces" and is dynamic in its own vibrancies. Among them are intensely intimate brushwork, swirling winds, and organ harmonies and progressions that call to mind rich folk practices. What really sets this suite apart is the incorporation of Icasiano's field recordings from his first ancestral trip to the Philippines that take these abstract sonic environments and gives them a tangible life-grounding. Provinces is best enjoyed in a committed state of listening and letting the whole thing just take you in to another world.
–Bryan Lineberry
Rochelle House
Earth on Fire
House Records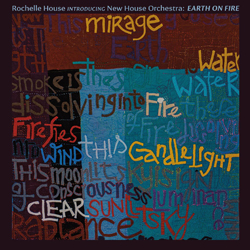 Supported by a cast of Seattle greats, jazz singer Rochelle House furthers her nonviolent vision of collaboration and cooperation with her fourth release, Earth on Fire. Founder of the Neighbor Children's Choir, a free, all-inclusive youth ensemble, House made a splash locally with her first two albums, Dreams of Love and Water, both receiving nominations for Golden Ear awards. The combination of coffeehouse eclecticism and bright-eyed songwriting continued through her third release, 2014's Songs from a Bookmark.
Around this time, House's backing band, the New House Orchestra, got its start. A group of open-minded Seattle musicians willing to step across boundaries of genre, the band includes psych-rock guitarist Andy Coe, prolific bassist Evan Flory-Barnes, and dedicated drummer D'Vonne Lewis, and has since expanded to include Christianne Karefa-Johnson, aka DoNormaal, Senegalese percussionist Thione Diop, and others. Their musical perspectives, representative of the various scenes thriving throughout the city, come together for an all-too-rare synthesis that makes Earth on Fire worth any audience's listen.
House fearlessly collaborates with younger members of the hip-hop and alternative scenes: Karefa-Johnson grafts her songwriting skills and an unflappable chorus onto the low tempo opener "Application," while local songwriter Rave Holly lends the gravitas of his hushed bass to a cover of Kurt Cobain's "Something in the Way." House's own delivery of the verse, "underneath the bridge/the tarp has sprung a leak" eerily summons up Seattle's ongoing homelessness crisis, an escalating state of affairs matched by layers of scorching saxophone, courtesy of Kate Olson and Diop on tama.
The steady, quiet power of House's songwriting provides a flexible frame for Flory-Barnes, Lewis, and Coe to match their mellifluous sensibilities. Trumpeter Thomas Marriott joins the rhythm section's soulful strut for a punchy solo that contrasts Coe's twangy backgrounds. Calling to mind singers such as Mavis Staples. House calls attention to the collective (as on the politically charged "We the People") and the individual (on the romantic closer, "Let This Be the One").
The group's spare arrangements pop on the latter, settling surprisingly from a brush-backed country swing to a rocksteady reggae. It's here, too, that House's optimism takes on its own challenge, as she confesses her helplessness in romance, yet finding an empowerment in the admission itself. "But if it's not [the one]," she replies in the chorus, building up dignity not with an ask, but a demand, "send something better."
–Ian Gwin