François Moutin by Rudy Royston
As our city and much of the country remain under social distancing regulations, we continue to be responsive in our content. In April, Earshot Jazz put out a call for content to our community, near and far.
Scroll through to look and listen to a selection of those responses or jump to a submission:
Song For Timelessness — Earthtoneskytone
Sky Below — Earthtoneskytone
Rearranged — Jenny Davis
A Quick Guide to Better Home Video Production
for musicians (Without Breaking the Bank) — Francesco Crosara
Waiting — Wayne Horvitz
Ambientia — Ian Gwin
Say Yes — Nicole Walters
Night Ride — Reed Olsen
Untitled, Columbia City — Nathan Womack
Call for Content — June Issue of Earshot Jazz
---
Song for Timelessness
---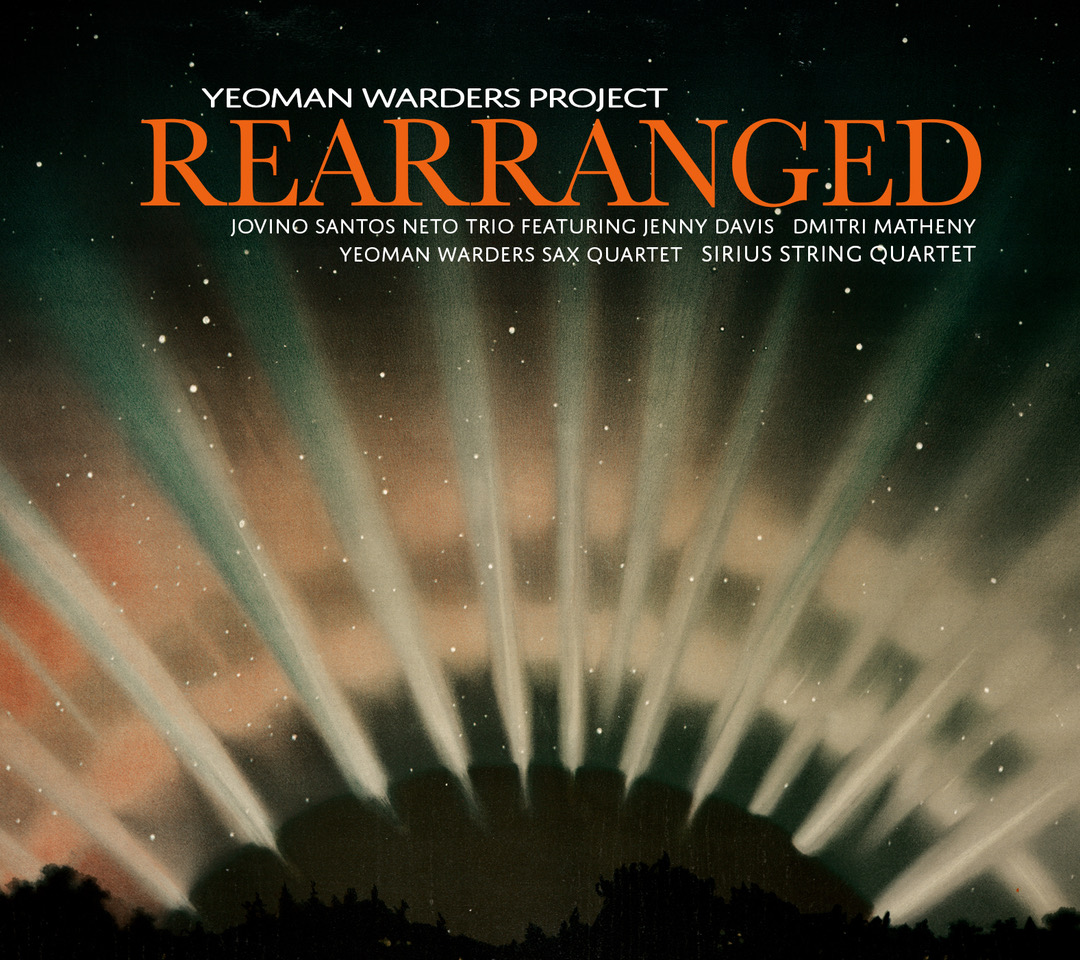 "Rearranged" by Jenny Davis
---
A Quick Guide to Better Home Video Production for Musicians (Without Breaking the Bank)
By Francesco Crosara
Let's face it, we live in strange times. In a matter of days, all working musicians around the globe saw their gigs being cancelled, income streams coming to a halt, and the prospect of making music from the home in a pure virtual setting for the foreseeable future. All artists, including the biggest names, are now reaching out to their audiences through the medium of live video. There is a freshness and immediacy in being able to communicate from the living room in a relaxed and intimate atmosphere. In a way, access to musicians has now become more "personal" than ever. In response to social distancing measures, virtual sessions are now becoming the norm, where musicians collaborate with each other remotely, either in a live setting, or with recorded overdubs.
This article is intended to offer a few tips on improving the overall quality of the music videos being broadcasted from home. For the record, I am a jazz pianist and composer, I am not a techie or an audio/video geek. Therefore, I will not provide a comprehensive list of gadgets or apps available out there. I will just share the results of my experimentation and describe what works for me, mostly with gear that I already own. Please check out the companion video "Home Music: Improve your audio" for music samples and additional details available above.
To produce a very decent music video at home, you need to pay attention to a few elements, each one important in its own right: a camera (or tablet, smartphone, laptop computer), a high-quality recording device (or condenser microphone) with USB to lightning interface, a tripod to keep the shoot steady, extra lighting (or dedicated LED lamp). Finally, if you plan to do video/audio editing/mixing and add credits, you will need a video and audio editing software.
For reference, here is the setup of my "Home Music" series production:
iPad Pro (9.7 inch) mounted on a tripod—better overall camera and audio EQ than an iPhone
Zoom H5 portable recorder with stereo XY microphones mounted on a boom mic stand connected to the iPad with USB to lightning jack
Tripod with iPad mount
3-flood light floor lamp
Video editing software: Camtasia 2018 (Windows 10), Final Cut Pro 7, Logic Pro X (Mac OS)
I hope these tips will be useful in helping you produce superior home music videos, continue to create great jazz music and expand your reach to new audiences anywhere in the world.
---
"Waiting" by Wayne Horvitz
---
Ambientia
By Ian Gwin
Over the telephone, muzak played, and though I had been waiting on an extremely urgent matter, I began to appreciate its beautiful simplicity. It reminded me of the way clouds move, surely at a high speed above but barely perceptible from below, curling and unfurling across the sky, sculptures of pure light, inexhaustible in form, sometimes stormy and ominous, or calming, like the declaration of a clear day. Beyond the clouds, slowly pulsing in and out, I heard a quiet tick, almost like the heartbeat of a small animal, except nowhere nearly as fast; as if it was circling flaps I heard, pacing back and forth, the way a hummingbird might hear its own pulse while hovering in the air, suspended in the fervent motion of its miraculous flight. Distractedly, I began to click my nails against the hard surface of the table in time to the rhythm, hoping that the sighing of these long chords, their drawn out breath inducing me to sleep like a child is to the mysterious lyrics of a lullaby, would cease. I imagined that, after a static pause, someone in the greater world would greet me, another disembodied voice, and help extricate me from this splitting headache, so far from the music's flawless tapestry. And as I tapped along, suddenly stopping, I looked around the room with a strange twinge of shock, at the whole state of affairs, one I had occupied for so long, barely registering the truly distressing state of my immediate surroundings. Perhaps, I quickly wondered, this was merely the result of that eternal music channeled into my ear through the headset's small microphone, and I laughed to myself how my perception had been affected, not to mention my disposition. This, along with the situation, I felt, had not improved, while noting how nothing significantly changed nor repeated itself in this river of sounds, but flowed on, incessantly, bringing all sorts of associations to mind, until I all but gave up and merely thought of nothing. Once or twice I thought I heard a click, but that must have only been part of the composition. Each time my heart jumped, but the anticipation dissipated, and I nervously continued, until I no longer could tell I was listening. And if it wasn't for my fright, I would have stayed there, on hold with the department of reality, trying to confirm my deposit had been secured, but it just came out of nowhere, and before the music cut out I brought down the full weight of my foot over the dashing arachnid.
---
Say Yes
By Nicole Walters
August 18, 2019. The day didn't begin much differently than any other. I was on my balcony enjoying the morning sun, pulling tarot cards, drinking tea, and journaling to start my day when a melody dropped into my head and stayed a while. I found myself humming along to the song growing inside me and soon the lyrics began to form from the same nowhere that brought the melody.
The song, "Say Yes," came easily, and at the right time considering the questions I had entertained just that morning about what I wanted to do with my musical life, how I wanted to grow, what I wanted to contribute and to learn.
I had only recently begun singing again after a long hiatus and was at a crossroads about how much I'd let it matter to me. I mean, if I was going to enter the world of entertaining again, how seriously would I approach it? What would my next steps be? How on earth would I even begin?
To be fair, I had some ideas about what to do if I wanted to engage with Seattle's jazz music scene. I had begun attending some open mics around town and had only the day prior to writing Say Yes, enrolled in Jazz Night School's Singing with Jazz Trio class. Beyond that, however, I was clueless about the path forward.
As I wrote about all of that the melody came and then the lyrics and then my clarity about what I was going to do…
Say yes
Say yes to me
Yes to my love
Yes, and you'll see
Say yes
Don't disagree
Love, come to me
Yes, and believe
Though it may seem we're spinning in circles
Round and around just falling free
Love take my hand, let's dance the eternal
I'll follow you, you follow me
Say yes
Yes to the thrill
Yes to the chill
I always will
Say yes
No need for no
Come love, let's go
Search the unknown
I was going to say yes. I was simply going to keep myself open to the potential of every next step, next opportunity, next thing to do. Say yes. Take the class. Meet the person. Call the venue. Send the invites. Say yes. Be led. Be surprised. Be grateful. Be willing. Say yes, and see what happens.
I'm glad I did "say yes."
Since that warm August 2019 morning, I have been nothing but grateful for all of the opportunities, friendships, lessons, performances, and creativity that have resulted. I've met some of the kindest, most talented people and have often had the good fortune to perform and collaborate with many of them.
Saying yes has enriched my life in so many beautiful and surprising ways. It's my hope that this song inspires a courageous yes in anyone who needs it in the pursuit of his/her/their joy, purpose, and dream.
---
Night Ride
By Reed Olsen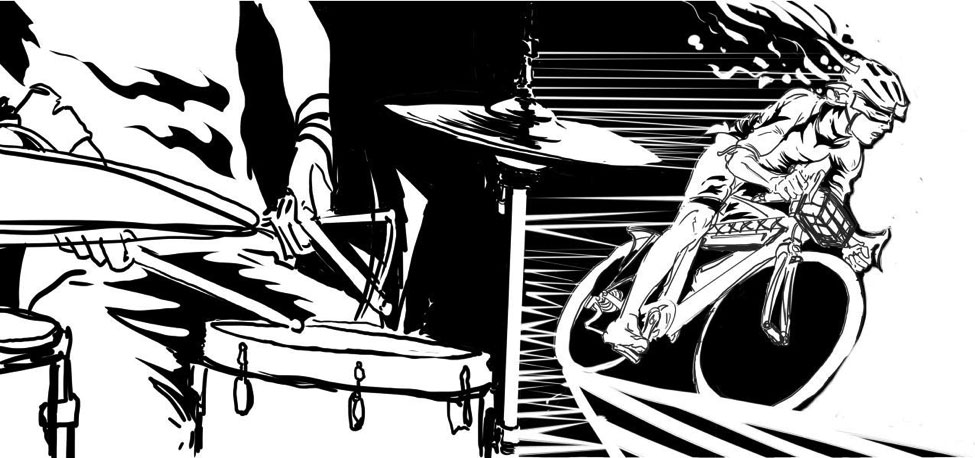 One of the means I had to justify busting ass to live in this city was live music. I miss that. I bet we all do. That very real physical release when experiencing live music with a crowd of people in absence leaves something to be desired.
Luckily, I still have my wheels…and night rides. I live for that growing daylight in our lives, which the jubilant sense of blossoming spring in Seattle brings. However, what I find myself drawing deep sustenance from are not days, but the warm eerie night rides home. I have been reallocated as an essential worker making food for the emergency shelters in a downtown basement kitchen. When my tired hands and body emerge from work the world is dark. Street light rays are scattered through the newly emerging pedals. I clock off work and hop on my bicycle for what often proves to be a longer than needed ride home.
Dr. Bessel van der Kolk, an expert on trauma writes in The Body Keeps the Score how trauma lives in the physical body. Talk therapy alone often cannot work it out. The same goes for stress. We live in physical bodies that need a physical release. I am continuously reminded how time with my physical wellness keeps my mental resilience buoyant. Daylight is essential, but my tip for weathering the COVID-19 blues are lone night rides and music.
I have found Jazz music to be particularly well suited at letting my mind ease up while my body stays hot and focused. In the dark with a drum roll you can kinda almost too easily dissociate from the overtaxed tabs open in your brain. The rush feels all kinds of good. It keeps my cup filled with an exuberance to rise up and greet the rapidly approaching day. For starters, KEXP has some very nice live recordings of Preservation Hall Jazz Band. Or for more weird and local one can reach for Shabazz Palaces and or Terror/Cactus.
The dynamism of the body, the spinning wheels and the music allow one to better hold the complex feelings needed to cope with the dumpster fire of a reality we find ourselves in. Perhaps I can at least make some s'mores on that fire.
We cannot hug or interact with all the people but you get to be outside at a quiet distance, it is almost like magically flying over the city. The very human made music helps me feel both ok with the zeitgeist of loneliness and also not so alone in that feeling. The mind moves both fast and slow. It is like a very strange call and response that in a dream-like state almost wakes you up to the reality that we live in this place with others all around us. It compels empathy. Spinning faster and faster one is tempted to hear "ground control to Major Tom…"
---
Untitled, Columbia City, Seattle, WA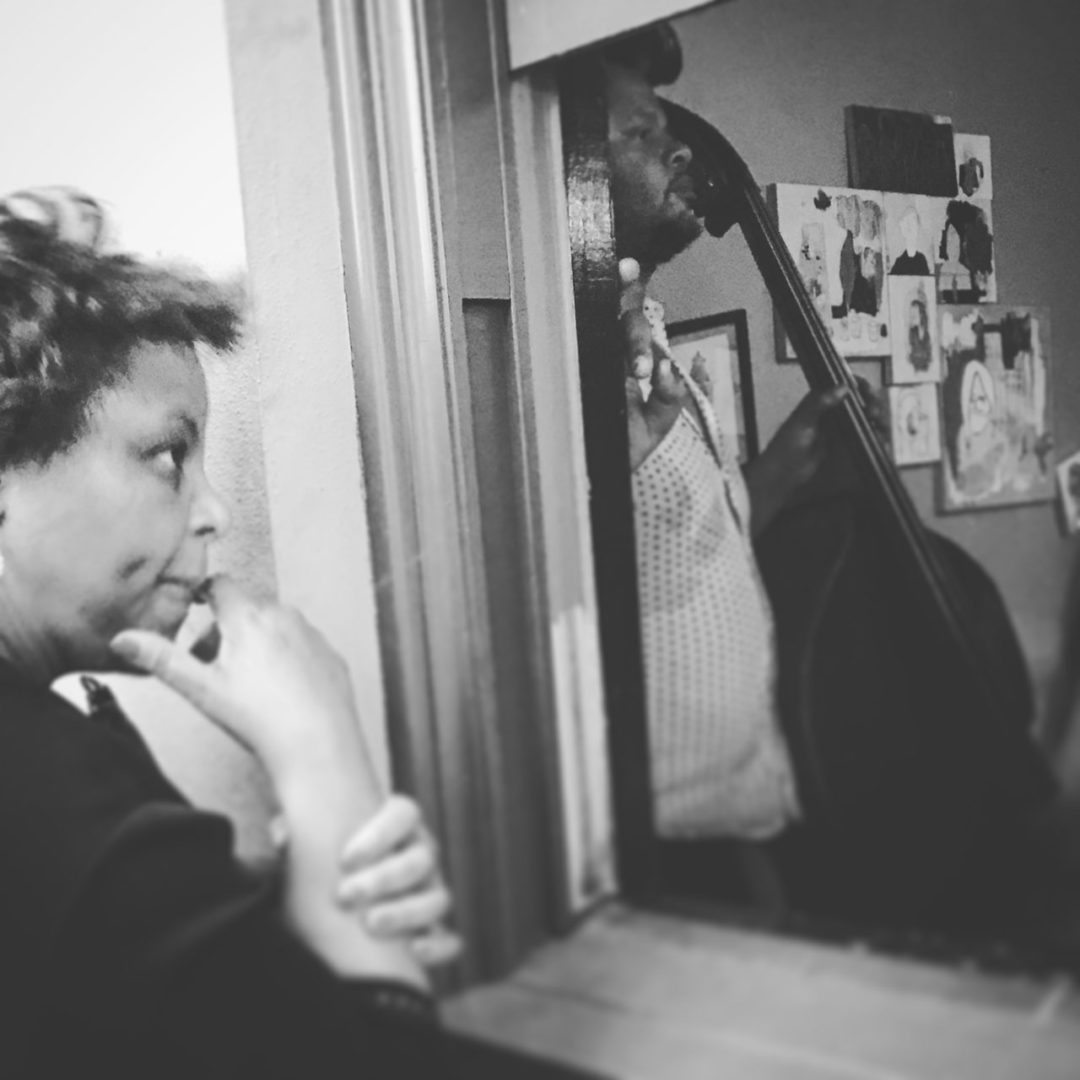 ---
Call for Content
We're inviting you to submit again for the June magazine. Artists, writers, educators, venue reps, and all other members of our community are invited to submit original short works. Selected submissions will be featured in print and/or online—depending on the medium. Selected contributions will be compensated $50. Please note that due to space we are not able to feature and compensate all submissions received. We will contact you if we plan to feature your submission. Contributions can include op-ed commentary, poems, illustrations, photographs, written music, lyrics, video performances, collages, or art of other various medium. Work must be original but it doesn't have to be new. We know creating during crisis can be challenging. Written pieces can be up to 500 words in length. Video or recorded works can be up to 5 minutes in length To submit, fill out the google form available via earshot.org or email editor@earshot.org. Submissions accepted through Friday, May 15. Individuals can submit up to 5 works.