Reviews in this issue:
The Crossing, Frank Kohl
You Already Know, Ted Poor
Trumpet Ship, Thomas Marriott
Songs to Fill the Air, Raymond Larsen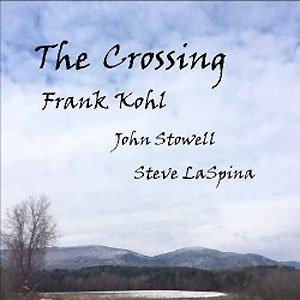 Frank Kohl
The Crossing
Self-Released
New York born and bred guitarist Frank Kohl has been a Seattle jazz fixture since the early 90s. On his fifth album, a combination of standards and originals, he is joined by John Stowell on guitar and nylon string guitar and longtime collaborator, composer, and bassist Steve LaSpina. Standing tall between effusive renderings of tracks from Jobim and Jerome Kern are original tunes that showcase Kohl's agile pure tone, chromatic sense, and the whole trio's chops as improvisers of rich lyrical licks.
The title track "The Crossing" and what follows are lushly illustrative. Accessible and relaxed, melodic droplets fall like serene rain as the trio gathers together a groove and graciously allow each other to unravel it in turn. One can sense the way each player expertly anticipates, opens, and supports as the next idea bubbles up and is worked out. Kohl's playing on "O Grande Amour" is all candle glow, a bit too much wine, and the rest of the world falling out of focus just as the guitars gently part and LaSpina presses to the fore with some truly romantic bow work on the upright bass. A universally beloved and often revisited bossa nova, the trio treats it well.
"The Goodbye" seems to simmer over and over a blue memory as the guitars converse, asking and answering and returning to the question. Throughout the album, the sturdy rhythmic and percussive center laid down by LaSpina and the round warm outline created by Stowell on the nylon string guitar provide a field of play in which the tonal and harmonic mastery of Kohl is allowed to shine effortlessly. There are moments where the trio strides tightly in step, seamlessly rhythmic and without ever wanting for a percussionist. Even when showcasing their athleticism, the trio manages to be ever so warm, so harmonic and intimate in the sound they craft. Comforting in much of its familiarity, the work easily holds your attention with sophisticated surprises. From top to bottom, The Crossing delivers measured, moody, unassailable cool.
–Meredith Cooper
---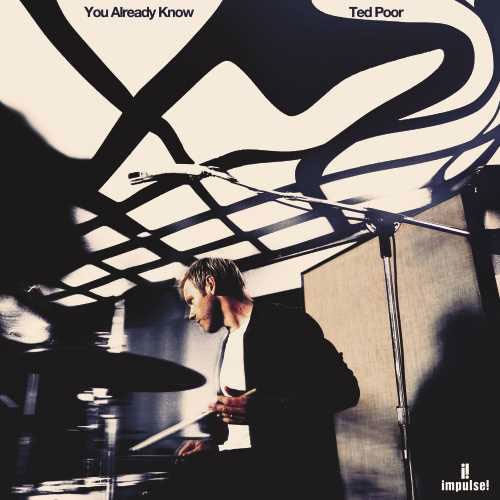 Ted Poor
You Already Know
New Deal/Impulse!
A patient and reflective ear is needed to fully appreciate all that Seattle-based drummer and Assistant Professor of Jazz Studies at the University of Washington, Ted Poor, offers in his most recent release, You Already Know. Collaborating with saxophonist Andrew D'Angelo, and featuring guest appearances by multi-instrumentalists Andrew Bird and Rob Moose, You Already Know is an exploration of texture and atmosphere.
Gentle toms and cymbals spell out the name of the opening track, "Emilia." Working with subtle keys and saxophone in a contemplative manifestation of desire, of longing, of closeness, and of distance, "Emilia" discusses the myriad complexities of emotion. "Only You" follows with a driving, mesmerizing statement whose repetition builds upon itself, growing and folding and changing textures without straying from its original phrase—indeed, the more it changes, the more it stays the same. "To Rome," which features Andrew Bird, displays a variation on Middle Eastern rhythms and chord structure: its hypnotic percussion, sparse keys, and droning strings would not be out of place on any sun-caked road toward Caput Mundi.
The defining feature of You Already Know is space: what is found between the notes is just as important as what is played. Ted Poor's hypnotic and trance-like atmosphere provides a deep expanse, inviting the listener to find that which was once hidden is already known.
–Grant Grays
---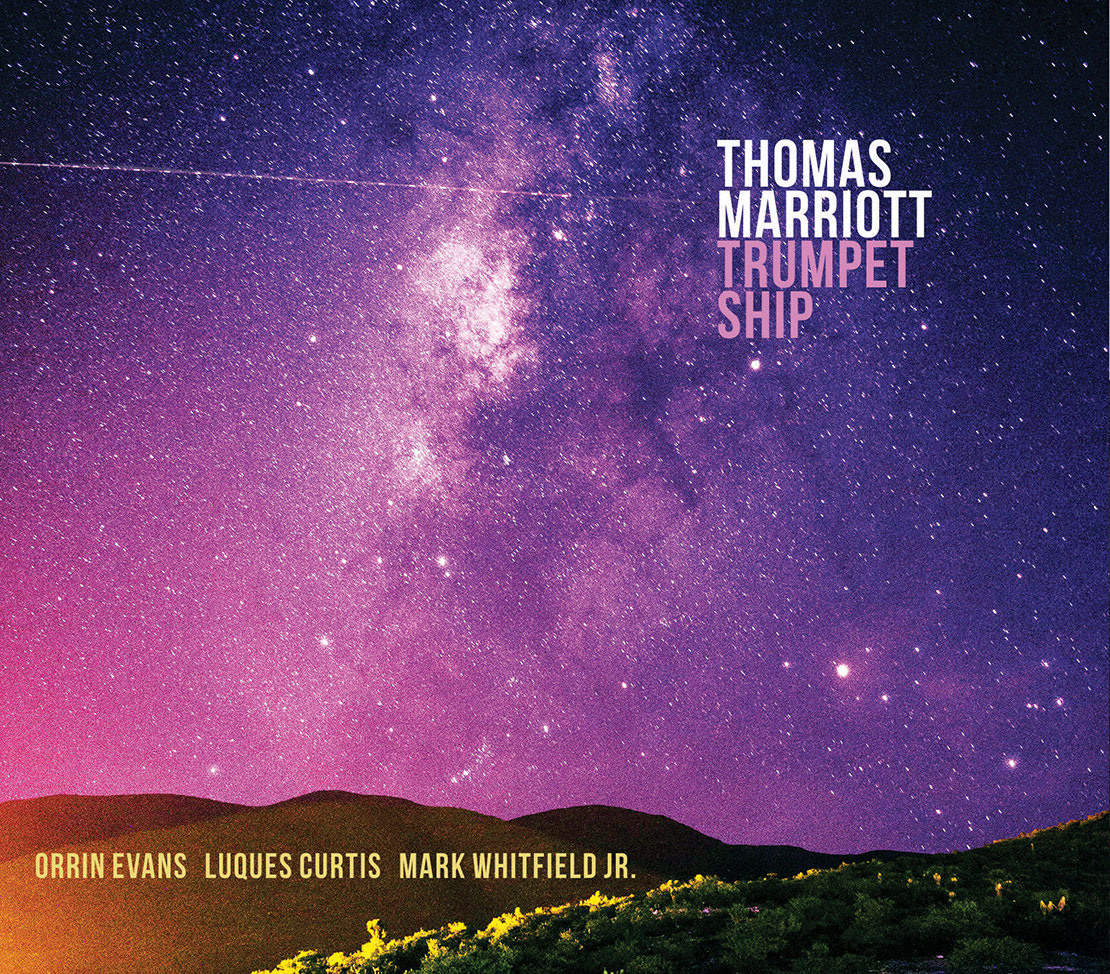 Thomas Marriot
Trumpet Ship
Origin Records
Seattle-raised trumpet ace and composer, Thomas Marriott, returns with his twelfth album Trumpet Ship (Origin Records) with hooks poised to heal hardship, tempos textured to assuage aggression, and free-form feels to champion family and jazz fellowship. Similar to how his 2018 Romantic Language was a dedicated dirge for his recently passed father, Trumpet Ship channels an elegant and eulogistic energy to honor two more recently passed relatives—his Uncle Paul, which inspired the "Funny Uncle" track, and his dad's best friend,"Uncle Jer" Reeves.
Thomas Marriott's chart-topping grooves have landed him features on NPR, a 20-season run as a soloist with Seattle Repertory Jazz Orchestra, and a 7-time Golden Ear Awardee. Not only can listeners expect more of his groove guruship on Trumpet Ship, but they'll experience cool and tempestuous moods. Within each mood, Marriott guides us on a jazz journey co-helmed by the mastership of Orrin Evans (piano), Luques Curtis (bass), and Mark Whitfield Jr. (drums).
In a meeting-of-the-minds fashion, Trumpet Ship originated from an improvised idea. While Orrin Evans' trio had a day off touring in Seattle, Evans pitched, "Hey, we should make a record!" One 3-hour recording session later and five mellifluous originals and three immersive renditions were cut.
There's a bebop sensibility and moody liveliness on the title track "Trumpet Ship," which references a 1980's composition by Sonny Simmons, an avant-saxophonist who briefly lived in Olympia, WA. Downbeat and slower originals like "Behind the Beard"—satirically inspired by a famous 2019 headline about a hipster ironically mistaking himself for another hipster—demonstrate Marriott's playful demeanor and direction as a bandleader. It also feels like cool aloe on the skin after a hotter walk through Miles Davis, Gil Evans, and Wayne Shorter's "General Assembly." Bringing it full circle with family, Marriott concludes with "Song for Samuel" to channel his 9-year-old son's frenetic and jumping-off-of-everything energy.
Throughout the record, Trumpet Ship exhibits both the creative craftsmanship and fellowship of jazz that will continue to afford Marriott laurels and loyal listeners.
–Zach Frimmel
---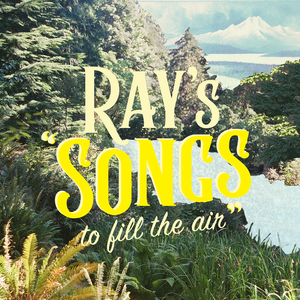 Raymond Larsen
Songs to Fill the Air
Slow and Steady Records
With his fifth album Songs to Fill the Air, local composer and trumpeter Ray Larsen makes a bold step into new territory as a singer-songwriter and producer. Larsen, a graduate of the UW School of Music and faculty member at Cornish College of the Arts, has employed his precise trumpet tone to the whimsical sonic backdrops of projects like the psych-prog group Chemical Clock, and his trio Tyrant Lizard, with guitarist Gregg Belisle-Chi and bassist Carmen Rothwell. His latest release, begun during a 2018 residency at Bainbridge Island's Bloedel Reserve, expands the canvas of his ideas to a climate, a serene and eerie ecosystem, vividly colored with the sounds and personalities of his fellow musicians from the Northwest.
Harkening back to the lush tin-pan alley extrapolations of 60's era studio savants like Van Dyke Parks, Songs (as the title implies), presents an orchestrated suite of songs, interspersed with atmospheric interludes, heavy as clouds. Larsen marks his own debut as a songwriter with harmonically savvy tunes that tackle the place of a person, and of people, in the greater world, bringing his music from into the present through a quest for the authentic.
Flutist Leanna Keith throws open the curtain with a flourish in the springy "Hello World," as the brave brass of Larsen's trumpet steps out, followed by a duet between his decorous whistle, and delicate melodies on the piano. After a scene change to "Dream Sequenza's" park of winds and chimes, the tune shifts in modality revealing, like a watercolor wash, sparkling ideas from the delicate harp of Sophie Baird-Daniel. Guitarist Luke Bergman, who recorded the album with Larsen as producer, doubles the melody's dreamy line on the track's end with a soft fuzz tone.
Larsen doesn't shirk from using the entire studio as a means for songcraft, setting the mood with spare electronic textures and letting horns twist polyphonies on the Ellingtonian chant "High Low." The strings of Alina To and David Balatero back up the Nilsonn-esque meditation on ambition and aspiration "Golden Tomorrow," where Larsen ponders bittersweetly on the professional game of "dreaming to see it all / dreaming to have it all." Elsewhere, the descending progression of "Song for the Shifting" sounds out in voice and string like a forest clearing, blurring the bird whistle of his field recordings.
Though the trumpeter concludes that "no one knows exactly how they got there," on his humorous setting to rights of the human species in "World History," it's his long-standing relationships with local musicians that really set the stage. Take the spooky "Abraxas," where reedman Greg Sinibaldi lays down an uncannily abstracted solo on the EWI, or electronic wind instrument, soaring through a progression prodding via drummer Chris Icasiano's impeccable downtempo.
As new listens reward with finer detail, listeners can remark even more on Songs' "royal-we symphony," as Larsen calls it on a slow-rock paean to aesthetic universals, "We're the Music." On quiet days, noise approaches music. Truly, there must be something in the air, bubbling up from beneath this song's wavering texture: a community of musicians turning sounds into something larger than themselves.
–Ian Gwin