Ravi Coltrane photo by Deborah Feingold.
Friday, October 16, 7pm
Sunday, November 8, 7pm
Ravi Coltrane Quartet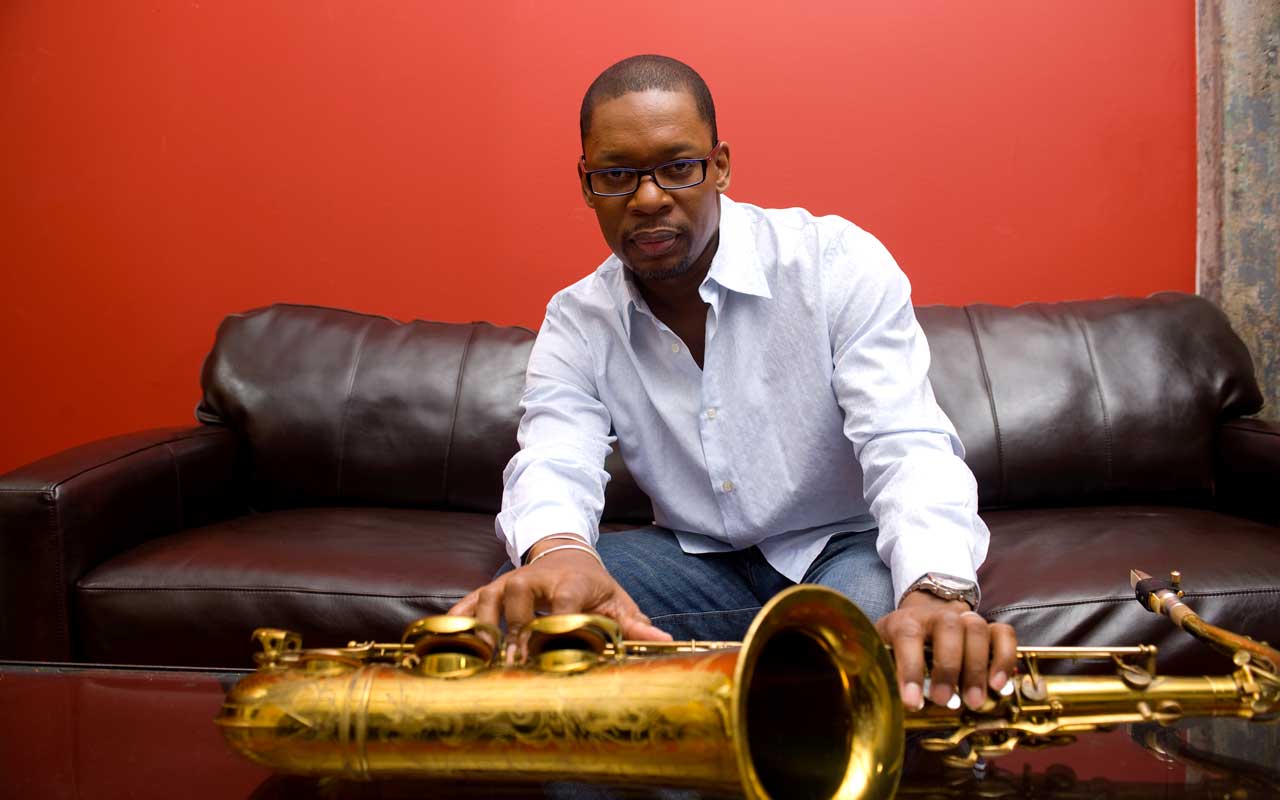 Sponsored by Seed IP
$10–25
Saxophonist Ravi Coltrane comes to the 2020 Earshot Jazz Festival via Birdland in New York City, perform­ing with a quartet much in the spirit of his parents, John and Alice Coltrane.
As a child, young Ravi was shy, and played clarinet in school band, eventually lean­ing towards photography rather than music. Ear­lier, upon his father's death when he was just two years old, his mother had moved the family to Los Ange­les, where she established herself as a musical force of her own. Featured on piano, and as a pioneering spirit of the harp, she took the flame she had nurtured together with her legend­ary husband, and moved forward. Eventually, a re-inspired Ravi began to play saxophone in high school, de­spite the suffocating scrutiny he was likely to face as the son of an iconic master like his father.
As a professional, Ravi appeared on over thirty albums before releasing his first album, Moving Pictures (RCA, 1997), an effort produced by saxo­phonist Steve Coleman. Coleman was a major influence in the developing style of the young Coltrane. Along the way, Ravi worked with major artists such as Geri Allen and Herbie Han­cock. Most notably, he performed with pianist McCoy Tyner and saxophonist Pharoah Sanders, both of whom were major players in his father's career. Over the past thirty years, he has de­veloped a personal sound that is musi­cally very independent of his father's, but with the same spirit of adventure and introspection that nurtured the musical identity of both his parents.
That same spirit resides in his current quartet, which features eclectic harp­ist Brandee Younger. While engaging the stylistic lineage of Alice Coltrane and Dorothy Ashby, she is noted for her work with drummer/producer Makaya McCraven. Younger's most recent release as a leader, Soul Awak­ening (Self-Produced, 2019), features Coltrane on saxophone. In this quar­tet setting, Younger replaces the pia­nist's role—comping with beautiful harmonic voicings, and soloing utiliz­ing bold single tones, and dynamic, cascading runs. She has abundant fa­miliarity with bassist Rashaan Carter, who brings a dynamic all his own to the proceedings.
Carter fits perfectly into diverse musical communities that shade from Wal­lace Roney to María Grand. The same could be said for drummer Al­lan Mednard, who has earned his jazz stripes with the likes of Jer­emy Pelt, Aaron Parks, and Kurt Rosenwinklel. This musical threesome serves as a perfect vehi­cle for Coltrane's prob­ing, biting solos on both tenor and soprano saxo­phones.
Ravi Coltrane will never fully escape the shadow of his parents, but he continues to create his own legacy, embraced by the love and music they endowed him. This current incarnation of his quartet, is perhaps the perfect instrument to fully express his familial pride and the freedom it allows him. –Paul Rauch
The Ravi Coltrane Quartet's perfor­mance will be streamed twice in the fes­tival—on Friday, October 16 and Sun­day, November 8; both at 7pm. Tickets sold seperately.
Saturday, October 17, 7pm
Lakecia Benjamin: Pursuance plus Jade Solomon Curtis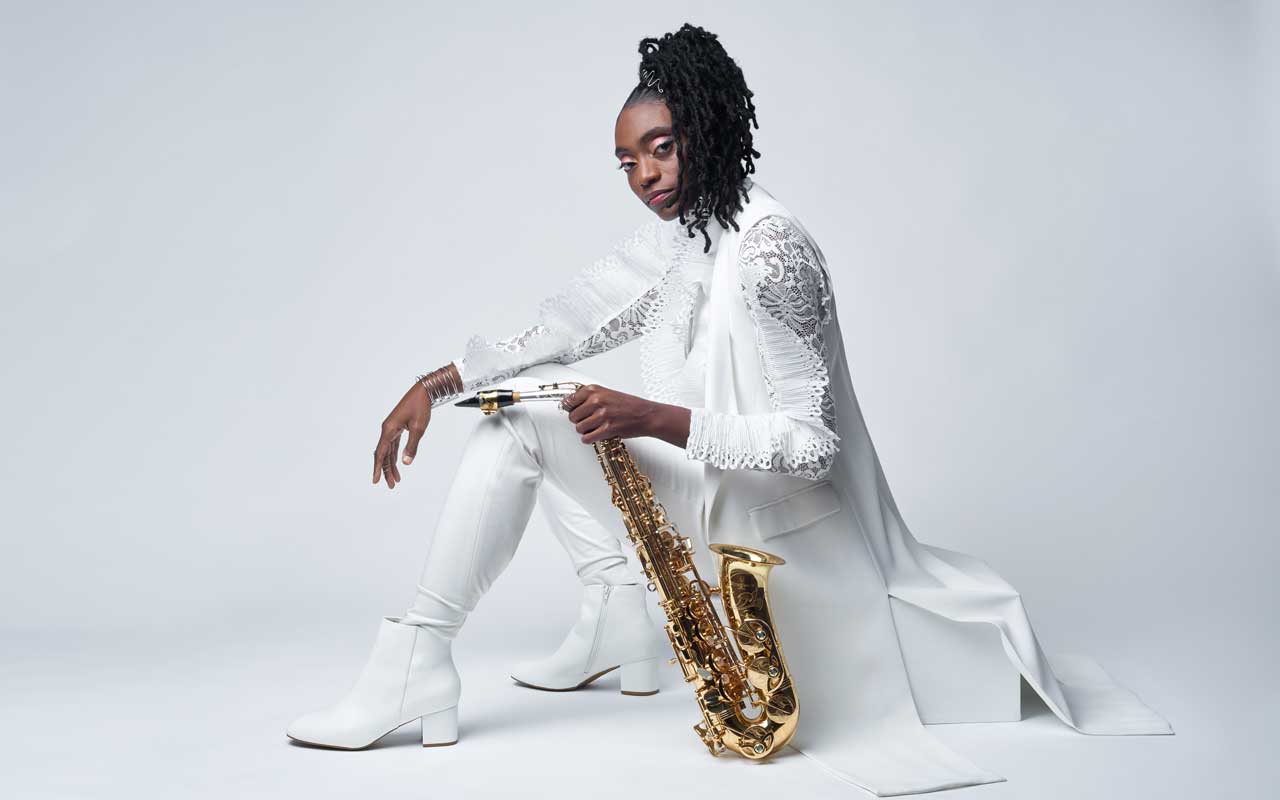 Sponsored by Brad Pearce, Built in Georgetown
$10–25
Emerging saxophone star and prolific bandleader Lake­cia Benjamin was 11-years old with a saxophone in her hands and a dare to dream bigger. Her musical path flows through the Latin music and dance of her early neighbor­hoods to four continents as a sideman for soulful A-listers (Stevie Wonder, Missy Elliot, The Roots, Alicia Keys) and to The White House to perform President Barack Obama's 2009 Inauguration. Her wide-spanning career has culmi­nated, so far, with an ambitious ode to her roots music, Pursuance: The Coltranes (2020).
A post-bop homage that would shine on logistical grounds alone, Pursuance is unique in equally represent­ing compositions of Alice and John Coltrane and credit­ing some forty musicians. The music is a riveting fit for Benjamin's talents: her saxophone tone is not dissimilar to John's; her spirit not disconnected from Alice's.
Benjamin brings a three-generational jazz cast to Pursuance. Reggie Workman, who played with both John and Alice and proved invaluable as a co-producer and mentor.
After launching Pursuance at Jazz at Lincoln Center in March 2020, this significant achievement should have carried momentum for an anticipated spring tour, where she would have joined us in person. But adapting through changes as Lakecia did in the making of this work, she cuts through, with pursuance, to meet us in a new sonic moment.
Tonight, from New York, the band is: Lakecia Benja­min– saxophone; Zaccai Curtis– piano; Lonnie Plaxico– bass; and E.J. Strickland– drums.
Adding to the night, dancing solo from Langston is cho­reographer and dancer Jade Solomon Curtis. Solomon Curtis gained attention as a celebrated soloist of Donald Byrd's Spectrum Dance Season for four seasons. She is a multi-award winner, including the first SeattleDance's Dance Crush Award for performance/choreography for Black Like Me, which led to further development and funding from the National Dance Project.–Halynn Blanchard.
Sunday, October 18, 7pm
Ahamefule J.Oluo: The Music from Susan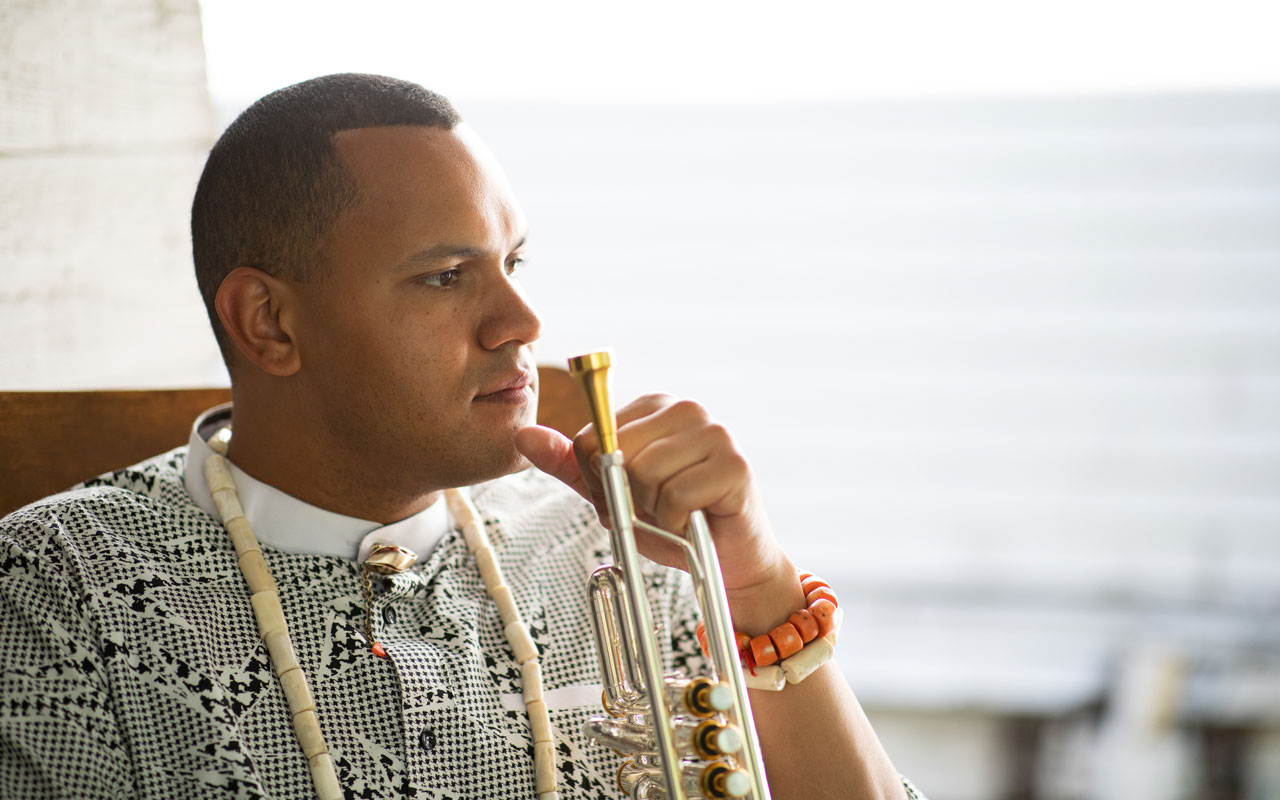 $10–25
Since March, Ahamefule J. Oluo—this year's Festival Resident Artist—has been creatively churning in his Pacific Northwest cabin studio (with tawdry Internet connection), honing his craft as one of Seattle's jazz com­posers, trumpeters, comedians, and experimental luminaries. Susan is one of Oluo's most immersive, dark-humored, and autobiographical jazz performances to date that features the unparalleled vocalists okanomodé and Tiffany Wilson, saxophonist Skerik, and pianist Marina Albero. Through the ensemble's max-flavored com­positions, Oluo's memoiristic stand-up comedy, and personally painful punchlines in Susan, Oluo has not only introduced his own neologism for performance, but has also begun to refine it.
Oluo says his 2020 has been "as good as it can be, given the circumstanc­es" as this year was supposed to be a (much deserved) banner year for Susan to finally take it on the road after five years of incubating. But obviously 2020 touring is not happening now as all engagements are on hold until it's safe to reconvene.
In the meantime, this event showcas­es the up-close footage and immersive jazz excellence while performing S_u_s_a_n_ _at On the Boards in Seattle. Susan is titled after Ahamefule Oluo's mother. Oluo's opus honors her as the support­ive-but-complex, white, Midwestern wife who married a Nigerian chief, but who was left to raise Oluo and his sib­lings single-handedly.
If Now I'm Fine, Oluo's 2014 avant-comedy jazz-opera, was an intimate exhibition of his own persistence to not give up on himself despite a series of dishearteningly unfortunate events, then Susan is about his and his moth­er's persistence to better understand their intersectional identities and nu­ances. As a second storyline, Oluo also chronicles his empirical exploration to visit his extended family back in his biological-but-mostly-absent father's village back in Nigeria.
The mellifluous compositions from Susan—like "Man from Obibi" from Industrial Revelation's 2015 Liberation & the Kingdom of Nri—take the au­dience on an holistic journey through the heart, mind, body, and logos of Ahamefule Oluo through tension-based storytelling and arrangements, honeyed melodies of hope, and sinu­soidal tempos that match the undulat­ing tempests of his episodic experience and relationships.
The orchestral energy of Susan is vis­ceral and powerful with a range of de­lightful and diminished euphoria that rises and crashes with the narrative, which all offer their own rawness as vulnerable as Ahamefule Oluo himself allows.–Zach Frimmel