Tarik Abouzied photo by Daniel Sheehan.
Thursday, October, 22, 7pm
Amy Denio & Tarik Abouzied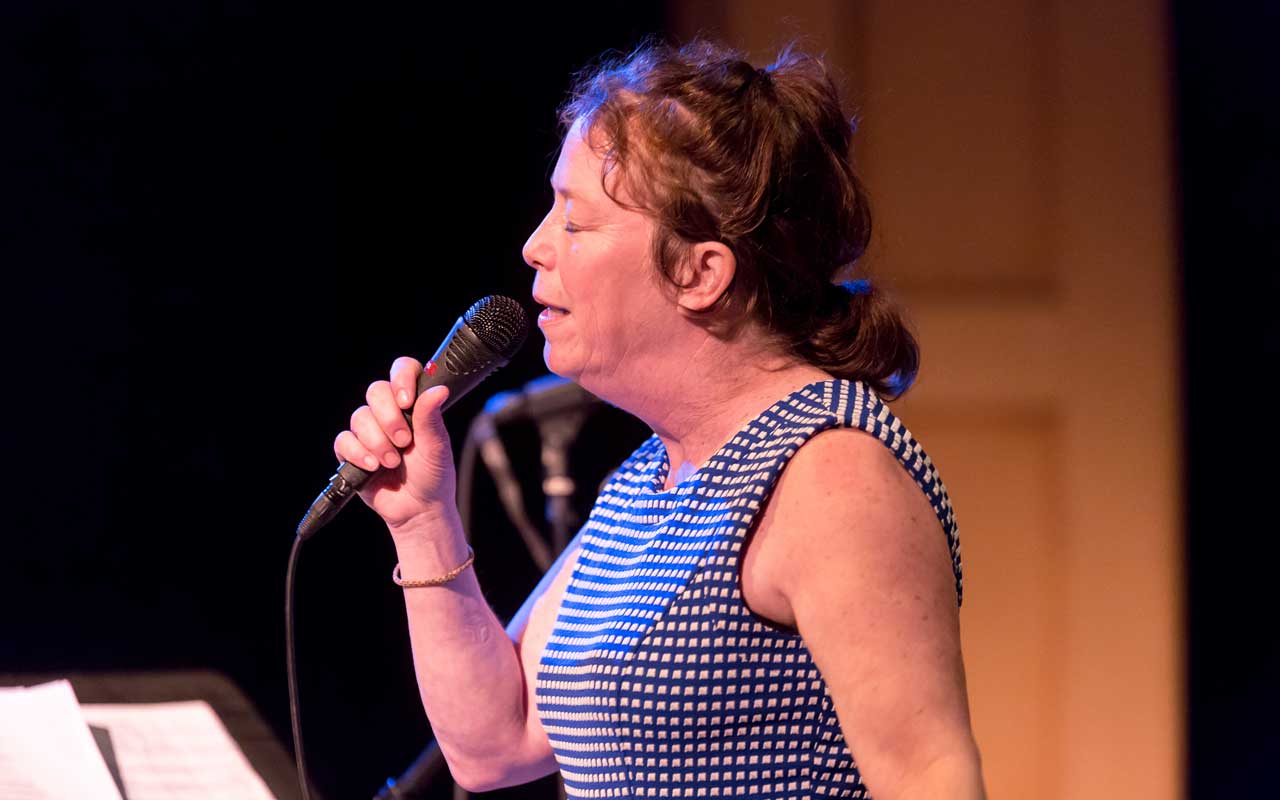 $10–25
Multi-instrumentalists Amy Denio and Tarik Abouzied are two steady lights in the Seattle music commu­nity. Denio, an eclectic vocalist and prolific performer on various instru­ments, combines her astounding skill with her radical curiosity in groups like Kultur Shock, a Balkan punk band, and the all-female Tiptons Sax Quartet. Abouzied, an accomplished drummer, bassist, and composer, is an on-call session musician and leader of various local groups, including award-winning Happy Orchestra.
Abouzied makes music from the heart, which also grooves to the bone. An outspoken member of the music community and generous educator, he leads the 12-piece Happy Orchestra, whose 2017 debut Baba was nomi­nated for the Earshot Golden Ear NW Jazz Recording of the Year award.
He has occasionally filled in on drums for the Tipton Sax Quartet, a group Denio founded in 1987. Their variety of influences, from classical composition to traditional jazz ar­rangements, Afro-Cuban to Klezmer, merge into a rhythmic bouillon that can be heard on 2020's release Wabi Sabi. These influences come naturally to Denio, who in addition to her stud­ies in Western music, has also studied vocal music in India, performed in festivals in Japan, Taiwan, and Brazil, and elsewhere.
Denio recently lent her composition­al skills to a film scoring commission by Kino Lorber, as well as releasing a recording of her chamber suite, Truth is Up For Grabs, a piece for 21 musi­cians sponsored by the Seattle Com­posers Alliance.
Collaborating together since 2015, both share an inclusive, forward-looking aesthetic, from composing to recording. For their performance—broadcast live from the Royal Room—Denio and Abouzied will perform a set of compositions and improvisations based on their experiences in various musical traditions.–Ian Gwin
Thursday, October 22, 8:30pm
The New American Standard: Ayesha Brooks, Wayne Horvitz, Ha Yang Kim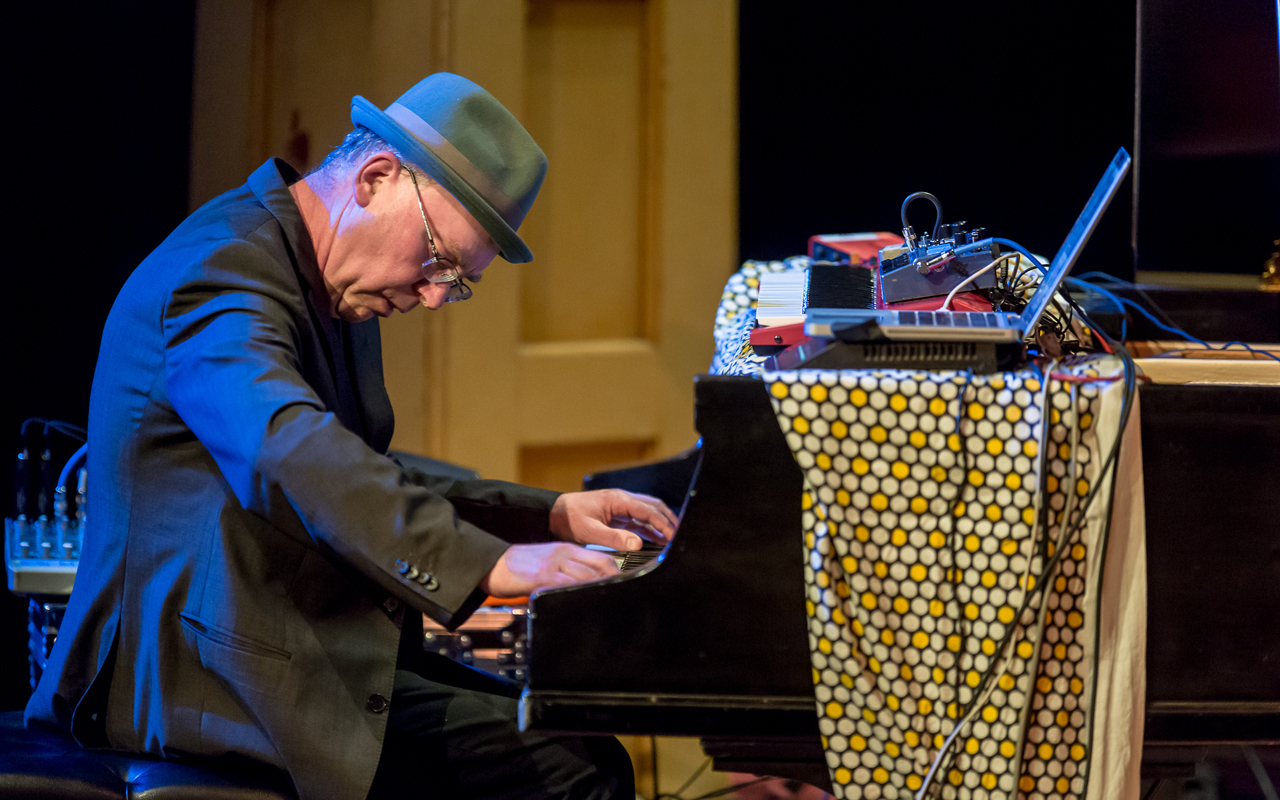 $10–25
Any young musician approaching the rich tradition of jazz music must be faced with the concept of "a standard." In line with its normal usage, where it denotes a certain accepted quality or commonly recognized norm, the mu­sical standard is a song as a template for improvisation, often sourced from the early history of American music. But what do these songs mean for us now? What sources, from prior and present legacies, can be held as "stan­dards?" Who writes the book, some­times called "the Great American Songbook?"
Pianist and composer Wayne Hor­vitz, as a longtime member of the avantgarde, is no stranger to the de­bate surrounding standards. The pia­nist who restitched genre tropes for John Zorn's composition workshop Naked City in the nineties is the same producer for Bill Frisell's Have a Little Faith (1992); the adjunct professor at Cornish is the same programmer of the Royal Room in Columbia City; the composer of orchestral concertos is the same scientist of the processed piano for the The Snowghost Sessions (2016).
In other words, the standard for a postmodern musician can be set. Cel­list Ha Yang Kim and vocalist Ayesha "Musicbox" Brooks, both with their own very different sources of tradition and takes on contemporary music, join Horvitz on stage to set the standard.
Born in Korea, Kim made an early start as a classical cellist, but has sur­passed any precocity: the founder of Odd Appetite, a contemporary en­semble that performs newly commis­sioned work, she has performed tra­ditional and new Balinese music as a member of Gamelan Galak Tika, and has collaborated and performed with neominimalist composers like Evan Ziporyn and legends like Cecil Taylor.
Brooks, hailing from the Puget Sound area, is an accomplished singer who managed to turn around Shaki­ra's chair on the television series The Voice. Her voice continues to draw heads in local venues, including the Royal Room, where she's collaborated with local blues outfit the Jelly Roll­ers, in tributes to Aretha Franklin, and with Horvitz on stirring tributes to the Grateful Dead. As her art indicates, it's a living voice that declares the present: for the New American Standards trio, the book remains unwritten.–Ian Gwin
Friday, October 23, 7pm
Johnaye Kendrick Quartet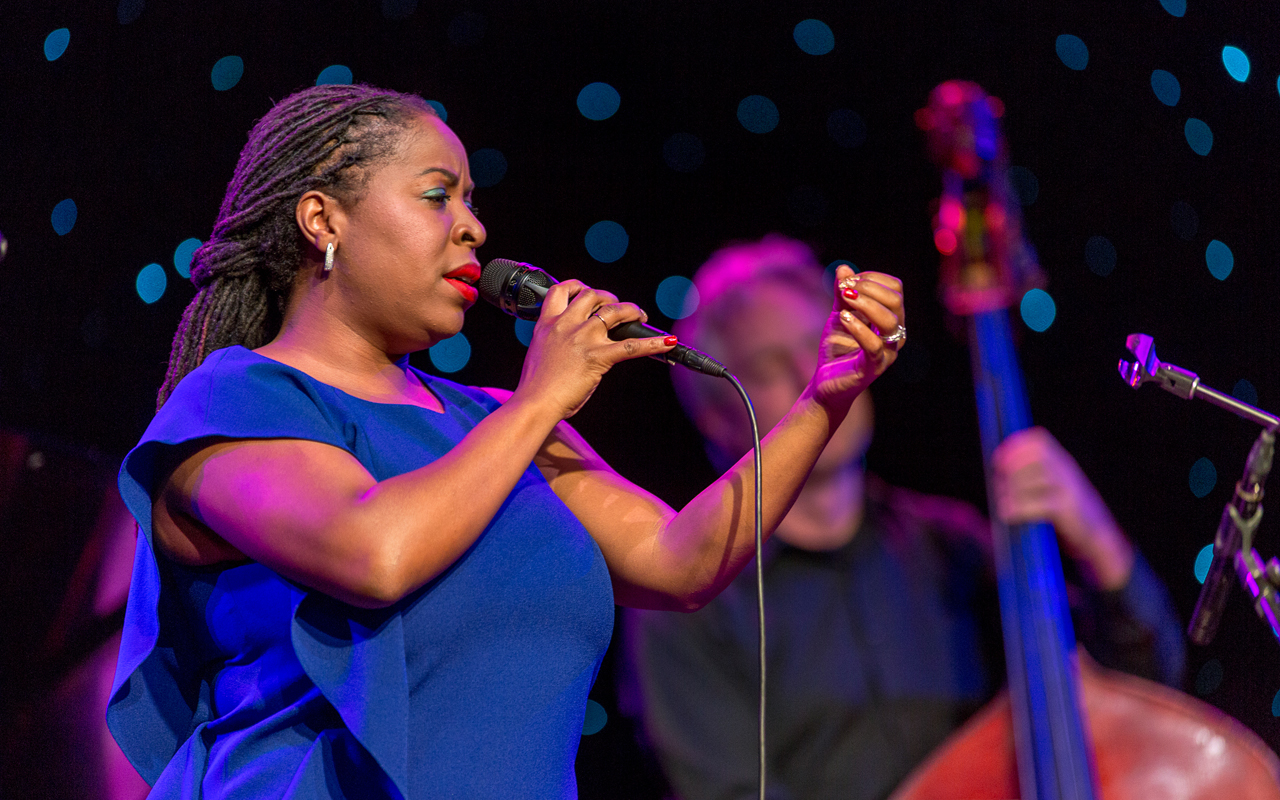 $10–25
Johnaye Kendrick's arrival in Seattle was tied to the opportunity of a full professorship at Cornish College of the Arts. A lot of life had happened to her since leaving her native San Diego for Michigan, a journey that eventually led to the prestigious Thelonious Monk Institute in New Orleans. While there, she performed regularly with NOLA royalty, Ellis Marsalis and Nicholas Payton. Payton's support was well known, exclaiming, "Johnaye has the potential to be a vocalist of the highest order, the likes of which we have seen seldom since the grande dames of the golden era of jazz roamed the earth. She's got it!"
Kendrick's ability to take the experience of life, and express it lyrically as a composer of personal, original tunes, has resulted in two highly acclaimed recordings during her time in Seattle. In 2014 she released Here on her Johnygirl label, followed by Flying in 2018. Kendrick is a complete musician, with perfect pitch and extraordinary range.
Joining Kendrick for this performance are bassist Chris Symer, drummer D'Vonne Lewis, and pianist John Hansen. It has been some months since Kendrick last performed for an audience of any kind, something she is eagerly looking forward to. No doubt her virtual audience shares that excitement.
Kendrick's career is a balance point between mentorship, artistry, and family. Sometimes an artist comes along that is so original, so comfortable being themselves, that their music becomes art that endures. Kendrick only hopes that her music creates a spark along the way. She offers, "I just try to take all that and do my best with it, and create the best representation of myself, my people, the times. It's just a little gift I put down, and hope someone picks up and appreciates."–Paul Rauch
Friday, October 23, 8:30pm
Tarbaby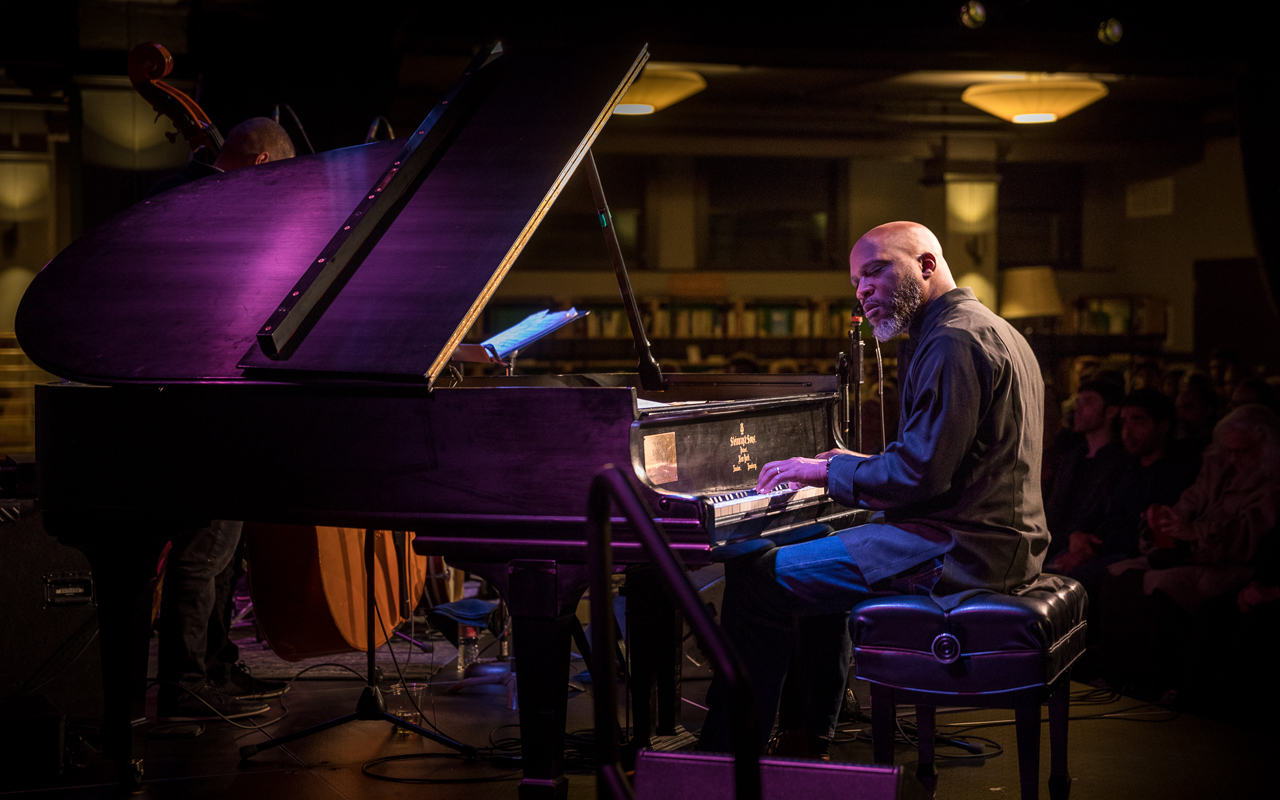 $10–25
The story of the Tar Baby, a folk story adapted in the tales of Uncle Remus in 1881, goes something like this: Br'er fox builds a doll from tar. His friend, Br'er rabbit, comes by and argues with the doll. But the more he struggles, the deeper he gets stuck in the sticky ploy.
Bassist Eric Revis, describing his Tarbaby trio with pianist Orrin Evans and drummer Nasheet Waits, in a JazzTimes article relates the idiom that 'since sprung from this problem to "the idea of swinging, playing with conviction, with reckless abandon." Those elements, essentially, of the jazz tradition that some in the modern era who favor "pensive" jazz would rather not stick their foot in, are exactly the elements that the band Tarbaby relishes.
Authored by a collective, the trio co-leads by the excellence and experience of its members. Readers might be familiar with Evans as the newest member to the critically acclaimed trio The Bad Plus. Possessing a forward-thinking harmonic style that parallels fellow Philedelphian McCoy Tyner, Evans has been paying his dues touring and recording as a leader since the mid-nineties. His gigantic group The Captain Black Big Band, a multi-generational project that ambitiously ventures through the plural heritage of jazz, has earned praise for its "audacity of spirit" (NPR).
Evans named the band after a brand of tobacco he smoked with his father after a conversation with Nahseet Waits, after the latter discovered his father, the percussionist Freddie Waits, also smoked. Another New York Native, Waits began his career extending this legacy in Mac Roach's group M'Boom, followed by a stint with reedman Antonio Hart, in addition to tenure with Andrew Hill and Fred Hersch.
Coming to prominence playing with Betty Carter, Eric Revis has made his name as a powerful yet thoughtful percussionist, stating in an interview, "There may be an air of robustness around my music, but there is a lot of sensitivity and intellectual content." A key member of Branford Marsalis' band and frequent collaborator with Armen Nalbandian, Revis released his eighth album as leader Slipknots Through a Looking Glass, an elastic study in concentrated rhythm, on Pyroclastic records this year.
Their collective daring as experimentalists and independent leadership has driven the trio since their eponymous 2009 debut. "This is a strong postbop collective with plenty of moves at its command: advanced rhythmic calculus, sly harmonic implication, cohesive elasticity, brute force," writes the New York Times. –Ian Gwin
Saturday, October 24, 7pm
Jovino Santos Neto Quinteto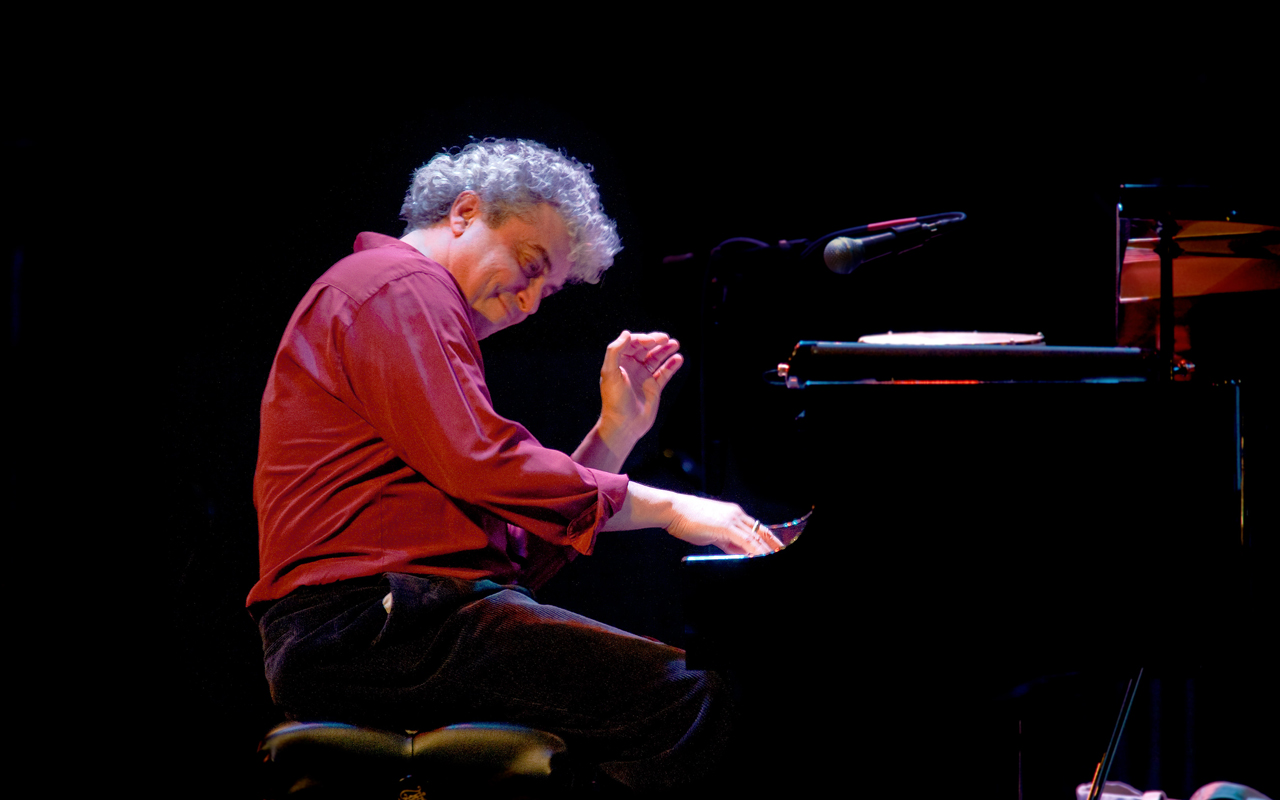 $10–25
Seattle has been fortunate to count Brazilian pianist/composer Jovino Santos Neto as a permanent resident. Though his association with Cornish College of the Arts was influential in his decision, it was the raw beauty of the Pacific Northwest that was the initial attraction. On tour with Brazilian master Hermeto Pascoal, the band was on a ferry bound for Victoria, B.C. from Seattle, when Santos Neto was taken with what surrounded him. "On the ferry, I just looked around at the water and the islands and thought it was so beautiful. I remember thinking that I could live in this place. It hit me in a place where still today I cannot say objectively why," he remarks.
By 1993, he had taken up residence in Seattle, still connected to Pascoal as the default curator of his musical legacy. Almost immediately, he began playing with bassist Chuck Deardorf and drummer Mark Ivester. Over the course of the next few years, he would add vibraphonist Ben Thomas, and percussionist Jeff Busch to the mix. That original formation of musical souls, known as the Jovino Santos Neto Quinteto, remains intact and committed both on stage and in the studio. The marvelous chemistry they have developed over time have made them what is known in the industry as a "sure thing"—sure to play pulsing, dynamic Brazilian jazz, which leaves their audience in a profoundly joyous state.
Santos Neto is a skilled arranger and composer as well, something he developed from his association with Pascoal. His unique fusion of traditional Brazilian music and jazz is not performed with preservation in mind, but innovation, with a quarter century of growth in the Pacific Northwest adding to its core identity. The artist himself, is reticent about defining his evolving sound. "If I started to describe my sound, I would almost feel an obligation to sound how I described. I learned that from Hermeto," he says.
Santos Neto was named Artist in Residence for the 2018 Earshot Jazz Festival, composing and performing new music for Big Band, with an all-star, all-Seattle cast. This year's offering will be just the quinteto, pent-up by eight months of inactivity. After a quarter century of thrilling audiences around the world, watch for the band to explode out of the gate, and find that intimate relationship they have formed with their dedicated audience. In the time of COVID-19, their ardent positivity will provide much needed joy.–Paul Rauch
Saturday, October 24, 8:30pm
John Hollenbeck: Epigraphs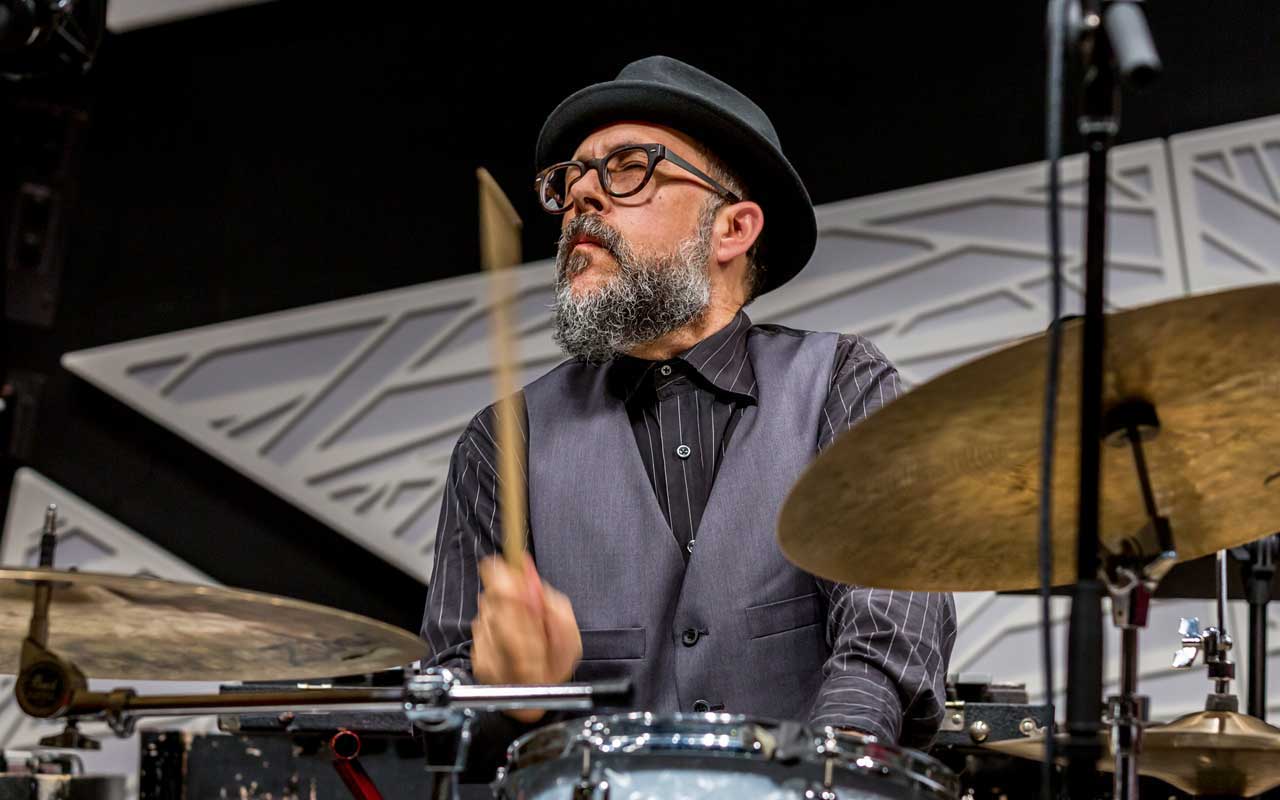 $10–25
John Hollenbeck is a composer without category, an abstract conceptualist who often applies his skills to non-abstract objects in music. Also a versatile drummer and percussionist, Hollenbeck applies a keenly objective thought process to every nuance of his artistic personality. He is profoundly influenced by trombonist/composer/arranger Bob Brookmeyer and composer/choreographer Meredith Monk. Whether directing his Large Ensemble, or writing and performing in the innovative Claudia Quintet, Hollenbeck's wit and personality always seems to shine through.
A four-time Grammy nominee, Hollenbeck has written and performed many commissioned works, including a career defining piece in 2001 inspired by, and written for his mentor Brookmeyer, "Processional and Desiderata" for Wind ensemble and Orator. Like most of his large ensemble pieces, the music relates to the label of "New Music," or "Modern Classical" as much as it does to jazz within the industry.
While so much attention is directed to Hollenbeck's elite credentials as a composer and arranger, his qualities as a master drummer and percussionist are often overlooked. Much like his persona as a composer, Hollenbeck's playing is groove-based and accessible. Within the confines of this approach are intricacies that could be described as orchestral in nature.
For the festival, Hollenbeck will perform with Montreal based guitarist Roman Munoz, in a duo enhanced by epigraph-chanting vocalists Sarah Rossy and Jeanne Laforest. The music is of a mystical nature that evolves in a constant state of change. Hollenbeck fans will not be surprised by the musical about-face. He has a special disdain for repetition, a quality that has kept his conceptions fresh and inspired over the course of his career.–Paul Rauch
Sunday, October 25, 7pm
Triple Solo: Marina Albero, Jeff Johnson, D'Vonne Lewis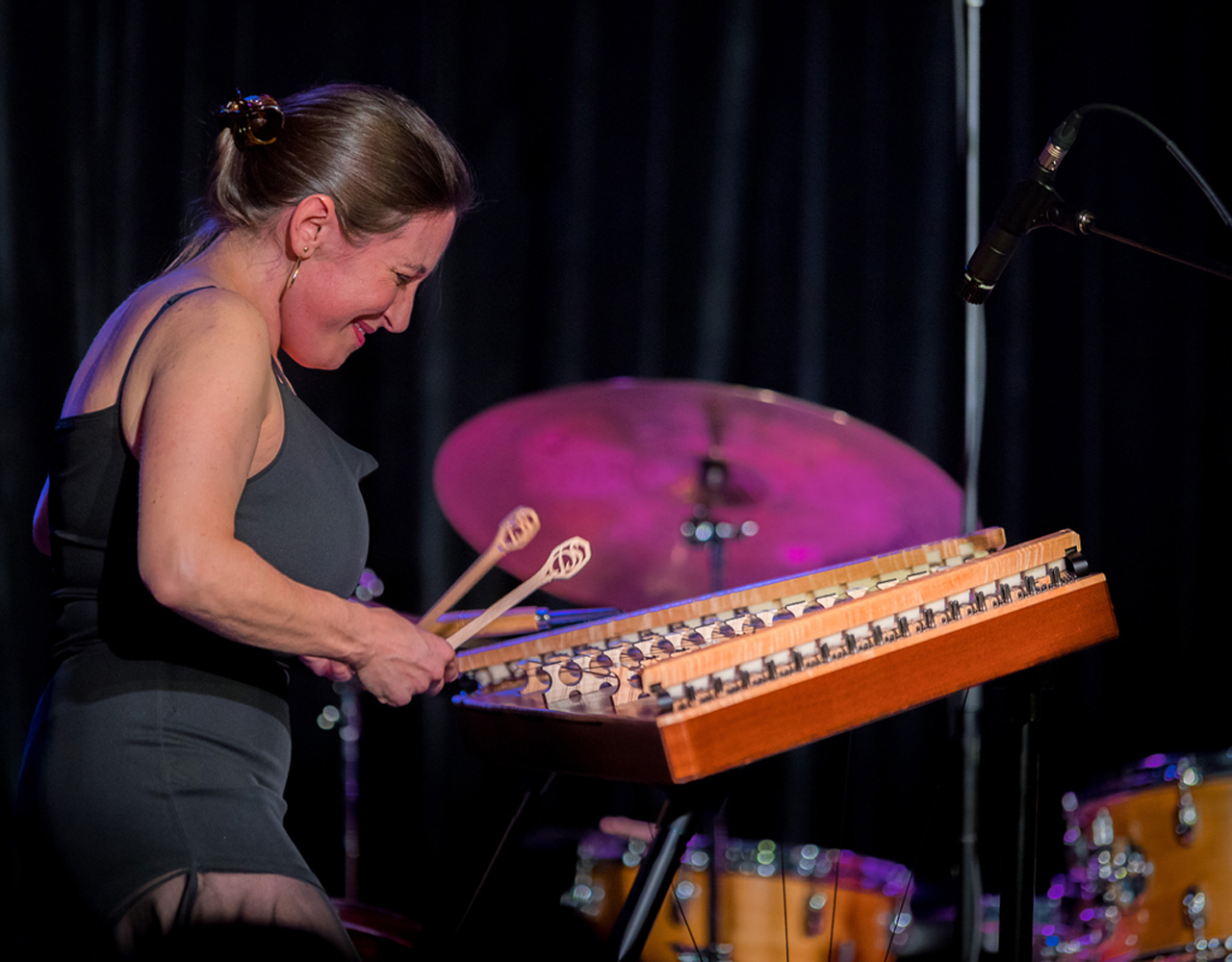 $10–25
It was six years ago that pianist Marina Albero pulled up stakes in her native Barcelona, and moved her family to Seattle. She arrived with prodigious talent as a pianist, vibraphonist, and practitioner of the psalterium, or hammered dulcimer.
The daughter of legendary Catalan musician/composer/activist Mariano Albero, she had spent a formative three years in Cuba mastering classical piano, and in the process, absorbing the Afro-Cuban rhythms of the island not through playing, but by dancing with friends. Those rhythms would become integral in her approach as an improvising musician, exploring flamenco and jazz forms. A twenty-year partnership with flamenco jazz pioneer Chano Domínguez, Spain's most celebrated jazz musician, influenced her playing as well.
The open nature of the jazz and improvised music scene in Seattle presented open arms for Albero to find herself as an artist. Live performances at clubs like Tula's, the Triple Door, and the Royal Room have become full house celebrations, as Albero has developed a following of dedicated fans. 2019 culminated in her first American release, the triple CD, A Life Soundtrack (Self-Released, 2019), a musical roadmap of her journey as an artist highlighting Albero's fluid virtuosity, and cross-cultural brilliance. Earshot Jazz honored Albero with the 2019 Golden Ear Award for NW Best Recording of the Year along with the 2019 NW Instrumentalist of the Year Award.
For this performance, Albero will be featured on all three instruments—piano, psalterium, and vibraphone—playing music that has risen out of the experience of living in Seattle during the worldwide pandemic. Like all of us, Albero has experienced great change in 2020, living isolated from the music community where she thrives not only musically, but socially. Her performance will reflect that detachment from normal life, and the healing music can provide both physically and spiritually. Joining Albero are her longtime Seattle musical collaborators, bassist Jeff Johnson, and drummer D'Vonne Lewis.
The trio will provide an interactive portion of the performance, where they will invite the audience to join them in the art of improvisation! The audience is encouraged to have any sort of keyboard at hand, from full piano to smart phone app, to participate.–Paul Rauch
Sunday, October 25, 8:30pm
Eugenie Jones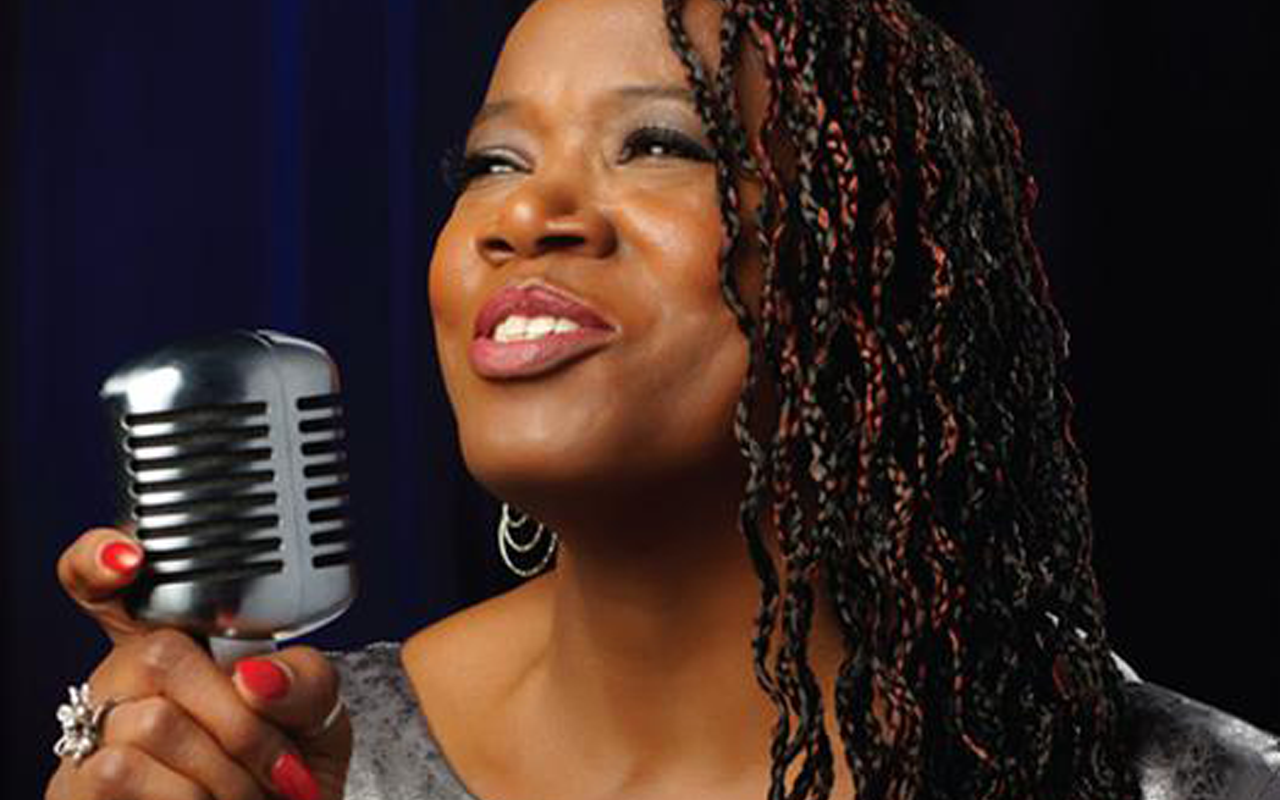 $10–25
The story behind jazz vocalist Eugenie Jones begins in West Virginia, where her parents introduced her to jazz and soul. Her mother sang often in the church choir, and more memorably, around their home. With an MBA, and a career in marketing, Jones would have no notion of singing herself, much less professionally, until her mother's passing from cancer. The memory of her mother's voice gave Jones the courage to pursue music a bit later than some, with a creative spark that had been lit quite organically, and was not to be denied.
Jones' music is pure, mainstream jazz, and inevitably draws comparisons to jazz greats such as Abbey Lincoln and Nina Simone. Perhaps as a Seattle artist, those comparisons should be made to the great Seattle songstress, Ernestine Anderson. When compared to Ella Fitzgerald and Sarah Vaughan in an article in Time Magazine in 1958, Anderson replied, "I wish, they would let me be just me." That adage expresses Jones almost perfectly.
What inevitably sets Jones apart from most jazz vocalists, is her talents as a songwriter and lyricist. She has filled her two albums with thoughtful, original compositions. Black Lace Blue Tears, was named NW Recording of the Year by Earshot Jazz in 2013, and received a 3.5 star rating by DownBeat. Her personal connection with her music carries with it a defined confidence. She was further honored by Earshot in 2015, by being named NW Vocalist of the Year.
Jones will be joined by a veteran cast of Seattle players. Pianist Jeremy Bacon moved to Seattle from New York City in late 2017, and made an immediate impact. Bassist Paul Gabrielson has made his mark in jazz internationally, and has performed with the best of the Seattle jazz scene, as well as the Seattle Symphony. Drummer Jamael Nance has roots in the jazz community dating back to performances with Hadley Caliman and Chuck Metcalf. Skilled soloists all, the trio is in a good place, with Jones having a reputation to "let the cats play."
With roots that stretch back to Anderson and the Jackson St. scene of the 1940's, Seattle's tradition of great jazz singers has continued in current times, with Jones fitting securely in that timeline.– Paul Rauch.