Benjamin Hunter photo by Amber Zbitnoff.
Thursday, November 5, 7pm, PST
Thomas Marriott's Trumpet Ship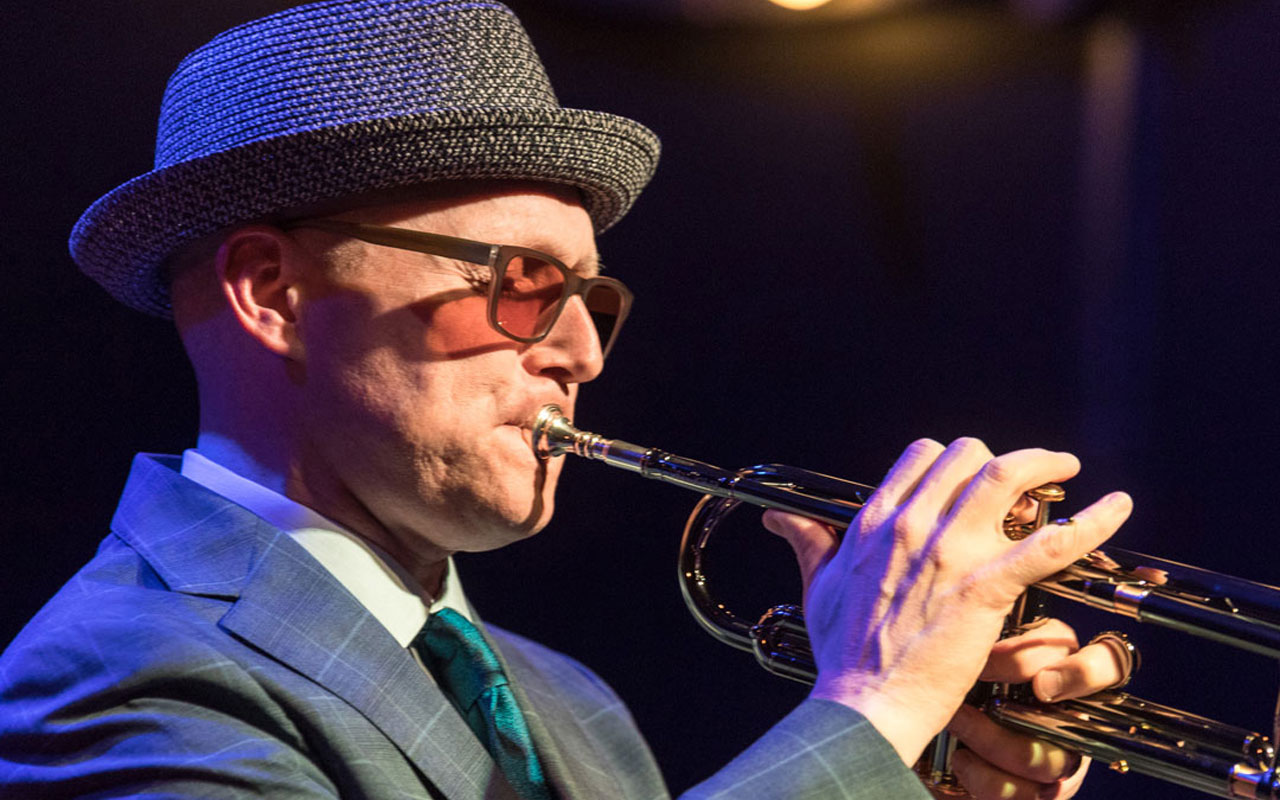 $10–25
Since his return to Seattle from New York City in 2004, trumpeter Thomas Marriott has recorded eleven albums as a leader or co-leader on the Seattle based Origin Records label. None have been more anticipated than Marriott's most recent release on Origin, Trumpet Ship (2020). The album focuses on first-take quartet offerings of Marriott originals and standards. Recorded in one three-hour session at Studio X in 2016, the album is a celebration of Marriott's friendship with Philadelphia based pianist, Orrin Evans. Joined by bassist Luques Curtis and drummer Mark Whitfield, Jr., the session captures the artistry of the quartet perfectly. The recordings sat unreleased over the course of three and a half years. Marriott leaked the title track on social media in 2019, a hard charging interpretation of Sonny Simmons' avant-bop tune. The street date was set for March 2020, with a tour to follow with the session's quartet intact.
Trumpet Ship was received well, upon the March release. It seemed the album and the tour with his Philly based bandmates would create a highlight in Marriott's career, after two decades of consistently high-quality work. But, as the story of 2020 has been told, tour plans were dropped due to the worldwide COVID-19 pandemic. Life for all of us became more internalized.
This performance takes advantage of the opportunity created by this unfortunate turn of events, to flip the script, and celebrate Marriott's original music that is so well presented on the album. To do so, the trumpeter has gathered his Seattle quartet, featuring three of the city's best, presently and historically. Pianist Marc Seales, bassist Jeff Johnson, and drummer John Bishop join Marriott, who has a lengthy history with this dynamic assemblage of talent. Considering the nature of his approach, that inherent intuition that can only be propagated over time, should become immediately apparent. All four musicians are counted among the finest to have appeared on the scene over a century of jazz history in Seattle. For one evening, they will regain the momentum that was brought to a grinding halt by the pandemic, and give the Earshot audience a performance to remember this epic year by.–Paul Rauch
Thursday, November 5, 8:30pm, PST
Ab Baars Solo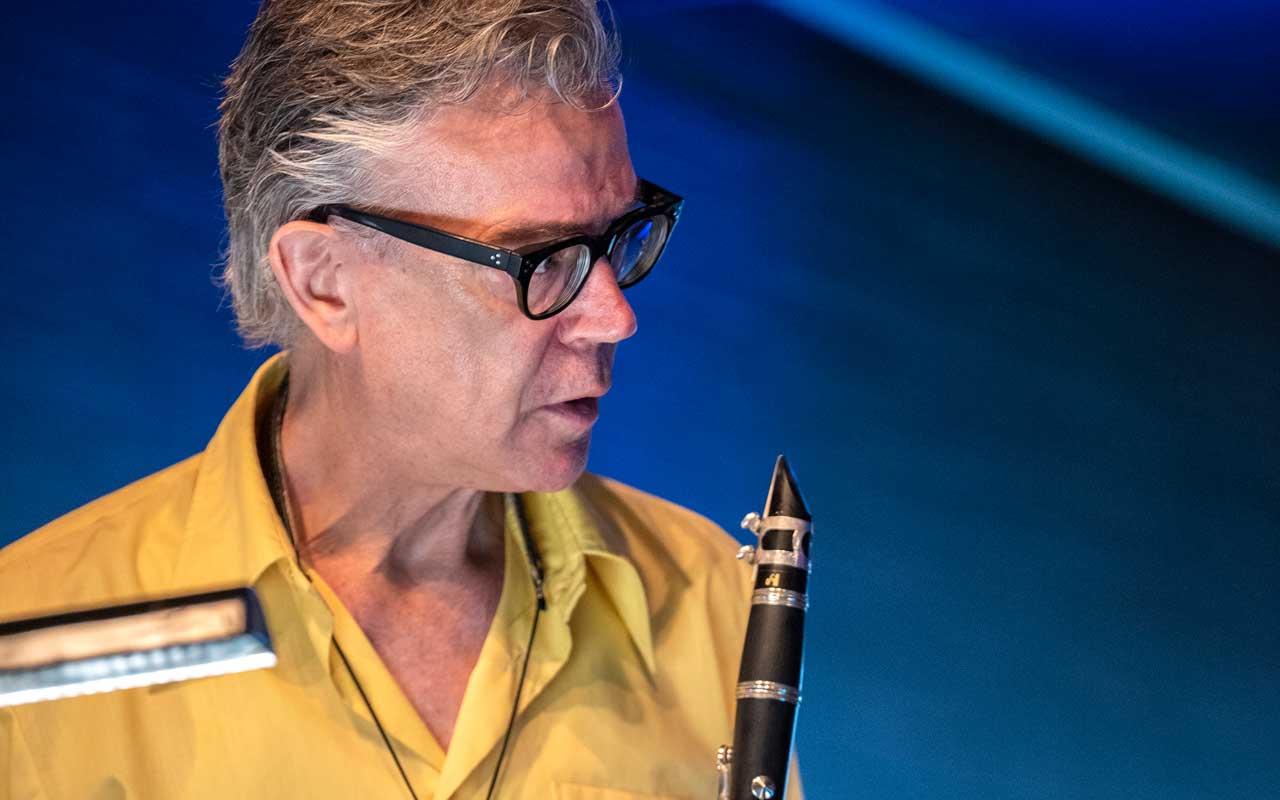 $10–25
Earshot fans are no doubt familiar with stellar second-generation New Dutch Swing reed man Ab Baars, thanks to his many appearances here with the ICP Orchestra and his own small groups, but they may not know his estimable solo work, which will be the focus of Baars' festival show this year, streamed live from his Amsterdam studio. A 1989 recipient of Holland's most prestigious award, the Boy Edgar Prize, Baars is a unique reed player. He uses an Albert system clarinet, which has fewer keys than the more modern Boehm system, thus requiring a variety of alternate fingerings that coax players to make new choices and leave behind old habits, in much the same way Steve Lacy used to challenge himself by avoiding or creating certain practice patterns. Baars also plays shakuhachi, that most resistant of Japanese flutes, and tenor saxophone, on which he elicits a colorful, fearless palette that owes a debt to Archie Shepp. But whichever horn is in his mouth, Baars exercises consummate technical control while letting his improvisations fly where they might.
Baars plays all three instruments on his solo albums And She Speaks – A Collection of Ballads (2018) and Time to Do My Lions (2008), which reveal a subtle, nuanced, abstract approach to improvisation. Leaping in a trice from a lowing caress to a pyrotechnic squall—with judicious silences setting off his phrases—Baars can be a bit puzzling, at first, until you realize snippets of the melody or harmonic benchmarks are surreptitiously slipping into his lines. Favorites on And She Speaks include the hauntingly beautiful "Naima Blue Saphir" and the playful "Blame It On My Youth Cadmium Red." In an email Baars writes that he will be using his full arsenal for the Earshot show and will play "a few new compositions and something by Misha Mengelberg and John Carter."–Paul de Barros
Friday, November 6, 7pm, PST
Benjamin Hunter Quartet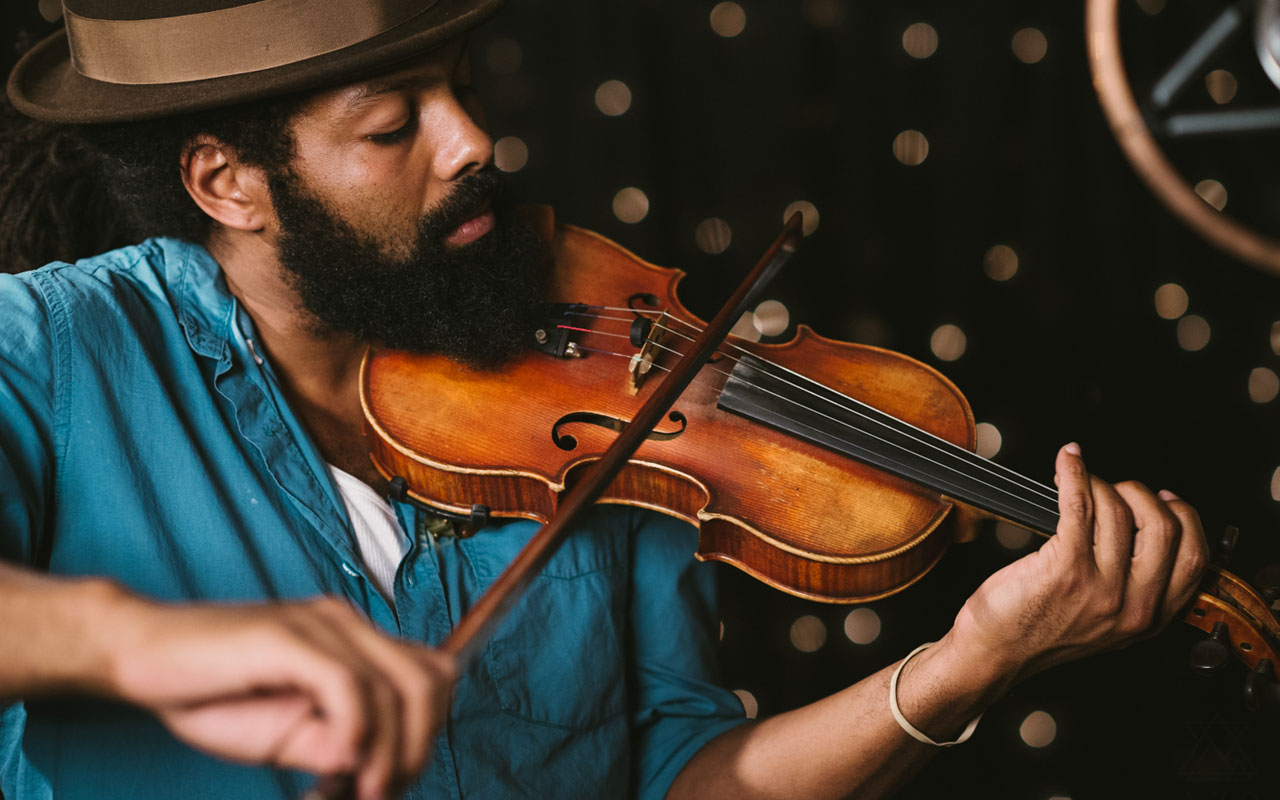 $10-25
"It has given us time to think," says the award-winning multi-instrumentalist Benjamin Hunter of the COVID-19 pandemic. "Time to be alone with ourselves. Time to reckon with that isolation. Time to embrace it." Hunter plays roots music (on violin, mandolin, guitar, percussion, and voice) and the isolation has changed the notes of his music. "It's underscored for me the importance of the arts and the true value of human connection." Hunter, with a small ensemble, will share that music virtually via a livestream concert as part of the Earshot 2020 Digital Festival.
Hunter, with Camilo Estrada on bass, Darrius Willrich on keys, and Chris Patin on drums, will play original music exploring the Black diaspora—from West African to the blues; jazz to Motown. All the musicians have deep music roots in Seattle. Hunter is currently an artist-in-residence for On The Boards. Hunter and Estrada have a long history together having cofounded Seattle's Black and Tan Hall. Hunter and Willrich teach at Seattle's JazzEd. Patin is also an educator and has performed with a wide array of Seattle's luminary musicians.
Coupled with COVID has been the upsurge of the Black Lives Matter Movement, certainly something that has also impacted Hunter's artistic output. "As an activist and community organizer for 10 years in this city, I'm curious to know how BLM has colored Earshot Jazz. This is to say, the movement is part and parcel of my life in America. It has been my whole life." Earshot Jazz's statement on anti-racism can be found at earshot.org/earshot-jazz-and-anti-racism.
There are silver linings in the pandemic, in the tumult in the streets. For Hunter, they're opportunities to pay more attention to things that matter (family, self-care, storytelling) and focus on playing, and practicing, and writing music. "My goal,' Hunter says of his music, "is to make something I am happy with; that comes from my own authenticity." Soon Earshot audiences will be able to share in that happiness online. COVID or not, connectivity continues. –Jonathan Shipley
Friday November 6, 7pm, PST
Uprooted: The Journey of Jazz Dance (film)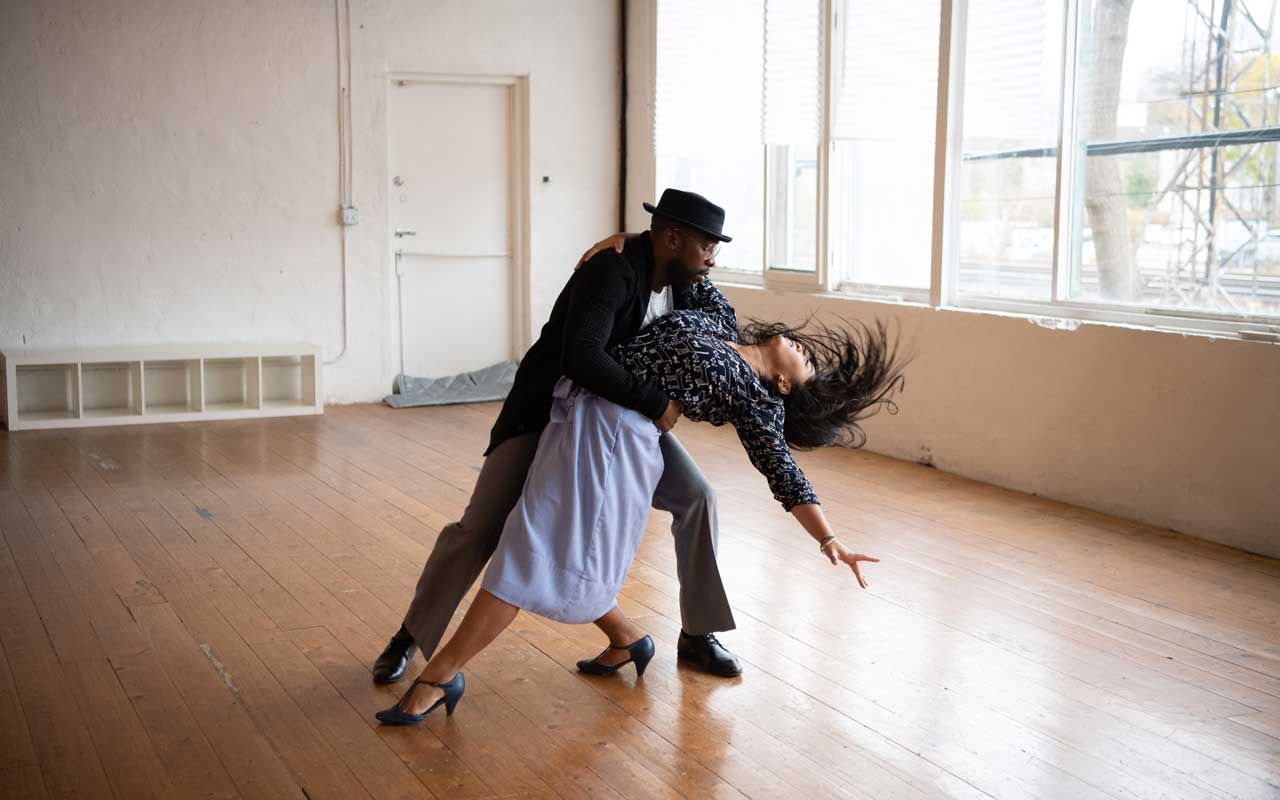 $0–25, presented by Northwest Film Forum, details at nwfilmforum.org
Available to viewers in Washington state for 24 hours. Jazz dance's history and artistic roots in the expression of enslaved peoples strengthen the art form, turning its practice into a metaphor for resistance and a struggle for acceptance.
The film is directed by Khadifa Wong, based on an original idea by Zack Nemorin. The films stars Debbie Allen, Joshua Bergasse, Jason Samuel Smith, Mandy Moore and others.
Friday, November 6, 8:30pm, PST
Fred Hersch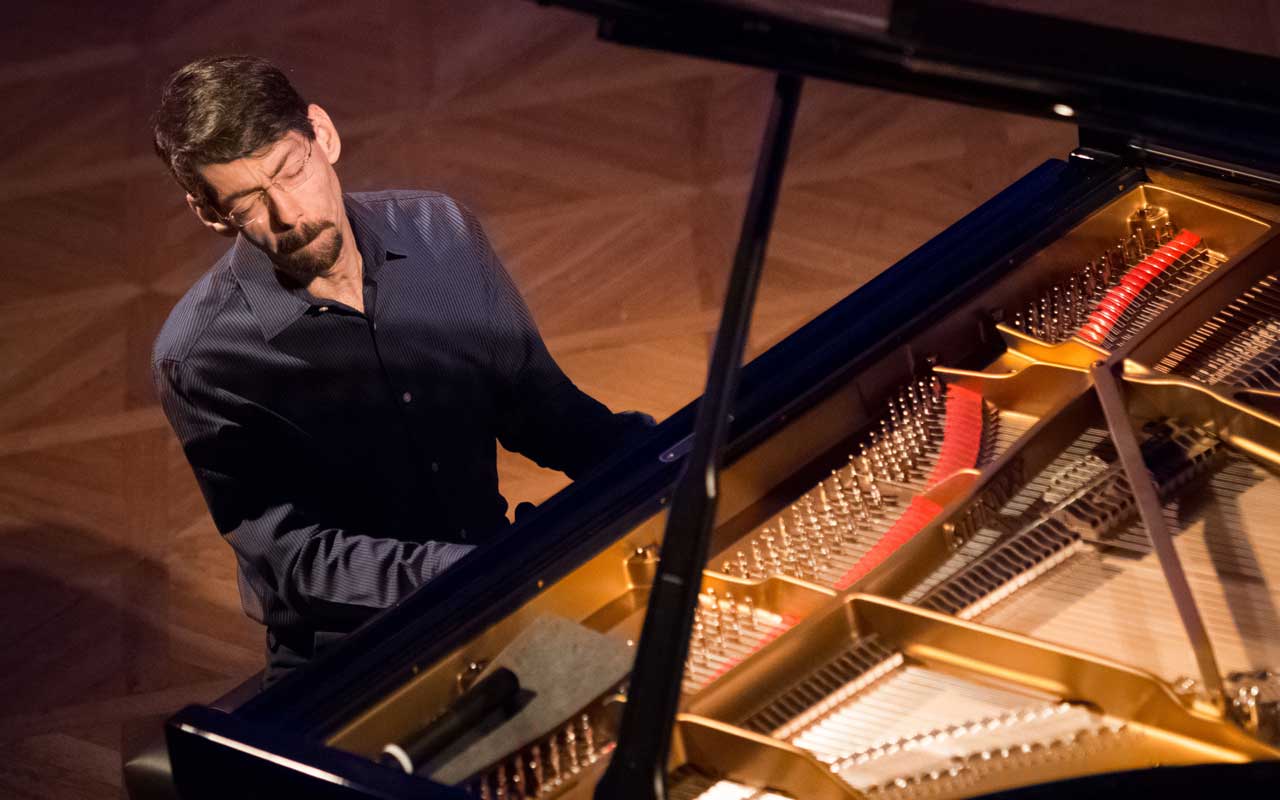 Sponsored by Michael Goodheim
$10–25
Pianist Fred Hersch hasn't let the pandemic slow him down; in fact, it seems to have fired him up. As soon as the COVID-19 pandemic careened into our lives, the 15-time Grammy nominee and 2011 Jazz Journalists Association Pianist of the Year started posting a "Tune of the Day" on Facebook, a practice that resulted in the solo CD, Songs From Home which he'll be sharing with Earshot Festival viewers this year. Hersch has made solo piano a specialty, releasing a dozen albums over the years. He also has the distinction of being the first pianist to do week-long solo gigs at the Village Vanguard. With a two-handed energy that can propel him rhythmically and a crystalline touch that compels listeners to sink sweetly into his quieter moods, Hersch is a master of the form. He's also a true improviser and storyteller, letting his imagination guide his hands where the music wants to go,
Hersch describes Songs From Home as "comfort food" for these sequestered times. Instead of the usual mix of Monk, American Songbook and jazz standards, the set surveys popular tunes such as "Wouldn't It Be Loverly," from My Fair Lady; the Jimmy Webb classic, "Wichita Lineman"; Joni Mitchell's "All I Want"; and – pointedly, for 1955-born Hersch—Paul McCartney's "When I'm Sixty-Four." The tone is quiet, intimate and thoughtful, though "After You've Gone" gets a jaunty turn and "Get Out of Town" a playful one. Duke's "Solitude" sparkles and Kenny Wheeler's "Consolation (A Folk Song)" is a rare treat.
It's no surprise that Hersch hasn't let adversity get to him. He's been living for years with the reality of being HIV-positive and back in 2008 endured a weeks-long, medically induced coma to combat a killer case of pneumonia. He and librettist Herschel Garfein collaborated on a gripping and witty chamber opera My Coma Dreams about this experience, which aired on YouTube this past summer and is highly recommended viewing. –Paul de Barros
Saturday, November 7, 7:30pm, PST
SRJO Nonet: Birth of Cool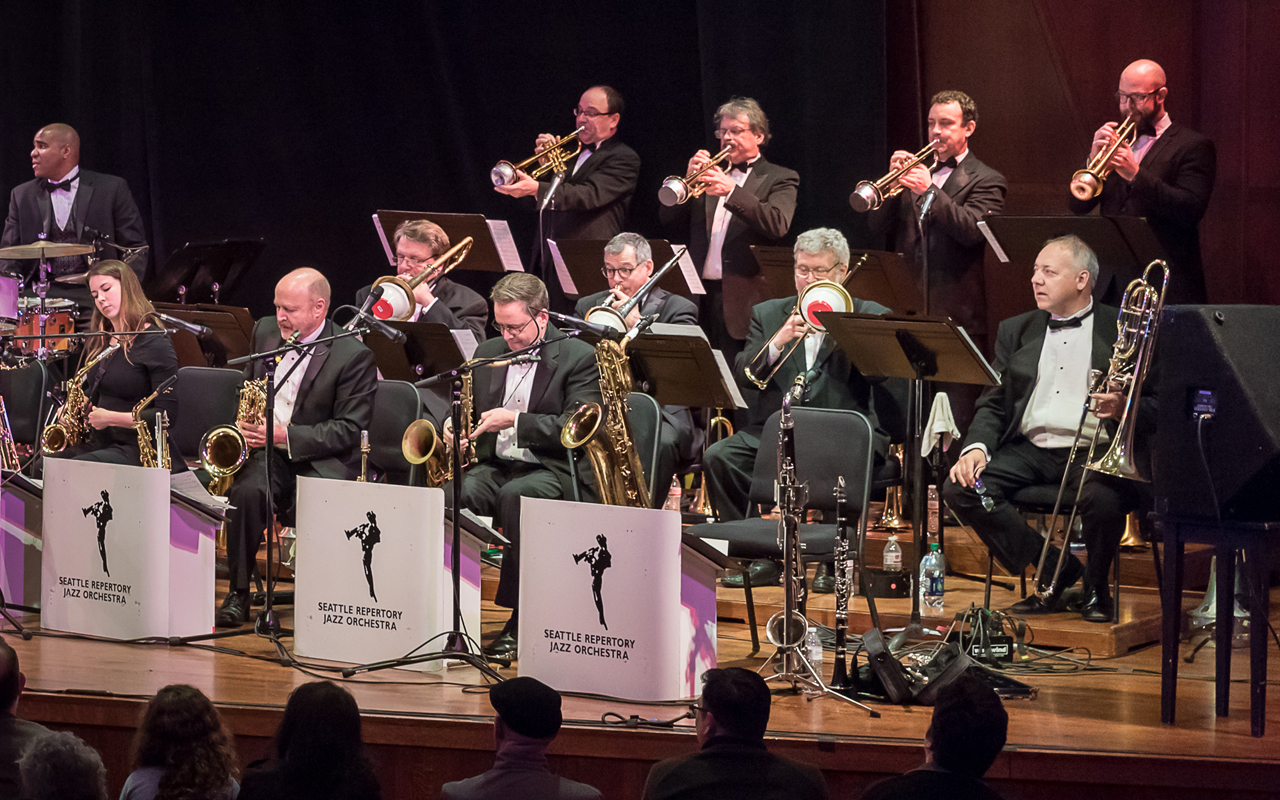 Presented by SRJO
Tickets at srjo.org
A rare performance of great jazz from the classic 1949 Birth of the Cool recording by Miles Davis, played by an all-star group drawn from the SRJO including bassist Phil Sparks, trumpeter Jay Thomas, saxophonists Alex Dugdale and Travis Ranney, trombonist Dan Marcus, drummer D'Vonne Lewis, co-artistic director Michael Brockman, and many others streaming live from Benaroya hall.
The original album—which features Miles Davis, Lee Konitz, Gerry Mulligan and J.J. Johnson—was a major development in post-bebop jazz, and employed many elements of classical chamber music. It quickly became one of the most famous and influential albums in all jazz history.
Tonight's selections include "Jeru," "Rocker, "Boplicity," "Moon Dreams," and "Godchild" (by Mulligan, Gil Evans, and John Lewis) plus other great works from the "cool school" of jazz.
Sunday, November 8, 7pm, PST
Ravi Coltrane Quartet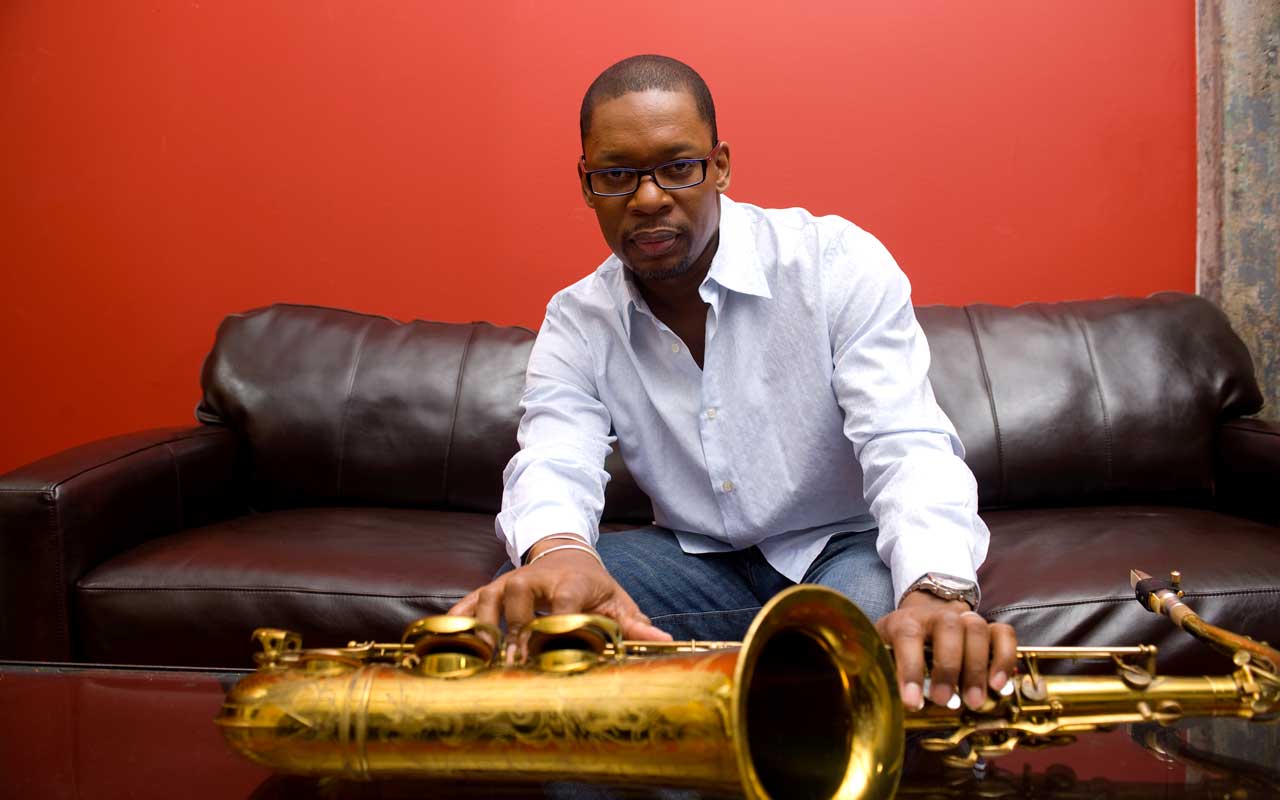 Sponsored by Seed IP
$10–25
Saxophonist Ravi Coltrane comes to the 2020 Earshot Jazz Festival via Birdland in New York City, performing with a quartet much in the spirit of his parents, John and Alice Coltrane.
As a child, young Ravi was shy, and played clarinet in school band, eventually leaning towards photography rather than music. Earlier, upon his father's death when he was just two years old, his mother had moved the family to Los Angeles, where she established herself as a musical force of her own. Featured on piano, and as a pioneering spirit of the harp, she took the flame she had nurtured together with her legendary husband, and moved forward. Eventually, a re-inspired Ravi began to play saxophone in high school, despite the suffocating scrutiny he was likely to face as the son of an iconic master like his father.
As a professional, Ravi appeared on over thirty albums before releasing his first album, Moving Pictures (RCA, 1997), an effort produced by saxophonist Steve Coleman. Coleman was a major influence in the developing style of the young Coltrane. Along the way, Ravi worked with major artists such as Geri Allen and Herbie Hancock. Most notably, he performed with pianist McCoy Tyner and saxophonist Pharoah Sanders, both of whom were major players in his father's career. Over the past thirty years, he has developed a personal sound that is musically very independent of his father's, but with the same spirit of adventure and introspection that nurtured the musical identity of both his parents.
That same spirit resides in his current quartet, which features eclectic harpist Brandee Younger. While engaging the stylistic lineage of Alice Coltrane and Dorothy Ashby, she is noted for her work with drummer/producer Makaya McCraven. Younger's most recent release as a leader, Soul Awakening (Self-Produced, 2019), features Coltrane on saxophone. In this quartet setting, Younger replaces the pianist's role—comping with beautiful harmonic voicings, and soloing utilizing bold single tones, and dynamic, cascading runs. She has abundant familiarity with bassist Rashaan Carter, who brings a dynamic all his own to the proceedings.
Carter fits perfectly into diverse musical communities that shade from Wallace Roney to María Grand. The same could be said for drummer Allan Mednard, who has earned his jazz stripes with the likes of Jeremy Pelt, Aaron Parks, and Kurt Rosenwinklel. This musical threesome serves as a perfect vehicle for Coltrane's probing, biting solos on both tenor and soprano saxophones.
Ravi Coltrane will never fully escape the shadow of his parents, but he continues to create his own legacy, embraced by the love and music they endowed him. This current incarnation of his quartet, is perhaps the perfect instrument to fully express his familial pride and the freedom it allows him.–Paul Rauch
The Ravi Coltrane Quartet's performance will be streamed twice in the festival—on Friday, October 16 and Sunday, November 8; both at 7pm. Tickets sold separately.
Sunday, November 8, 8:30pm, PST
Ahamefule J. Oluo House Party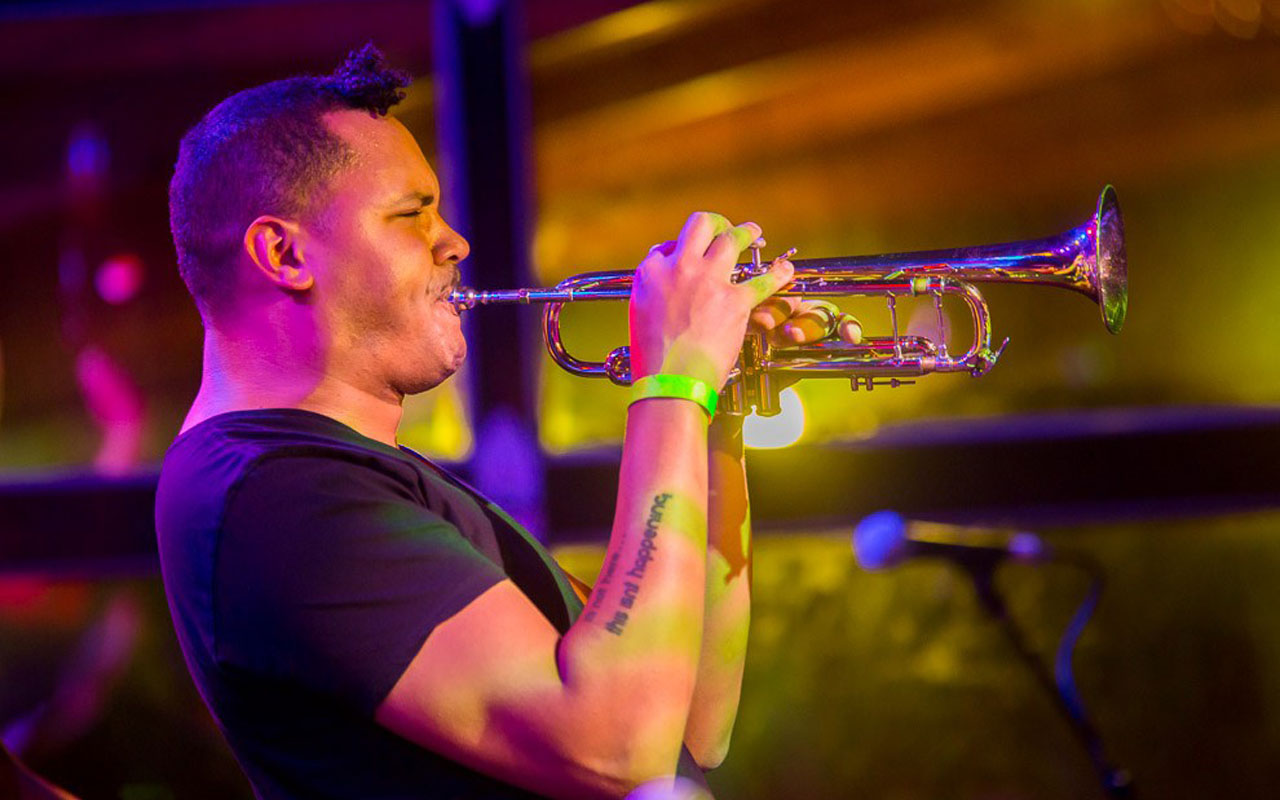 Free with Registration
Prepare for the Revelation! Whether you've tuned into none, one, or most of this year's digitally streamed festival performances, you haven't seen a performance quite like Ahamefule Oluo's Virtual Reality House Party. This 2016-recorded document of Industrial Revelation playing in a living room brimming with house show enthusiasts, kindred souls, and Nigerian food will give us that euphonious and palpable experience of what it was like to be immersed in a sultry and live music setting again.
Oluo expounds, "The beauty of virtual reality is that you get to feel like you're immersed somewhere, and wouldn't it be great to be at a really cool party with live music and amazing food and just capture that particular event in a really beautiful way?" Most definitely. The majority of us show-goers are craving these sacred moments again because they offer us—to quote Industrial Revelation's bio—"human emotion…unbridled energy, excitement, passion, beauty and the enjoyment that coincides."
Even though it was recorded in 2016, the footage of this 21:30-minute, unfettered time capsule is
just now being unearthed because it was simultaneously in production while Thin Skin—Oluo's full-length film adaptation of Now I'm Fine—was in production. Oluo was just waiting for the right time to release it. He says, "It's a really beautiful film…it's something I've always been really proud of and I've always wanted to find the right place to put it out and now it seems like, in the context of COVID, where it really is impossible to go to a party like that…it just seemed like a really amazing time to put out this little moment from the past."
Oluo concludes by threading his three festival events together by being "as immersive as possible because it's really one of the main things that's missing is that kind of connection…right now I think connectiveness is what we need." Agreed, I think we're ready for the Revelation. –Zach Frimmel