New Music From Women in Jazz
One of the many pandemic-induced disappointments for Seattle jazz lov¬ers was the cancellation by the Maria Schneider Orchestra (which features Spokane-bred trombonist Ryan Ke¬berle) and the new, all-women's super¬group, Artemis. Luckily, both ensem¬bles have released new albums. In the spirit of honoring jazz women, here's a look at those albums as well as a newly retrieved live set by Ella Fitzgerald.–Paul de Barros

Maria Schneider Orchestra
Data Lords
Artist Share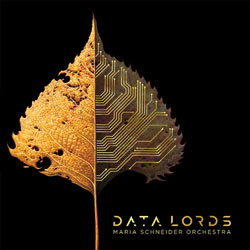 Any new release by the great com¬poser and bandleader Maria Schneider is cause for celebration, but her new one, Data Lords, is especially powerful—and timely, too, given Big Data's frightening control over our world. A long composition in two parts named for competing realities—"The Digital World" and "Our Natural World"— it features some of the darkest, most disturbing music Schneider has ever written. Fans may be startled at first, but will soon discover Schneider is still a brilliant master of reed-brass timbres and developing her themes with a seamless weave of composition and improvisation.
The Minnesota-born musician pierces to the dark heart right off the bat with "A World Lost," a sad elegy for childhood's imaginative world, which she fears has been superseded by screen time. Fanfareish brass, ominously evoking "Taps," continues the mournful message in "Don't Be Evil," a jab at Google, followed by the eerie, outer-space feel of "CQ CQ Is Anybody There?" which Schneider composed using morse code signals as a rhythmic skeleton. Donny McCaslin's braying tenor sax and Greg Gisbert's eerily altered trumpet abet the fierceness. Scott Robinson's incomparably beautiful baritone sax invites us into "Sputnik," another voyage to extraterrestrial territory, this time hearkening back to the innocent optimism of 1957. But not for long. "The Digital World" closes with "Data Lords," which almost seems to luxuriate in the dark side be-fore slowly grinding to a halt, as if the planet had just run out of steam.
But Schneider is an optimist at heart, and would never leave us there. "Our Natural World" offers uplift with "Look Up," especially the singing solo by trombonist Marshall Gilkes; the brief but perky "Braided Together"; and the pastoral "Bluebird," which Gary Versace's accordion explores like a supping bee. Schneider's survey of the organic, pre-disrupted world also features the gorgeous "Sanzenin," named for a thousand-year-old Buddhist garden in Japan; the dancing "Stone Song," with Steve Wilson's soprano landing like flecks on Versace's accordion; and the impressionistic "The Sun Waited For Me," an instrumental reprise of a track from Win¬ter Morning Walks, which swells to a close, reassuring us that the natural world is still there to nurture and in¬spire us. If only we could look up from our phones long enough to see it.
Artemis
Artemis
Blue Note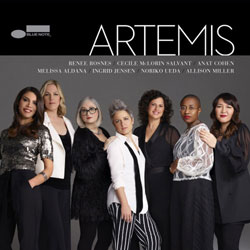 Jazz sisterhood has been growing exponentially the past few years, so the emergence of an all-female band featuring veteran stars Cécile McLorin Salvant (vocals), Ingrid Jensen (trum¬pet), Anat Cohen (clarinet), Renee Rosnes (piano) and Allison Miller (drums), plus the more recently hailed Chilean saxophonist Melissa Aldana and newcomer Noriko Ueda (bass), is both timely and welcome. Cohen, Aldana and Rosnes contribute to a set list that also features composers Lennon and McCartney, Stevie Wonder, Lee Morgan and Rocco Accetta, who wrote the seldom-sung ballad, "Cry Butter¬cup Cry," a Maxine Sullivan choice from the '40s covered here with cool clarity by Salvant. Other highlights include Rosnes' fiercely swinging "Big Top," which, appropriately, evokes the kaleidoscopic colors of a circus; Ueda's "Step Forward," a snappy and singable melody featuring Cohen's champagne clarinet; and Aldana's quietly flowing "Frida." The horn front line sizzles on Miller's hard-driving "Goddess Of The Hunt" (whom the Greeks called Artemis); McClorin invokes a timely message with Wonder's "If It's Magic"; Cohen and Jensen have a spirited conversation on the clarinetist's "Nocturno'" and the trumpeter turns "The Fool On The Hill" into a wonderfully mysterious jazz meditation.
Ella Fitzergald
The Lost Berlin Tapes
Verve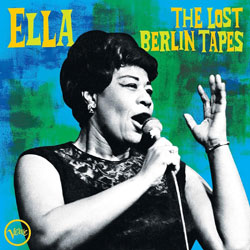 The music on this album was recorded in 1962, but unreleased till October 2020.
One of Ella Fitzgerald's greatest albums of all time was Mack the Knife: Ella in Berlin, a Grammy winner re-corded in 1960, and it's not an exaggeration to say that this new find, done two years later in the same city, is in the same league. Accompanied by her swinging trio—Paul Smith (piano), Wilfred Middlebrooks (bass) and Stan Levey (drums)—Ella's in top form, relaxed, in consummate control and obviously enjoying herself. The set emphasizes tunes Fitzgerald had just released on the album "Clap Hands, Here Comes Charlie" and repeats only two selections from the earlier Berlin effort, "Summertime" and, of course "Mack the Knife," a hit at the time for both Bobby Darin and Louis Arm¬strong. Fitzgerald notoriously forgot the lyrics of that classic in the 1960 show. This time, she gets them, but can't remember what city's she's in!
But never mind. Here is one of the greatest jazz singers of all time, in her prime, making you believe there's nothing better than dancing "Cheek to Cheek," and that "Taking A Chance on Love" would be just the thing to do. "Cry Me A River" flies into the crowd with trumpet-like force, "Some¬one to Watch Over Me" caresses the room with pleading vibrato, and "Jersey Bounce" lands with swing-era panache. Ella turns Berlin's Sportspalast into a revival tent with "Clap Hands Here Comes Charlie," puts her own sunny stamp on the Billie Holiday sig¬nature, "Good Morning Heartache," and gives Ray Charles extended props on a finger-popping "Hallelujah I Love Him So." Of course, "Mr. Paganini" gets his turn, too—no crowd would allow her to leave him out – and she ends her set with a rarity for her, a blues.