The Production team of the 2020 All-Digital Earshot Jazz Festival share how their jobs have changed, what Seattle spots they're supporting, artists they want you to know about, and acts of kindness that have brightened their isolation. Think of this as our staff party on paper. And you're invited. We hope you'll join us in celebrating the collective brilliance required to create something of value for the community. Concerts have always been about the humans: serving to give the artist a stage, to nourish the soul of the listener, to grow opportunities for more to participate, to inspire what is to come. We look forward to what is to come, and we reflect—with deep gratitude—on the work that has been done.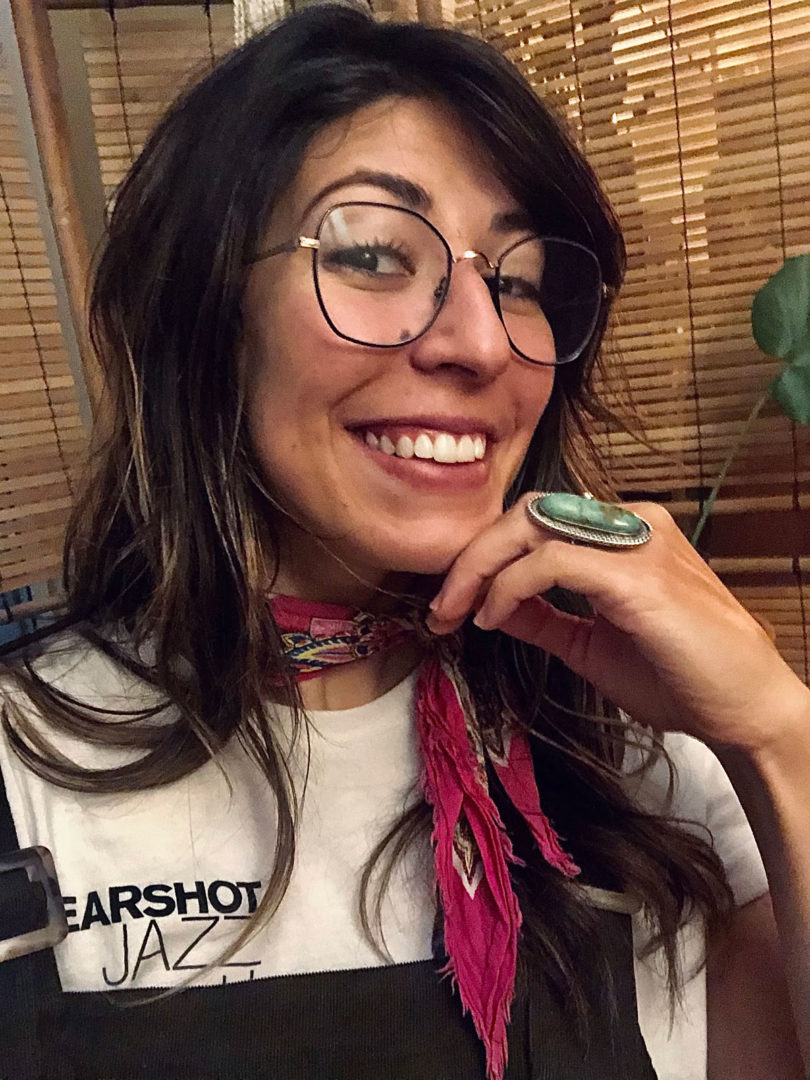 Halynn Blanchard (she/her), Production Manager Earshot Jazz. Photo courtesy of Halynn Blanchard.
Contact details: [email protected]
Josh Manley (he/him/his), Video Producer/Editor Town Hall Seattle. Photo courtesy of Josh Manley.
Contact details: Josh-Manley.com
Mujale Chisebuka (he/him), Founder/Creative Director Outside Thinc LLC. Photo courtesy of Outside Thinc.
Contact details: outsidethinc.com.
Moe Provencher (she/her), Audio Engineer, Self-employed. Photo by Niffer Calderwood.
Contact Details: griefreliefpodcast.com.
Brad Rouda (they/them), Production manager/AV tech The Royal Room. Photo courtesy of Brad Rouda.
Contact details: [email protected]
DESCRIBE YOUR SCOPE OF WORK FOR THE EARSHOT JAZZ FESTIVAL
HB: Managed logistics and livestreaming, and hired our talented production team, whose expertise made the transition to digital concerts possible!
JM: Helped with post production for all prerecorded events this year, as well as directing live events from Town Hall Seattle's forum space.
MC: Videographer for Earshot Jazz Festival shows filmed at Langston Hughes
MP: Mixed shows at Langston Hughes
BR: Production side for the Royal Room video streams
WHAT LOCAL SPOT(S) HAVE YOU BEEN SUPPORTING?
HB: Top Banana for produce, Raiz for the Chilaquile burrito, Thai Thaiku for mushroom larb, and Beats & Bohos for $1 records… I scored on 'Brazil' by the Ritchie Family. Sessions in Place concerts and Vera Project classes have been awesome during the pandemic.
JM: Ghost Note, Ayutthaya, Union Coffee, Boon Boona, Carmelo's Tacos
MC: Langston Hughes
MP: I try to hit the farmers market every Sunday and buy local produce, for a while there in the beginning Jenny Durkan had shut them down but a renegade band of farmers still came to Ballard for weeks and sold their wares anyway. I try and pick small indie spots to get takeout once in a while.
BR: I don't really go out. Loretta's and Star Brass I suppose. I eat a lot and have found out about this thing called delivery and I use it, a little too much, to eat my way around South Seattle. Check out Eat Time, they have been pretty spot on.
IS THERE AN ARTIST"S WORK YOU WANT MORE PEOPLE TO KNOW ABOUT?
HB: Laura Mvula, Gal Costa and Madison Cunningham! Also, Seattle's own Tiffany Wilson for vocals, and RAE (bassist Abbey Blackwell, guitarist Ronan Delisle and drummer Evan Woodle)
JM: Nubya Garcia.The London Jazz scene right now is incredible right now.
MC: MujaleAXP for instagram and all social media. "[I hope] to further grow a business that inspires innovation, development, and a creative way of thinking that positively impacts people." –Mujale, outsidethinc.com
MP: Tomo Nakayama released a record "Melonday" right when the pandemic started, and I've danced my ass off alone in the apartment many times. I love his music, and that record is amazing.
BR: First off, Carly Rae Jepsen and Orville Peck. Anything and everything. Outside of that, I would currently say Lustmord and Young Marble Giants (Though they isn't no band no mo') … Email me and I'll give you my tunez of the week.
HAVE ANY WORDS OF ENCOURAGEMENT OR ACTS OF SERVICE STUCK WITH YOU THIS YEAR?
HB: I keep catching instances of the community coming together when someone asks for what they need. I'd like to believe the success of crowdsourcing has been one indicator of some collective growth. I'd also like to think the two rabbits I live with are participating in acts of service when they do the zoomies in the background of my zoom calls.
JM: Defund the Police
MC: I love working with Earshot.
MP: I live alone and by mid-April of this year I was really struggling to keep it together. My friends have come through for me in profound ways… Annie Ford was hired to suddenly appear at my doorstep and play a private mini-concert for me. Two other friends came and tended my garden and kept it looking beautiful. Others dropped off homemade gifts, and drawings their kids had made. It's been a beautiful year for community, despite the isolation.
BR: The fact we all are dealing with this shit of a year gives me some odd sense of comfort. Maybe the idea that I'm not in it alone.
HOW HAS COVID IMPACTED YOUR WORK?
HB: The work and my spending – and sometimes my brain – has all had to slow way down. I'm one of the lucky ones who's had work this season thanks to Earshot's admirable dedication to continue to present arts opportunities. I'm feeling both parts of the growing pains. The work has changed big time; any music right now feels enriching, but I'm also deeply reminded of what we're missing and how so many peoples' worlds are upside down. I can't wait to have humans in a room again to hear music together.
JM: I went from doing videography for livestreams at venues to using at-home software for remote livestreams almost exclusively. Working from home has it's pros and cons, for sure, but that's the biggest stress (other than the fear of impending climate collapse).
MC: It has totally changed the way I work. Physical events are now online.
MP: Venue closure due to Covid-19 has eliminated nearly all of my live sound work, as well as my work with Seattle Public Schools and recording individual artists.
BR: Like all of us in this gig economy, I lost all my gigs in about a week's time. I have to say, I love not interacting with customers and getting to focus more on the lighting design and sound. Got to find some good in the bad.
WHAT NEW SKILLS HAVE YOU BEEN TRYING TO ACQUIRE THIS YEAR?
HB: It'd be great if I came out of this year with understanding more spanish. I was told to start working through the short stories of Juan José Arreola and I definitely recommend them! I'm also trying to learn to go to bed before 4am. You'd think this would be the year for it.
JM: Motion graphics, specifically in After Effects.
MC: Better video production.
MP: I have been trying to learn how to stay connected with my loved ones without being able to directly be with them. I've never been a big presence on social media, and tend to shy away from many aspects of digital culture… so it's been challenging to try and find the beauty in remote happy hours or watching livestream concerts alone on my laptop at the kitchen table. It's not easy, but I'm definitely more skilled at that now than I was earlier this year.
BR: Just trying to get myself back into video and visual art. Also working on my plant obsession. I have about 80 indoor plants as of this writing. My goal is to break 100 (Rumor has it, John cage had 400 in his NY apartment, and if he can do it I can do it.)
WHAT PROJECT(S) IS NEXT FOR YOU?
HB: I'm trying to get past some hurdles playing the piano. I may be experiencing the ultimate silver lining to musicians not touring: I get to start virtual lessons with one of my favorite living musicians and humans… Gerald Clayton!
JM: I'm still helping a lot with Town Hall Seattle's Livestreams. Currently applying for projects at The Vera Project—fingers crossed!
MC: More video projects!
MP: It's a slow time, but I'm grateful for every brush with art and creativity that I get. The Earshot Jazz shows I mixed were amazing, and I always left feeling refreshed and like I had a shot in the arm of human interaction and beauty. I'm starting to get little recording/mixing projects as well. I have a podcast called Grief/Relief that I haven't started production on this season, but I'm hoping to get on my feet and back at producing more episodes soon.
BR: Me and a few friends are making the appalling awful decision to try and start a Streaming Venue on Twitch out of my garage— LWSRecCenter. We aim to focus on the weird stuff that has a harder time during this pandemic. You know, the experimental,punkheavy, and odd. Anyone who played house shows or dive bars, and yes, even the Chapel, give us a look?
ANY FINAL THOUGHTS?
HB: Thank you… to each performer who put their reservations on the shelf and let us see you.
MC: Halynn Blanchard is awesome.
MP: …Thank you for supporting artists and keeping the music alive!
BR: …MORE DRAG IN JAZZ!"