Bad News Botanists
Indignation
Self-released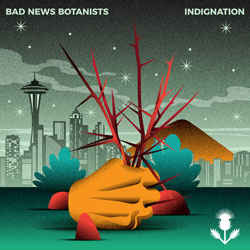 For now, forget about the bad news, and let's talk about some good news: Seattle sextet Bad News Botanists' new album, Indignation opens its buds this month. Following their 2017 Earshot NW recording of the year nominated release, Venomous Nightshade, saxophonist Frank Vitolo, trombonist Colin Pulkrabek, guitarist Andy Short, keyboardist Rob Homan bassist Marina Christopher, and drummer Chris Patin follow the beat of the funky drummer for a set of snappy fusion breakdowns and fine-tuned funk tunes. Vocalist, Aura Payne (from soul revival and, The Highsteppers) joins the band on this album.
The Botanists' particular patch of the Seattle funk and fusion scene thrives with varieties of 90's rock, contemporary groove / R&B, and of course, the fecund seedbed of the late seventies. Special selections include a tribute to Mark Sandman, named after his influential and criminally underrated group Morphine, and a somewhat introspective cover of Kenny Garrett's "Happy People." On the latter, Homan gives a towering saw-wave synthesizer solo over a headbanging rhythm, flowing into a particularly Sandman-esque melody. Pulkrabek's exuberant solo on the former kicks off after a sly, harmonically inventive solo by Christopher.
The horn section nails the popping and soaring parts of the groups well wound melodies, with Vitolo throwing off a scathing solo on processed tenor on the album's opener, bringing in elements of liberation music and digital synthesis to the driving groove. Homan also adds a layer of science fiction suspense to the genre's usual palette of Hammond B3 swirls and glowing Fender Rhode clouds, adding a phasing drift to the ostinato figure for the closer, "An Optional Ending."
It's from the ground floor of the. groove that the rest of rhythm elevates, and as Christopher locks in with Short's muted snap, Patin nails the drums at the foundation. Listen for his snare flurries on Optional Ending," the crescendo of breaks during the solos of "Air Quality Index," and the lickety-split boom clap of "Duck a la Funk" for reference. Though their song titles speak to the present political moment, the Botanists drum up their respective strengths with a technique that's far from new, building their narrative from the collective. –Ian Gwin
Jay Thomas, Matt Wilson
and Friends
High Crimes and Misdemeanors
McVouty Records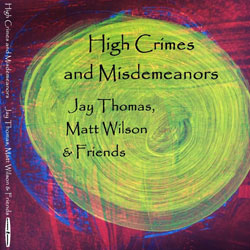 Seattle jazz icon Jay Thomas seems to be in legacy mode. For fifty years, the veteran trumpeter/saxophonist has been at the forefront of the jazz scene in Seattle, along the way gaining international acclaim. His ability to play both trumpet and saxophone with virtuosity is rare indeed, perhaps only equaled by the late in jazz history. This summer, Thomas released Upside, a superb Jim Wilke recording of a quartet performance from 1997.
With his new release, High Crimes and Misdemeanors, Thomas teams up with drummer Matt Wilson, and an all-star cast, for a loose blowing session recorded in the summer of 2019. The recording features a number of bright lights on the Seattle scene, notably bassist Michael Glynn, pianist John Hansen, and guitarist Milo Peterson. Trombonist Dan Marcus holds down
the front line with Thomas. Thomas offers two originals, most notably "Big George", a bluesy homage to George Coleman. Thomas and Peterson find their way through the melody, with Thomas carrying the weight on tenor. The two kick off the solos brilliantly, followed by Hansen's well-articulated voicings and Wilson's lively drum and cymbal work. That pattern takes the listener from tune to tune, with stunning melody embellished by artful melodic improvisation.
Ellington's elegant "Low Key Lightly," features Marcus and Thomas bringing the rich melody to life, with Thomas' alto solo reworking the melody with equal elegance. Thelonious Monk's "Bright Mississippi," seems to fall back to its contrafact roots in "Sweet Georgia Brown," with Marcus holding down the bottom end on tuba. Thomas takes on Fats Navarro's "Nostalgia," with unshakeable cool on trumpet, weaving in and out of the melody with Peterson's sparkling single note lines. Throughout each tune, Wilson pushes the band with his brilliant and always playful work on drums.
The rhythm section work on this recording is to be especially noted, with Peterson and Hansen working hand in hand with Wilson to create bountiful space for this all out, session style recording. Glynn is seamless on bass, and offers deft solo work of his own. Bassist Chuck Deardorf guests for Clifford Jordan's "Bo Till," and Dan Dean contributes on electric bass on the finale, "Is It True?"–Paul Rauch