Josh Hou
Feeling of Home
SELF-RELEASED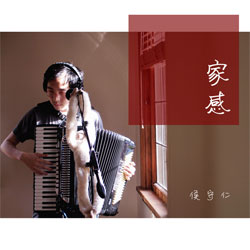 Accordionist Josh Hou's last album, 2019's Bilingualism, established the voice of a composer/instrumentalist at home between two languages, on an instrument with a cosmopolitan history. Collaborating with local trumpeter Raymond Larsen on tracks like "Theme from Sunset Glow at Xishuangbanna," Hou brought together his love for plaintive, landscape-evoking melodies in the Chinese tradition, with the improvisational verve of jazz. On his latest release, Feeling of Home, Hou returns, along with Larsen, bassist Kelsey Mines, and drummer Tai Taitano, for a meditation on being at home in between.
Hou certainly has a knack for synthesizing musical vernaculars, and the miniature nature of his multi-reed instrument sometimes recalls the traditional free reed sheng, one of China's oldest instruments. Along these lines, Hou's brought in the sounds of one of his homes, recording with Wan Pin Chu on the violin-like zhonghu, Sarah Heng on the guzheng, a plucked zither, and flutist Leanna Keith on the dizi. On "Hometown Food," Keith plays passionately, and Heng's bent tones and clips turn the song's paean to taste into an earnest celebration of small beauties.
Hou's writing and improvising retains its range of genre: catch his sweeping, organ-like glissandos on the soul number "Love, Love, Love," or Mines' delicate vibrato on her solo for "Longing for Spring Breeze," which features words sung by Hou himself. Larsen's talkative trumpet brings a tender curiosity to Mines' steady foundation; Taitano also effuses a playful quality on tunes like "Wind," which rambles lightheartedly as it would during a jam at a local club.
The album's closer, "Tears of a Lover," touches on some bittersweet truths that seem to transcend the pastoral context of the album. In his liner notes, Hou poses the question, what kind of place is home? What kind of refuge, or safe place? And though the core of Hou's project is straight-ahead, its execution has some interesting consequences. Recording from their own studios, the musicians play with an earnest longing that could be for the tastes and places Hou suggests, or another time, which the record, by assembling their separate parts, replicates in a sounds' home away from home.
–IAN GWIN
Ryan Burns
Postponed Parade
SELF-RELEASED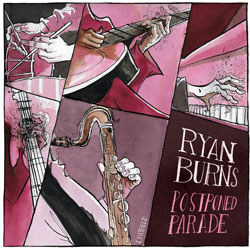 For his latest, keyboardist Ryan Burns' newest brings us some '70s funk for a sundry taste of Seattle soul revival. Also an accomplished bassist and teacher, Burns recruited locals like Skerik, Steve Treseler (saxophones), and Jason Goessl (guitar) to record a series of singles. The results, collected here, are remarkably cogent despite the physical separation from our ongoing quarantine.
Burns' collaborative spirit and efficient compositions paint evocative pictures. Drummer Max Holmberg states the core bass-snare alternation with the funky opener, "Up & Up," which features warbling stereo synth solos by Burns. Skerik delivers a shivering solo on the song's ratcheting harmonies, juxtaposed by descending blues lines.
The slick blues number "Boogaloo Bird" follows, featuring guitarist Cole Schuster's understated vintage blue-note tone. Mark Taylor lends his smooth garnishings on alto to the redemptive fusion ballad "Night School," also featuring work by trombonist Jacob Herring. On "Subdued Mood," percussionist Thione Diop brings his intricate work on the talking drum over Burns' afro-beat style bass and keyboards.
Featuring the chameleonic Treseler, the title track is a free-wheeling tune the type of which Stanley Turrentine might have juiced for its calypso bounce. A little less tongue-in-cheek, Michael Glynn (bass), Matt Jorgenson (drums), and Brian Monroney (guitar) bring the erratic grit of a real working group on "Shoreline," a mean modal tune with hints of McCoy Tyner. Monroney's floating harmonies and dissonances, like wisps of clouds and the curb of light, recreate the area's suburban pastoral. 
For his solo, Harper's thrumming strings emerge like a skeleton from a whole body of thoughts, wordlessly pronouncing the bottom of things—as if even the decay of sound is a matter of spirit. It's a stark path, but the group seamlessly veers back to the head. That's long been the business of music, one Burns and his local soul-strutters let sink in as they wait out the long delay to their next live performance.
–IAN GWIN