Jay Clayton, Fritz Pauer, Ed Neumeister
3 For the Road
MeisteroMusic 0020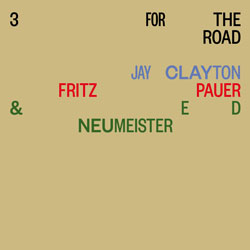 For two decades starting in 1982, improvising vocalist Jay Clayton was a major force in Seattle jazz, helping shape a generation of forward-thinking students (Briggan Krauss, Brad Shepik, others) at Cornish College, who later took New York's "downtown" scene by storm. Clayton also taught for years at the University of the Performing Arts in Graz, Austria, which set the stage for this delightful 2001–02 recording with fellow instructors Ed Neumeister (Vanguard Jazz Orchestra, Joe Lovano) on trombone and the late Austrian pianist Fritz Pauer, who worked with everyone from Don Byas to Friedrich Gulda.
The album hopscotches between delicately nuanced free improvisations and imaginatively sparse arrangements of standards, plus settings of a couple of poems by e e cummings. Clayton fully owns the winsome, optimistic sentiments of the poems she chooses, in this case cummings' "Love Is A Place," which she speak-sings with gentle conviction over the trio's exploding rhythmic polka dots. Likewise, she inhabits cummings' determination to be "gay like every lark/who lifts his life/from all the dark," even as Pauer floods the field with darkness. Clayton's love of poetry is no surprise, given her exquisite ability to draw meaning from a lyric. Henry Mancini's "Two For the Road,"—"In the winter we'll drink summer wine"—never sounded like such a thoughtful invitation. That Clayton delivers this bid in a voice both plummy and lucid, with flute-perfect intonation, makes it all the more attractive, as does Neumeister's chipper muted plunger solo, a la "Tricky Sam" Nanton. "It Could Happen To You" makes you think it could, indeed, happen to you, with Clayton's voice bravely exposed and Pauer hopping behind her, first with one hand, then two.
Clayton is world famous for her innovative scat vocabulary and she shows why on the trio's playful rendition of late pianist Larry Karush's South Indian sounding "Badadadat" and the speedfest, "Fun," which has Clayton sounding like a walking bass. Her solo on her tune "Rhythm Waltz" is a tour de force, evoking everything from birds to Native American chant. But 3 For the Road is not all dizzy. On Neumeister's "Gobblers Nob," Clayton and the trombonist harmonize long, pretty tones before Clayton's alto suddenly bursts out, like a star in the night sky. Thanks, Jay, for giving a glimpse of that and of a 20-year-old session we might never have had the pleasure of hearing.
–PAUL DE BARROS
Nelda Swiggett Quintet
The Alaska Suite
Self-released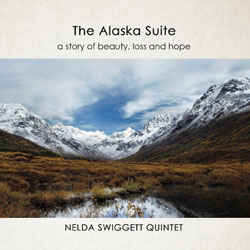 Pianist and composer Nelda Swiggett debuted her 9-song Alaska Suite on Earth Day in 2017. Along with her husband, trombonist Clif Swiggett, the bandleader has presented the music in multimedia performances that depict the accelerated climate change in Alaska. Teaming up with her quintet, including Chris Symer (bass), Adam Kessler (drums), and Julian Smedley (violin), Swiggett recorded the suite in 2018 at David Lange's studio.
A set of vibrant lyric pieces for a landscape's sublime degeneration, the result is a well-choreographed combination of Swiggett's colorful arrangements and her group's collaborative electricity. The pianist establishes the tone with her bluesy touch on the opening track, "Alaska," summoning the enormous skyline of the state. After setting the scene, the group portrays warmed ice in "Melting."
The modal cooker "Burning" depicts extensive fires through Swiggett's brass and Smedley's flaring phrases, tumbling into Kessler's flashing pyrotechnics. But the group really gets going on "Homeless," smartly characterized by its odd tempo (7/4) and unrelenting pace, before a great thematic use of free improvisation's unsuspected synergies on "Havoc."
The last third of the album takes a more psychological turn. "Hope Springs Eternal" flows out before a Weather Report-style groove, a framework that later allows for moody hits between solos (apparently, hope must break ground before it springs). That thing with feathers, "First Flight," follows, a finale that jumps suddenly downwards, then builds back up to a cruising montuno figure. Well-tuned together, the band finishes the "tune without the words" on a chord (D7 flat four) that truly perches on the soul.
But the Swiggett and her band aren't really silent. Given the scope of the issue, musicians certainly have their expressive work cut out for them. Still it's wise of Swiggett to voice, on a spoken word section of "Worry," the wish to go back as we "strive for answers, make goals, then relapse into comforts and denial." Music can hold a mirror to our nature, but it can also give testimony to this fluid now, a story far from past.–IAN GWIN