Mark Lewis Quartet
Naked Animals
AUDIO DADDIO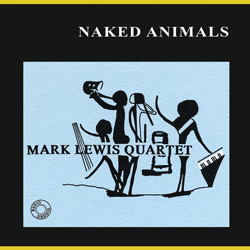 Born in Tacoma in 1958 and raised on a farm outside Gig Harbor, reed man Mark Lewis began to make a name for himself locally as a quietly avant-garde player in the mid '70s. In 1978, he moved to Holland, where he stayed 14 years before returning to the Northwest. Naked Animals features tracks recorded in Holland in 1990 by one of Lewis' European bands, with Willem Kühne (piano), James Long (bass), and Frans van Grinsven (drums).

A distinctive original who doesn't hew to traditionally chopsy, chromatic bebop lines, Lewis plays alto with a light, golden sound and legato phrasing that occasionally recalls Paul Desmond or Art Pepper. He produces a full, robust, silvery tone from the flute. Naked Animals features eight tracks, all originals. It starts out low-key, with the pretty "Moon Flower" and the waltz, "Mercurian Romance," builds energy on "Ghost of a Chance" (not the standard with a similar name), then explodes on the title track, also in three, as Lewis wails in the high register over rumbling bass and drums. The lovely ballad, "A Dance With Monique," shows off the luster of Lewis' flute sound, which includes a breathy little "catch" in the manner of Rahsaan Roland Kirk. "City Slicker" slows things back down, "4-D" features speedy walking bass and a couple of Pepperish clusters. The closer, "The Seven Angels" moves from a happy, pretty melody to a conversational, avant-ish double solo by alto and piano before coming home to the melody. Pianist Kühne is by turns lively and atmospheric, bassist Long plays with crisp vigor (though his sound can be a bit nasal at times), and the always-supportive drummer van Grinsven creates an exciting skein of sound with Long's vamp on "Naked."

Before the pandemic, Lewis was performing regularly in Ballard. Hopefully, when it's over, he'll be playing some of this music there.
–Paul de Barros
Meridian Odyssey
Second Wave
ORIGIN RECORDS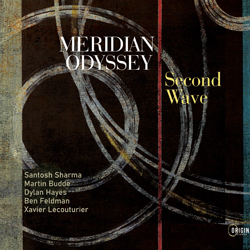 All five musicians in the marvelous new quintet Meridian Odyssey are familiar in Seattle, but fans may be surprised to learn that the group got together not here, but in Alaska, where guitarist Martin Budde grew up, the son of a bush pilot. Making the best of the musical shutdown forced by COVID-19, the five young men joined Budde up north, where they set up an ad hoc recording studio in an airplane hangar. There, they recorded an album that soars, free-falls, does the loop de loop and a whole lot more.

With a mysterious, distant, quietly electrified sound that evokes the '60s and '70s work of such figures such as John Abercrombie and Jack DeJohnette, Meridian Odyssey essays six originals and one composition by veteran Seattle composer Jim Knapp. The music is complex, deftly arranged and delivered with grace and relaxed abandon. All of the tracks exude that ineffably soulful quality the Spanish call duende, but bassist Ben Feldman's gorgeous "For Antongiulio," has an especially Andalusian feel, with guest musicians Lucas Winter and Gus Carns contributing guitar and piano, respectively. "Quarantine Blues" captures the loneliness and yearning we have experienced over the past year and builds to a dramatic climax. The group takes Knapp's "Looking Ahead" at a fast clip, with tenor saxophonist Santosh Sharma burning up the place. Drummer Xavier Lecouturier, snappy but never overbearing, shines in a solo at the end on Santosh's "Second Wave."

Budde and electric keyboardist Dylan Hayes create a watery landscape on the varying tempos of Lecouturier's "Interlake" and Sharma passionately busts through the edges of notes, a la Dewey Redman, on "F Minus," composed by Budde, who adds glowing single-note lines. The pretty "NT," by Budde and Hayes, features the guitarist's jangly, atmospheric side—no doubt enhanced by the recording environment—over a steady-state beat.
Two of the five players here—Feldman and Sharma—are now based in New York, but let's hope all five reconvene to play live in Seattle when the pandemic finally ends.
–Paul de Barros