Spontanea
Chromasonic
Right Brain Records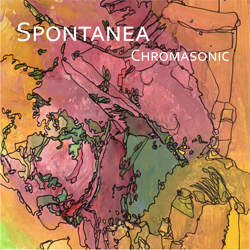 Musicians have long taken inspiration from the sensory world around them, creating artistic works informed by how they experience the art and life of others. The Seattle-based free improvisation collective Spontanea has delivered their own ethereal take on this with a new album, Chromasonic, released in 2020.
The group, consisting of Matthew Benham (electric guitar, effects), James Hoskins (cello), Carol J Levin (electric harp, percussion), Kenny Mandell (saxophones, flute, percussion), and Scott Schaffer (bass, mandola) used a series of abstract paintings by artist Ellie Polk as inspiration. With no instructions beyond looking at and immersing themselves in a given image, the five members of Spontanea spontaneously interpreted seven visual works, creating a string of otherworldly soundscapes.
Much like these improvising musicians have described diving deeply into the music and the imagery, I found it easy to relinquish control of my little living room and let myself sink into the soundscapes they created. Each of the seven tracks offers a different aural palette, and you can feel the hard line of a reset as they transition from one to the next; much like strolling through the open doors of an art museum and never ending your observations. The third track, "Ataraxia," is often busy and textural, and at times even humorous without being silly—a skill surely developed through many improvisation sessions. Suddenly, you are into the next improvisation, "Kaleidotopia," and there is a cello unfurling as delicately as a flower, teased further open by the other members of the ensemble.
The painting used for the album cover is one of Polk's paintings which was used to inform the penultimate improvisation, "A Riot Of…." The colors are warm and earthy, and more opaque compared to others from the gallery. The improvisation, in turn, makes quick and exciting twists as if they read the painting like a graphic score. Perhaps one could call Polk a cartographer of sorts. You will enjoy the improvisations from these illustrious musicians on their own, but I heartily recommend diving into them one by one with Polk's paintings nearby to enrich the experience. –Haley Freedlund
Ronan Delisle
Write To Me A Coda
Self-Released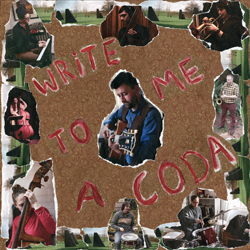 Ronan Delisle's first full-length album, following a collection of beautiful EPs, has been eagerly awaited by an established audience and scores of friends and supporters. Concurrently, the music was released in March as guitarist and vocalist, Delisle departed his home in Seattle for a new chapter in Los Angeles. The alchemy of these two pivotal moments helps Write To Me A Coda read like a love letter to the jazz scene and the musicians that shaped him while he was here.
The nine tracks play like a story told in three parts and made with nearly the same instrumentation throughout, but with a rotating cast of some of Seattle's finest musicians. The first four songs are performed by a trio including Delisle, trumpeter Raymond Larsen, and bassist Tony LeFaive. Instantly, their music challenges the confines of genre in its thoughtful, drumless saunter, delivering something reminiscent of the American prairie one hears in Jimmy Giuffre's Western Suite. The third track, "Thorn," takes it a step further, playing in rondo form with no improvisation; "Nation of Three" gives us the only take featuring Delisle's singing, haunting along with the main melody and bridging the timbral differences between the brass and strings.
"The Icebergs" stands alone in the center of the album—the only track featuring Abbey Blackwell (upright bass), Neil Welch (tenor sax), and Thomas Campbell (drums), while introducing keyboardist Matt Williams for the rest of the recordings. This song is rich with grandeur, not just in contrast to the previous mood but in the undeniable chemistry of this quintet of musicians. Campbell, in particular, shines in two perfect, understated drum solos. With "Thick As Thieves," we enter what feels like the final act of the album. Suddenly there is a groove figure and Rhodes and cross-sticking. Delisle, Larsen, and Williams are joined by Kelsey Mines on upright bass and
Chris Icasiano on drum kit, transporting the closed-eyed, head-rocking listener into their favorite dimly-lit venue. While the album is ripe with compositions that allow those playing them a considerable sense of sonic freedom, that sense is most palpable through the end of the record. The sounds are modern and even conceptual—listen closely for the sounds of paper and pencil in "Ever Thus," and the collaborative universe woven together in the final track, "Orphans."
Perhaps the most special element of this release is the zine-style booklet that accompanies the digital download. With help from friends, Delisle has collaged together photos, gilded paper, and hand-typed liner notes for each track and words of thanks. This crafted component adds a layer of love and thought that transforms Write To Me A Coda into a beautiful parting gift from the musician to the listener, close friend or stranger. –Haley Freedlund