Brendan's Little Big Band
Dreamescape
SELF-released (bandcamp)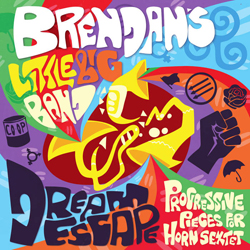 BY PAUL RAUCH
For area musicians, economic hardship has been added to the thicket of sociological and professional hardships they have been required to traverse during the past year. The silver lining creatively for some has manifested in the form of time to pursue inspired work otherwise lost in the day to day hustle that being a professional musician can often be. Such was the case for Seattle multi-reedist and composer Brendan McGovern. After graduating from the University of Washington in 2017, he traveled throughout South America and Southeast Asia, along the way accumulating a palette of compositional notions to apply to his base knowledge of jazz. The canvas receiving those ideas coalesced into his debut release, nine original compositions penned for his Little Big Band aptly titled, Dreamescape.
McGovern is the runaway highlight of this recording, not only by composing and arranging each piece, but tracking saxophones, bass clarinet, flute and keyboards, and forming the foundational center of the music. On top of that, he provides the bulk of the solo work with trombonist Jerome Smith notably contributing.
The title track shifts from an orchestral front, to a free swinging vocal piece featuring Marc Smason. Smith, the most battle tested veteran of the band, is featured in several modes, from modernist melodic bursts to New Orleans funk. "Bernie the Cat" is McGovern's homage to Senator Bernie Sanders, sprinkled with vocals from Smason, and a speech from the senator himself.
"Some Postmodernist BS Blues" is where McGovern finds clarity as a bandleader, with the album's strongest melody accented by its two most positive common denominators- the playing of trombonist Smith and the piano and woodwind work of the leader himself.
That degree of separation is notable across the nine pieces.
Dreamescape is a good opening salvo for McGovern. Like many debut recordings, it is a bit multi-directional musically, though things seem to tie together nicely due to his intrinsic abilities as an arranger. Instrumentally, the work is solid, though tamped down considerably by vocal work that doesn't quite adhere to the standard. At area jam sessions, McGovern has taken opportunities to pare his focus down to playing saxophone with the best players in town. Applying that standard to his next project in the studio would be a logical, positive next step.