Benny Green photo by Ron Jones.
George Colligan Quartet
Wednesday November 3, 7:00pm PDT
Town Hall Forum
In-person and livestream/VOD
Tickets $10–20
This performance is made possible with the support of Jazz Road, a national initiative of South Arts, which is funded by the Doris Duke Charitable Foundation with additional support from The Andrew W. Mellon Foundation.
George Colligan is so justly renowned as a virtuoso jazz pianist that it's important to emphasize that the former DownBeat Critics Poll Winner is an accomplished multi-instrumentalist, including expertise on drums and trumpet. Leading the George Colligan Quartet on drums, Colligan will be accompanied in this Earshot Jazz Festival appearance with Joe Manis on tenor saxophone, Nicole McCabe on alto saxophone, and Jon Lakey on bass.
As a drummer Colligan is the leader of Theoretical Planets, a project of ambitious Northwest musicians that released an album called Long Term Goals, a set of original compositions and collective improvisations, in February on PJCE Records.
Further evidence of Colligan's drumming chops comes from a 2016 blog entry referring to a string of performances with frequent collaborator Jack DeJohnette, the great jazz drummer.
"DeJohnette has been playing more piano, which gives me an opportunity to play drums," Colligan wrote. Playing drums in a band with Jack DeJohnette means you have to bring it and Colligan rose to the honor.
Colligan's quartet bandmates are all West Coast jazz veterans, and like Colligan—a former Juilliard faculty member and currently an assistant professor at Portland State University—they are also music educators. Recordings featuring Manis, a native of Dexter, Oregon, include a 2017 live two-CD set with bassist David Friesen recorded on tour in Europe. McCabe is a regular collaborator with Theoretical Planets, and leads her own quartet that features a broad range of influences and her original compositions. Lakey has been a veteran of the Portland jazz scene since 2008, and gigs have included an appearance at the 2013 Jazz Festival de Vannes in France with the Alan Jones Sextet.
A set from The George Colligan Quartet is sure to demonstrate the restless innovations of Northwest Jazz today. –Dennis Moran
Mark Lewis Quartet
Wednesday November 3, 7:00pm PDT
Town Hall Forum
In-person and livestream/VOD
Tickets $10–20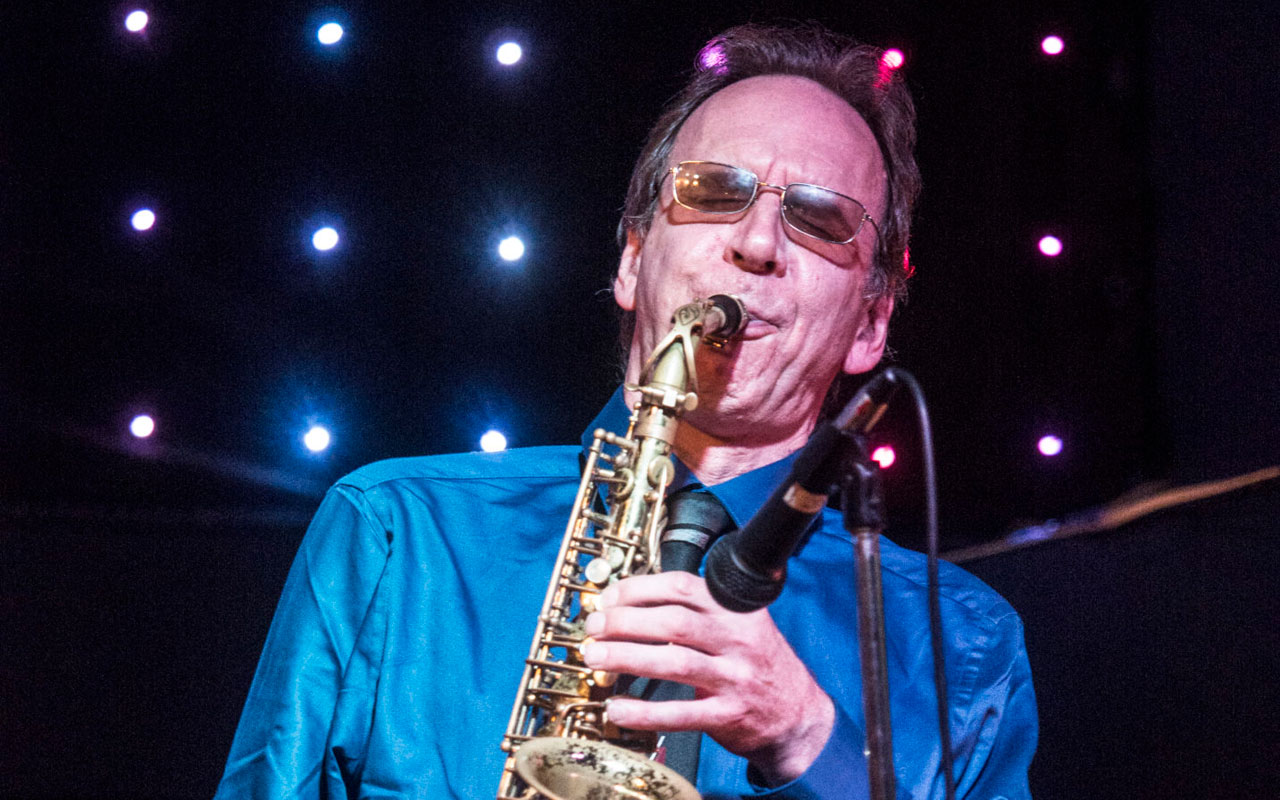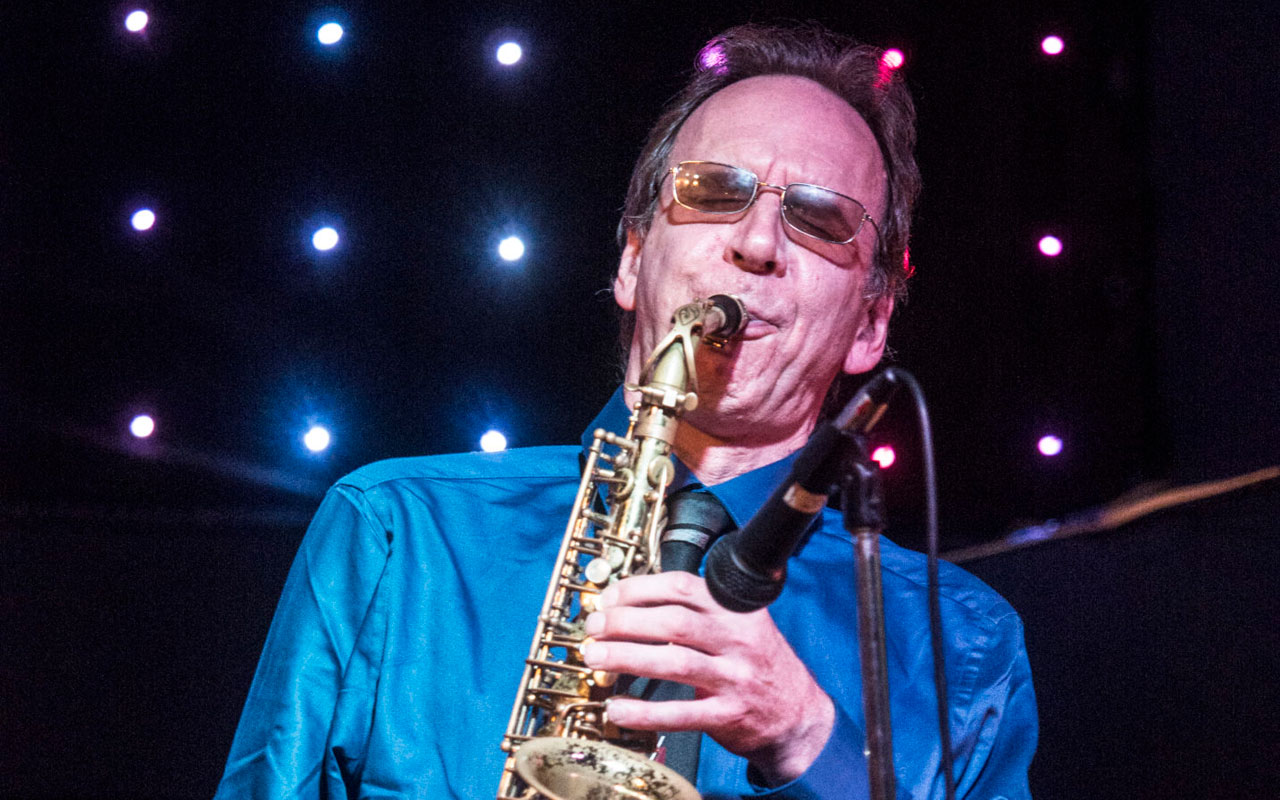 Inspiring and fervent, saxophonist and flutist Mark Lewis shines with his impeccable, lyrical and emotive tone reminiscent of Art Pepper or Paul Desmond. "I try to approach each composition, each performance, with knowledge and technique from studying the masters who came before and also the innocence of a child. I hope it keeps the music authentic and genuine," Lewis says.
Born and raised in the Pacific Northwest Lewis emerged on the local jazz scene as a quiet avant-garde player in the '70s before finding a new home in the Netherlands for the ensuing 14 years. A well-traveled performer, educator, and prolific composer he has recorded and produced over 30 albums.
As a member of West Coast jazz communities from Seattle to San Francisco to British Columbia, Lewis collaborated with luminaries such as George Cables, Mark Levine, Victor Lewis, Eddie Moore, David Friesen, Larry Grenadier, Randy Brecker, and Bobby Hutcherson, to name a humble few. KNKX radio host Jim Wilke lauds Lewis as a Northwest treasure deserving wider recognition.
Lewis recently released a new record entitled Naked Animals, a collection of original compositions recorded in the Netherlands in 1990 featuring his European collaborators Willem Kühne (piano), James Long (bass), and Frans van Grinsven (drums).
Lewis will be in excellent company with three of Seattle's premier jazz artists, the boundlessly inventive pianist and Earshot Hall of Fame inductee Bill Anschell, bassist extraordinaire Clipper Anderson, and multi-talented drummer Mark Ivester. –Marianne Gonterman
Benny Green
Thursday November 4, 7:00pm PDT
Town Hall Forum
In-person and livestream/VOD
Tickets $10–25
Welcomed by KNKX.
Perhaps no artist today embodies the living legacy of jazz music more than piano virtuoso Benny Green. And that's been a source of joy for Green from the beginning and for his listeners ever since.
From his days as a youngster growing up in Berkeley, California, Green, now 58, absorbed the influences of brilliant mentors. He studied classical piano as a child, played in Berkeley High School's still-renowned jazz band, and turned professional before graduation, playing in trumpeter Eddie Henderson's quintet and leading his own trio in weekly gigs at Oakland's famed Yoshi's club.
At 20 he joined jazz singer Betty Carter's band and played on her Grammy-winning 1988 album Look What I Got! He followed that with a spot in Freddie Hubbard's band, and then took a seat in Art Blakey's Jazz Messengers, a well-known nurturer of young talent (Carter was known for that, too). The list goes on, but suffice it to say that the legends found an eager learner who gave back in appreciation and paid it forward with hard-bop innovations of his own.
On his 20 albums as band leader since 1988, guests have included trumpeter Terence Blanchard, bassist Ron Carter, tenor saxophonist Stanley Turrentine. Later in 1997 on Telarc Records, Green played a set called "Oscar and Benny," a collaboration with another mentor, piano genius Oscar Peterson.
His most recent recording, Benny's Crib (Sunnyside, 2020), finds Green playing a Fender Rhodes electric piano on most tracks, a nod to that instrument's popularity in 1970s jazz fusion, and also imbuing the instrument with an original warmth and swing. "The way its overtones spill into one-another gives the instrument a truly orchestral quality," Green says of the Rhodes in the release's liner notes.
The album includes call-outs to inspiring figures, such as an original composition called "Harold Land," a tribute to the tenor saxophonist-composer of that name, and Dexter Gordon's "Tivoli."
Green wears his mentor-appreciation joyfully on his sleeve and his pen. He is very articulate about the music and performers that informed his native talent in writings on his website and Facebook page, and hints that these essays might seed a book (and what a gift for jazz appreciation that would be).
He's also written the liner notes for an upcoming 2-CD/3-LP release of archival Oscar Peterson performances called The Oscar Peterson Quartet: A Time for Love. He calls the recording's release "heaven-sent" and Peterson "a hero to us all for the ages."
Green's appreciation is evident in all of his performances, as well as his own in-the-moment originality. Jazz works that way, doesn't it? Tradition and improvisation.
As he said in a recent interview for the In Studio show from Simply Timeless Radio, "In jazz we get to choose our own notes, of course, and there's so much that's going on internally and externally in every moment, and there's such a freedom in jazz to respond honestly to what's going on."
Earshot Jazz Festival-goers can experience that freedom of the moment in Green's solo performance November 4. –Dennis Moran
Ann Reynolds: Celebrating Women Composers
Thursday November 4, 8:00pm PDT
Chapel Performance Space
In-person and livestream/VOD
Tickets $10–20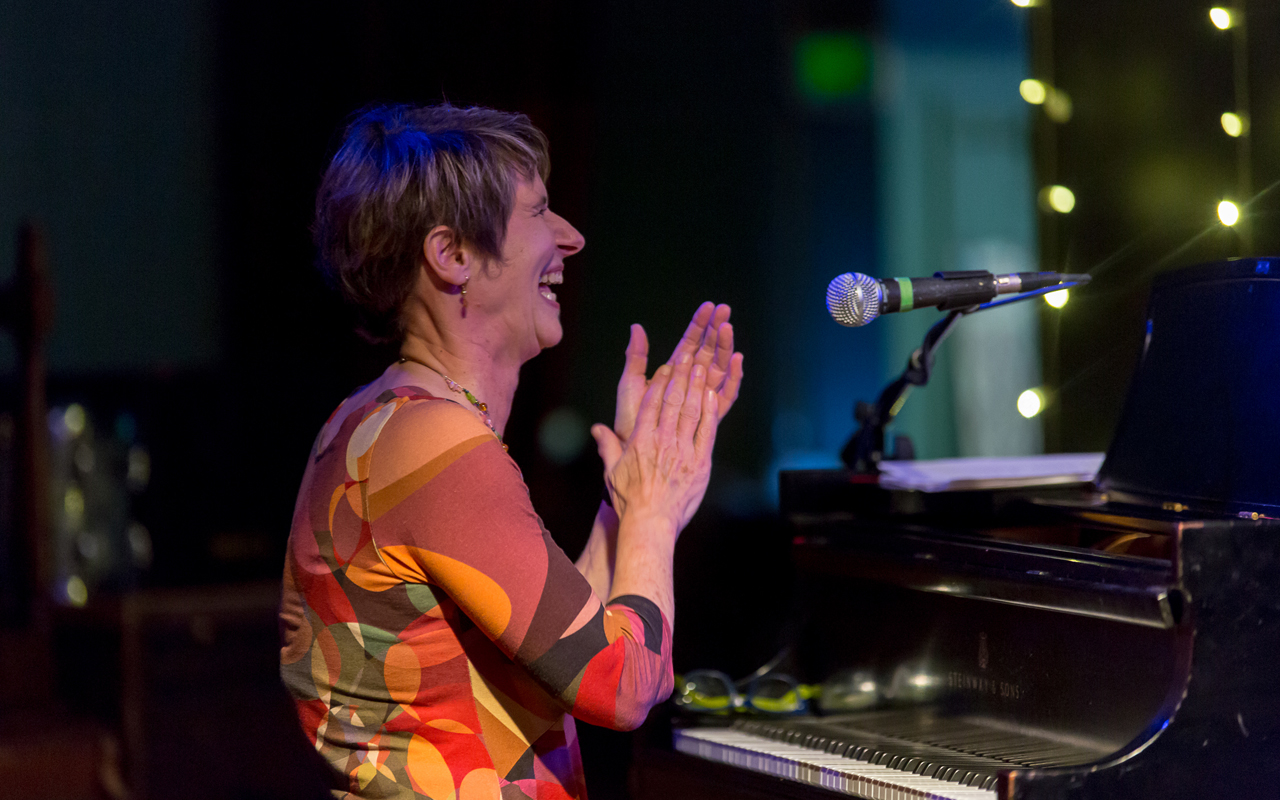 Welcomed by KNKX.
Over quarantine, composer and pianist Ann Reynolds had the chance to assemble and record a project that was unlike anything she had ever done in her musical career, because it wasn't her idea. Instead, the project chose her.
"I was sitting at the piano one evening, just improvising, and suddenly I said, 'Wow, that sounds like something Mary Lou Williams would play,'" she recalls. She turned that short idea into a larger composition called "Mood Mary Lou," aiming not to mimic Williams but instead to "capture her essence."
This process repeated itself for three other female composers, too. Short musical ideas would appear in Ann's playing that felt like ideas that these women would have written, and these ideas grew into entire compositions. "It's all been simmering in the background" as she has focused on other projects and commitments, Reynolds says. "At some point [the project] just coalesced and I had to say, fine, fine."
"Inspired by Women Composers" has now come together as a series of compositions honoring four female musicians who have influenced Reynolds over the course of her own musical development: Geri Allen, Carla Bley, Mary Lou Williams, and Christine Jensen. On November 4, Reynolds will be performing a piece composed by each of these women, followed by Reynolds' own composition that honors them. She will be joined by collaborators Kelsey Mines (bass) and Christopher Icasiano (drums). Together, they recorded these works over the quarantine.
This project may be new territory for Ann Reynolds, but it certainly is not the first time that she's chosen to explore something unfamiliar in her musical career. Her recent album, Joy, featured Afro Folkloric improvisation, and she's well known for her Seattle group Clave Gringa, with whom she performs Cuban music. In fact, Reynolds' professional path hasn't been predictable either. She graduated college with a biology degree, while studying classical piano and composition. She went on to pursue a career in molecular biology but continued to find herself pulled back to music when she moved to Seattle. Jazz eventually became her focus as she performed with her own trio and in big bands, constantly pushing the boundaries.
Reynolds says that this project is especially important because it has become an opportunity, not just to honor the women who have played such a significant role in her own musicianship, but also to educate her audience.
"Most people don't know these women's names," Reynolds explains. "It's surprising to me how few people know Carla Bley, for example." She looks forward to the opportunity to bring it full circle by highlighting the work of these women who have been central to both the evolution of jazz and her own musicianship. "These are women who have influenced me, and now I get to pay homage to these wonderful composers by introducing them to new audiences." –Grace Kaste
Elnah Jordan & Eric verlinde
Thursday November 4, 8:30pm PDT
The Royal Room
In-person and livestream/VOD
Tickets $10–20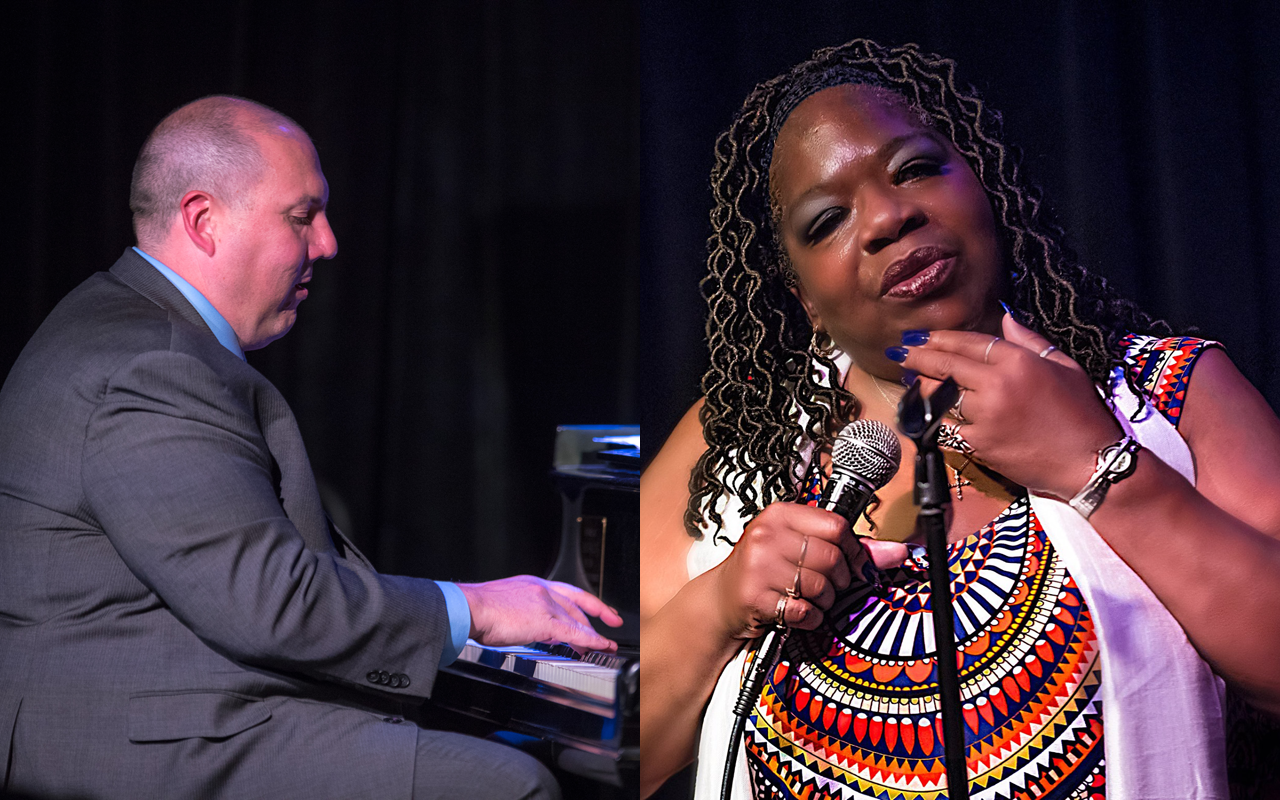 Welcomed by Rainier Avenue Radio.
Rooted in her childhood experience singing in a gospel choir Elnah Jordan's passionate embrace of blues and jazz is personal and genuine, informed by her own life's journey through joy and plenty of hardship. Her lush and soulful voice has garnered her many praises and charmed listeners across the country, winning her an award for the off-Broadway musical drama Street Dreams and the opportunity to portray Bessie Smith in Jon Hendricks' Evolution of the Blues theater production in San Francisco. Jordan strongly connects with her audience, building on the spirit of the atmosphere. She received a grant to perform music as a means of healing in senior communities.
An integral member of the Seattle jazz scene for more than 20 years, pianist Eric Verlinde is recognized for his versatility, playing hard swinging tunes, easing into Latin jazz effortlessly or beautifully embellishing ballads with his emotive improvisations. Verlinde has captivated audiences worldwide in performances with legends like Arturo Sandoval, Randy Brecker, Eric Alexander, Terell Stafford, Mark Murphy, and many others.
Jordan and Verlinde share a long musical path cementing a close friendship that inspires their creative conversation, with Jordan's positive, energetic style accompanied perfectly by Verlinde. Their concert in the 2020 Earshot festival was an audience favorite, and this year's show promises to rise to high expectations once more. –Marianne Gonterman
Marina Albero Trio featuring Ganesh Rajagopalan
Friday November 5, 7:00pm PDT
Town Hall Forum
In-person and livestream/VOD
Tickets $10–25
Welcomed by KBCS.
In her festival finale, 2021 Earshot Jazz Festival Resident Artist Marina Albero is joined by Indian classical violinist Ganesh Rajagopalan in a collision of cultural forces unleashed through the power of their music. Bassist Tim Carey and drummer Xavier Lecouturier round out this splendid international assemblage, united in the common language of their music.
Rajagopalan, like Albero, is a master improviser, a point that needs to be noted by jazz fans who attach the term "classical" to European classical forms. He plays often with master percussionist and composer Zakir Hussain, and his resume includes stints with jazz fusion guitar icon, John McLaughlin. His modal approach to improvisation suits Albero very well, with her approach coming from her roots in flamenco, Afro-Cuban, and jazz forms. She felt the connection right away. "I had a blast, he's a rock star," says Albero enthusiastically. "This to me is very special, because I feel that it is the beginning of something."
Albero feels that when the spotlight is given to her, she is going to shine it elsewhere to feature other musicians and other parts of our musical community. "Ganesh lives in Bellevue. This is part of our community and we don't know them. Bringing the Indian music community to the festival, and knowing who our neighbors are, is a very cool thing," Albero points out.
Albero's experience with flamenco music is rooted in the south of Spain, arriving there from India centuries ago by way of Eastern Europe. There is that connection with the musical tradition from which Rajagopalan plays. Bassist Carey is a bit of a musical chameleon, able to play in any genre and make it sound musical. Lecouturier, at just 25 years of age, has spent a year in the Thomas Marriott Quintet, and released an album under his name of his original compositions on Origin Records. His band Meridian Odyssey is appearing at the festival, and on the verge of releasing their second Origin album. His style is most definitely modern jazz, with the unique ability to play music on the drum kit that is untethered from traditional rhythmic trappings. As a bandleader, Albero has chosen well from the pool of elite talent in Seattle.
Most importantly, this concert is a great visual of what music can accomplish in celebrating the joining of culture and creating true community. For the musicians and audience, the music requires open ears and open hearts. A sure-fire, can't-miss on this year's festival calendar. –Paul Rauch
Jay Clayton, Gary Versace, & Ed Neumeister
Saturday November 6, 6:30pm & 9:00pm PDT
The Royal Room
In-person and livestream/VOD
Tickets $10–25
Can Jay Clayton really be turning 80 in October? Seems like only yesterday this distinctive, innovative vocalist, still so young at heart, showed up at Cornish College, where she taught for 20 years. But hey, that was actually 1982, and Clayton, a late bloomer, was just getting started as a recording artist with her spectacular 1981 debut album as a leader, All Out. Clayton is back in Seattle November 6 for the Earshot Festival as part of a series of concerts around the country celebrating her 80th birthday.
Born October 28, 1941, in Ohio, Clayton studied music education and moved to New York in 1963, where she became a vital voice in an avant-garde loft scene that included saxophonist Steve Lacy, pianist Joanne Brackeen, and fellow vocalist Sheila Jordan, as well as figures from the modern classical world such as Steve Reich and John Cage. In Seattle, she could often be found improvising in a duo with the late drummer, Jerry Granelli, with whom she reunited for a wonderful album last year, Alone Together. She also performed and recorded here with an all-star group, Quartett, comprised of her and Granelli plus two more Cornish teachers, bassist Gary Peacock and trombonist Julian Priester (their self-titled album, No Secrets, is still worth seeking out). Using digital delay and unique scat sounds that set her apart from traditional jazz singers, Clayton sings with penetrating clarity and a poetically nuanced understanding of lyrics that makes it clear why she also favors winsome, sprechstimme recitations of poems by Emily Dickinson and E.E. Cummings.
A committed educator, Clayton taught many years at the University of the Performing Arts in Graz, Austria, where she met fellow instructors Ed Neumeister (trombonist with the Vanguard Jazz Orchestra and Joe Lovano) and the late pianist Fritz Pauer, with whom she released a marvelous trio album last year, 3 For the Road. For her Seattle gig, Clayton has re-formed the trio with keyboard man Gary Versace. The threesome has done only a few gigs on the East Coast, so Seattle fans will be among the first to hear them.
Though Clayton is best known for unconventional work, she also loves singing standards. Both sides get a turn in this trio. You will hear spur-of-the-moment free improv, but also may encounter songs like Henry Mancini's "Two For the Road" or Jimmy Van Heusen's "It Could Happen To You." Neumeister is a master trombonist who covers the waterfront, from big, swinging sounds and plunger mute trickery to extended techniques. Versace is a versatile musician whose keyboard can be heard with everyone from Maria Schneider and Anat Cohen to John Hollenbeck and John Scofield. If the crowd wants to join the trio with a robust "Happy Birthday," Clayton probably wouldn't mind. –Community Contributor
SRJO Plays Horace Silver
Saturday November 6, 7:30pm PDT, Nordstrom Recital Hall, Benaroya Hall
Sunday November 7, 2:00pm PDT, Kirkland Performing Arts Center
In-person and livestream
Tickets through SRJO
Presented by Seattle Repertory Jazz Orchestra.
The legendary pianist, composer, and bandleader Horace Silver is often underappreciated compared to his contemporaries that emerged from bebop to create the language for the hardbop and post-bop eras of modern jazz. Indeed, one is more likely to chance upon names like Miles Davis, Thelonious Monk, Art Blakey, and John Coltrane before finally arriving to appreciate the multi-faceted genius of Silver.
It was with Blakey, that the blues-infused pianist began to gain notoriety as a musician and composer when with the ebullient drummer, he formed the now legendary Jazz Messengers in 1954. By 1956, he had left Blakey, and recorded for BlueNote going forward with his own band in the classic quintet style. The 1965 release, Song For My Father, vaunted Silver into the historic category of jazz composers and interpreters. It featured transitioning personnel between two iterations of his famous quintet, featuring Joe Henderson, Blue Mitchell and Junior Cook to name a few.
Under the baton of Michael Brockman, SRJO takes on Silver's legacy offering his melodious intrigue and historic place in the timeline of modern jazz composers and performers. With soloists such as Jay Thomas, Mark Taylor, Alex Dugdale, Dan Marcus, and Randy Halberstadt, Seattle's premier repertory jazz unit has the ammunition to make this an evening to remember. Those new to the genre, as well as veteran jazz fans, have the common need to learn more about Silver and his dynamic, iconic legacy. Experiencing the vibrance of his tunes in the acoustic aesthetic of Benaroya is a great way to engage in his wondrous works. –Paul Rauch