Marquis Hill photo courtesy of Big Fish
Meridian Odyssey
Saturday October 15, 7:30pm PDT
Town Hall Forum
In-person & livestream
Tickets $10–30
BY PAUL RAUCH
Sponsored by BECU. Welcomed by KBCS.
In many ways, the band Meridian Odyssey, a gathering of young jazz artists with ties to Seattle, represents the new wave of jazz in the Pacific Northwest. Performing primarily original compositions, the music speaks to life as a young professional artist in a time in history transformed by a worldwide pandemic.
One need not look further than the storyline authored by the band to gain an understanding of that transformation. It includes being sequestered at the familial home of guitarist Martin Budde in Big Lake, Alaska, in the thick of the pandemic lockdown. The music tells the story of six close friends, finding solace in the natural world, while creating music they would go on to record in an airplane hangar belonging to Budde's father, a bonafide Alaskan bush pilot. Those recordings resulted in two albums released on the highly regarded Origin Records label. The aptly titled Second Wave arrived in 2021, followed by the recently released Earthshine in 2022.
The band includes young artists who had just begun to make their mark in the music when derailed by circumstances out of their collective control. Drummer Xavier Lecouturier had released his own album of original compositions on Origin, the 2019 offering, Carrier. Pianist Dylan Hayes released Songs For Rooms and People in 2020 with his electric band. Trumpeter Noah Halpern had recently graduated from Julliard and was being alluded to as one of the rising trumpet stars of his generation. In the same way, recent Manhattan School of Music grad Ben Feldman had made headway into the New York scene as a bassist and bandleader, performing with such notables as Dave Liebman and Stefon Harris. Saxophonist Santosh Sharma, a dynamic tenor player in the tradition of John Coltrane, had enthusiastically added the dimension of being a notable practitioner of the EWI. Then there's guitarist Budde, who chanced upon this collection of talent while a student at Cornish College of the Arts in Seattle. Aside from contributing his family home in Alaska, Budde offers memorable compositions and a playing style heavily steeped in melodicism.
The band's performance at the 2022 Earshot Jazz Festival marks an ascendency from the constraints of circumstance, a high-water mark in their remarkable story.
Vitamin D: Drum Orbit
Saturday October 15, 8:30pm PDT
Chapel Performance Place
In-person
Tickets $10–20
BY TARA PETERS
Presented by Nonsequitur.
As a turntable artist, producer, and DJ on KEXP's Friday night Street Sounds (Seattle's longest-running mix show), Vitamin D has played an integral role in shaping the Northwest's hip-hop scene. Across his decades-long career, he's been called "the architect", "the godfather", and the "foundation," monikers that reflect his role as a mentor for younger artists and his uncanny ability to innovate and build new ideas and sonic frontiers out of old sounds.
His newest project, Drum Orbit, is an experimental quintet that puts turntables center stage as an apparatus for generating tone, melody, rhythm, and improvisational expression.
Joining Vitamin D as Drum Orbit is Seattle-born, NYC-based Kassa Overall on drums – "one of modern jazz music's most audacious futurists" (Pitchfork) – and a stellar rhythm section of local visionaries including Evan Flory-Barnes (bass), Darrius Willrich (piano/keys), and Gerson Zaragoza (guitar). Together, the five artists explore new ways of looking at music in real-time while acknowledging ancestral traditions and rhythms throughout.
This Earshot festival performance is curated by guitarist Carlos Snaider and presented by Nonsequitur as part of their NonSeq program, wherein long-time Director Steve Peters has handed over curation to local artists to bring "new, disruptive voices, greater representation of the array of creative musical endeavors in our cultural institutions, and an expansive vision for artistic embeddedness in our society."
Naomi Moon Siegel Ensemble
Sunday October 16, 8:00pm PDT
The Royal Room
In-person
Tickets $10–30
BY ALEXA PETERS
Sponsored by SeedIP. Welcomed by KBCS. Supported by Chamber Music America Performance Plus.
Trombonist, composer, and educator Naomi Moon Siegel leads with curiosity. A storied traveler, Siegel brings to Earshot's stage a collection of new compositions, arranged for her six-piece ensemble, from her adventurous point of view.
Siegel, who was born in Massachusetts, has moved around much in her life, but time spent exploring the natural world has been a constant. The sights and sounds she's absorbed in her travels have guided her musical pursuits throughout her career.
At just sixteen, she was afforded the chance to make music in South Africa, which she calls "transformative." From there, she attended Oberlin College's jazz trombone performance program, where Siegel studied with trombone legends Robin Eubanks, James DeSano, and Wendell Logan.
While in school, she launched further into the world of improvised music after attending a workshop in New York at the School for Improvisational Music where she learned improvisation from greats like Ralph Alessi, Mark Helias, and Ravi Coltrane.
After a brief stint in Oakland, where she performed at festivals like the Stanford Jazz Festival, made appearances with her own quartet, and worked as a faculty member at The Stanford Jazz Workshop and the California Jazz Conservatory, Siegel moved to Seattle in 2008.
Siegel quickly made a name for herself in Seattle's music scene, previously appearing at Earshot Jazz Festival with her own projects, and collaborating with ensembles like The Jefferson Rose Band, Ahamefule J. Oluo's Now I'm Fine, and many of Wayne Horvitz's projects. While in Seattle, she also created her own musical retreats in Costa Rica, Senegal, and The Gambia.
Her travel experiences, as well as her time exploring the lush, expansive environments in Seattle and Missoula, where she now resides, imbue her music with international flavors, a tenacious sense of adventure, and a reverence for creating space for performers and audiences to be present and curious with themselves and their environment.
Joining Siegel are Marina Albero (piano), Kelsey Mines (bass), Christopher Icasiano (drums), Sean Woolstenhulme (guitar), and Ray Larsen (trumpet).
Jazz: The Second Century Watch Party
Monday October 17, 7:30pm PDT
The Royal Room
In-person & livestream
Tickets Free with Registration
BY TARA PETERS
Video only. In-person and livestream. Free with registration.
Since its emergence in the early 20th century, jazz – born from the Black American experience – has taken many forms, from swing to free jazz, bebop to cu-bop, jazz mass to acid jazz, and just about everything in between. Earshot's Jazz: The Second Century series asks the question: "Over one-hundred years into the art form, what sonic shapes does jazz take in its second century?" Over the last two years amidst a global pandemic and national cries for social change, this question has taken on a new rawness and urgency. Musicians have been pushed to adapt, interrogate, and innovate in unbelievably challenging circumstances to find new ways to present their art.
For this year's festival presentation, the series will be shown as a pre-recorded audio or video series. Tune in from the comfort of your home or join the in-person watch party at The Royal Room and experience how our region's musicians are exploring what jazz means right now.
DANIEL BARRY
The Daniel Barry ensemble features Kate Olson (woodwinds), Naomi Moon Siegel (trombone), Dave Pascal (bass), Chris Monroe (drums), a cameo appearance by Jon Davis (Chapman Stick), and Daniel Barry on keyboards and compositions. Exploring a group of compositions titled "Ring of the Rath Suite" the ensemble aspires to lift the thin veil that separates us from the big and little mysteries. The group aims to transport the listener away from the mundane details of life towards a dark magnificence, a pastoral expanse, or even a glimpse of divine light. The terrible beauty of this language lives in the imagination and knows no limits. This music is best visualized as vibrating combinations of colors, shapes, textures, and densities. So, close your eyes and crank it up real loud!
ARI JOSHUA
Ari Joshua is a jazz, rock, experimental, and improv musician known for his bell-like tone, lush and impressionistic chord voicings, and fiery improvisations with psychedelic-like sprawl. The South African-born, Seattle-raised guitarist earned a scholarship to The New School in New York City, where he met and performed with a wide variety of musicians. For this series, he offered these reflections: "It's said over and over that it is a true artist's purpose to discover their own voice. To do so often takes risks, and requires courage, patience, and an ability to look fear head on. Being at the crest of that wave can mean being misunderstood at first… but eventually truth is undeniable. Jazz is truth, transcending barriers, a language of the soul, the mind, and the heart."
FORAGER
FORAGER is a Seattle jazz project featuring Jackson Cotugno on tenor saxophone, Julian Weisman on bass, Martin Budde on guitar, and Rocky Martin on drums and cymbals. Founded in Seattle in 2021, FORAGER creates music for the present moment, for audiences yearning to experience presence, inclusion, and intimacy. The group draws inspiration from folk music, improvised music, visual scores, martial arts, plant life, the beauty of the Pacific Northwest, and the powerful gift of friendship and community amidst the pandemic era. FORAGER originally came to be as a place to bring ideas to life that had not found their place in other settings. The initial ideas expressed by the group have since transformed into a style of its own, with an emphasis on group improvisation, melody, trust, and catharsis.
DEKIROPP
DeKirOpp is James DeJoie (flute, baritone saxophone, bass clarinet, alto saxophone, and electronics), Steve Kirk (trombone), and Brian Oppel (percussion). The trio explores the rhythmic vitality that lies within all forms of music. DeKirOpp eschews over-reliance on academic harmonic structures in favor of vertical harmony and rhythmic drive, never losing sight of melody. The result is a sound filled with unapologetic energy and relentless exploration.
VALENTINE BERMAN DUO
Dick Valentine and Don Berman live what they call "holistic musical lifestyles." This entails continuous study, appreciation, and practice – both on and off the bandstand – of a wide variety of musical styles, composers, and performing artists. Valentine studied and composed classical, jazz, and chamber pieces at Cornish College of the Arts. His range extends from the sopranino down to the contrabass clarinet. Berman received his percussion degrees from Oberlin College and the University of Illinois. His jazz interests range from straight ahead to free improvised music.
As part of the duo's philosophy, they have committed to playing music consistently, despite what may be occurring in the world. They met regularly during the pandemic and have spent long hours playing music together, collaborating, and sharing ideas.
DIO JEAN-BAPTISTE AND RAY LARSEN
In reflecting on The Second Century Series, drummer Dio Jean-Baptiste offers this: "Jazz, in my understanding, is now simply slang. By this, I mean the ever-evolving aspect of language and communication, to mean everything and nothing all at once; to be outdated, and yet fresh. This reality of slang, being a staple, with some words outliving many others, and morphing into new meanings, this is what jazz has become, or more so was from the very onset. Jazz is a sonic exploration that has outlived its own moniker." Joining him in this exploration of musical language is trumpeter Ray Larsen.
Marquis Hill: New Gospel Revisited
Tuesday October 18, 7:30pm PDT
Langston Hughes Performing Arts Institute
In-person & livestream
Tickets $10–30
BY MATTHEW ADKINS
Sponsored by BECU.
Marquis Hill's most recent album, New Gospel Revisited, sees the talented trumpeter, composer, and bandleader returning to the place where he began, and it offers an excellent opportunity to hear what he's been up to over the last ten years as well as where he's headed.
Hill, a Chicago native, was still in college when he self-produced his first album, New Gospel, in 2011. He hadn't yet won the prestigious Monk Prize; hadn't yet worked alongside the likes of Joe Lovano, Dee Dee Bridgewater, and Kurt Elling; hadn't yet founded his own record label, Black Unlimited Music Group. Going back and listening to that album now, though, it should have been obvious all those things were in store. Already, Hill's versatile sound as a trumpeter was on full display. Already, his innovative style as a composer and arranger shone through in the album's unique instrumentation. Already, he demonstrated an uncanny ability as a leader to evoke a tight sound from the several players around him.
New Gospel Revisited finds us reminiscing with Hill with a live re-recording of the record. If that 2011 album was a tour de force examination of mainstream bebop jazz, its sister album is a return to those roots with a desire to experiment with free-form jazz around the edges.
In the past eleven years, Hill's interest in other musical styles—R&B, hip-hop, Chicago house—has grown. Albums like Hill's Meditation Tape, Love Tape, and Soul Sign offer a smooth, polished surface that veers between ethereal ambient and urgent dance floor. In contrast, New Gospel Revisited offers up straight-ahead jazz at its most jagged and complex. Yet, all those intervening explorations inform this new album, as though they have somehow given Hill the freedom to push the boundaries of jazz.
You can hear Hill's evolution for yourself, live and in person. He'll be performing at the historic Langston Hughes Performing Arts Institute, accompanied by his band Jahari Stampley (keys), Joshua Griffin (bass), and Jeremiah Collier (drums).
Dan Wilson Quartet / Elnah Jordan
Wednesday October 19, 7:30pm PDT
Langston Hughes Performing Arts Institute
In-person & livestream
Tickets $10–30
BY REBECCA JANE
Sponsored by SeedIP. Welcomed by KNKX.
LetterOne Rising Star Jazz Award-winner, guitarist Dan Wilson, will perform with his quartet to deliver pure musical prowess. Wilson's accompanying quartet includes David Throckmorton (drums), Brandon Rose (bass), and Glenn Zaleski (piano).
On Wilson's recent album, Vessels of Wood and Earth, "Juneteenth" features powerful bass conversing with free-flying guitar articulation, while the track, "Rhythm Section," conjures lifted spirits. His music has been described as profound, full of compassion, resilience, and fortitude. He is finesse on the fretboard.
Wilson has the rare ability to transform the guitar into a storyteller that generously shares expressions so crisp and precise it's as if listeners hear church choirs praising blues chord progressions. Wilson bursts with musical ideas that bring out the band's best. His work pays homage to gospel, blues, Motown, hip-hop, and traditional jazz. Reverence for Sonny Rollins and Joe Henderson complement influences from Wes Montgomery and Charlie Christian.
Where does he get his musical ideas? He hunts in the wilderness around Akron, Ohio; he reads the Bible; he grasps the depth of expression in regional jazz scenes. His 2017 album, To Whom It May Concern, highlights Wilson's commitment to jazz's ability to celebrate music community. Wilson's curiosity for the various sounds that emanate from different regions has led to thoughtful conversations with alto saxophonist Bobby Selvaggio. "My mother taught me if you want to keep a relationship strong, you check in people. You reach." The sounds of Akron are reaching out wide and strong to New York, Los Angeles, and Seattle.
Elnah Jordan, award-winning vocalist and actress who can belt out Bessie Smith, opens for the Dan Wilson Quartet at the historic Langston Hughes Performing Arts Institute. Well, now, it is more accurate to say she will give the audience an experience. This powerful vocalist, with her breathtaking presence, recently won a grant to support her vision of bringing music to the retired community. Like Wilson, she's an Ohio native whose church-going experiences connect with the blues and jazz to which she dedicates her life. Her music has been described as beguiling and social. Joining Jordan on stage are Eric Verlinde, piano; Chris Symer, bass; and Steve Banks, drums. Audience members will be eager to participate.
Jacqueline Tabor & Marina Albero "Don't Explain"
Thursday October 20, 7:30pm PDT
Town Hall Forum
In-person & livestream
Tickets $10–30
BY ALEXA PETERS
In-person & livestream.
Three-time Earshot Vocalist of the Year Jacqueline Tabor and 2019 Earshot Instrumentalist of the Year pianist Marina Albero will present audiences with a singular experience at this year's festival—"Don't Explain," a production created in tribute to jazz legends and activists Billie Holiday and Nina Simone, and in response to the modern-day Civil Rights movement.
In the throes of the pandemic, "Don't Explain" emerged organically from the friendship between Tabor and Albero, two Seattle jazz mainstays who also come from activist families. Neighbors in North Seattle, Tabor, the granddaughter of long-time educator, Seattle Times columnist, and civil rights activist Dorothy L. Pounds, and Albero, the daughter of Maria Albero, a cultural agitator in Spain during Francisco Franco Bahamonde's dictatorship, bubbled together during quarantine and regularly spent Sundays together processing the issues of the time, connecting over shared history, and playing music.
Against the backdrop of the pandemic and the George Floyd protests, and with the support of Spanish-born pianist Albero, who brings to the table a particular unencumbered allyship and depth of skill as a classically-trained pianist, Tabor began processing white supremacy and tributing the heroism of Holiday and Simone, who used their songs and performances to fight for civil rights in their time. Soon after, "Don't Explain," named for a Billie Holiday original by the same title, was born.
A dynamic framework for an authentic and pointed engagement with racism in the United States, "Don't Explain" draws on elements of theater as Tabor and Albero portray a unique dialogue between Eleanor and Eunice, two characters based on the perspectives of Holiday and Simone. During their performance at Town Hall Forum, the setlist will feature songs written and/or performed by these groundbreaking and resilient Black women, interpreted through Tabor and Albero's transcendent collaboration.
As they explore these challenging issues and unpack intergenerational trauma through their art, Tabor and Albero encourage audiences to show up with love and intentionality—and to lean in.
"This project is a heavy lift. It stirs up a lot of emotions," said Tabor. "But, it's beautiful and hopeful." Joining Tabor and Albero are Trevor Ford (bass) and Jermey Jones (drums).
Bad Luck / Kin of the Moon
Thursday October 20, 9:00pm PDT
Clock-Out Lounge
In-person
Tickets $10–30 (21+ only)
BY M.V. SMITH
Co-founders of the Racer Sessions performance series and free-improvisation jam session, Christopher Icasiano and Neil Welch are pillars of the Seattle music community. Icasiano serves as the president of the Earshot Jazz board and spent the summer of 2022 as Fleet Foxes' touring drummer, while Welch has over 15 years of experience as an educator, serving as saxophone instructor at Cornish College of the Arts and co-director of the Seattle Saxophone Institute summer camp. Welch and Icasiano met as jazz students at the University of Washington, bonding over a shared love of free jazz. Their duo Bad Luck evokes the growling fury of Peter Brötzmann, or the incandescent interplay of John Coltrane and Rashied Ali in full flight, but Welch and Icasiano also make room for subtler approaches. Welch treats his lines with electronic effects to create gentle washes of sound, while Icasiano utilizes the full range of his kit, tapping out tender tom pulses and delicate cymbal shimmers. Featuring a set of new compositions, Bad Luck's appearance at this year's festival marks their first public performance in nearly two years.
Fixtures of the Seattle creative music scene in their own right, Kin of the Moon (KOTM) has premiered eight chamber music pieces as part of Nonsequitur's Wayward Music Series and commissioned new works from local composer Ewa Trębacz and Bad Luck's Welch. Since joining forces in 2017, Kaley Lane Eaton (vocals, piano, electronics), Leanna Keith (flute), and Heather Bentley (viola, violin, bass) have trained their focus on performances that explore the sheer physicality of sound. Welch's No house on fire, no. combines conventionally scored passages with extended techniques—blowing into the flute without engaging pitch, scraping the keyboard with guitar picks—guided by the cadences of Joan Naviyuk Kane's poem "Drawn Together" as well as the instrumentalists' personal interpretations of graphic notations developed specifically for the piece. The KOTM Public Radiation concert series centers audience participation, blending Kin of the Moon's performances with sounds generated collectively by the spectators. Other works delve into the sonic possibilities of technology. In her composition Atmokinesis, Eaton filters the improvisations of Keith and Bentley and her own field recordings through software-generated signal processing, sculpting sound in real time.
Miguel Zenón Quartet
Friday October 21, 7:30pm PDT
Town Hall Forum
In-person & livestream
Tickets $10–30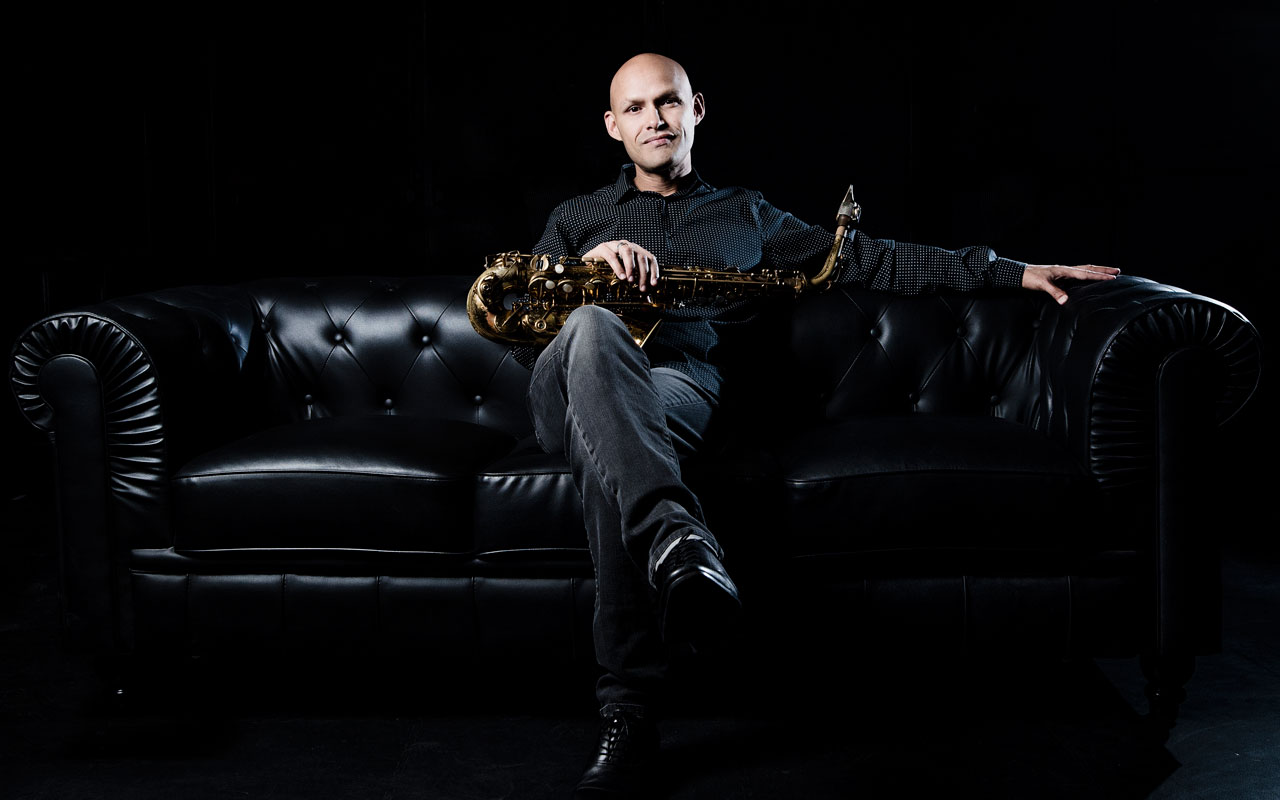 BY COMMUNITY CONTRIBUTOR
Sponsored by BECU. Welcomed by Rainier Avenue Radio. In-person & livestream. $10-30
Last spring at the Big Ears festival in Knoxville, Tennessee, alto saxophonist Miguel Zenón's performance of his suite, Yo Soy La Tradición with Chicago's string Spektral Quartet lit up the room. Zenón's glinting, golden tone, fleet solos, and knack for integrating the rhythms of jazz with the folkloric beats of his native Puerto Rico was on full display. Expect no less at Earshot, where the 45-year-old MacArthur Fellow presents Música de Las Américas, his latest project released in August on Miel Music. Inspired by the music and tumultuous history of all of the Americas (not just the U.S., which, he points out, appropriated the continent's name) the eight-part suite features homages to the pre-contact societies of the Taínos, Caribes, Mayas, and Aztecs; the Haitian Revolution; African dances brought to the New World by enslaved populations; and the heady Afro-American hybrids that developed across the Caribbean, including New Orleans. Like all of his work, the new piece somehow manages to be both suspenseful and smooth, chaotic and controlled, buoyed by Zenón's keening attack and technical audacity. Especially gorgeous is the track "Venas Abiertas," named for an epic work by the late Uruguayan writer Eduardo Galeano.
Música de Las Américas is just one of a string of works – Esta Plena (2009), Identities Are Changeable (2014), Tipico (2017), Sonero: The Music of Ismael Rivera (2019), Art of the Bolero (2021) – that have established Zenón as the most thoughtful and probing, not to mention productive, explorer of American folkloric traditions in jazz. A perennial poll-winner, Zenón has been nominated for a Grammy nine times. In 2022, he received an Honorary Doctorate in the Arts from Universidad del Sagrado Corazón in San Juan, Puerto Rico.
Zenón performs in Seattle with his longtime pianist, the stunning Luis Perdomo, as well as bassist Luca Alemanno, and drummer Henry Cole.
Qwanqwa
Friday October 21, 7:30pm PDT
Town Hall Great Hall
In-person & livestream
Tickets $15–20
BY DEVON LÉGER
Presented by Town Hall Global Rhythms and Earshot Jazz. In-person only. $15-20
Ethiopian experimentalists Qwanqwa are playing the Town Hall Global Series for Earshot this year, but don't think that means they're bringing music from far outside our Seattle world. Our Northwest home is home to many Ethiopian and Eritrean residents, and if you've never been to an Ethiopian restaurant, or participated in a coffee ceremony, or heard Ethiopian krar in person, seek it out in our region! Or come to Qwanqwa's show to learn more!
Hailing from the capital of Addis Ababa, this five-piece ensemble presents the stringed music of the Horn of Africa, something different and surprising for those who know Ethiopia more for the horn-fueled Ethio-Jazz of greats like Mulatu Astatke. The popular Ethiopian krar, an ancient lyre, is present in Qwanqwa's music of course, through a bass version played by Bubu Teklemariam. Qwanqwa primarily features one of Ethiopia's more strikingly visual instruments, the single-stringed, diamond-shaped fiddle called the masenqo, which anchors the ensemble. Played by Endris Hassen, the electrified masenqo spins through the particular modalities and ornaments of Ethiopia. Paired with American violinist Kaethe Hostetter, the swirling fiddle lines make for a playful cultural exchange at the heart of the music. Hostetter, who grew up at American fiddle camps and played for a time with American Ethiopian group Debo Band, founded Qwanqwa in Addis Ababa in 2012, and since then the group has gone on to tour the world and release three albums. Their Earshot performance is part of the band's debut U.S. tour. Let's give them a warm and strong welcome from Seattle's Horn of Africa and jazz community!