Anat Cohen photo by Gabriele Lugli
Anat Cohen: Quartetinho
Saturday October 29, 7:30pm PDT
Town Hall Great Hall
In-person & livestream
Tickets $10–45
BY COMMUNITY CONTRIBUTOR
Sponsored by SeedIP. Welcomed by KNKX.
Israeli reed master and composer Anat Cohen has earned a special place in the hearts of Seattle jazz fans, starting with early appearances at Jazz Port Townsend and reaching a zenith at her stunning 2015 performance with the Seattle Repertory Jazz Orchestra. Since then, she's been back to Jazz Port Townsend in duo with guitarist Marcello Gonçalves and with her amazing tentet at the Edmonds Center for the Arts. This fall, Earshot graciously allows Cohen's fans to further their longtime love affair with her as she brings yet another new project to town, Quartetinho. As the name suggests – "little quartet" in Portuguese – the focus is Brazil, but not just the quiet, pretty bossa side. Expect edgy electronics, complex yet flowing rhythms, and a serious level of spontaneous combustion.
The members of Quartetinho, drawn from the tentet, include Vitor Gonçalves on piano, keyboards, and accordion; Tal Mashiach, bass and guitar; and James Shipp, percussion and electronics. Cohen herself plays clarinet and bass clarinet (no saxes). Reviews of the group's spring performances in San Francisco and Amherst, Massachusetts suggest we are in for a variety of lively material as well as instrumentation: Shipp doubles on vibes and Mashiach has a classical guitar background. The repertoire includes choro, that speedy folk-jazz from Brazil's Northeast, as well as works by esteemed composers such as Egberto Gismonti and Antonio Carlos Jobim. In Amherst, the band performed a piece based on a theme from Dvorak.
But the main attraction, of course, is Cohen herself, whose carbonated clarinet always enlivens the room, whether she's bubbling with joy or tunneling through a labyrinth of modal, Mideastern moodiness. Born in Tel Aviv, Cohen studied at the Jaffa Music Conservatory, where she played in a traditional New Orleans jazz band before discharging her military duties in the Israeli Air Force Band. A degree from Boston's Berklee College followed, then a move to Manhattan, in 1999. Jamming around town and serving for a decade in the ranks of Sherrie Maricle's Diva Jazz Orchestra built a buzz that in 2009 led to a headlining gig at the Village Vanguard – the first by an Israeli – which produced her acclaimed breakthrough recording, Clarinetwork: Live at the Village Vanguard.
Cohen has been selected Clarinetist of the Year by the Jazz Journalists Association every year since 2007 and has topped the DownBeat Critics' and Readers' poll multiple times. But Seattle fans don't need to be told any of that. They already made up their minds a long time ago about this extraordinary musician.
Joachim Mencel Quartet / M.O.M / Moutin-Omicil-Moutin
Sunday October 30, 7:30pm PDT
Town Hall Forum
In-person & livestream
Tickets $10–30
BY MELANIE GRIMES
Welcomed by KBCS. In-person & livestream. $10-30
The Joachim Mencel Quartet performs his 2018 release, Artisena (For Tune), on piano and hurdy-gurdy, also known as vielle à roue, a vintage Polish crank lyre. Mencel's fusion jazz style mixes ancestral Polish folk-dance music with modern jazz. Comprising his dynamic quartet are Pete McCann (guitar), Ugonna Okegwo (bass), and Allan Mednard (drums).
Mencel collaborates regularly with clarinetist Brad Terry (All About Spring, Colorado, and Live in Fort Andross). As a vocal arranger he has worked with Ewa Bem, Mietek Szcześniak, Anna Maria Jopek, and the bands New Life, and El Greco. His compositions include jazz cantatas for choir, orchestra, and soloists; and music for films, ballet spectacles, and pantomime. Mencel has also toured and performed internationally alongside his original project jmTrio. He has collaborated with Lee Konitz, Dino Saluzzi, Richard Galliano, Dave Liebman, David Friedman, Eddie Henderson, Ronnie Burrage, Charlie Mariano, Rufus Reid, Terry Clarke, Zbigniew Namysłowski, Vitold Rek, Jaroslaw Śmietana.
In April 2019, Mencel recorded music for the album, Brooklyn Eye, which was recorded in New York and released on Seattle's Origin Records label. Mencel's compositions were performed by Steve Cardenas, Scott Colley, and Rudy Royston.
Currently, Mencel is an associate professor at the Krzysztof Penderecki Academy of Music in Krakow. He has received the Silver Cross of Merit and the Bronze Medal for Merit to Culture.
The concert opens with M.O.M., a trio composed of identical twins Louis (drums) and François Moutin (bass), along with Jowee Omicil on saxophone. M.O.M. is a play on the French word mômes, meaning kids, an homage to the playful improvisation of music. Louis and François are self-trained instrumentalists on the double bass and drums as well as composers. Omicil blends his Creole roots with gospel, soul, hip-hop, and classic jazz heavily influenced by Charlie Parker. The group's third album Mythical River was released in May 2019 under the Laborie Jazz label.
Alex Dugdale Big Band
Tuesday November 1, 7:30pm PDT
Town Hall Forum
In-person & livestream
Tickets $10–30
BY ANGELA DANE
Sponsored by BECU. Welcomed by KNKX. In-person & livestream. $10-30
Artist-in-Residence Alex Dugdale is an accomplished saxophonist, tap dancer/instructor, and teacher, and proud graduate of Roosevelt High School. After studying saxophone performance at the Eastman School of Music in New York, Dugdale returned to Seattle to form his FADE Quintet, becoming a favorite first call performer with the Seattle Symphony and the Seattle Repertory Jazz Orchestra, where he has held the lead alto and baritone sax chairs.
In an interview with Earshot, Dugdale said of his own residency: "I've had a bunch of ideas for groups that I've wanted to do and tunes I've wanted to arrange. I have original compositions that haven't had the right opportunity to be presented in the dream context; it's literally a dream come true. These dreams I've had of putting on a big tap concert, a big band concert, of putting together a rockin' party band, Earshot is giving me the opportunity to make those dreams come true." Leading and presenting his first big band, Dugdale has gathered quite a roster of Seattle's best talent. Joining Dugdale on alto sax are trumpeters Mike Mines, Jun Iida, Walter Cano, and Marissa Kall; trombonists Connor Eisenmenger, Gregg Kramer, Freddy Gonzales, and Jerome Smith; saxophonists Sidney Hauser and Tobi Stone (baritone), Jackson Cotugno (tenor), and Gordon Brown (alto); pianist John Hansen; Cole Schuster on guitar; Max Holmberg on drums; and Trevor Ford on bass.
The Alex Dugdale Big Band is not to be missed by jazz aficionados or those simply looking to enjoy a night of soulful, intricate, and expressive music.
Kat Edmonson
Wednesday November 2, 7:30pm PDT
The Triple Door
In-person
Tickets $22-25
BY DENNIS MORAN
Presented by The Triple Door.
Celebrated singer/songwriter Kat Edmonson is one of those rare performers who has absorbed deep and varied inspirations from decades past and makes it her own with freshness and personality in each performance. She has called her music "vintage pop," and no wonder, given she was the only child of a single mother enamored with the Great American Songbook. Apparently inspired to add her own wrinkles to that songbook, she wrote her first song at the age of nine.
Since starting her career as a 19-year-old in Austin in 2002, Edmonson has graced the jazz charts multiple times and appeared on the Late Show with David Letterman, The Tonight Show with Jay Leno (where she duetted with Lyle Lovett), and at Austin City Limits.
Among the accolades, The New York Times says she performs "with an equal foothold in jazz, cabaret, and vintage cosmopolitan pop." Adding to the praise, NPR stated, "Hearing Edmonson makes it virtually impossible to do anything but stop and listen."
Her voice is a lustrous, rich, emotive yet delicate instrument and the arrangements are exquisitely crafted. Whether she performs one of her own compositions or infuses her own style and craft on a well-worn classic like "White Christmas," she is sure to enchant.
Habib Koité
Thursday November 3, 6:00pm & 8:30pm PDT
The Triple Door
In-person
Tickets $25-33
BY MARIANNE GONTERMAN
Presented by The Triple Door. In-person only. $25-33
A descendant of Mali's Khassonké griots, the mesmerizing guitarist and singer Habib Koité carries on the legacy of his ancestors as musical storytellers, historians, and entertainers but in his own way. He broke from tradition by tuning his guitar to a pentatonic scale and playing on open strings, like the ngoni. His rhythmic approach is based on the danssa, a popular rhythm from his native city Kayes. Koité calls his version danssa doso, a Bambara term he coined, combining the name of the popular rhythm with the word for hunters' music (doso), one of Mali's most powerful and ancient musical traditions. The power of his music propelled Koité towards international recognition as a leading figure among Africa's pop stars. For decades he appeared in front of enthusiastic audiences across the continents, sculpting his unique approach to creating songs that intersect Mali's rich and diverse musical traditions with Western rhythm and blues, rock, classical, and folk. Intrinsically steeped in blues and Afro-Cuban music, he collaborated with American bluesman Eric Bibb, expanding on another facet of his roots in Malian music. The duo performed over 120 concerts in Europe and the United States since the release of their album in 2012. Koité returns to Seattle in celebration of his recent release Kharifa, his sixth studio record, accompanied by his band Bamada, which he founded over 20 years ago. Recorded in Bamako, the capital of Mali, the album features outstanding guest artists such as the great kora player Toumani Diabaté, Koité's son Cheick Tidiane Koité, and Amy Sacko, the lead singer of Bassekou Kouyaté's group Ngoni Ba. Its message revolves around love, but Koité interlaces it with stories of enduring human suffering in his country, nonetheless offering hope, optimism, and wisdom. Kharifa means "what you are entrusted with," portraying life as a series of sacred personal responsibilities—taking care of other human beings, the community, the planet. Embodying pluralism, Koité sings in four of his nation's indigenous languages plus French and English, highlighting his unwavering efforts to promote unity among sometimes antagonistic ethnicities. His fans have waited years for Koité to return to the recording studio. He is a perfectionist, dedicating much time to composing and arranging his material. This performance will mirror his resolute creative spirit.
Owen Broder Quintet with Carmen Staaf
Thursday November 3, 7:30pm PDT
The Royal Room
In-person
Tickets $10-30
BY MELANIE GRIMES
In-person only. $10-30
Owen Broder is a saxophonist, composer, arranger, educator, and entrepreneur. He has performed with the Grammy-nominated Anat Cohen Tentet, the Manhattan Saxophone Quartet, Ryan Truesdell's Gil Evans Project, Trio Globo, and YouTube sensation Postmodern Jukebox. His album, Heritage, held the fifth ranking in NPR's Best Music of 2018. Joining him on stage at The Royal Room are Grammy-nominated arranger and drummer Dan Pugach, Alphonso Horne (trumpet), Carmen Staaf (piano), and Barry Stephenson (bass).
As an award-winning composer and arranger, Broder's "Goin' Up Home" on Heritage earned him a 2018 ASCAP Herb Alpert Young Jazz Composer Award. He has received numerous commissions including a 2020 grant from the International Society of Jazz Arrangers and Composers, as well as the U.S. Air Force Band in Europe, the Airmen of Note, the off-Broadway show About Love, the Winchester Symphonic Winds, and Nancy Harrow for her album The Song Is All.
In 2018, The Eastman/ArtistShare New Artist Program awarded him for innovative works that impacted the community. During the pandemic, Broder co-founded and performed in "Live From Our Living Rooms," which Rolling Stone called "the first online jazz festival." This project raised over $140,000 in support of U.S.-based musicians whose performance careers were halted due to COVID-19.
Broder teaches jazz theory and jazz arranging at Portland State University, saxophone lessons at Pacific University, and has visited collegiate music programs all around the U.S., geared in aiding students towards careers in the music industry.
Opening the evening before joining Broder and her bandmates later on stage is pianist Carmen Staaf. A consummate jazz pianist whose interest includes blending instruments and elements from many cultures promoting global citizenry, her musical influences include Mary Lou Williams, Art Tatum, Herbie Nichols, and Herbie Hancock.
Robin Holcomb / Kelsey Mines: Compost People
Friday November 4, 7:30pm PDT
Town Hall Forum
In-person & livestream
Tickets $10-30
BY M.V. SMITH
This evening features a rare, solo set from pianist, singer, and composer Robin Holcomb. Emerging from New York's eclectic downtown scene in the 1980s, over the past four decades Holcomb has considered the full breadth of American music, forging jazz, folk, and modernist classical music into an unclassifiable style all her own. Equipped with a talent for thoughtful reharmonization, Holcomb is equally comfortable reimagining the parlor songs of Stephen Foster or the wry musings of consummate pop craftsman Randy Newman. Holcomb's own songs juxtapose dissonant harmonies reminiscent of Charles Ives with spare Appalachian melodies, lent beauty by her fragile, plaintive singing voice. Like the poetry of her chief inspiration W.S. Merwin, Holcomb's lyrics approach meaning from an oblique angle, eschewing rhyme to focus on elliptical imagery and terse evocations of the rural landscape. Long fascinated by the stranger aspects of the American experiment, Holcomb has composed song cycles inspired by the doomed Donner Party and 19th-century utopian communities, in addition to her more prosaic experiences working on a North Carolina tobacco farm. Since moving to Seattle in 1988, Holcomb has collaborated with the cream of the local crop both past and present, performing with Bill Frisell, Eyvind Kang, Danny Barnes, and the Westerlies, to name a few. Having spent the past few years focusing on longer-form orchestral compositions, on her new album One Way or Another, vol. 1, Holcomb reacquaints herself with song form. Working with her husband, producer Wayne Horvitz, Holcomb crafts direct, unadorned reinterpretations of songs from throughout her career, accompanied only by her own piano and voice.
In the years since returning to Seattle from graduate school at Arizona State University, bassist Kelsey Mines has immersed herself in the local scene, forming the free jazz trio Here to Play with drummer Gregg Keplinger and saxophonist Neil Welch, performing Afro-Cuban music as a member of Clave Gringa and Eléré, and experimenting with song form in the quartet EarthtoneSkytone. As a composer, Mines has used longer forms as a springboard to examine questions of equity and the complexities of social change. Commissioned for this year's Earshot festival, Mines' newest piece "Compost:People" contemplates the need to change humanity's destructive treatment of our planet. Inspired by the writings of feminist theorist Donna Haraway and activist adrienne maree brown, with "Compost:People" Mines has conceived a work of musical speculative fiction. Written for an eight-piece chamber group, and accompanied by Ella Gomez and Colin Katagiri's visuals, Mines creates the symbolic sonic embodiment of a transition away from environmentally catastrophic fossil fuels and petroleum products towards a healthy, regenerative relationship with nature. Joining Mines on bass are violist Aleida Gehrels, flutist Leanna Keith, trumpeters Walter Cano and Jun Iida, trombonist Beserat Tafesse, pianist Jona Brown, and drummer Greg Campbell.
Battle Trance
Friday November 4, 8:00pm PDT
Chapel Performance Space
In-person
Tickets $10-30
BY CAITLIN CARTER
Welcomed by KBCS.
This genre-defying ensemble of four tenor saxophonists performs the music of Travis Laplante who is joined by Matthew Nelson, Jeremy Viner, and Patrick Breiner, all pushing their instrument to the limit—circular breathing, hypnotic waves of sound, and blistering runs to create intricate textures. With unorthodox articulations and unusual fingers, Battle Trance creates a vast sonic vocabulary and yet creates music that speaks directly to the heart.
First premiering at the 2014 Earshot Jazz Festival, this fearsome foursome transported curious listeners in the Chapel Performance Space to sonic heights on a transcendent, visceral journey. This year, following another celebrated Earshot appearance in 2017, they return to hallowed ground in support of their latest release, Green of Winter, which, after rehearsing for 20 days, was recorded in one day in a Vermont barn.
Following the formula of their acclaimed 2014 debut Palace of Wind and sophomore album Blade of Love, Winter again features three movements that explore the intimate, spiritual connection between breath and the human body, informed by Laplante's practice of qigong. Opening with "a wind-powered, tour-de-force" (NPR), Green of Winter is filled with dichotomic textures, at once propulsive yet meditative, celestial yet primal, each phrase uniquely contemplative, exploratory, and transportive.
"From its eeriest passages to its deepest harmonies, Green of Winter captures the listener no matter their inclination" (Pop Matters). Battle Trance is a not-to-miss at the 2022 Earshot Jazz Festival.
SRJO: Duke Ellington's "Reminiscing in Tempo"
Saturday November 5, 7:30pm PDT
Nordstrom Recital Hall at Benraoya Hall
In-person & livestream
Tickets $15-55
BY CAITLIN CARTER
Presented by Seattle Repertory Jazz Orchestra.
The all-star big band performs a 1935 work that Duke Ellington composed in honor of his recently departed mother. To recreate Ellington's highly ambitious piece, Seattle Repertory Jazz Orchestra (SRJO) Artistic Director Michael Brockman has drawn on an unpublished score from the original 1935 recording. SRJO also performs other classics from Ellington and his peers, joined by award-winning vocalist and audience favorite Jacqueline Tabor.
Seattle's most swinging big band has, for more than two decades, delighted audiences with its extensive repertoire that draws from the 100-year history of jazz. Each season, SRJO brings to life the works of jazz greats including Ellington, Charles Mingus, Thelonious Monk, and many more. The ensemble is comprised of some of the region's most celebrated and in-demand musicians and educators: saxophonists Michael Brockman, Alex Dugdale, Sidney Hauser, Travis Ranney, and Mark Taylor; trumpeters Thomas Marriott, Brad Allison, Jay Thomas, Michael Van Bebber, and Nathan Breedlove; trombonists Bill Anthony, David Bentley, Scott Brown, Dan Marcus, and Jerome Smith; pianist Randy Halberstadt; drummer D'Vonne Lewis; guitarist Milo Petersen; and bassist Phil Sparks.
SRJO's library continues to grow each year due to Brockman's diligent work recovering and transcribing lost-to-print compositions, as with Duke Ellington's landmark Reminiscing in Tempo, crafted as a tribute to his mother, Daisy, who passed in May of 1935 at the age of 56. On a train ride through the South, Ellington began writing "a detailed account of my aloneness after losing my mother… Every page of that manuscript was dotted with smears and unshapely marks caused by tears that had fallen." In the care of Brockman and the entire orchestra, Reminiscing is sure to be an emotional, stirring performance.
Joining for other hits from the golden era of jazz is vocalist Jacqueline Tabor, a Bellevue native whose artistry is informed by her time living in Louisiana and being immersed in the blues. Since returning to Seattle and embarking on her professional career, she has gone on to release several albums, including 2018's acclaimed The Lady in the Gown, perform at many of the region's top venues and festivals, and receive the Golden Ear Award for Northwest Vocalist of the Year.
Logan Richardson + Blues People
Saturday November 5, 8:00pm PDT
The Royal Room
In-person
Tickets $10-30
BY DENNIS MORAN
Sponsored by BECU. Welcomed by Rainier Avenue Radio. In-person only. $10-30
Alto saxophonist, bandleader, and composer, Logan Richardson embodies a restless creativity that takes him to musical contexts that defy categorization. His music honors the past and reaches into the future—in fact, his 2021 release was aptly named Afrofuturism.
All that comes together in his Blues People band, taken from the same name as Amiri Bakara's 1963 book, Blues People. The Blues People describe themselves as "a modern-day version of the Kansas City blues, Black American music, and rock & roll tradition." The music demands attention, from Richardson's playing, which has been described as "beyond lyrical," to the shifting dynamics of the compositions, virtuosic playing of the band, and positive messages.
For an NPR Tiny Desk performance, the hosts hailed them by stating, "Logan Richardson's latest project, Blues People, is a condition, a state of being. The album was derived from the early slave calls that inspired the earliest American jazz and blues musical traditions. Here at the Tiny Desk, the saxophonist revisits that history with four remarkable songs from the album, all performed with a hope that our country's future will be less painful than its past."
Richardson, 42, grew up immersed in R&B, pop, rock, funk, soul and gospel. Growing up in Kansas City, as a teenager he performed with local jazz legend Jay McShann and with the Kansas City Symphony at 16 years old. A recording career as a bandleader that began in 2007 hit a breakthrough with the 2015 Blue Note release Shift, featuring guitarist Pat Metheny and pianist Jason Moran.
For this evening, The Blues People are Richardson, Peter Schlamb on vibraphones, Dominique Sanders on bass, and Nazir Ebo on drums.
Charles Lloyd Ocean Trio
Sunday November 6, 7:30pm PST
Town Hall Great Hall
In-person
Tickets $10-65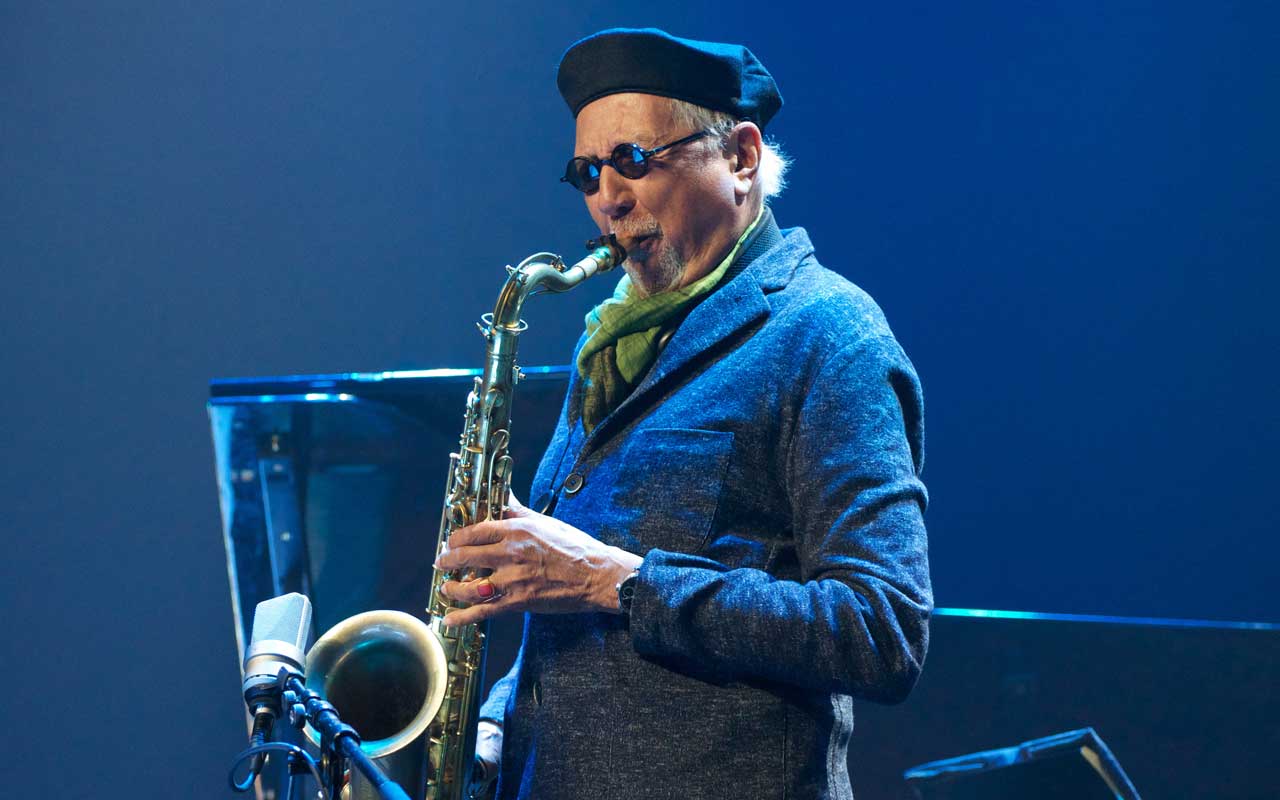 BY CAITLIN CARTER
Sponsored by Richard Thurston. Welcomed by Ranier Avenue Radio.
Concerts by the legendary saxophonist, flutist, and composer Charles Lloyd are séances. He brings to bear six decades in post-bop, free jazz, psychedelic, and traditional music in his "strange and beautiful distillation of the American experience, part abandoned and wild, part immensely controlled and sophisticated" (The New York Times).
A true Earshot Jazz favorite, he closes out this year's festival with his Ocean Trio, one of three recently formed for his latest work, the expansive Trio of Trios. For these three albums, each embodying Lloyd's restless creativity, vast soundscapes, and reverence for the art form, the jazz titan calls upon frequent collaborators and fellow greats. "I go exploring with these other poets and sages," Lloyd told NPR of his Trio companions. "It was like another chance to tell the truth."
Recorded in the 150-year-old Lobero Theatre, in Lloyd's hometown of Santa Barbara, the appropriately named Ocean is the second installment in his Trio masterwork, bookended by June's Chapel, with guitarist Bill Frisell and bassist Thomas Morgan, and November's Sacred Thread, with guitarist Julian Lage and percussionist Zakir Hussain. While the album features Anthony Wilson on guitar and Gerald Clayton on piano, Earshot audiences will be treated to a lineup including Wilson and bassist Harish Raghavan.
Born in Los Angeles to legendary jazz trumpeter and bandleader Gerald Wilson, Anthony Wilson's musical lineage has deeply influenced his career, which spans more than two decades and crosses numerous genres. Along with Lloyd, he has collaborated with such luminaries as Ron Carter, Madeleine Peyroux, Al Jarreau, Diana Krall, Paul McCartney, Willie Nelson, Barbra Streisand, Leon Russell, and Gladys Knight. This year, Wilson released his folk-tinged The Plan of Paris, his guitar and vocals accompanied by longtime bandmates Gerald Clayton on piano, David Piltch on bass, and Jay Bellerose on percussion. BroadwayWorld dubbed the album "a book of individual short stories with detailed, very specific cinematic set pieces conceived as narratives, an intimate, fluid hybrid of jazz, folk, and blues."
No stranger to Earshot audiences, Harish Raghavan has appeared frequently on Seattle stages as a member of various ensembles, including with Ambrose Akinmusire, Ben Wendel, and, of course, Lloyd. Earlier this year, the Chicago-born, New York-based bassist celebrated the release of his sophomore album, In Tense, a record that "offers that mindful clarity through its captivating compositions and hypnotizing intensity" (Bass Magazine).On Ocean, as noted by The Guardian, "space, reflection, respect, and devotion to jazz's roots permeate this music"—a throughline of Lloyd's oeuvre as much as it is the 2022 Earshot Jazz Festival.
Alex Dugdale Sextet Festival Wrap Party
Sunday November 6, 9:00pm PST
Sea Monster Lounge
In-person
Tickets $12
BY GREG SCHEIDERER
In-person only (21+).
Alex Dugdale is keeping busy. His Festival Wrap Party at the Sea Monster Lounge will be his fourth and final gig as this year's Festival Resident Artist, putting a fitting exclamation point on the month-long festival.
Closing out the festival alongside Dugdale's is his sextet, which features John Hansen on piano, Cole Schuster on guitar, Max Holmberg on drums, Greg Feingold on bass, and joining Dugdale on the front line is trumpeter Jun Iida. Dugdale says the sextet will be in "full-on, hard bop mode." Dugdale will play alto and tenor sax and also perform tap solos in a musical style he says will be reminiscent of Art Blakey's Jazz Messengers.
It will be Dugdale's second performance of the festival at the venue. The choice was purposeful. He hopes to bring a slightly different vibe and attract some new listeners who might be a little intimidated at this atypical jazz club. "I feel very much at home at the Sea Monster," he says, just as he's comfortable playing at Tula's or Egan's or performing with the Seattle Repertory Jazz Orchestra. "If we think of Seattle as a house, then the clubs might be particular rooms. To me, the Sea Monster is like the party room!"