Greg Ruby & The Rhythm Runners performing Syncopated Classic at Columbia City Theater as part of the 2017 Earshot Jazz Festival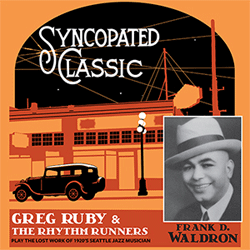 Greg Ruby & The Rhythm Runners
Syncopated Classic
Self-released
Who was Frank Waldron?  And what does former Pearl Django member and Seattle's premier "hot" guitarist Greg Ruby and his Prohibition-era dance band "The Rhythm Runners" see in him?
Ruby's new project, Syncopated Classic, eloquently retells the story of Waldron, a taciturn but virtuosic instrumentalist and later music teacher who lived and worked in relative obscurity. Part of Seattle's first generation of jazz musicians, Waldron published sparingly, including a book of saxophone etudes, "Syncopated Classics," which the Rhythm Runners have lovingly interpolated and put to disc.
From nostalgic Friday romances ("Valse Queen Anne") and Saturday night speakeasies ("It's Easy") to Sunday morning hangovers ("Pretty Doll"), Ruby and his band interpret well the feelings Waldron put to paper. Local drummer Julian MacDonough forms a barnstorming rhythm section with Ruby (guitar and six-string banjo) and New Orleans bassist Cassidy Holden. Trombonist Charlie Halloran and trumpeter Gordon Au put Waldron's twisting melodies, such as the cheekily titled "It's Easy," to the test. Clarinetist Dennis Lichtman, who sparks with wit on the opener "Low Down," doubles on mandolin beside guest artist, Grammy-nominated mandolin maestro Mike Marshall.
Along with in-depth historical notes, the clear re-setting and re-publication of Waldron's music gives an added dimension to the music, empowering listeners to enter Seattle's still-unfolding history. Ruby's project testifies to jazz as a community experience, the product of tireless teachers and local musicians no less prolific or influential than big stars.
As for the band's sound, one could evoke the group, slick haired and even slicker dressed, standing flawless in their photographs—a reserved mastery enough to set Mr. Waldron smiling from that great gig in the sky.
–Ian Gwin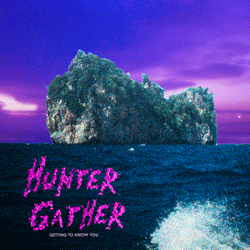 Hunter Gather
Getting to Know You
Table & Chairs
Seattle quartet Hunter Gather's debut full-length Getting to Know You is a collection of absorbing chansons and wind-charm fascinations, evoking the verse-chorus storytelling of the best singer-songwriters. Saxophonist and composer Levi Gillis engages thoughtfully with the open-hearted eclecticism of contemporary music, employing the group's semi-indie ensemble of electric guitars, drums, and saxophone into a kind of mixed chorus, chiming in on bittersweet elegies, such as the Frisellian opener "I Want to Be an American," or minimalist rhythmic games, such as "Let Me Roll My Eyes."
The ensemble's low end is raised with the mellow balance of the baritone guitar, played by Alex Oliverio and Ryan Beckley, who also doubles on electric guitar with Ronan Delisle. On tracks like the brooding "Pay No Mind," their interlocking melodies cloud into surfy reverb and metallic distortion, yet bounce back to stringy pointilism, heard on Delisle's playing on the Roscoe Holcomb-inspired "Coal Creek," which recalls the joyful interplay between Ornette Coleman and guitarist Bern Nix. On the same tune keyboardist Cameron Sharif goes head to head with Gillis' shivering improvisations. Drummer and percussionist Evan Woodle naturally overcomes the group's emphasis on vertical structure, surrounding moments of heavy activity with colorful and surprising cymbal and bell timbres.
These contrasts make a strong debut for the ensemble, which contains inspiring moments such as the haunting refrain at the end of "The Expatriot," an homage to French composer Guillaume de Machaut.  Like a trip on Seattle's clamoring roadways, Getting to Know You takes the listener on a journey filled with heavy traffic, hard-won successes, and unexpected vistas of natural beauty.
–IG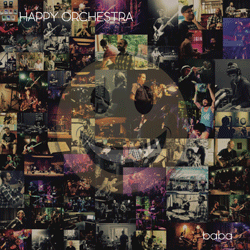 Happy Orchestra
Baba
Self-released
Multi-instrumentalist Tarik Abouzied's brainchild and winner of the 2016 Golden Ear Award for Alternative Jazz Group, Happy Orchestra releases its long-anticipated debut. Knee-deep in the pocket, as always, Abouzied and his cohort of high-demand Seattle funkateers certainly delivers with Baba, a get-on-your-feet, take-no-prisoners fusion explosion.
As Abouzied writes in his liner notes, "Baba" means "father" in Arabic, relating to the drummer's late, Cairo-born father, who brought his family to the US and without whom the album would not have reached fruition. In celebration of this heritage, the album exerts an exuberant lust for life, also thanks to core and visiting members, each with their own gravitational pull in the Seattle scene: trumpeter Thomas Marriott, "dark lord" of the tenor sax Skerik, guitarists RL Heyer and Andy Coe, keyboardist Tim Kennedy, Hammond B-3 wizard Joe Doria, and bassists Ian Sheridan and Damian Erskine.
While Abouzied's texturally inventive writing spreads a consistent voice across the band's recording, it's the game of throw and catch between these enthusiastic musicians which gives Baba's music its block-party flavor. While soloists such as Skerik (on the title track) and Kennedy (on "Happy One") effectively turn the band around, Abouzied (at times on drums, Fender Rhodes, Hammond organ, and even bass) and his rhythm section keep the one like a human 808 but bounce like a rubber band on beat heavy tunes like "Room 358." Wow! moments, such as Doria's sci-fi soundtrack ARP work on "Dirty Hairy" or Erskine's flat-wound rapping on "Step Slow," abound. Whether slow-jamming or bringing it uptown, Happy Orchestra's enthusiasm will lighten the day of any listener willing to hear hard-working musicians having fun.
–IG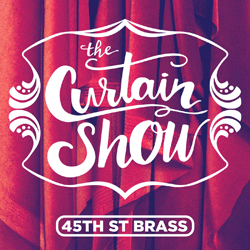 45th St Brass
The Curtain Show
Self-released
Emerging from the depths of North Seattle's Seamonster Lounge, the 45th St Brass band embodies the jam band/jazz band/psychedelic funk and hip-hop stew that is the North Seattle Sound. Joined by powerhouse vocalist Annie Jantzer and local favorites D'Vonne Lewis (drums) and David Marriott Jr (trombone), 45th St Brass, on The Curtain Show, offers a sonic glimpse into the brass world above Lake Union.
Notable tracks include "Sea in the Sky," which features powerful exhortations and vocal meanderings by Jantzer, who, along with vocalist Eva Walker ("I Got Mine"), provides a blues-driven garage-rock element backed by Peter Daniel's dark baritone sax drones.
"The Pursuance," featuring D'Vonne Lewis, is the album's only true hip-hop track, with classic horn lines and harmonies backing the clever stylings and allusions to Lewis' jazz heroes, from Miles Davis to his grandfather.
With the varied musical interests, inspirations, and talent represented in the 45 St Brass Band, The Curtain Show serves as an educational first act to those uninitiated with Seattle's brass bands.
–Edan Krolewicz