Jay Thomas with the Oliver Groenewald NewNet
I Always Knew
Origin Records
Like stones polished by the sea, some ideas take time to wash ashore. The thought of a ballads project had been riding the waves of Jay Thomas' brain for years. A melodic and introspective multi-instrumentalist, Thomas has always been drawn to the great balladeers of jazz. It wasn't until collaborating with fellow trumpeter and arranger, Oliver Groenewald, that the idea caught its break. I Always Knew is the glistening gem—a dazzling collage of sounds from 10 heavy hitters in the Seattle scene.
For the project, Thomas selected 12 works for Groenewald to arrange. Groenewald arrived in the Pacific Northwest in 2013 from his native Germany and made quick work of bringing together the region's finest with his NewNet. Not quite large, not quite small, the "little big-band" is fertile ground for Groenewald to mine with his arrangements.
Fans familiar with Thomas' oeuvre will recognize the rhythm section of Michael Glynn (bass), Adam Kessler (drums), and John Hansen (piano) from his band, The Cantaloupes. Rooted in a harmony that blooms from years of collaboration, the three musicians provide a foundation for the rich textures and timbres from Thomas (trumpet, flugelhorn, alto, tenor, & soprano saxes), Groenewald (trumpet, flugelhorn), Brad Allison (lead trumpet, flugelhorn), Dan Marcus (trombone, flugabone), Travis Ranney (alto sax, flute, clarinet), Pete Gallio (tenor sax, flute), and Greg Sinibaldi (baritone sax, bass clarinet) to emerge.
The first track, "Yama," demonstrates the nimble space within Groenewald's arrangements, setting the tone for the album with a swinging intro showcasing Thomas and Hansen that crescendos into a revelrous chorus of horns. Groenewald's original piece, title track "I Always Knew," taps into the complex and sustained emotion of a ballad with an almost cinematic quality, as wide swathes of tonal color are painted together by solos. The harmonic writing of Groenewald's arrangements throughout the album gives plenty of room for the soloists to stretch, and Thomas, in particular, displays his dexterity as he plays all five of his instruments with equal measure restraint and ease. From its pensive introspection to its spurts of joy, I Always Knew is a lyrical album we'll be plumbing the depths of for a long time to come.–Tara Peters
Steve Griggs Ensemble
Sound in Stone: Poems by James Washington
Self-released
Saxophonist/composer Steve Griggs' new album, Sound in Stone, is inspired by James Washington, the multi-talented artist from Mississippi who made his home in Seattle. Better known for his stone sculptures that can be found across the city, Washington was also a poet. On this album, Steve Griggs composed music to accompany and highlight Washington's poetry.
It's not easy to pair poetry with music. Poetic words convey meaning, but they don't naturally fit a melody; Griggs circumvents this somewhat by letting the music do the singing and allowing the poems to be brought to life by Bernie Jacobs' spoken word rendition. The poems speak of the freedom struggle of Black Americans as well as life-affirming concepts that Washington found vital to his existence. "Come Go With Me" starts off gently with the soft vibes played by Susan Pascal, then changes into a drum roll consistent with the cadence of marching soldiers, while the poem talks of religious salvation. The interludes of music, including Phil Sparks' sensitive bass playing, are very pleasant and lyrical, but it is the strong speaker's tone and strident messaging of the poems that shines through the pieces. "The Cycle of Life," relates race struggles with the challenge of salmon that must swim against the current to live. Again, Sparks provides gentle bass accompaniment, while the confident saxophone accompaniment by Griggs makes the music come alive. The last piece, "Mother Earth," is the most upbeat with its strong message of hope. The lyrics encourage us to "find out what you were meant to be and make it known to those you meet." Milo Petersen plays an energetic drum sequence to end of this album on a high note. The noted flute, saxophone, and trumpet player Jay Thomas also contributed his talent to this album. –Lucienne Aggarwal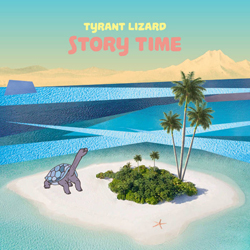 Tyrant Lizard
Story Time
Self-released
Trumpeter and composer Ray Larsen's Tyrant Lizard operates in a hardto- define realm of free-wheeling, Americana-inflected chamber jazz (other touchstones are the Westerlies and mentor/icon Bill Frisell). The trio persuasively staked out their turf on their superb 2016 debut the follow-up Story Time is a worthy successor.
Story Time focuses a bit less on avantimprov textures than the first album, favoring instead the gorgeously lyrical and often meditative side of Larsen's writing. Since bassist Carmen Rothwell and guitarist Gregg Belisle- Chi left Seattle for New York, leaving less time for the frequent rehearsing the trio used to do, Larsen brought more fully fleshed-out compositions to the sessions for Story Time. Though the band might have left behind a bit of the improvisational darkness of their debut, the trade-off is a superbly cohesive and concise set of music.
The highlights of this winding collection's journey are many, such as the album opener "Someday," which manages to bridge both roadhouse roots and African highlife. Another peak is the gorgeously elegiac title track, which finds a pensive peace through a somber rubato yearning and resplendent trumpet performance by Larsen. The pacing of the album is sublime, with deftly playful contrasts, such as Belisle- Chi's "No God in the Sky" (where the trio goes fully free and outside) followed immediately by an oftcovered 1926 chestnut "Tonight You Belong to Me" (covered by everyone from Nancy Sinatra to Eddie Vedder). Listen through from start to finish for the full effect.
The blend of Larsen's thick, burnished tone, Rothwell's dexterous affinity for both jazz and folkish heartland roots, and Belisle- Chi's harmonic and timbral mastery has given Tyrant Lizard a patient, confident approach to group interplay an utterly distinctive musical voice. Story Time is not to be missed –Andrew Luthringer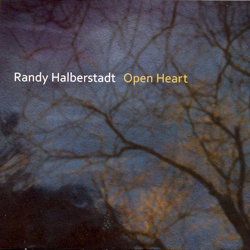 Randy Halberstadt
Open Heart
Origin Records
Randy Halberstadt, the well-regarded Seattle pianist, composer, bandleader, and longtime faculty member at Cornish College of the Arts, brings us his fifth album as a leader, titled Open Heart. While the cover art effects the typical Seattle winter scene—bareleafed trees and a gloomy atmosphere— this album is anything but grey.
The music unravels pleasurably like a spiraling kite in playful winds. Most of the pieces are original compositions by Halberstadt. His masterful piano playing is the imaginative backbone of each composition, but, rather than dominating each piece, it makes space for the other instrumentalists to shine. The initial piece, "Clandestine," is a trio with Halberstadt on piano, along with Chuck Deardorf on bass and Adam Kessler on drums. It's an upbeat piece with an urban 1960s feel to it, with plenty of space to highlight expressive bass playing and drumming. The following piece, "Still Her," which is dedicated to Halberstadt's wife Chris, has a slower tempo and a dreamier feel to it. Jay Thomas plays the flugelhorn, while Ben Thomas is on vibes, adding both delicacy and understated persistence. The title track, "Open Heart," is a departure from other pieces with its markedly slow tempo, evoking a somber but thoughtful mood, and with Mark's Taylor's alto sax and Deardorf's bass adding to the depth and emotion of this slow-dance kind of piece. "Nocturne in B flat minor," by Chopin, is also a surprise. Halberstadt's cascade of beautiful piano playing rings true to the classical form until partway through where he changes the piece's identity to jazz. "The Man I Love," a Gershwin classic, is nothing like the sultry, strung-out version popularized by Ella Fitzgerald; instead it's a warm-toned, mid-tempo piece that puts to good use the complete band. Dave Marriott Jr.'s trombone is confident but never brash, and the interludes of harmonizing are impressive. This collection is both invigorating and relaxing, full of rich tones, and rewarding to listen to. –LA