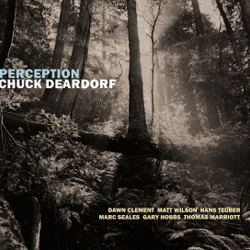 Chuck Deardorf
Perception
Origin Records
Warm, intimate, fluid and expressive, this lovely album evokes the gentle contours and subtle gradations of light portrayed in its alluring cover photographs of sun-flooded forest glens. Seattle bass maestro and longtime Cornish College instructor Chuck Deardorf's third album as a leader, Perception, is less plugged-in than previous outings—his rich, full acoustic sound anchors all but one track—yet remains rooted in both straight-ahead and '60- '70s fusion feels. To its core piano trios of Dawn Clement and Matt Wilson (six tracks) and Marc Seales and Gary Hobbs (three)—Deardorf artfully builds arrangements topped mostly with tenor saxophone (Hans Teuber), but also with flugelhorn (Jay Thomas and Thomas Marriott) and trombone (David Marriott). The bassist draws tunes from the books of Kenny Barron (with whom Deardorf has worked), Keith Jarrett, Jack DeJohnette, Steve Swallow, Stevie Winwood, Thelonious Monk and Seattle's own Jim Knapp; Deardorf also improvises a free duo with Wilson.
Knapp's slinky, bluesy, Mingus-like creep, "Home," is a standout, with Deardorf paring down the original big band arrangement (on Knapp's Secular Breathing) to a rich three-horn combo. The bassist's lickety-split virtuosity gets plenty of elbow room (though it's never overbearing) on DeJohnette's emotionally-urgent "Silver Hollow" (acoustic bass guitar) and Swallow's elegant "Falling Grace" (fretless electric). Deardorf takes the lead on acoustic on a jaunty "Monk's Dream" and offers two sweet solos on Winwood's classic, gospel-tinged ballad, which closes the album. Teuber's piping, legato and Clement's lively conversations with Wilson are a pleasure throughout, as is Seales' sparkling outing on "Falling Grace" one of many solos worth singling out. –Paul de Barros
The Perception CD release concert takes place on February 23, 8pm at PONCHO Concert Hall, Cornish College of the Arts. For more information visit www.cornish.edu.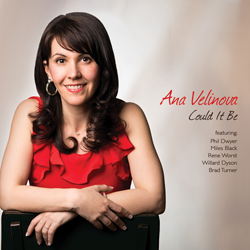 Ana Velinova
Could It Be
Ward Street Records
Sparkling and smooth with a gentle ability to surprise are the hallmarks of vocalist Ana Velinova. Her latest album, Could It Be, is a collection of heartful songs of love and yearning. The album will not disappoint listeners who enjoy jazz standards that mix the melancholy with the hopeful in search of human connection. The opening piece "Let's Get Lost," popularized by Chet Baker, is an upbeat number featuring Velinova's delicate voice perfectly balanced with Miles Black's piano and Rene Worst's bass playing, mixed up with a jovial solo by Phil Dwyer on saxophone. "The Very Thought of You" is a strong vehicle to highlight Black's piano prowess and Dwyer's dexterous sax playing with Willard Dyson providing a confident, backbone beat on the drums.
Taking George Gershwin's classic "Embraceable You," Velinova showcases her vocal range with her luxuriant tones like tendrils of sound comfortably unfurling around you. "Little Sunflower" by the famous trumpeter Freddie Hubbard is a more somber piece interpreted with loops of Velinova's enchanting no-word vocalizing and Brad Turner's sultry trumpet playing making for a satisfyingly ethereal soundscape. The title song co-written with Black and Velinova is an elegant but sad piece much like Velinova's other original, "Haven't We Met," both beautiful and speaking from a place of honesty. The final offering hearkening back to Velinova's roots is "White Cloud (Oblache le bialo)," which Velinova cites as "the unofficial anthem of Bulgarian immigrants across the globe." Velinova sings in Bulgarian and brings forth the unmistakable emotions of affection and longing that we all share for the place we call home. –Lucienne Aggarwal