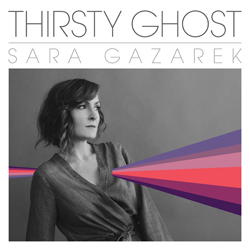 Sara Gazarek
Thirsty Ghost
Self-Released
Seattle fans don't need to be told about the sparking vocalist and Roosevelt High School graduate Sara Gazarek, but now the great wide world has recognized her, bigtime, with two, well-deserved Grammy nominations for Thirsty Ghost. Up for best jazz vocal al­bum and best instrumental-and-vocal arrangement (for an inven­tive reimagination of Dolly Par­ton's "Jolene"), Thirsty Ghost is a profound departure from the sunny, cheerful persona Gazarek has project­ed throughout most of her career.
Encouraged by Kurt Elling (who sings on the moving final track, "Dis­tant Storm") to dig more deeply, and on the rebound from a nasty divorce and disastrous love affair, Gazarek has come up with a wondrous, question­ing, atmospheric album of often dark tracks that mix jazz, pop, folk-rock and art song.
On a wrenching rendition of Sam Smith's pining ballad of infidelity, "Not the Only One," Gazarek falls off notes with a sigh. On Björk's "Co­coon," she creates a moody, ambient feel, using her clear soprano as a word­less instrument. A new arrangement of one of her signature pieces, which combines the Nick Drake song, "Riverman," with a poem by Sara Teasdale, features haunting bass clarinet. To pianist Brad Mehldau's pulsating "Distant Storm," she adds lyrics about how painful storms lead to beautiful blossoms. Gaza­rek talk-sings Hoagy Carmichael's bravely fronting "I Get Along With­out You Very Well" so convincingly you feel like you're inside her mind and her halting jazz version of the Parton classic rises to a torrential climax. On the haunting "Gaslight District," she muses, with and with­out words, about dishonesty and deception. Gazarek doesn't abandon her jaunty jazz past entirely, applying the raspberry tang of her voice to key­board man Larry Goldings' swinging "Easy Love." But for the most part, this is a whole new ball game, and it looks like the start of a winning streak.–Paul de Barros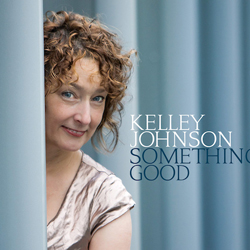 Kelley Johnson
Something Good
OA2 Records
Consisting of mostly lesser-known standards and a few re-tuned classics, vocalist Kelley Johnson's Something Good lives up to its title with a set of vocalist-trio arrangements that offer crisp, clean lines. Listeners coming to the recording by chance, invited in by its warmth and atmosphere, might notice the hints of laughter and the clink of glasses that add to the live recording like specks of dust in a sepia photograph.
Much credit goes to Johnson—also an award-winning local teacher—and pianist, John Hansen, whose understated trio arrangements match the precision of Johnson's tone and her careful ear for simple but eloquent decoration. Hansen provides an elegant foil and frame for the vocalist's jewel of a voice, offering flashes of sly wit that fit the bittersweet mood of tunes like "Something Good."
On another old hat, "Lullaby of Birdland," the two restage the song closer to a lullaby than its usually done, followed by a sophisticated duet between Johnson and Michael Glynn (bass). Multi-instrumentalist mastermind Jay Thomas, who makes a number of solo appearances, comes in afterwards on the soprano with a few of his own bird calls. Often doubling bass lines with Hansen to contrast the singer's soprano, Glynn rounds off a rhythm section smooth as a smoking jacket, and as deep in the pocket too. Kendrick Scott (drums) plays a key role in the groups' dynamics, fearlessly building subtle contrast under the singer. On "Some Other Time" Scott strikingly conveys the song's third-act climax with a flourish of enormous fills and spontaneous rhumbas.
It's these moments of well-earned release that renew the careful arrangements on Something Good the most. As the scat-soloing on the brief "You For Me" attests, Johnson and her band take on the challenge of the short form that reward those ordering up front, just as much those working at the back of the bar. –Ian Gwin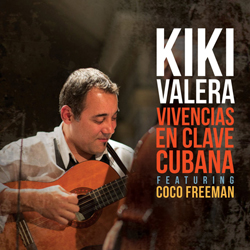 Kiki Valera
Vivencias en Clave Cubana
Origin Records
The legacy of Cuban cuatro master Kiki Valera began with one of the most influential bands in the history of Son Cubano—La Familia Valera Miranda. The current Seattle resident has released an album of twelve original compositions on the highly regarded Origin Records label.
Valera's innovative approach to improvisation is well within the Son tradition, the music and dance of the eastern hill country of Cuba. There is however, a freedom and modern virtuosity that speaks to Valera's personal experiences in life and music in Cuba, and now, in the Pacific Northwest. On "Desenfreno" for example, he launches into an octave solo that conjures notions of Wes Montgomery, one of the many American jazz artists that have influenced him. It seems a logical step forward, all the while expressing the Son tradition that evolved from Spanish and African influences in the Caribbean.
"El Perro de Juan," is a hard-hitting dance number, featuring Valera's solo played over a Cuban ostinato, or guajeo. An intricate trumpet counter melody weaves its way through the piece, expressing the roots of the Afro-Cuban forms that make up a large piece of the jazz firmament. "Ferec'a" again displays Miranda's penchant for playing out on the edge of a melody while virtually recreating it harmonically.
The original compositions on the album were penned by Valera and vocalist Coco Freeman, a lifelong friend from Cuba now residing in Miami. Freeman's range, dynamism, and perfect call and response work with coro is the perfect counterbalance for Valera's sense of harmony and vibrant solo work.
With Vivencias en Clave Cubana, Valera and Freeman deliver with a joyous, virtuosic romp of expertly penned music performed with passion. Son Cubano, much like American jazz, has been in a constant state of evolution from its beginnings. Valera continues in that spirit, shedding new and modern light on the music. –Paul Rauch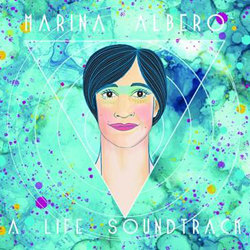 Marina Albero
A Life Soundtrack
Self-Released
Since arriving in Seattle from her native Barcelona, pianist Marina Albero has built a legion of fans eagerly anticipating a recording from the intrepid pianist. That time has at last arrived.
With her three CD release, A Life Soundtrack, Albero makes up for lost time. The album is presented as three volumes: Albero, Agua, and Music is Love, the latter being representative of her working band in Seattle over the past five years.
Albero is a 2014 recording centering on her talented family and friends in Barcelona. She teams with flamenco vocalist Alba Carmona for "Mi Secreto," with Albero's winding, physical piano supporting Carmona's unbridled, chant-like narrative. "Indian Jam" reveals Albero on psalterium, revealing a completely different aspect to Albero's expressionism.
Agua consists of nine improvised pieces created in the moment. While the music is fully improvised, it flows melodically and freely from Albero's potent imagination. It seems as though Albero taps into memories vividly recalled, giving them life in real time.
Music Is Love is performed with her current working band, with the exception of a free interpretation of Miles Davis' "Nardis" in a duo setting with bassist Jeff Johnson. "The Sweetness of the Edge" features the fine reed work of Hans Teuber, seemingly the perfect foil for the intrepid pianist. Spinning and twisting within a sense of liberation, the melody itself gives life to intuitive soloing by Albero, Teuber and Johnson. "I thought I Knew" begins with Albero's piano intro joined cohesively by Teuber on flute. The movements within the piece reflect Albero's connection to classical music, artistically enhanced by the innate freedoms within flamenco and jazz forms. The intricate brush and cymbal work of D'Vonne Lewis opens the door to an explosive exchange between Albero and Teuber, as well as a shared solo by Lewis and percussionist Jeff Busch.
Albero is an artist that possesses great originality, imagination, and presence. Her music is a multicultural mosaic pushed to the edge of discovery by the jazz tradition. A Life Soundtrack reaches back in time, and delivers us into the present of Albero's brilliance. –PR