Greg Sinibaldi
Voices
Self-Released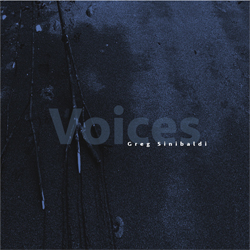 Over the past two years, with a sonic palette of saxophones, electronics, vocals, and a custom-programmed EWI, Seattle saxophonist and composer Greg Sinibaldi has been putting together a collection of solo compositions to create his new densely textured album, Voices. At times ambient, and at others maximally experimental, the searching Sinibaldi brings us into a carefully constructed world.
Voices is supplemented by visual compositions offering surrealist landscapes of Sinbaldi's interpretation of the music. The audio alone leaves plenty of tasty room for the imagination to wander. Headphones recommended. Each composition begins with a celestial synthetic bed, developing patiently with nuanced layers that seemingly weave together partitions of a cosmic self. Sinibaldi's phrasing often feels in time with one's own natural breathing. It's enjoyable to approach the pieces as if they are their own independent meditations, rather than listening straight through, to allow each track to settle.
The electronic-laced soprano sax in "He's Calling" gently leads us into a quiet, cavernous subterranean lake drenched in the reverberation of peaceful voices and the tone of Sinibaldi's gorgeous tenor sax. Shortly after, Sinibaldi brings back his soprano sax and abrasively compounds indiscernible lyrics to hold us at an edge of dissonance, until we are reminded once again of the breath in the music, and are led softly back to a contemplative state of mind.
The Painted Faces" starts with EWI phrasing and then proceeds to power forward with the distorted, maxed-out vocals of Sinibaldi and his bari sax. To reach a higher intensity, Sinibaldi applies contact mics to his bari and records sequences of the sax's keys closing against the horn to create a fantastic percussive propulsion. Amongst the turbulence, we are swallowed by the crashing waves of a digitally compressed ocean and washed ashore, left to find our own serenity. –Bryan Lineberry
Josh Hou
Bilingualism
Self-Released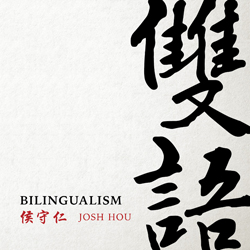 Whatever you do, don't call Seattle accordionist/keyboardist Josh Hou a sentimentalist. Sure, his playing shows a love of catchy melody and the pastel moods of swing, and in projects like his standards duo with guitarist Andy Short, How Short Jazz, he sparks off humor and a little showbiz flair. For his debut recording as a leader, Bilingualism, Hou teams up with trumpeter Raymond Larsen and bassist Troy Schiefelbein, pushing his musical conception further by using traditional Chinese music as a point of inspiration.
The trio's chamber sound might evoke Natsuki Tamura and Satoko Fujii's Gato Libre project, yet rather than evocative music searching for a nationality, Hou and company reveal a complex nationality, searching for a new music. Hou mixes traditional songs (the pentatonic "Jasmine Flower") with his own, musette-style compositions (the inventive "Maritime Serenade"), blending them in his ensemble's studied ethos of melody and swing. Hou's sense of classical reserve unfolds in the title track, where a pentatonic melody shifts between trumpet and accordion, playfully enacting the translation of self between two native languages.
Schiefelbein, a contributor to projects like Simon Henneman's New Series One; and Larsen, an essential part of Chemical Clock, answer well to Hou's encompassing sound on accordion. On tunes like "Afternoon Nap," Larsen shows his chops on ascending lines over a descending chord progression, while Schiefelbein holds down the low end. "Wrong Turn" stands out as an ensemble piece—a funky, cruising anthem with a mean, percussive bass line and a stereo comp in the twin bellows of the accordion. Articulate, self-assured, and styling, each member of the trio brings their respective languages into play, announcing an identity outside of any single genre. –Ian Gwin
The CD release concert for Bilingualism is September 5, at the Royal Room. Details at theroyalroomseattle.com