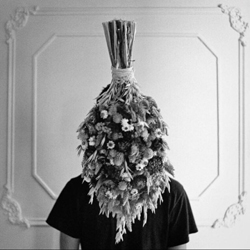 Gregg Belisle-Chi
Book of Hours
ears&eyes Records
When he lived in Seattle, guitarist/ composer Gregg Belisle-Chi was an intriguingly iconoclastic presence on the creative music scene, contributing his nimbly distinctive guitar playing and deeply challenging writing to a broad range of music. Since his move to New York, Belisle-Chi has been attracting attention and praise from fellow guitar iconoclasts (and former influences) such as Ben Monder and Steve Cardenas. The move East has also inspired a creative expansion for Belisle-Chi, well-documented on his superb new album, Book of Hours.
Belisle-Chi has an intuitive and open-minded aesthetic, and though Monder and others in the modern guitar realm may serve as influences and guideposts, Belisle- Chi clearly is not chasing trends or hipster jazz tropes. His excellent debut, Tenebrae and equally impressive sophomore effort, I Sang to You and the Moon shared elements of austere refinement, control and icy focus, but Book of Hours brings the heat too, and is a more wide-ranging and grittier affair. Positively bursting with ideas, packed from start to finish with sharp compositional contrasts and dynamic improvisational fluency, Book of Hours is the sound of an artist who isn't afraid to get a little messy around the edges, cede control, and dirty up the proceedings with experimental rock textures.
Backed by a sensitive but driving trio of Dov Manski on keyboards, Matt Aronoff on electric bass, and Michael W. Davis on drums, the album covers a lot of ground, deploying suite-like compositional structures that touch on everything from delicate, lyrical fingerstyle guitar with swells of rubato noise and electro-ambient soundscapes ("Kyrie"), to slippery, twisting fusion and dreamy rock ostinatos ("Gloria"), not to mention odd time syncopations, atonality, electronic timbral deconstruction, and even a touch of twang.
Book of Hours is a decisive and impressive statement of purpose and direction from a musician to watch. Highly recommended.
–Andrew Luthringer
Gregg Belisle-Chi celebrates the release of Book of Hours at the Royal Room on April 12 at 8:30pm.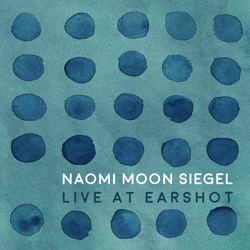 Naomi Moon Siegel
Live at Earshot
Slow & Steady Records
Former Seattleite, Missoula-based trombonist extraordinaire, Naomi Moon Siegel, returns with her first album since her 2016 debut, Shoebox View. Recorded live at PONCHO Concert Hall at Cornish College as part of Earshot Jazz' annual festival, Live at Earshot brilliantly captures Siegel's signature tone and poignantly prudent compositions. Featuring a roster of Seattle greats—Wayne Horvitz (piano), Geoff Harper (bass), Eric Eagle (drums), and Sean Woolstenhulme (guitar), plus special guest Thione Diop (percussion)—Live at Earshot is an electrically atmospheric effort that brims with adventure and insightful musical instinct.
Those who have heard Siegel's indie-inflected debut will note familiar compositions, such as the bluesy "Ukelady," as well as a familiar rhythm section—save for the addition of Harper. The trio's craft in swing makes an elegant switch between odd meter and triplet fours on the opener "Fullness of Time," and along with with Eagle's "Way Out West" stick-work, reflects Siegel's poppy but mature eclecticism.
Woolstenhulme gives accent to the trio's post-bop cool with his angular and chorus-laden rock style, matching complex barbs of ebbing dissonance with Horvitz on the elegiac pledge "Fortifying Love," and playing off Eagle's delicate brushwork on the ambitious landscape "Punta Uva."
Diop, a Senegalese percussionist based in Seattle, brings his mastery of West African percussion to two tracks, "Jeannine's Joy," and "Jaam Rek," and injects the group's drifting clouds of sound with novel percussive timbres. On "Jaam Rek," co-written with Diop, the drummer's warping melodies lend an unpredictable excitement to the otherwise laid-back groove.
The virtues of Siegel's compositions emerge exceptionally well in the album's live setting. The picturesque "Foghorn" recalls Charles Mingus' "A Foggy Day," with an anxious spidering of melodies, courtesy of Harper and Horvitz, breaking down into atonal flurries and a tattle-tale waltz. Compositions like "Electric Flower," and "Mancha Sanchaba," give an out-of-doors quality, elegant in their spare textures and looking-glass harmonies.
Siegel shines on the album's closer, "Fortifying Love," which contains some of the wildest playing on the record. She plays into an electronic fuzz-effect, building her phrases into a crescendo of passionate exhortations which suggests a feeling of pride in the loud applause that follows.
–Ian Gwin
Naomi Moon Siegel performs at the Seattle Art Museum on April 11 as part of the Art of Jazz series.