Samantha Boshnack
Seismic Belt: Live in Santa Monica
Orenda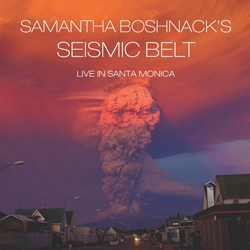 Trumpeter and composer Samantha Boshnack takes the subject of volcanology—the study of volcanoes—and addresses the unpredictable, yet law-driven nature of the earth's surface through her septet's fluid improvisations on her latest release, Seismic Belt: Live in Santa Monica.
Written with the help of the 18th Street Art Center's Make Jazz Fellowship Commission, Boshnack's loose suite represents a huge leap forward in her ensemble writing, judiciously utilizing the environment as a source of inspiration, letting the ingenuity of her band of LA regulars draw both fear and humor from the shifting ground of her material.
Boshnack balances her brass with reedman Ryan Parrish on tenor and baritone saxophone. Parrish's laidback sound on baritone compares well with Boshnack's wry, concentrated tone on the multipart "Summer That Never Came," a third-stream threnody written after a volcanic eruption in Iceland in 1783.
Boshnack's habit of grouping instruments of parallel or disparate timbral quality extends with the addition of two string players: Paris Hurley, classically trained violinist and touring member of the punk band Kultur Shock, and violin/viola player Lauren Baba, award-winning composer and leader of her own big band, theBABAorchestra. On the Latin-inspired "Choro," Baba gives an exceptional solo, filled with brief harmonics, double stops, and slight melodic twinges, ending in a final gesture like a silhouette slipping into darkness.
Up-and-coming pianist Paul Cornish, along with LA session drummer Dan Schnelle, form the true "rhythm" section in the midst of Boshnack's shifting harmonic strata. Schnelle proves covertly funky throughout, pulling off snare hits and double time triplets for a kind of re-wind effect on the jump chorus for the opener "Subduction Zone." Cornish gets his grip on the piano tradition from Oscar Peterson to Cecil Taylor with his sprawling, comprehensive solos. On the highly composed "Tectonic Plates" he varies a theme with contrapuntal lines, which break up in manic clusters and crossing harmonies to match the tune's stunning final mash of melodies.
Boshnack draws out remarkable performances through her compositions, as on the standout track "Fuji." The use of traditional material harkens back to Thelonious Monk's "Japanese Folk Song" and its volatile rhythms inspire standout performances. Far from novelty, it's folkish call and response sustains a large jazz ensemble at its best: erupting in the convergence or divergence of composition and improvisation.
–Ian Gwin
Rich Pellegrin
Down
OA2 Records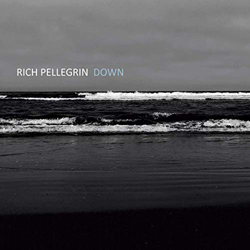 With a background in drums and percussion, pianist and composer Rich Pellegrin's strong ear for rhythmic sonority has guided his previous releases, Three-Part Odyssey (2010) and Episodes IV-VI (2011). His approach to improvised music takes in the harmonic extrapolations of McCoy Tyner and the jocular symphonism of leaders like Gil Evans.
For his newest release, Pellegrin has focused his musical lens. Recorded with a generation of Seattle musicians confidently fluent in their own voices, including R.Scott Morning (trumpet), Neil Welch (saxophone), Christopher Icasiano (drums), Evan Flory-Barnes (bass), Down is an album of studies: investigations in instrumental approach and lessons in emotional gesture, from subtle to expansive.
Pellegrin's rapid-fire approach sparks the labyrinthine Kafka-logic of the album opener, "Trial." His sense of the timbral possibilities of the piano and appreciation of its high and low ends breathes a vitality into his solos. Welch shows his sonic affinity with the pianist, whittling Pellegrin's elaborations to their melodic core, then distorting them in his post-avant growl.
The elegance and simplicity of Pellegrin's writing is evident on "Acceptance." The ambiguously yearning instrumental "Down," is something like light filtering through a dockside window. Morning's ominous solo here, guttered and nihilistic, fits the dour mood which Flory-Barnes and Icasiano buttress with exacting detail.
The album's closing track offers an astonishing reprise, outfitted with the orchestral assistance of the Mizzou New Music Ensemble. Opening with Pellegrin's Langgaardian unfurling of melodies, followed by Welch's timbral mirroring Jeremiah Rittel's clarinet and Erin Spencer's flute, the suite shows the melodic possibilities in the relatively simple modal tune. Flory-Barnes' solo demonstrates his virtuosic classicism, while Icasiano's delayed snare work and modern sense of rhythm sustains the projection of Pellegrin's ambitious concept.
"Exile" shows Pellegrin's writing at its most elusive. Based on a three-note vamp of a fourth from f to b flat, the song's pensive blending of harmony into rhythm brings out slight shades of color— suggested by the bass and exchange of melody between the two horns—that inspire some of the most exciting solos on the album. The transparent emotion of this shared exile reminds us of Camus' message that it is not our task to unleash our own exile into the world, but "to transform them in ourselves and others."
–IG