Samia Panni: A Tribute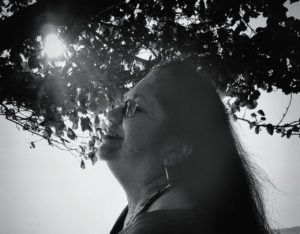 Samia Panni by Jeannie Bumgarner-Black
By Jovino Santos Neto
With the passing of the beloved radio DJ, singer, percussionist, and Brazilian music scholar Samia Panni on December 2, the Seattle music community lost one of its most important members.
Born in Bangladesh to a diplomatic family, Panni lived on different continents, gathering cultural perspectives from Africa, South America, and many other places before settling in Seattle. She founded and was one of the hosts of the Brazilian music show Raízes on Saturday afternoons at KBCS radio for over 30 years. There, she introduced many artists to Northwest audiences, championing new talents while also paying tribute to the great masters.
In addition, Panni was a founding member, singer, and percussionist of Beija-Flor (Hummingbird), a Brazilian band that performed in many venues around our region over many years. She spoke and sang in Portuguese with a perfect accent, even though she had never visited Brazil. Her choice of repertoire was always of the highest quality, and she could sing with spirit and depth, conveying the beauty of music from Brazil like few others. She also founded and sang with the female vocal group Abrace (Embrace), connecting multiple languages and cultures from around the world through song.
I met Panni for the first time in 1990, when I came through Seattle on tour with the Hermeto Pascoal Group. She was the emcee for the concert we played for Earshot Jazz at the old Backstage in Ballard. She welcomed us to this region, and she was one of the reasons that my family and I ended up moving here in 1993. She helped us get settled and gave me some of my first gigs in town with Beija-Flor. Panni was a support system for many other musicians who moved to Seattle. With her weekly radio show, she created and maintained a worldwide community of musicians and music lovers centered in Seattle. We all mourn her passing, celebrate her life, and will remember her contributions to art and culture.
Paul Hoskin: 1958–2018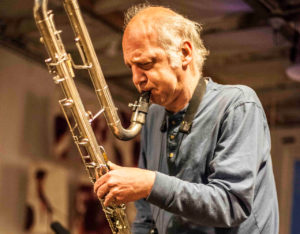 Paul Hoskin by Arrington de Dionyso
By Steve Peters
Paul Hoskin, a key figure in Seattle's history of freely improvised music, passed away in his Seattle apartment on November 17.
While attending Oberlin College in the late '70s, Hoskin hung out with musicians and listened voraciously, especially to free jazz and European improvisation. In 1980 his brother gave him a battered C-melody saxophone salvaged from a friend's attic and admonished him to start playing. Essentially self-taught, Hoskin worked his way through the reed family, eventually settling on contrabass clarinet and baritone sax, on which he developed a highly idiosyncratic voice that never ceased to evolve.
In the '80s and '90s Hoskin bounced between the coasts and toured around the US and Europe. He improvised relentlessly, playing in countless ad hoc groupings, as well as ongoing projects like Audio Letter and the sprawling New Art Orchestra in Seattle, and NYC groups The Same and Trigger. He also collaborated extensively with dancers, especially Linda Austin and Margit Galanter. He returned to the Northwest in the late '90s, moving around from the Olympic Peninsula to Astoria, Oregon, until finally settling down in Seattle in 2009.
Hoskin was a tireless catalyst in the improvised music community, always seeking out new players and venues and curating shows. In 1985 he organized a weekend gathering of locals and friends from New York to create the first Seattle Improvised Music Festival, now entering its 34th year. He continued to be involved with it sporadically, returning as co-curator in 2015 and 2016. He also booked shows at the Collins Pub, and was involved with Gallery 1412 and Spite House.
Since 2016, Hoskin stepped back from music, attending the occasional gig but mostly laying low. No stranger to hard luck and hard living, his health deteriorated in the last few years, resulting in several brushes with mortality followed by astonishing recoveries, of which he was quite proud; he relished defying everyone's worst expectations. But in recent months he resumed practicing, and spoke optimistically of returning to performing next year. He also privately expressed profound gratitude to the community that had helped nurture and support him through his various crises.
Paul Hoskin touched a lot of lives and was beloved by many, even though loving him could be a challenge. He was full of contradictions: endearing, exasperating, brilliant, feral, loyal, stubborn, dedicated, self-deprecating, grandiose, gentle, dismissive, meticulous, chaotic, self-destructive, resilient. He might expound eloquently on Spinoza, Heidegger, and Wittgenstein, or recall a long, factually questionable story from 30 years ago. He lived on his own terms, made a deep impression on the music scene in Seattle and elsewhere, and leaves an equally large void in his absence. Quite simply, there was no one like him.
To read a 2014 interview with Paul Hoskin, visit https://tinyurl.com/y9bogws3
Mark Sampson: 1977–2018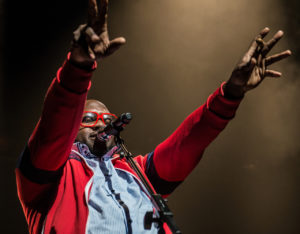 Mark Sampson by Jason Tang
By Josh Rawlings
A contingent of dear friends, family, and peers came together on Sunday, December 2 at Rumba Notes in Columbia City to celebrate and remember Mark Sampson in the best way we knew how—through music and a high-vibrational hang. This tradition of a musical wake-jam-celebration (most vividly on display in traditional New Orleans funeral street processions) is a beautiful and magnificent way to honor and celebrate a human being.
Mark was a dear friend, Cornish classmate, and man of the keyboards, and I was honored to be invited by Michael Avery-Jarrell Darby to celebrate his life. While it's still unclear what exactly happened to Mark, we know we all felt his spirit move through the room and through the celebratory music made that evening. I'll always remember Mark's incredible smile, humor and immense musical talent. He had a profound and sensitive touch to the piano that I admired deeply.
Upon recently transcribing a solo from one of his last documented jams, it's clear that Mark was a master of fusing lush, smooth gospel styling with bebop quirkiness and spirit. He was a chameleon of the keys who could adapt to nearly any musical situation, but that vibe he brought with his brand of churchmeets-jazz sound was something special to hear. We'll miss his presence on the scene.
I was encouraged by the words of Makini Magee at Mark's memorial when she said to me, "Be on the lookout for Mark in anything living. Be it a bird, a flower, anything, he'll be there in the most subtle and special ways when you least expect it; he'll continue trying to communicate to you." Goodbye Mark! Rest in piano power up there with the greats. You'll be missed my friend.
To read the transcribed solo of one of Mark's last performances, visit joshrawlings.com
Perry Robinson:1938–2018
A frequent visitor and collaborator with the Seattle jazz community, Perry Robinson passed away on December 2nd. In addition to being one of the great clarinetists of our time, Robinson was a unique and benevolent spirit in the free-jazz world. He lived humbly, travelled regularly, and encouraged creativity and kindness with everyone he encountered. When visiting extended family in Seattle, he often performed, most regularly with trombonist and vocalist, Marc Smason. Robinson played folk music with joy and traditional jazz with deep feeling, but was best known as an eager and fearless improviser, who encouraged new possibilities in everyone he encountered.