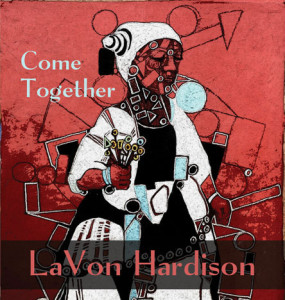 LaVon Hardison photo courtesy of artist
LaVon Hardison
Come Together
Self-released
As a live performer, LaVon Hardison's presence and voice can light up a room, and she has established a reputation as one of the Pacific Northwest's premier singers. However, she hasn't recorded a great deal – it's been way too long since her excellent 2006 album Choices and 2008's Everyday Gifts – so the arrival of Come Together is long overdue. Happily, it was well worth waiting for.
A stylishly eclectic singer, Hardison is an artist for whom the song is king. She's the type of interpreter who knows how to put across the emotion and subtlety in a melody without overselling it, and she has a talent for getting inside the story that each song tells.
Backed by a superbly versatile and sensitive band consisting of Jeff Busch on drums, Osama Afifi on bass, David Deacon-Joyner on piano, and Brad Schrandt on flute and sax, Come Together explores a number of iconic songs and a few lesser-known gems, on which Hardison is in effect paying tribute not only to the composers, but to the great singers who have previously defined the tunes, a challenge she meets handily.
Burt Bacharach's songs are a singer's dream, but on the iconic "Close to You," (made famous by Karen Carpenter) it can be tricky to evoke the requisite sweetness without sounding maudlin. Hardison makes it her own, and makes it look easy, with a laid-back funky vibe. "Sunny" gets a similarly successful treatment: though a song as overplayed as this one can be a perilous undertaking, Hardison breathes new life into it with her languorous, sly interpretation.
But Hardison doesn't tweak the songs just for the sake of being different: "Some Other Time" is played relatively true to the original, and "Better Than Anything" is a bit more relaxed than Al Jarreau's take, but shares the same playful, joyful sense of swing.
– Andrew Luthringer
Ray Vega & Thomas Marriott
Return of the East West Trumpet Summit
Origin Records
Ray Vega and Thomas Marriott made a splash in 2010 with the first edition of their East West Trumpet Summit, which went to #1 on the jazz charts on the strength of their interplay and rapport as they tore through a varied program of classic hard-bop sounds. The release of the second edition, Return of the East West Trumpet Summit is a welcome return to the studio, and builds nicely on the heritage of the initial release.
While the albums are a chance for New Yorker Vega and local treasure Marriott to pay tribute to trumpet tandems of the past such as Freddie Hubbard and Woody Shaw, it's also simply a chance to play some great jazz in a relaxed setting, without pretension or trend-chasing, and the entire band's enjoyment is palpable. Return features a bit less emphasis on originals than the first volume, drawing more extensively on standards and the Great American Songbook, but the tunes are well-chosen and give a broad variety of flavors for the band to blow over.
The duo is once again backed by the ubiquitous and vital Matt Jorgensen on drums, while the masterful George Colligan holds it down on the Hammond B-3, pumping out basslines and anchoring a rich harmonic landscape with a finely tuned sense of groove.
Both Marriott and Vega swing hard throughout the album. Marriott's playing in particular sounds stronger than ever, full of punchy phrases and fluidly executed melodic ideas, all delivered with the thoughtful brevity of a composer. Ultimately, this album is not a trumpet battle: it's two superb musicians seemingly devoid of ego, displaying obvious affection for the music and themselves, and telling a story – what great jazz is all about.
– AL
Billy Brandt w/ the Thing & the Stuff Band
Get It Going
Self-released
The self-released Get It Going is Billy Brandt's second album (following his 2012 debut The Ballad of Larry's Neighbor), and the deep-voiced singer/songwriter covers a lot of territory on this offering, from lightly swinging jazzy pop to soulful rock flavors. One can trace echoes of influences such as Lou Rawls, Gregory Porter, and Van Morrison in Brandt's sound, and though he sounds a bit too careful and restrained at times, there is an undeniable power and attitude in his vocal approach. Brandt's core unit of Brad Boal on drums, Hans Brehmer on piano, and Osama Afifi on bass comprise a solid rhythm section, and confidently navigate through the cleanly effective arrangements.
The majority of the album is comprised of Brandt's varied originals. The most effective moments come during the more soulful offerings rather than the overtly jazz-oriented tracks. "You're a Mean One" grooves along on a bed of funky Hammond B-3 from Joe Doria, caressed by soulful background vocals, and lit up by a killer tenor solo from Alexey Nikolaev, who shines throughout the album. Another standout is "Cruel World," driven by funky, elastic guitar work from Brian Monroney and more smoking organ work from Doria.
A couple of choice covers provide other nice moments: A cleverly arranged retro-swing rendition of the Jagger/Richards classic "Jumpin' Jack Flash" settles into nice groove, delivered with a sly attitude that serves the tune surprisingly well. Bobbie Gentry's "Ode to Billie Joe" is delivered with a slinky funk syncopation and charged up with a stellar guitar solo from Monroney, while Brandt spins the slightly mysterious and odd narrative with the inflection and delivery of a born storyteller.
– AL