Jacob Zimmerman photo courtesy of artist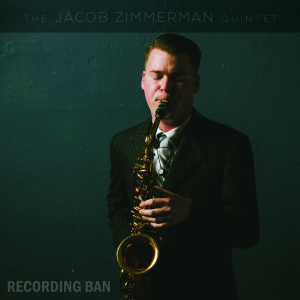 Jacob Zimmerman Quintet
Recording Ban
Self-released
There's nothing new about Jacob Zimmerman's self-released quintet album Recording Ban. Everything about it harkens back to the 1940's and 50's when jazz was at the peak of its popularity and bebop was just emerging. So it's somewhat surprising that music that is so thorough and deliberate about engaging with music from the past comes off as feeling so current and alive. In fact, it's because of this thorough engagement with the music of the bebop era – and not in spite of it – that this record comes across as so vibrant.
Zimmerman is virtuosic throughout, with a particularly blazing solo on "Koko," Charlie Parker's notorious take on "Cherokee." The arrangements are creative and immaculate. Shout choruses, instrumental fills, and trading on more obscure tunes like "Dee Dee's Dance" and "Tiny's Exercise" are propelled forward by Julian MacDonough's relentlessly swinging drumming. "Woody'n You" showcases Zimmerman's close musical connection with trumpeter Ray Larsen, whose spirited solo and trading eggs on Zimmerman. The band's version of "Epistrophy" opens with an inspired solo by Jacob Svendsen on piano and, after a typically irreverent and tenacious solo by bassist Nate Parker, gives way to a beautifully communicative duo between Zimmerman and Parker. Dave Marriott, Jr.'s tasteful trombone solo on "1944 Stomp" is a treat as well. This is a fully gratifying recording, made all the more rich for its dedication to bebop.
Catch the band in action at Egan's Ballard Jam House on the first Thursday of every month. This month, they celebrate with a release show on Sept. 3 at 7pm. Recording Ban is only available at shows.

–Levi Gillis

Wally Shoup Sax Trio + One
Copaesthetics
Astral Spirits
Wally Shoup's latest release Copaesthetics, on the Austin, TX-based label Astral Spirits, is a beautiful and challenging suite of improvisations with his newly formed band, the "Wally Shoup Sax Trio + One." With Jacob Zimmerman and Shoup on alto saxophones, Neil Welch on tenor saxophone, and Carmen Rothwell on acoustic bass, they create a highly dynamic sound palette.
"Isotopic Vestiges" displays the group's masterful sense of momentum. Their powerful collective phrasing is based on using silence and space dramatically and effectively so that even the densest sections can give way to transparent, buoyant interchanges in a split second. The quartet know how to work with contrasts, allowing the harmonic clarity and heartfelt melodies at the end of "Vestiges" to shine through ever more brightly after a raucous beiginning. Rothwell's malleable walking bass accompaniment on "Limits of Rigor" curates entertaining and joyful duos with each saxophonist, showcasing each player's unique voice. When Shoup steps forward for a solo, he effortlessly glides through an array of saxophone sounds, giving as much weight to the silence as to his spirited cacophony. The real highlight is "Dark Luminescence," a tender and brittle shifting mass of sound that illustrates the kindred spirit of the saxophone and acoustic bass as sound producers. While listening to "Luminescence," you are immediately made aware that you can't tell which instrument is which, that all musicians become one voice, and then you realize that that feeling – the attention to the sound of the group and the moment as a whole – has been there the entire time.
–LG