Bill Frisell
October 30, 2020 @ 8:30 pm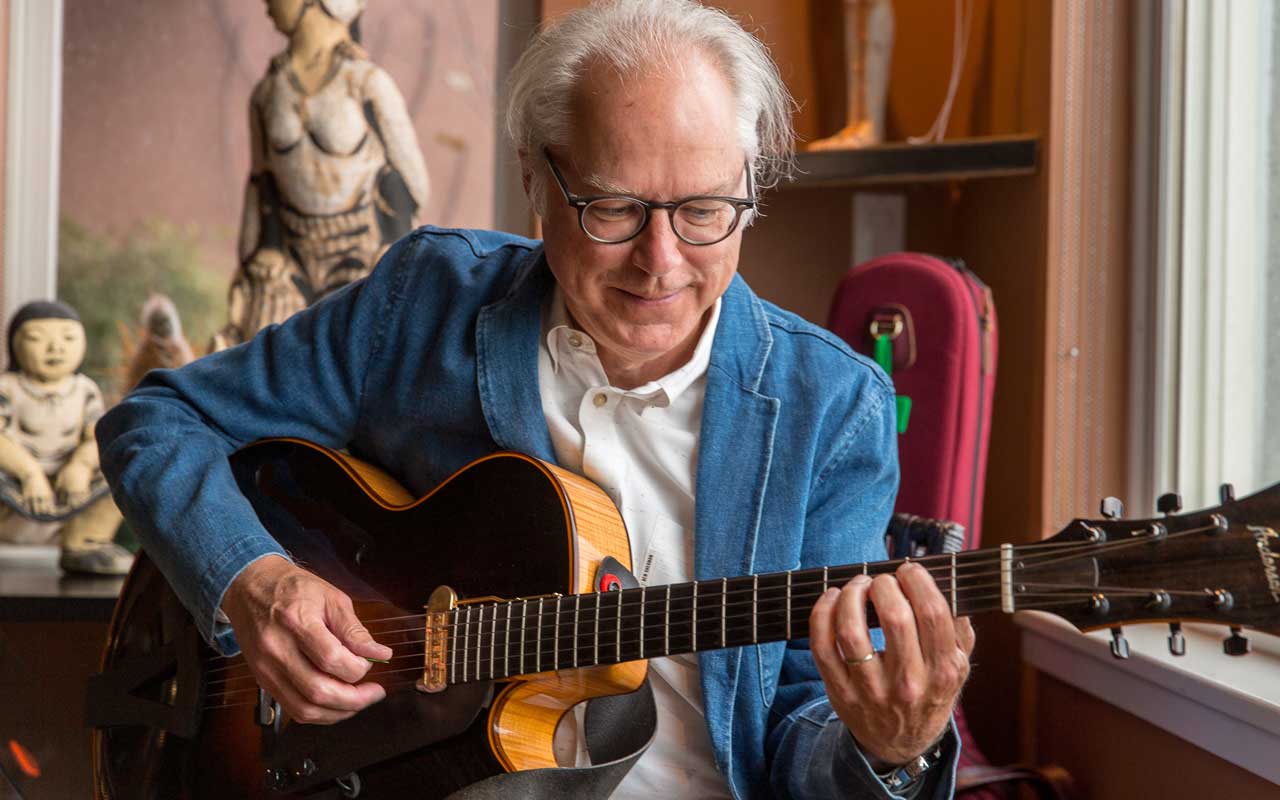 Bill Frisell photo by Daniel Sheehan
TICKETS: $10-25
EVENT NOTES:
This is a solo performance by Bill Frisell.
This is a pre-recorded event filmed for Earshot Jazz in October 2020.
Sponsored by Richard Thurston
Welcomed by KNKX 88.5
From Brooklyn, the cherished jazz guitarist, arguably the key exponent of the last 30 years, performs solo, highlighting his boundlessly expressive innovations.
The first time I ever saw Bill Frisell play live was at an intimate, 1986 solo performance at the Vancouver International Jazz Festival, back when the guitarist was still one of jazz's budding secrets. I remember being blown away by his inventive use of digital delay, loops, effects pedals, even pure noise—as well as his mischievous sense of humor and disarmingly hesitant attack, as if he were thinking out loud. As we later found out, that's exactly what he was doing. A lot of musicians can't pull off that kind of spontaneity, but Frisell excels at it, so a solo performance is always something special to look forward to, though "solo" may be misleading, since he no doubt will play duets (and trios, and quartets) with his electronically reproduced self.
Originally from Denver, Frisell made his reputation on New York's "downtown" scene in the 1980s and lived in Seattle for 28 years before moving back to New York, in 2017. Over the course of his more than four-decade career, the Grammy-winning musician has consistently topped readers and critics polls and been hailed as the most important practitioner on his instrument since Jimi Hendrix. He is the subject of a wonderful documentary film by Emma Franz, Bill Frisell: A Portrait, in which he delves deeply into his process.
Seattleites have had plenty of opportunities to see him play solo and otherwise over the years, including his most recent appearance last spring at the Moore Theatre with the unusual group Harmony, which includes former University of Washington professor Luke Bergman on baritone guitar, as well as vocalist Petra Haden and cellist Hank Roberts. Frisell recently had a dream come true when he was signed to Blue Note Records, which released his second album for the label this past August, Valentine, which features bassist Thomas Morgan and drummer Rudy Royston. The title tune, a Monkish blues, is especially delightful, but a perhaps more useful pre-concert playlist is his 2018 solo album for Okeh, Music Is. The album showcases his wide range of moods, from country gentleman to raucous saboteur, sometimes all in the same song, as on "Winslow Homer." Hopefully Frisell will play my favorite of his early tunes, "Rambler," which gets a radical rearrangement on Music Is, then reappears with its original, gentle roll as a bonus track. But whatever he plays will be just fine.
–Paul de Barros
These are challenging times for artists, please give them your support: https://www.billfrisell.com/