Lakecia Benjamin: Pursuance, plus Jade Solomon Curtis
October 17, 2020 @ 7:00 pm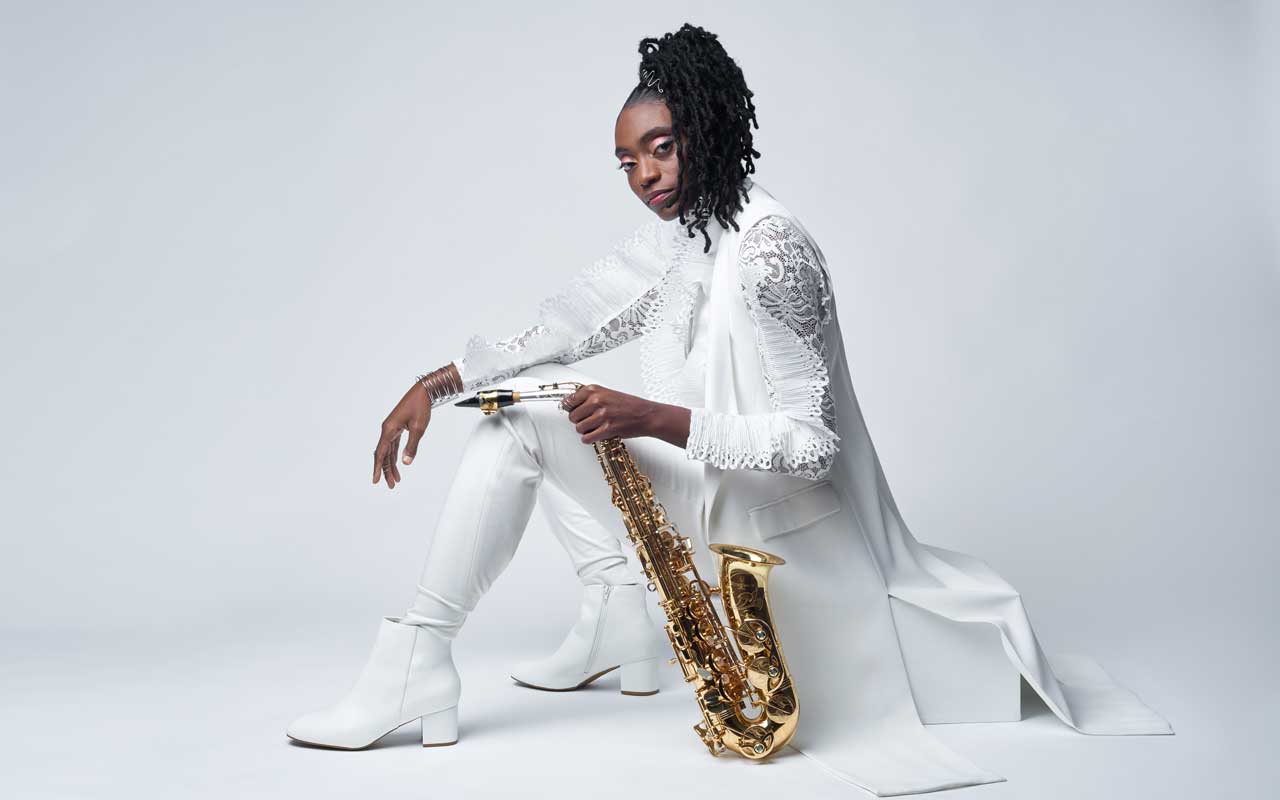 Lakecia Benjamin photo by Elizabeth Lietzell.
TICKETS: $10-25, on sale October 1
Sponsored by Brad Pearce, Built in Georgetown
Presented in partnership with Langston Seattle
Emerging saxophone star and prolific bandleader Lake­cia Benjamin was 11-years old with a saxophone in her hands and a dare to dream bigger. Her musical path flows through the Latin music and dance of her early neighbor­hoods to four continents as a sideman for soulful A-listers (Stevie Wonder, Missy Elliot, The Roots, Alicia Keys) and to The White House to perform President Barack Obama's 2009 Inauguration. Her wide-spanning career has culmi­nated, so far, with an ambitious ode to her roots music, Pursuance: The Coltranes (2020).
A post-bop homage that would shine on logistical grounds alone, Pursuance is unique in equally represent­ing compositions of Alice and John Coltrane and credit­ing some forty musicians. The music is a riveting fit for Benjamin's talents: her saxophone tone is not dissimilar to John's; her spirit not disconnected from Alice's.
Benjamin brings a three-generational jazz cast to Pursuance. Reggie Workman, who played with both John and Alice and proved invaluable as a co-producer and mentor.
After launching Pursuance at Jazz at Lincoln Center in March 2020, this significant achievement should have carried momentum for an anticipated spring tour, where she would have joined us in person. But adapting through changes as Lakecia did in the making of this work, she cuts through, with pursuance, to meet us in a new sonic moment.
Tonight, from New York, the band is: Lakecia Benja­min– saxophone; Zaccai Curtis– piano; Lonnie Plaxico– bass; and E.J. Strickland– drums.
Dancing solo from Langston to new music by Lakecia Benjamin is Seattle-based choreographer and dancer Jade Solomon Curtis.
Solomon Curtis gained attention as a celebrated soloist of Donald Byrd's Spectrum Dance Season for four seasons. She is a multi-award winner, including the first SeattleDance's Dance Crush Award for performance/choreography for Black Like Me, which led to further development and funding from the National Dance Project.
"Activism is the Muse"
Meet Jade Solomon Curtis.
Texas-born, Seattle-based dance artist and choreographer is interested in the body as an artifact of memory, space and time. Her works integrate Black vernacular movements with mixed-media, contemporary dance and Hip Hop cultural influences. She is the founder of Solo Magic, a non-profit arts initiative collaborating with innovative artists to create socially relevant multisensory performances.
Her most notable and NEFA award winning work, Black Like Me: An Exploration of the Word Nigger, toured inter/nationally from 2018-2020. Currently, Jade embarks on a new creation, Keeper of Sadness that will utilize innovative technology, contemporary dance and activism to explore transgenerational effects of trauma and imposed stereotypes on Black women.
Solomon Curtis reimagines new music by saxophonist Lakecia Benjamin in a gripping one-woman show, this Saturday, as part of the opening weekend of the Earshot Jazz Festival 2020. Not to be missed.
These are challenging times for artists, please give them your support:
https://www.lakeciabenjamin.com/
https://www.jadesolomon.com/