Tarbaby with special guest Oliver Lake
October 23, 2020 @ 8:30 pm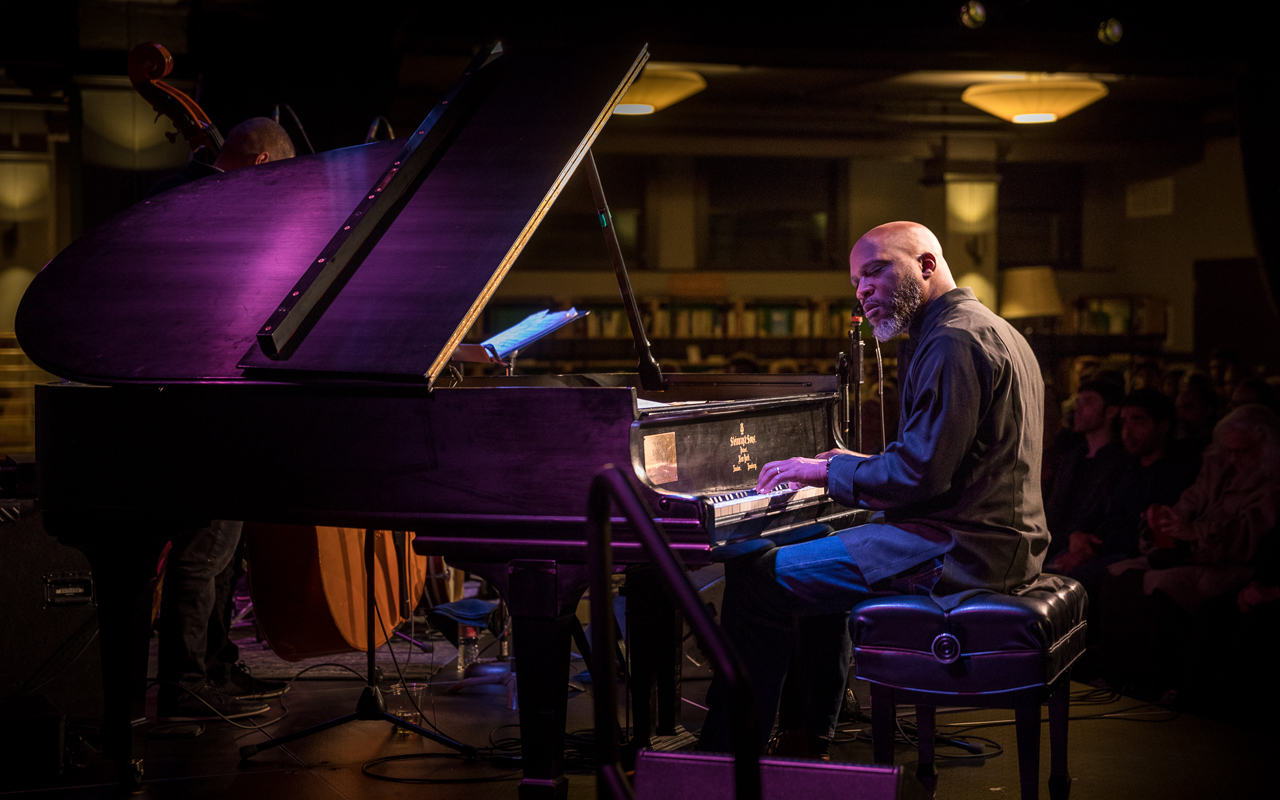 Orrin Evans photo by Daniel Sheehan
TICKETS: $10-25
Welcomed by Rainier Avenue Radio
Three of the strongest players in today's jazz: Orrin Evans (piano), Eric Revis (bass), and Nasheet Waits (drums) bring considerable power and guile to this provocative trio, swinging the music of Monk, Mingus, Coltrane, Ornette, Don Cherry, and many more solidly into the 21st century.
The story of the Tar Baby, a folk story adapted in the tales of Uncle Remus in 1881, goes something like this: Br'er fox builds a doll from tar. His friend, Br'er rabbit, comes by and argues with the doll. But the more he struggles, the deeper he gets stuck in the sticky ploy.
Bassist Eric Revis, describing his Tarbaby trio with pianist Orrin Evans and drummer Nasheet Waits, in a JazzTimes article relates the idiom that 'since sprung from this problem to "the idea of swinging, playing with conviction, with reckless abandon." Those elements, essentially, of the jazz tradition that some in the modern era who favor "pensive" jazz would rather not stick their foot in, are exactly the elements that the band Tarbaby relishes.
Authored by a collective, the trio co-leads by the excellence and experience of its members. Readers might be familiar with Evans as the newest member to the critically acclaimed trio The Bad Plus. Possessing a forward-thinking harmonic style that parallels fellow Philedelphian McCoy Tyner, Evans has been paying his dues touring and recording as a leader since the mid-nineties. His gigantic group The Captain Black Big Band, a multi-generational project that ambitiously ventures through the plural heritage of jazz, has earned praise for its "audacity of spirit" (NPR).
Evans named the band after a brand of tobacco he smoked with his father after a conversation with Nahseet Waits, after the latter discovered his father, the percussionist Freddie Waits, also smoked. Another New York Native, Waits began his career extending this legacy in Mac Roach's group M'Boom, followed by a stint with reedman Antonio Hart, in addition to tenure with Andrew Hill and Fred Hersch.
Coming to prominence playing with Betty Carter, Eric Revis has made his name as a powerful yet thoughtful percussionist, stating in an interview, "There may be an air of robustness around my music, but there is a lot of sensitivity and intellectual content." A key member of Branford Marsalis' band and frequent collaborator with Armen Nalbandian, Revis released his eighth album as leader Slipknots Through a Looking Glass, an elastic study in concentrated rhythm, on Pyroclastic records this year.
Their collective daring as experimentalists and independent leadership has driven the trio since their eponymous 2009 debut. "This is a strong postbop collective with plenty of moves at its command: advanced rhythmic calculus, sly harmonic implication, cohesive elasticity, brute force," writes the New York Times.
–Ian Gwin
Oliver Lake (saxophone) joins Tarbaby for this performance as a special guest. The artistic scope of saxophonist, composer, painter, and poet Oliver Lake's half-century-long career is unparalleled. From his formative years with the Black Artists Group to co-founding the internationally acclaimed World Saxophone Quartet to the "Loft" jazz scene of the 1970's in New York City, he has produced a body of work that is both expansive and versatile enough to avoid falling solely into the trappings of the "avant-garde" and "free" labels.
These are challenging times for artists, please give them your support: http://www.hipnotic.com/artist/tarbaby/