Fabian Almazan and Linda Oh photo by Rudy Royston.
Scroll through to look and listen to a selection of those responses or jump to a submission:
CATARSI CATARRO—Amy Denio
A Delightful Wackiness—Ann Reynolds
Tia at Minton's—Rudy Royston
Jazz Night Out (Solo)—Sibyl James
Mi Son—Kiki Valera
Feel Your Touch—Nancy Erickson
Flatbed Buggy—Rudy Royston
Weekly Album Planner—Halynn Blanchard
Alba for Lady Day—Sibyl James
Metal Machine Music—Ian Gwin
Covid Tale—David True
Call for Content—July issue Earshot Jazz

"Earshot Serves as Platform for Thriving Seattle Scene" is the title of a recent article in DownBeat magazine. While the piece focused on our internationally respected annual festival, Earshot strives to be a platform in all its programming—including this monthly magazine. The Earshot Jazz organization started 36 years ago as a newsletter. This publication is at the heart of what we do and its purpose is to serve as a platform, reflecting and responding to our jazz scene. That scene looks very different today than it did a few months ago. And these pages look different, too.
As our state remains under various degrees of social distancing regulations, we continue to be responsive in our content. In April, and again in May, Earshot Jazz put out a call for content to our community, near and far. These are a selection of those responses.
---
CATARSI CATARRO (Phlegmy Catharsis)
composed by Amy Denio
for the Tiptons Saxophone Quartet & Drums
For any number of sound makers, all skill levels.
Simultaneous or not.
LOCATION: Near a window, but preferably outside
Find a comfy space to play with good acoustics.
I. RISCALDAMENTO (Warmup)
(Open length)
Starting on any note, play a long tone, crescendo. When you reach forte go up or down a half step, gradually decrescendo until end of breath. Repeat. Go at your own pace to pass through all notes in that octave.
II. PROVARCI (Give it a Go)
(Same length as first section)
Play whatever you are practicing these days, slow to fast, changes in harmonics, dynamics, etc.
III. CATARSI/CATARRO (Catharsis/Phlegm)
(Open length)
Open up what you are repeating to play freely. Sing, scream, bite the reed, multiphonics, backwards, lisergic phrasing, or maybe the most beautiful melody you always play to bring happiness to your life…
IV. A CASA (At home)
(Open length)
Find your way back to play gentle whole step and half step trills anywhere any tempo.
Decrescendo to pianissimo. Fine.
composed by Amy DENIO
Spoot Music (ASCAP)
9 May, 2020
***
---
"A Delightful Wackiness" by Ann Reynolds
This piece, "A Delightful Wackiness", is part of project I have been working on to honor some of my favorite women composers. I was at the stage where I was putting together the trio to record my pieces, but alas we got shut down. I decided to work up a solo piano version of this original composition of mine for Carla Bley. This is not a studio recording, but was recorded in my living room on a Zoom4, with no editing or effects.
---
Tia at Minton's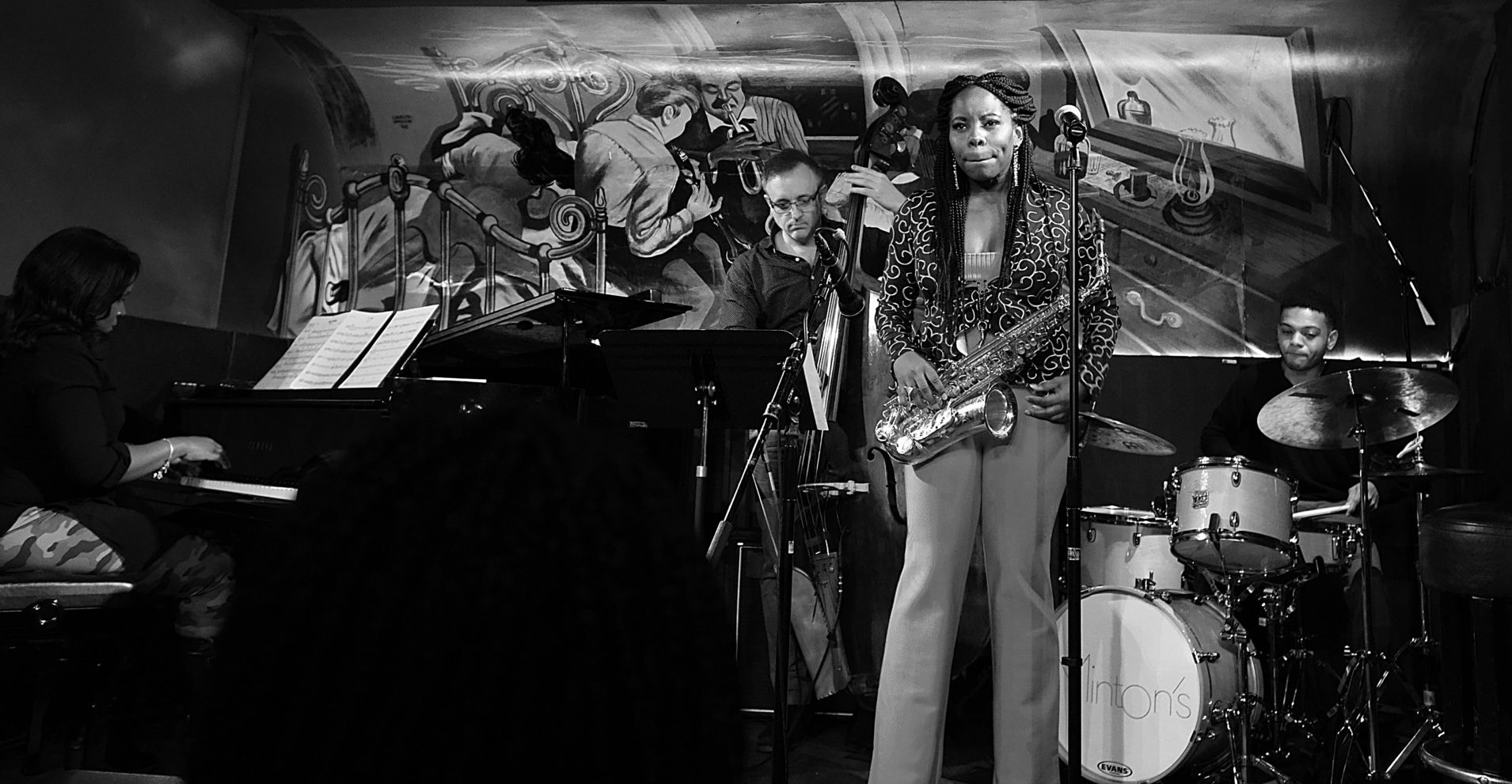 ---
Jazz Night Out (Solo)
By Sibyl James
The horn takes it, takes you in
to night, the song an edge you lean on,
the cheap scotch bite of memory
in yr. throat, yr. fingers
tracing the lost lines of her jaw, how
you know the feel of it, of her hands
in yr. hair, the white line of her shoulders
falling across yr. sheets.
Bar light falling on the sax now
and shattered like back streets
in switchblade reflections.
A quick knife of sound slitting the South Side smoke,
notes with the crazed control of junkies' hands
counting gram by gram by spoon
by high, by nights pacing you by
sharp as an uptown hustler.
The horn tongues at memory,
slips its raw rusted song into yr. vein,
night wearing you now familiar as creased black leather.
You stand in doorways,
draw her ghost breath in yr. throat,
the alleys jammed with high-spiked echoes
of heels tapping yr. name.
A man leans on his elbows at a window, smoking.
Yr. blood stutters to light like neon.
Trains roar from the tunnel,
cranes swing together bright orange at the pier,
the city,
the ship's white water push-off,
the horn
Sibyl James is a Northwest poet and author of 12 books including poetry, fiction, and travel memoir. The poems "Jazz Night Out (solo)" and "Alba for Lady Day" are from her latest poetry collection titled Hard Goods & Hot Platters published by Last Word Press, Olympia, WA.
---
"Mi Son" by Kiki Valera y su Son Cubano
MI SON is a tribute to the Son Cubano, crafted as the lyrics proclaim, with grace, poetry, rhythm and love. It is the first track of my new album Vivencias en Clave Cubana, a festive, tropical compendium of musical stories from my life experiences in Cuba. For those of you who would like to sing along, I have included the lyrics. For those of you who don't speak Spanish and would like to know what you're singing along to(!), I've included an English translation (below).
Mi son viene de la loma
Como dijo Matamoros
Regando su melodía
Por donde quiera que pasa
Su síncopa cadenciosa
Es el alma de la clave
Y al tambor esta ligado
Como la yuca al casabe
Mi son viste guayabera
Y vive en casa de guano
Y no se quita el sombrero
Para lucirse en el llano
Porque mi son es sabroso
No hay quien resista el llamado
De su tumbao contagioso
Acompañado del bajo
Es que mi son es el orgullo…
Y el sentimiento de los soneros
Con sus guitarras y sus tambores
Van regalándolo al mundo entero
Gracia y poesía, ritmo y amor
Que hasta el alma llena
Claro sinsonte que con su canto quita mis penas
Coro-1:
Para bailar te hace falta mi son
Para gozar con el montuno
No hay quien le quite lugar cimero
Porque es el número uno tu ves
Coro-1: (repeat)
Eh de la loma yo vengo con mi tumbao
Cadencioso pa' guarachar
Coro-1: (repeat)
Es que hace falta sabor pa' tocarlo
Para cantar y gozarlo también
Coro-1: (repeat)
Coro-2:
Para bailar te hace falta mi son
Viene del campo y usa sombrero
Coro-2: (repeat)
Y viste una guayabera mi son
Coro-2: (repeat)
Para bailar mi son, mi son, mi son
Coro-2: (repeat)
Eh para todo los soneros
Coro-1: (repeat)
For our listeners who don't speak Spanish, we offer this English-language guide to our lyrics. It is not a word for word translation (that never works well in any language), and you won't be able to sing along in English, but we hope that it will help you better understand our songs.
MI SON (MY SON; the Son is a type of Cuban song; the clave is the syncopated rhythm that drives it)
My Son comes from the hills* (the Sierra Maestra mountain range in the Oriente or eastern provinces of Cub)
As Matamoros once said* (one of the greatest composers of Cuban Son)
Spreading its melody
Wherever it goes
Its syncopated cadence
Is the soul of the clave
And it is linked to the drum
Like yuca to cassava bread
My Son wears a guayabera* (traditional Cuban-style shirt)
And lives in a house of guano* (thatched roof made from the fronds of the Yuraguano, a small palm endemic to Cuba)
It doesn't need to flaunt itself
Because my Son is flavorful
There is no one who can resist the call
Of its contagious rhythm
Accompanied by the bass
Because my Son is the pride
And the sentiment of the soneros (Son musicians, singers and dancers)
With their guitars and their drums,
They are gifting grace and poetry, rhythm and love
To the whole world
Until it fills the soul,
Like a mockingbird that takes away my sorrows
With its song
Chorus:
The Son music will get you dancing
But you'll really throw yourself into it in the montuno* (the faster, semi-improvised pinnacle of the song)
---
Feel Your Touch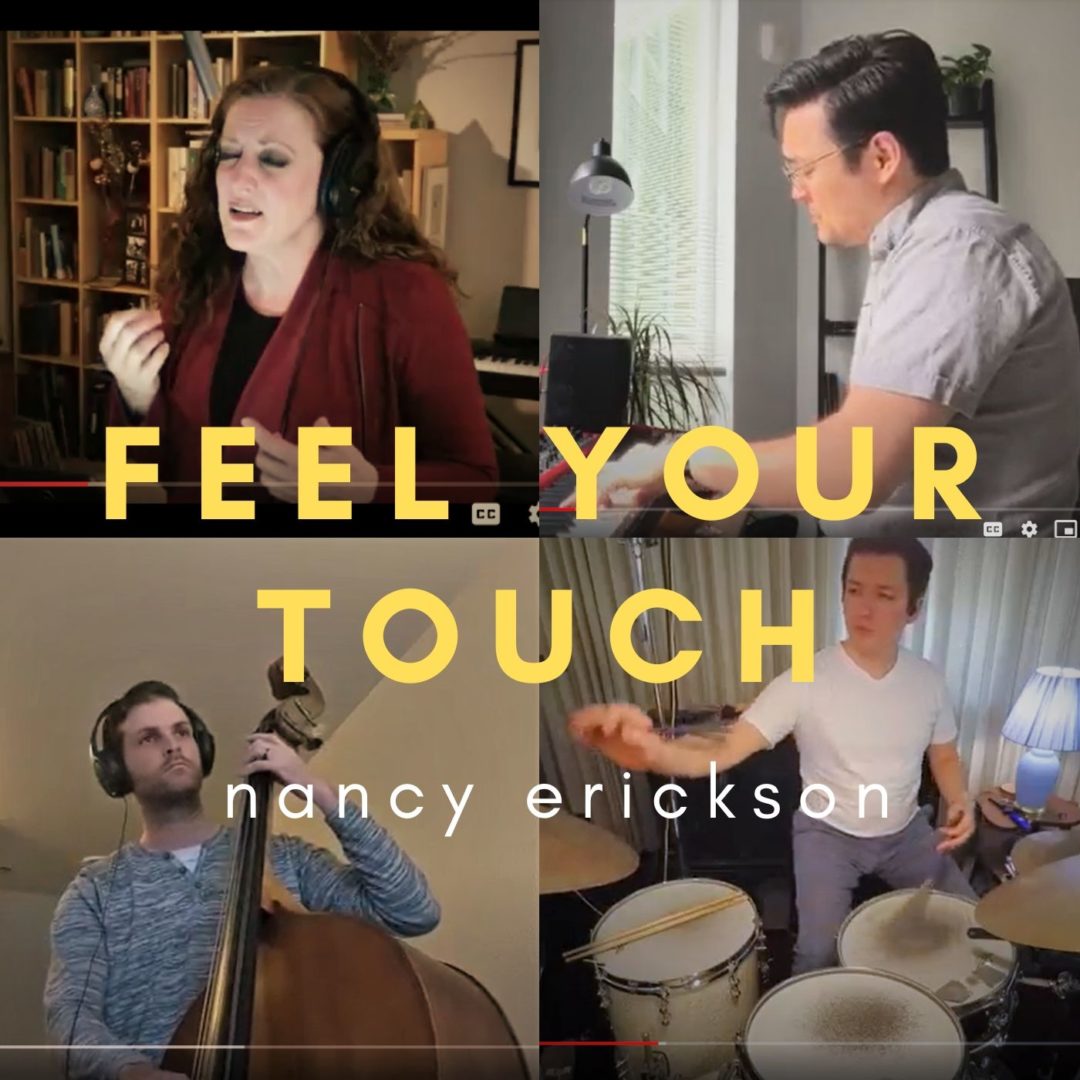 By Nancy Erickson & Shawn Schlogel
On February 21, 2020 my songwriting collaborator & pianist Shawn Schlogel sent me a musical idea he had with a beautiful melody and asked if I'd like to add lyrics to it. I was busy at the moment, but said I loved it and would work on it when I found the time.
I am a choir teacher in Snohomish, WA and March is normally the busiest month of the year for choir directors with festivals and concerts, so I figured it would be a while before I could work on the song. Then we were sent home on March 12th. After the shock and disbelief wore off, what hit me was a wave of sadness and fear. I was overcome with emotion. The realization that I could not safely touch my grown children nor my aging mother was overwhelming and felt bigger than anything I could handle.
My thoughts went to that melody that Shawn had sent me and, like many creative folks, I felt compelled to write and work out what was going on in my head. These words came out, as I was talking to and comforting myself. This situation is temporary. I genuinely believe there will come a time when we can resume hugging, holding hands, laughing together (unmasked), and enjoying a meal with friends and family. By sharing this song, my desire is that listeners might identify with the sorrow we're all working through while also finding inner strength and hope.
---
Flatbed Buggy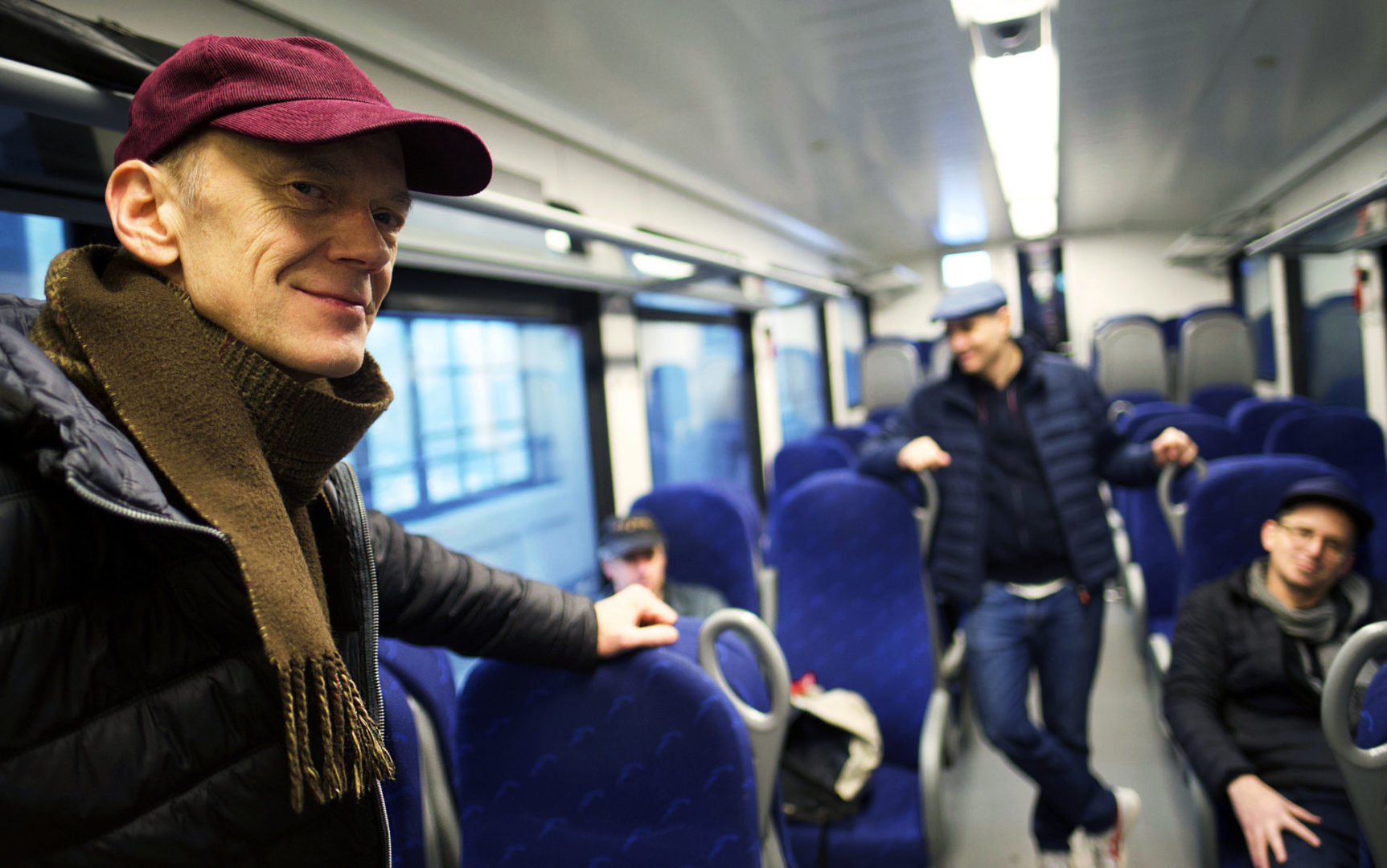 ---
Weekly Album Planner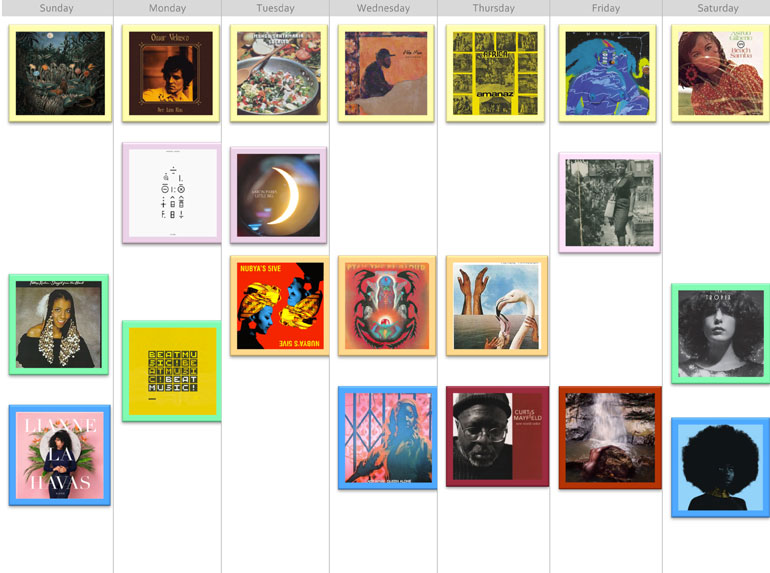 By Halynn Blanchard
That 2020 weekly planner I don't carry regularly anymore begs for new life. I strike through a bartending schedule at Ballard Station and postpone production management for concerts at The Triple Door and for Earshot Jazz at Town Hall Seattle.
It's taken me a month or so to find much of anything of color to take its place. But music has been there, dancing with me, mirroring my moods, inducing them, or both.
A good morning feels yellow. I make coffee first. There was a trip to the store I didn't have to take because I thought to use To-go leftovers from TNT Taqueria: Horchata as a creamer in my coffee, fajita veggies and a runny egg cracked over fried rice.
Music to start the day:
Tropikoro, Paces Lift & Ben Bounce (2018)
See Lion Run, Omar Velasco (2011)
Sofrito, Mongo Santamaria (1976)
Antiphon, Alfa Mist (2017)
Africa, Amanaz (1975)
Welcome to This World, Mabuta (2018)
Beach Samba, Astrud Gilberto (1966)
When—or if—focus comes around noon, it feels pink. At some point, I give the meme that my grandma most recently shared to Facebook a thumbs up. I call her.
Music to aide productivity:
Floa, Mammal Hands (2016);
Little Big, Aaron Parks (2018) *Little Big II released May 2020
Suite for Max Brown, Jeff Parker (2020)
The mind wanders, like clockwork, and I'm tuned to tension in my posture. I'm aware of my body as a whole; it is a soft and energetic orange. I root from the ground up and take up space. Music hushes my thoughts as I expand lungs and limbs.
Music to yoga to (albums between 40–45 mins.):
Nubya's 5ive, Nubya Garcia (2018)
Ptah The El Daoud, Alice Coltrane (1996)
Mr. Hands, Herbie Hancock (1980)
There is something green about 5 o'clock in a pandemic. The hour dares you to be anxious about nothing at all. In some ways I lean in, and in some ways I've adapted.
Two pot products with very different effects have helped me navigate what to do with this energy. CBD strain Harlequin gently erases that "chasing your own tail" feeling, leaving only my own clear thoughts. My preferred THC strain SpaceQueen is a "clean your whole house" kind of weed.
Music for home projects, biking up hill, and buzzing to:
Straight From The Heart, Patrice Rushen (1982)
BEAT MUSIC! BEAT MUSIC! BEAT MUSIC!, Mark Guiliana (2019)
Tropix, Céu (2016)
My blue hours are empowered and energized. I crave stories from the people I love. I'm ready to celebrate the work that's been done. I'll have a mimosa on the porch, or make a mezcal margarita home infused with jalapeño.
Music to soundtrack a sunset:
Blood, Lianne La Havas (2015) *Lianne La Havas released July 17 2020
Queen Alone, Lady Wray (2016)
Sink, Sudan Archives (2018)
The deep red of great music hits me on the couch. I lay in it. I light a candle for myself, but it is for you, too.
Music to end a day to:
New World Order, Curtis Mayfield (1996)
græ, Moses Sumney (2020)
---
Alba for Lady Day
By Sibyl James
You can be up to your boobies in white satin, with gardenias in your hair
and no sugar cane for miles, but you can still be working on a plantation.
Billie Holiday
The heaviness of gardenias
on the air
like blue smoke in a bar
or New York skies
thick and throaty dawns you picked up on
when the clubs closed down
black stars
drifting home in Harlem
your own strange fruit
the blind noose
of black and white hearts
strung
like a pearled choker of junk
fingers cutting the song
from your sugared throat
Lady, the day
the good morning of your voice
the sweet tough stalk
of heartache
Lester Young said it,
that you fight for your life
until death do you part
and then you got it made
we remember
the black satin vein
the heartache rush of good morning
we forget
the heaviness of gardenias
Lady
good morning
sit down
---
Metal Machine Music
By Ian Gwin
• Side 2, Track 1
The type of effect they aimed to achieve in the distortion project bore a strong
resemblance to the difficult technique of circular breathing. For when properly achieved, circular breathing allows a wind player — by holding a portion of air in their mouth as they continue to respire — to indefinitely sustain a note which would have otherwise been characterized by the limited capacity of human lungs. Not many in the ensemble were willing to place themselves in the position to learn such a difficult technique, not to mention in such a short span of time. Only gradually did they discover, while testing with the varying inner states of pressure within an iron lung, that, by simply attaching one's lips to a specially built mouthpiece, a sound could be produced that pass through distortion relatively untouched. (Though some argued the same affect could be achieved through an exchange of air between people). In fact, upon waking, the dreamer commented that, in contrast to an actual note sustained, the difference was like "the sound of your voice heard without the sound of your head."
• Side 1, Track 2
The dean invites me to join the choir. I approach the cathedral, a towering edifice of
involuted marble which overlooks a coastal road. After climbing the marble steps I step through
the mahogany doors, covered in plantlike carvings and reliefs, and hear the hush sound of voices in the dark and enormous room, which rises above us into a cavernous hollow. The singers are gathered in the rays cast by the two circular windows behind me, clutching folders of music and brushing their feet on the tile. The dean, a tall, thin man with a stern face stands behind them. His mouth moves as if speaking, but all I can hear as I approach are their thoughts, scattered about the room like the currents of waves through a lake. He catches my eye, and motions me to a circle they begin to form in the center, where I notice a small vase has been set on a table. As I find a spot between the singers, who patiently look away, I notice the bell of the crooked flower set in the vase: yellowish, but drooping and dusty with pollen. As the flower leans its head down into clenching fists, into a shrill whine, we link hands. Holding our breath.
---
Covid Tale
I am a physician with Pacific Medical Centers in Seattle and attend patients at the Life Care Center nursing facility in Kirkland where the COVID-19 outbreak occurred at the end of February. I remained in quarantine for 14 days after seeing patients there. This poem reflects my feelings during this time.
By David True
The "Red Death" had long devastated the country. No pestilence had ever been so fatal or so hideous. –Edgar Allan Poe
Like a leper outside the gates
I can see the upturned brows,
eyes that glance away, faces
drawn tight to quell the drum
beating within their chests.
Passersby on city streets
avoid each other, listening
for sniffles, watching for hands
touching eyes and nose, for hands
reaching out in proffered greeting.
Signs held up to elders kept
behind shuttered windows
give sympathy for their plight,
"Jesus is with you", they say
"even if we cannot come".
Racing to shelves swept clean
in stores emptied of goods,
masks are worn like amulets
to ward away exhaled humors
of unseen scowling demons.
Fetid winds seep under bolted doors,
foreign yellow faces seen only
as the "other" come to steal away
breath of those caught unawares, those
lain to rest under red-stained shrouds.
The healer now one of the exposed,
my masked face spurned invitation
to the macabre dance, left alone
away from the undulating limbs
that await the stroke of the hour.
Behind the red-horned mask
laughter comes, a voice echoes
"suffer not these fools", such
are born alone to an illusion
that all of this will remain.
---
Call for Content
We're inviting you to submit again for the July magazine. Artists, writers, educators, venue reps, and all other members of our community are invited to submit original short works. These pages are for you and your voice is needed.
Selected submissions will be featured in print and/or online—depending on the medium. Selected contributions will be compensated $50. Please note that due to space we are not able to feature and compensate all submissions received. We will contact you if we plan to feature your submission.
Contributions can include op-ed commentary, poems, illustrations, photographs, written music, lyrics, video performances, collages, responses or reflections on this month's submissions, or art of other various medium. Work must be original but it doesn't have to be new. We know creating during crisis can be challenging. Written pieces can be up to 500 words in length. Video or recorded works can be up to 5 minutes in length
To submit, fill out the google form available via this google form or email editor@earshot.org. Submissions accepted through June 18. Individuals can submit up to 5 works.
As always, free to reach out with any questions or ideas to editor@earshot.org. We look forward to hearing from you, and we hope you and yours are well.
–Tara Peters and Lucienne Aggarwal, Earshot Jazz Editors