Reviews in this Issue:
Live at the Triple Door, Folks Project
Rearranged, Jenny Davis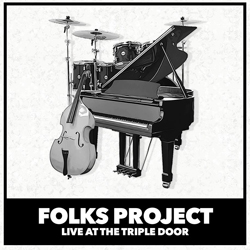 Folks Project
Live at the Triple Door
Self-Released
Seattle-based jazz ensemble Folks Project released their debut album, Live at the Triple Door, in February 2020. Comprised of D'Vonne Lewis on drums, Darrius Willrich on keys, and Evan Flory-Barnes on bass, the music of Folk Project is a tribute to and continuation of Seattle's rich tradition of jazz. Taking cues from the West Coast Cool Jazz movement in general, as well as the expansive, atmospheric compositional structures of such Seat­tle luminaries as Quincy Jones, Folks Project mines the memory of past mu­sical means of expression to extract new interpretations and new meaning on the path toward a jazz future.
Live at the Triple Door opens with "Let's Go," a piano driven post-bop exercise in movement and excitement. "5023" follows as a laid back, contem­plative melody. Bass and piano trade solos, evoking an almost unidentifi­able nostalgia: the music gives a famil­iar warmth, giving the listener a mel­ancholy reminisce for memories that aren't quite known. "Your Love" and "Stay Here With Me" offer lite-funk trips akin to late-1970s quiet storm radio with a modern twist. The final track, "Scene of Serene," is a fitting bookend to the album. Increasingly as­sertive cymbals and toms wash over bass and piano. The trio splits from one movement of the suite to the next, with the memory of the pre­vious passage informing the team of the next leg of the excursion. The mu­sic continually expands, tensing and relaxing and folding and growing, cul­minating in a cleansing catharsis like a sun-shower on a summer's day. As a morning flower stretches toward the sun, so does "Scene of Serene" paint a picture of beauty and calm.
In his essay "The Golden Age, Time Past," Ralph Ellison notes that "music gives resonance to memory." A phrase, or chord progression, or even a simple key change, can unleash a deluge of events past and times remembered. Music in general, and jazz in particu­lar, as a means of expression, is a me­dium that is by its very nature shaped by memory. The jazz musician at their best references the sounds and tex­tures that inform their art, and adds and manipulates and distills the mu­sic down to its essence to create new structure and meaning. It is simul­taneously a backward and forward-thinking arrangement: the memory of the old resonates through the creation of the new. Folks Project gives us ex­actly that: taking elements from the times past of Seattle music, Folks Proj­ect takes us on a journey toward a new golden age of jazz.
–Grant Grays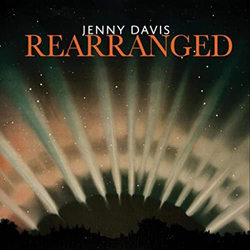 Jenny Davis
Rearranged
Three Penny Records
Exploring the relationship be­tween closeness and distance, vo­calist and composer Jenny Davis sings, "You're far away / but I can feel you," on the opening bossa nova "Aceptar," off her fourth re­lease Rearranged. An active and accomplished bandleader, Davis' skill connects certain distances that, until recently, were bridged in the club between performer and audience. Joining Davis in foster­ing connection are award-winning pianist Jovino Santos Neto and his trio (bassist Chuck Deardorf and drummer Jeff Busch), along with a host of guests, who remain close by to give her long, lifting phrases and inventive tunes room for rhythm.
Davis' singing explores these chord changes—passionate yet pensive— accompanied by Dimitri Matheny's flugelhorn on her spare version of Bob Telson's "Calling You." Vocalist Lorrie Ruiz joins Davis on her refreshing new standard about personal boundaries, the firm funk of "Saying Yes," (check out Busch's tasteful cymbal work near the finish). The separation of symbol and emotion come up on "Gemini Tango," a graceful bit of hu­mor spiced with guest solos by violinist Heather Bentley and accordionist David Lange, whose melodies march like plot twists through the two-step trope of romance.
Davis' compositional talent shines brightly through the playing of others, which refract back to Davis, illuminating her multi-faceted musical per­sonality. The angular instrumental "Wise Up," features polished playing by reedman Mark Taylor, while the grind-and-pull blues-morph of "Yeo­man Warders," offers an impressive Oliver-Nelson style arrangement for sax quartet featuring Kate Olson, Cynthia Mullis, Jim Dejoie, and Taylor.
On a reprise of the title track, accompanied live by the Sirius String quar­tet, Davis sets her voice to the emotional stridency of chamber music, let­ting it linger in the changes with the same vibrating pathos of the bowed strings themselves. "If you could take my fear / and rearrange me…" she sings, asking in music for a change close as a chord can come to renewal, never too far from feeling.
–Ian Gwin