Gerald Clayton photo courtesy of the artist.
Thursday, October 29, 7pm
Elnah Jordan & Eric Verlinde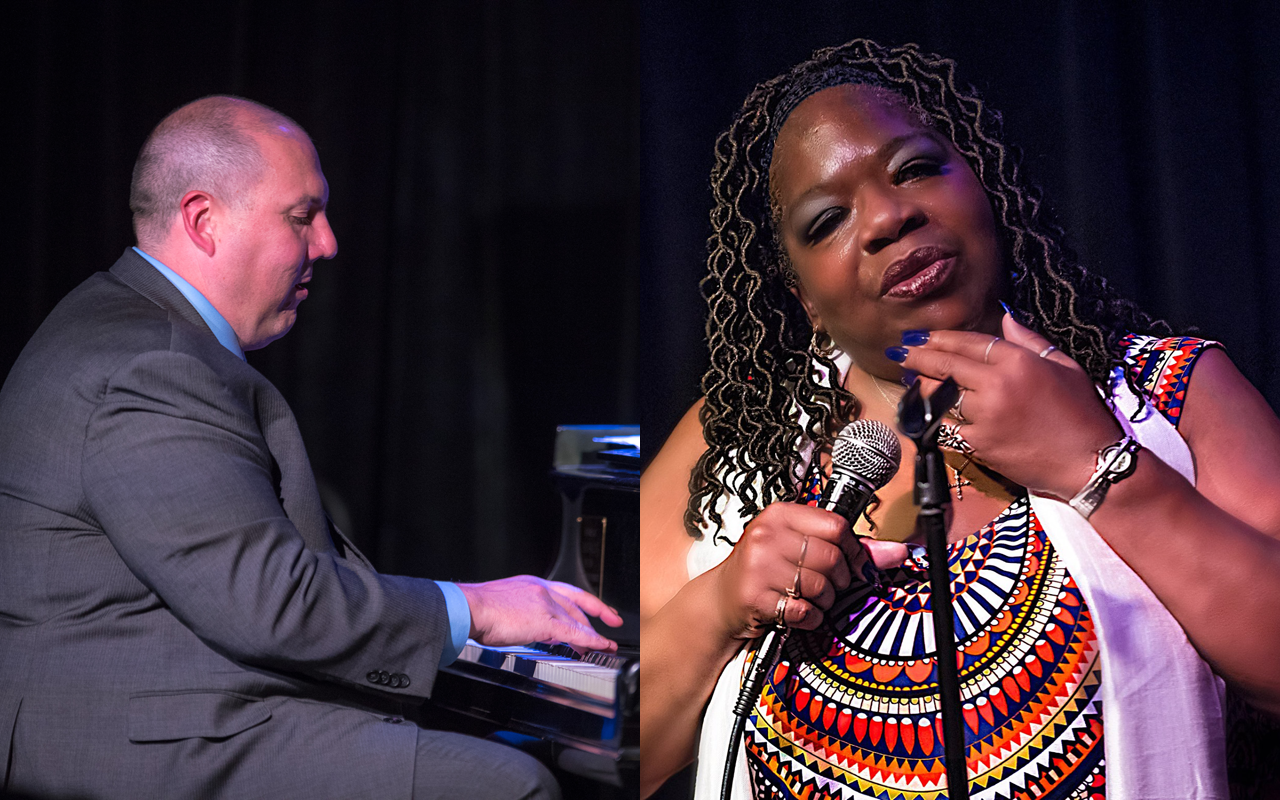 $10–25
Ohio born and raised Elnah Jordan was introduced to singing as a child in church choir. The interconnectivity between that experience and the blues is what led her to a life dedicated to jazz, performing on the streets of San Francisco, in clubs, and Broadway theatre, all the while true to her roots at the crossroads of American ethnomusicology. She can belt out Bessie Smith as she did in Jon Hendrick's The Evolution of the Blues, or summon the spirit of Nina Simone. In a club setting, Jordan maintains a close connection with her audience, interpreting the vibe and energy of the room. In a duo format, that connection feels very personal.
Pianist Eric Verlinde has acquired a reputation for versatility and reliability in his 20-plus years on the Seattle scene. He may just be the hardest working, most in demand pianist in town. He has gained a reputation of being the pianist of choice for many singers, appearing often with Josephine Howell at El Gaucho, or with Brazilian vocalist Adriana Giordano in the Entremundos Quarteto. Verlinde transitions from Latin Jazz, to post-bop seamlessly. His depth as a pianist is best witnessed leading his trio featuring bassist Dean Schmidt and drummer Jeff Busch.
Together, Jordan and Verlinde show how thin the lines actually are between the blues, jazz, gospel, and rhythm & blues. They do so with a large measure of soul, with Jordan's positive, energetic style accompanied perfectly by Verlinde. His role as a soloist serves as an equal partner to Jordan's vocal aesthetic. His ability to swing hard, or beautifully articulate a ballad is colored by his melodic approach to improvisation,
Personality wise, the duo shares a penchant for inviting the audience into the performance. Their instinctive, beguiling music is social music, a tonic for these communally challenged modern times.–Paul Rauch
Thursday, October 29, 8:30pm
Ahamefule J. Oluo Jazz Quartet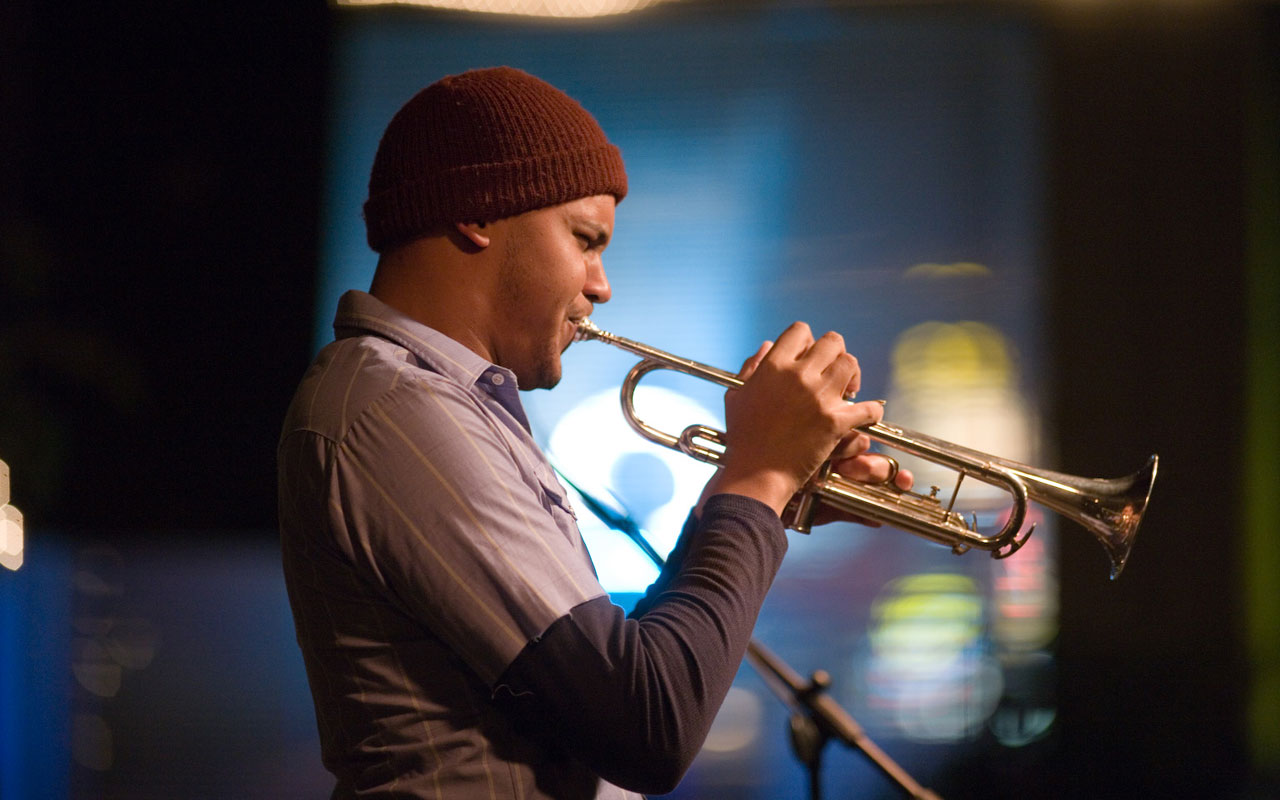 $10–25
This live performance will be the debut of the Ahamefule Oluo Jazz Quartet on an official bill, plus will be Oluo's first time performing with real-time collaborators since the onset of COVID-19—what a treat! The multi-Award-winning polymath who brought us the indelible genius of Now I'm Fine, Susan, Thin Skin, and Industrial Revelation emerges from his cabin studio to stun us with his new line-up that satiates a more technical restraint and acoustic dimension of his jazzmanship.
When left to his own devices, Oluo innovates. He adapts. His artistic default is non-populist. His executive approach tweaks conventional assumptions of the jazz genre. However, he also simultaneously has amassed an archive of more relaxed originals that he is looking to dust off, which luckily for us comes in the articulate incarnation of Tim Kennedy (piano), Geoff Harper (bass), and D'Vonne Lewis (drums) accompanying the trumpeter ace himself.
The camaraderie of jazz is inherently collaborative, so COVID-19—the semi-truck-sized wrench in our 2020 lives—put Oluo's adaptation skills to the test. He optimistically shares, "Unfortunately, remote jamming has been difficult, but what has been great has been the opportunity to work on a small number of things that I wouldn't normally have been able to work on."
The musical pariah goes on to paint, "There's a lot of people that I love working with who are normally very busy with always touring…but now they're not doing that so I've had a chance, in a safe way, to bring individual people out to do songwriting sessions and recording experiments to try things without the expectation of having to make something."
Even before the pandemic, space and time have always been coveted resources for artists, which Oluo ratifies, "The only thing that we actually have right now is time… so it's been really great to use that time to try things I wouldn't normally try and collaborate with people that I don't normally get to collaborate with."
It's newly presented collaborations like this quartet that have surfaced for Oluo in 2020. Even though Oluo has uncompromisingly built his creative career out on the cliff's edge and thrown caution to the wind, the Ahamefule Oluo Jazz Quartet cements his ability to engage listeners during challenging times while remaining an erudite experimenter.–Zach Frimmel
Friday, October 30, 7pm
Charles Lloyd: Red Waters, Black Sky (film)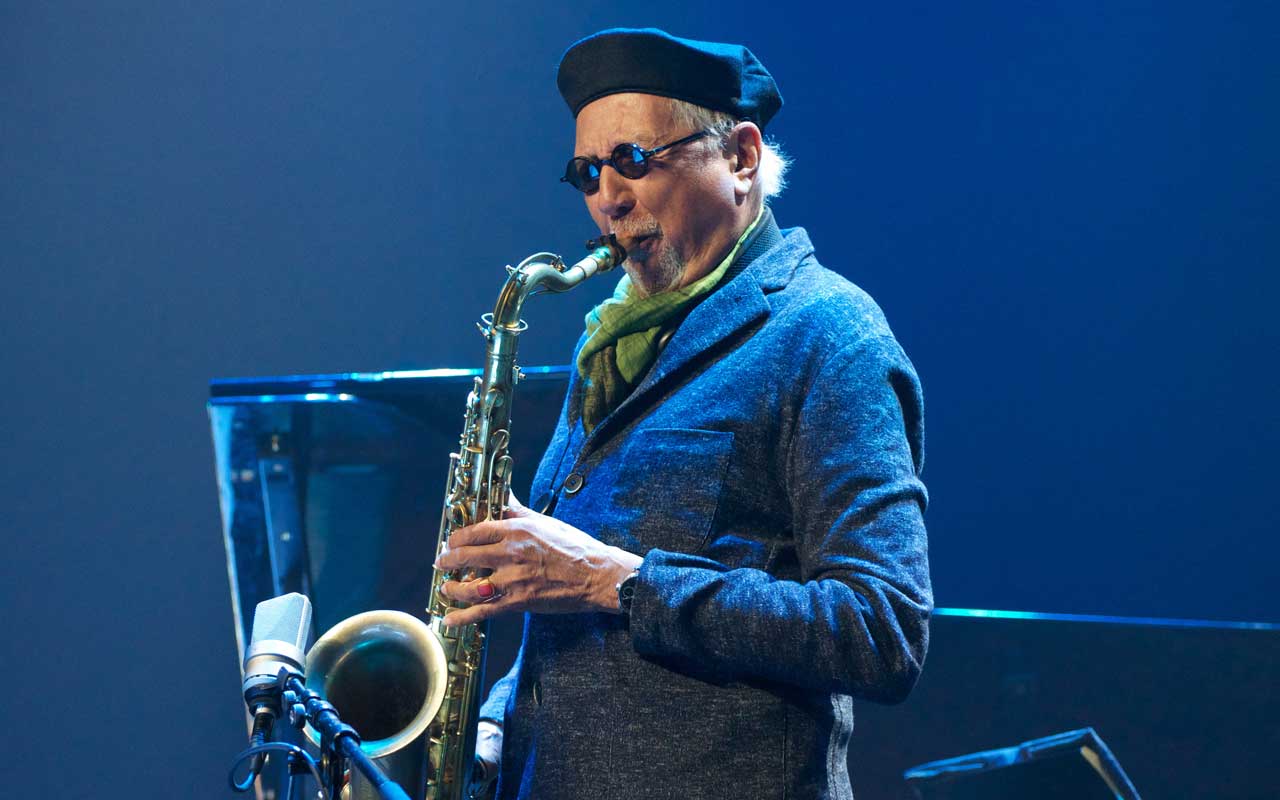 Sponsored by Richard Thurston
$10-25
A concert film of the sax titan's remarkable multimedia work about his great-grandmother Sallie Sunflower Whitecloud's refusal to walk the "Trail of Tears." Performed with strings, chorus, and an ensemble that includes guitarist Bill Frisell, bassist Harish Raghavan, percussionist Kendrick Scott, and guitarist Greg Leisz.
"Mr. Lloyd is the rare jazz artist whose every appearance qualifies as an event… Mr. Lloyd sets the pace, and this performance conveyed much of what you'd need to know about his values as an artist: soulfulness, mindfulness, generosity, balance… His improvisations carried the hallmarks of a language steeped in history: bebop, softened with a slouch; filtered through a personal lens; down-home blues, translated into worldly spirit talk." New York Times
Friday, October 30, 8:30pm
Bill Frisell Solo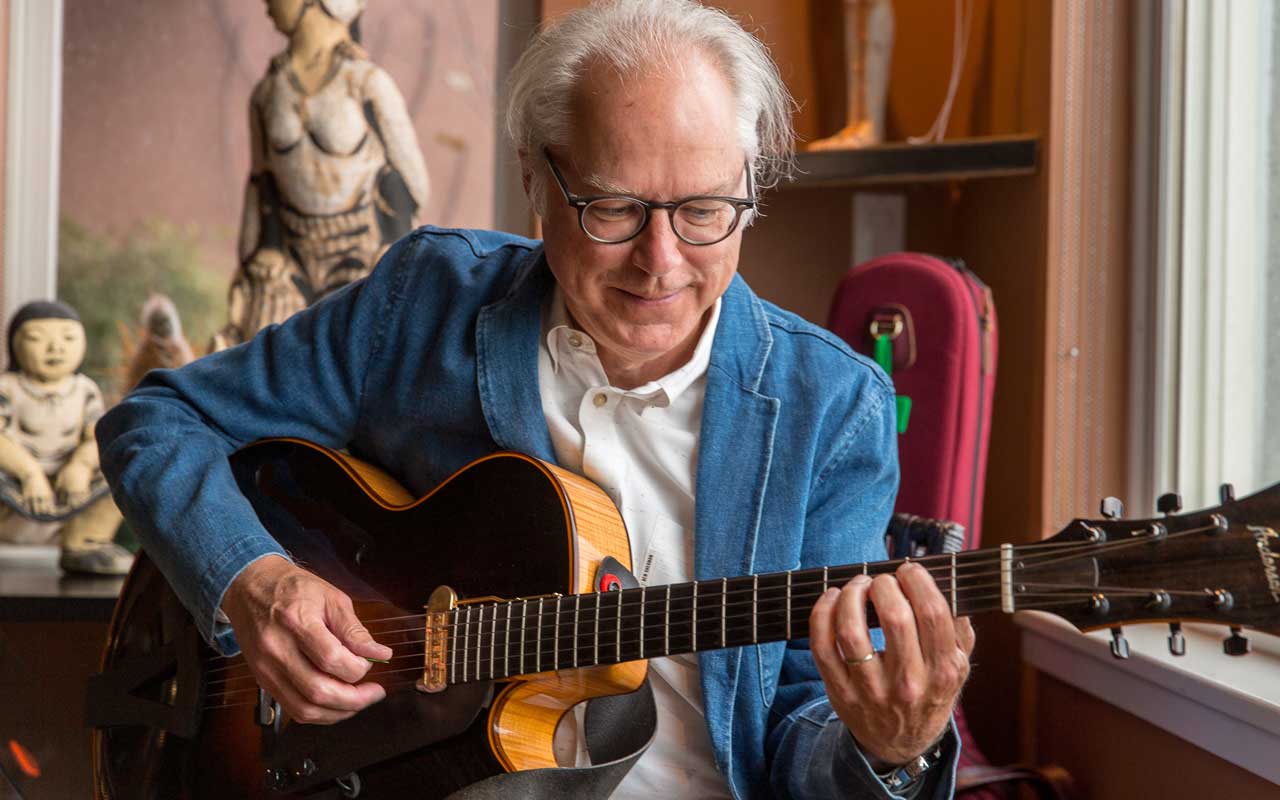 Sponsored by Richard Thurston
$10–25
The first time I ever saw Bill Frisell play live was at an intimate, 1986 solo performance at the Vancouver International Jazz Festival, back when the guitarist was still one of jazz's budding secrets. I remember being blown away by his inventive use of digital delay, loops, effects pedals, even pure noise—as well as his mischievous sense of humor and disarmingly hesitant attack, as if he were thinking out loud. As we later found out, that's exactly what he was doing. A lot of musicians can't pull off that kind of spontaneity, but Frisell excels at it, so a solo performance is always something special to look forward to, though "solo" may be misleading, since he no doubt will play duets (and trios, and quartets) with his electronically reproduced self.
Originally from Denver, Frisell made his reputation on New York's "downtown" scene in the 1980s and lived in Seattle for 28 years before moving back to New York, in 2017. Over the course of his more than four-decade career, the Grammy-winning musician has consistently topped readers and critics polls and been hailed as the most important practitioner on his instrument since Jimi Hendrix. He is the subject of a wonderful documentary film by Emma Franz, Bill Frisell: A Portrait, in which he delves deeply into his process.
Seattleites have had plenty of opportunities to see him play solo and otherwise over the years, including his most recent appearance last spring at the Moore Theatre with the unusual group Harmony, which includes former University of Washington professor Luke Bergman on baritone guitar, as well as vocalist Petra Haden and cellist Hank Roberts. Frisell recently had a dream come true when he was signed to Blue Note Records, which released his second album for the label this past August, Valentine, which features bassist Thomas Morgan and drummer Rudy Royston. The title tune, a Monkish blues, is especially delightful, but a perhaps more useful pre-concert playlist is his 2018 solo album for Okeh, Music Is. The album showcases his wide range of moods, from country gentleman to raucous saboteur, sometimes all in the same song, as on "Winslow Homer." Hopefully Frisell will play my favorite of his early tunes, "Rambler," which gets a radical rearrangement on Music Is, then reappears with its original, gentle roll as a bonus track. But whatever he plays will be just fine.–Paul de Barros
Sunday, November 1, 7pm
Gerald Clayton & John Clayton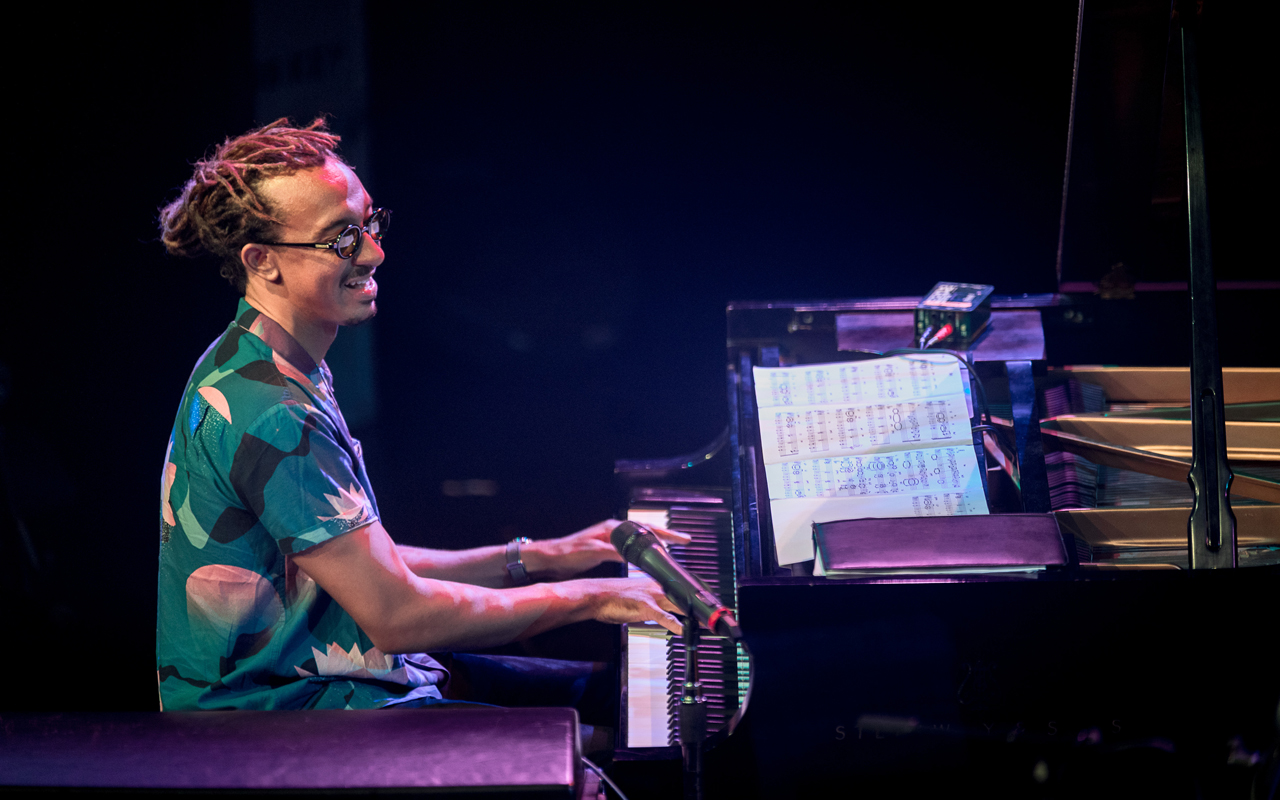 Sponsored by Seed IP
$10–25
Gerald Clayton is among the most inspiring and captivating forces on the jazz scene today. He tirelessly reinvents avenues for creative exchanges with other artists, transforming his music into a celebration of the inherent differences in musical perspectives that promote true artistic synergy.
Clayton earned a BA in Piano Performance at USC's Thornton School of Music under the instruction of piano icon Billy Childs, following a year of intensive study with Kenny Barron at The Manhattan School of Music. His burgeoning discography has earned him four Grammy nominations.
Now a Blue Note artist, the acclaimed pianist and composer recently released his label debut Happening: Live at the Village Vanguard with his world-class quintet, featuring Logan Richardson (alto), Walter Smith III (tenor), Joe Sanders (bass), and Marcus Gilmore (drums). As Jazz Times enthuses, "Clayton's piano contributions, in their wild, free-spilling, lyrical aspiration, are consistently stunning."
The son of treasured bassist and composer John Clayton, he enjoyed a familial apprenticeship from an early age. Clayton honors the legacy of his father and all his musical ancestors through a commitment to artistic exploration and reinvention. Tonight's concert offers an outstanding opportunity to enjoy this intergenerational musical juncture.
Bassist John Clayton is an award-winning composer, arranger, conductor, producer and educator. With a Grammy and eight nominations to his name, he has performed with iconic artists Diana Krall, Paul McCartney, Regina Carter, and Dee Dee Bridgewater. He was commissioned by leading ensembles in the US and Europe, including the Northwest Chamber Orchestra, the American Jazz Philharmonic, The Carnegie Hall Big Band, and the Amsterdam Philharmonic.
John serves as the musical director of several renowned jazz festivals, including the Jazz Port Townsend Festival, attracting prominent artists from across the globe at one of the nation's premier jazz events. He co-founded the Grammy-nominated Clayton-Hamilton Jazz Orchestra and the Clayton Brothers Quintet, nominated for two Grammy awards. The quintet (John Clayton, Jeff Clayton, Terell Stafford, Gerald Clayton and Obed Calvaire) cooks up sweet original compositions and reinvents standards, expressing their love of this true American art form. –Marianne Gonterman
Sunday, November 1, 8:30pm
Reggie Goings Quartet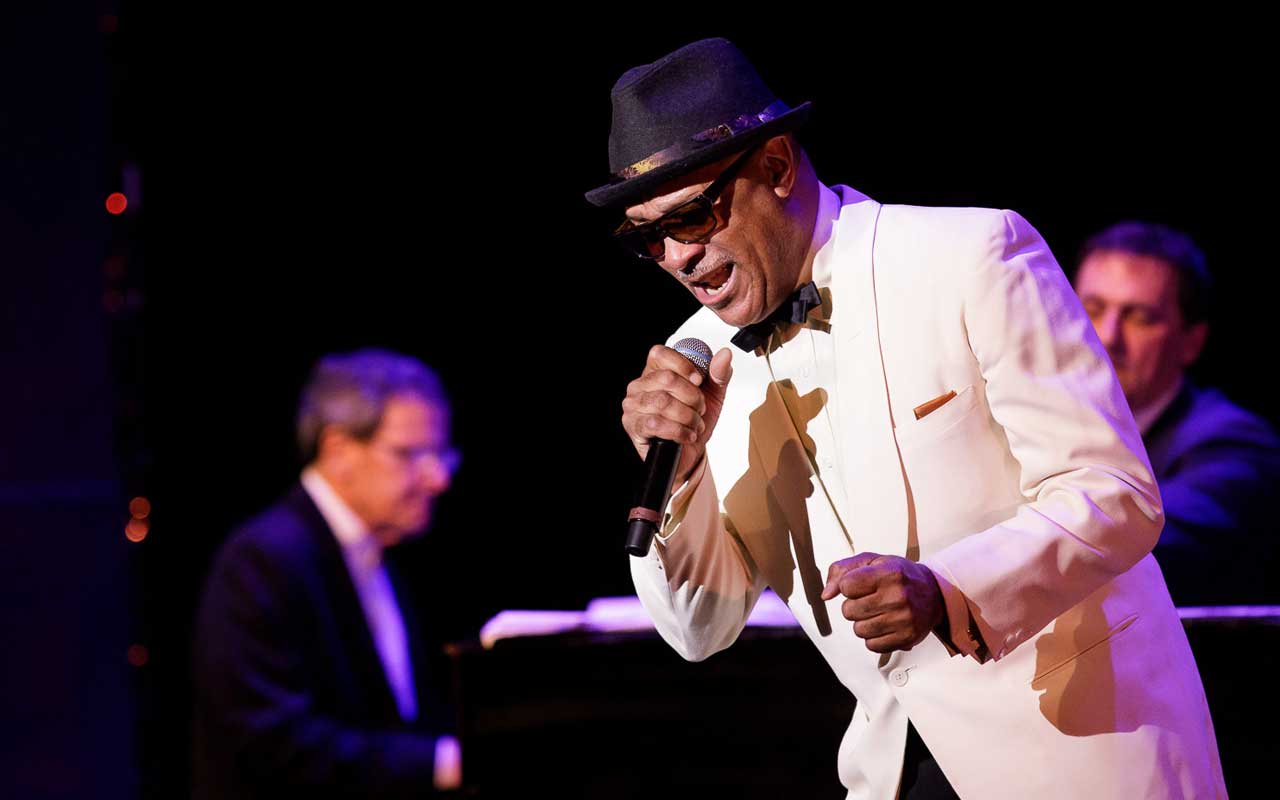 $10–25
Vocalist Reggie Goings was once a frequent performer on the Seattle jazz scene, performing at venues like the New Orleans Creole Restaurant or hosting the Seattle Jazz Offering at Tula's for a decade. His musical and social circles included iconic local artists such as Hadley Caliman and Phil Sparks. In recent years, the soulful baritone had been less active, until Seattle Repertory Jazz Orchestra (SRJO) director Michael Brockman invited Goings to perform in the band's tribute to another soul legend, the great Ray Charles.
The performance reminded Seattle jazz fans of his blues infused baritone that acted as a perfect fit for the role. Like Charles, his influences are wide ranging, from the pioneering bebop sound of Billy Eckstine, to the suave sophistication of Lou Rawls. His sound is rooted in the blues, infused with the revolution of bop, and refined by the power of soul. The vibrant sensibility he delivers when articulating a standard sounds as if he was groomed on 52nd St., during the rise of Bird and Diz.
Goings will perform with a trio whose names have been etched prominently in the story of jazz music in Seattle over four decades. Pianist Randy Halberstadt has been impactful both as an educator at Cornish College of the Arts, and as a performer at the finest venues in town. He has gained a reputation as a stylish accompanist for vocalists, including Seattle greats Greta Matassa and Gail Pettis. His colorful voicings and harmonic elegance have graced the performances of the SRJO for many years. His SRJO bandmate Phil Sparks has been a first call bassist in Seattle since his arrival thirty years ago. Sparks has performed regularly with Thomas Marriott, Matt Jorgensen +451, and his latest ensemble, Nu Trio with Nathan Breedlove and Brian Kirk. Like Sparks, drummer Jamael Nance goes way back with Goings, frequenting gigs and sessions that centered on tenor saxophonist Hadley Caliman.
The language Goings draws from is steeped in history, and expressed by an artist dedicated to, and humbled by, this quintessential art form we call jazz. In a year when the festival is all about Seattle artists, having Goings in the house is a perfect fit, at a perfect time.–Paul Rauch