Alex Dugdale's FADE Quartet with John Hansen (piano), Greg Feingold (bass), Alex Dugdale (saxophone), and Max Holmberg (drums). Photo courtesy of Earshot Jazz.
BY PAUL RAUCH
Earshot Jazz celebrated Seattle jazz on the evening of March 12 with its annual Golden Ear Awards, broadcast virtually from the stage of the Royal Room. The evening recognized the art of jazz in Seattle during the worldwide COVID-19 pandemic in 2020.
With the pandemic and the fight for racial justice front and center, nominated artists had to create under extraordinary circumstances the past year, with live, in-person performances limited to the first ten weeks of the calendar year. With the music largely studio bound, a variety of access points for livestream concerts were created, and the release of significant jazz recordings reflecting the social narrative of this epic time in history were released.
The 31st annual awards, recognizing a year of achievement on the Seattle jazz scene, were presented virtually this year due to social conditions necessitated by the pandemic. A limited crew presented the livestream from the Royal Room, with winners accepting their awards virtually by submitting videos.
Earshot Jazz Executive Director John Gilbreath got the evening swinging by introducing The Alex Dugdale FADE Quartet, who offered up a first set in their signature hard bop style. The opener, "Just in Time," saw Dugdale grinding on tenor saxophone supported by the ace rhythm section of John Hansen (piano), Greg Feingold (bass), and Max Holmberg (drums). He then elegantly tap danced his way through "Tea For Two," paired with Holmberg on drums.
KNKX host Abe Beeson and vocalist Eugenie Jones shared emcee duties for the evening, presenting the nominees and announcing the winners. Gilbreath acknowledged jazz radio icon and longtime Golden Ear Awards emcee Jim Wilke, with the esteemed veteran viewing safely at home. With that, Jones and Beeson took the reins, and revealed this year's winners of the Golden Ear and Seattle Jazz Hall of Fame Awards.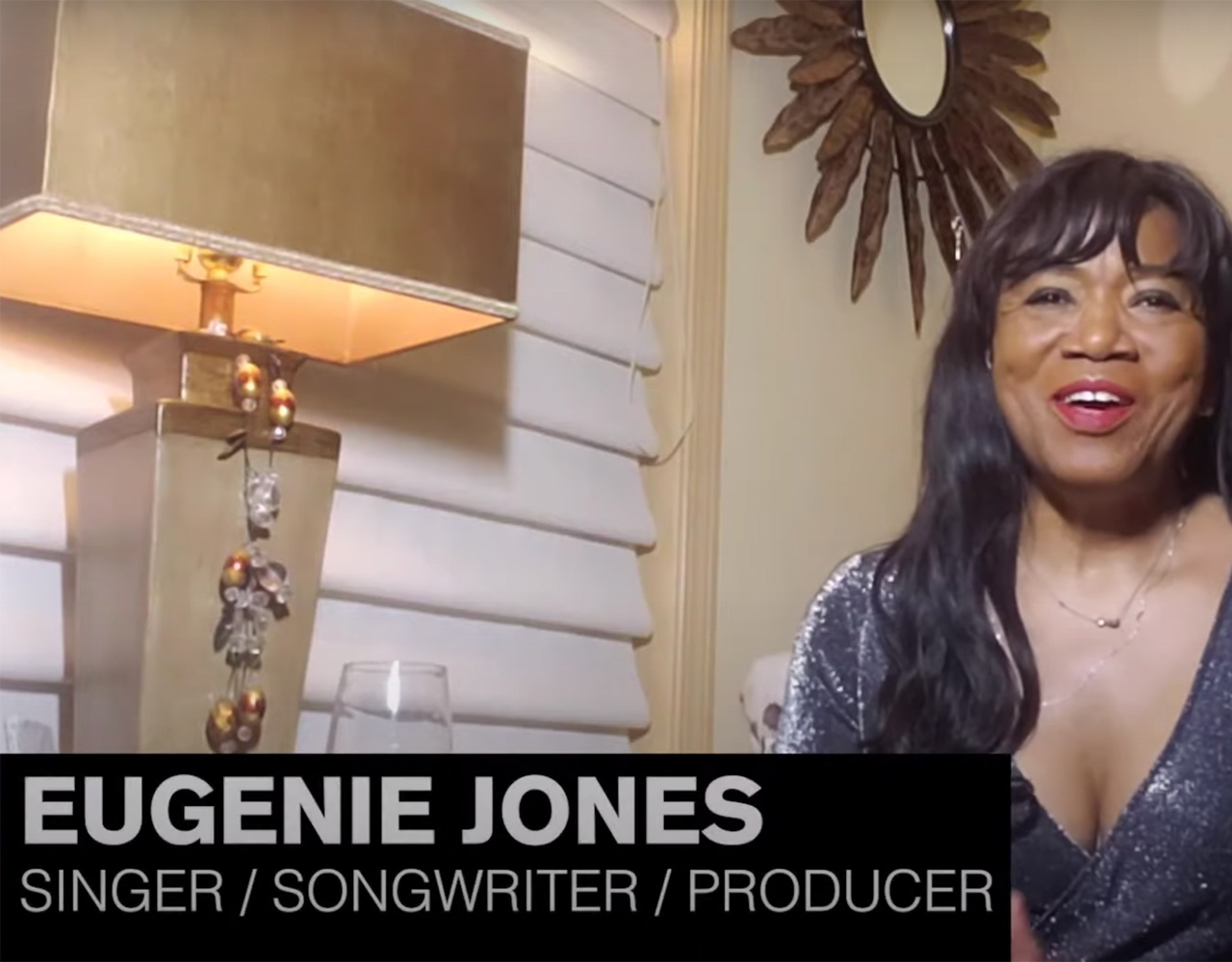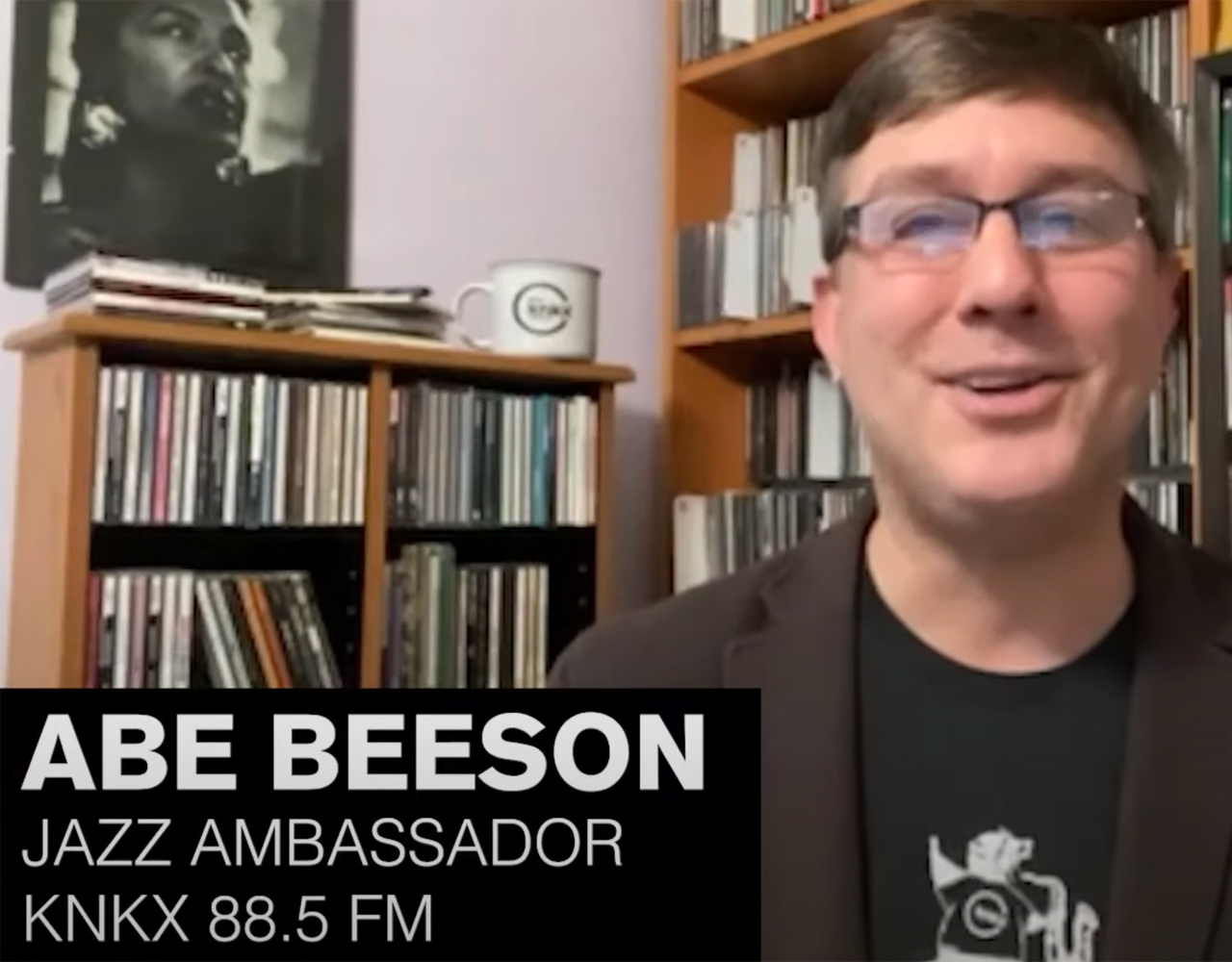 NW ACOUSTIC ENSEMBLE OF THE YEAR: SUNDAE + MR. GOESSL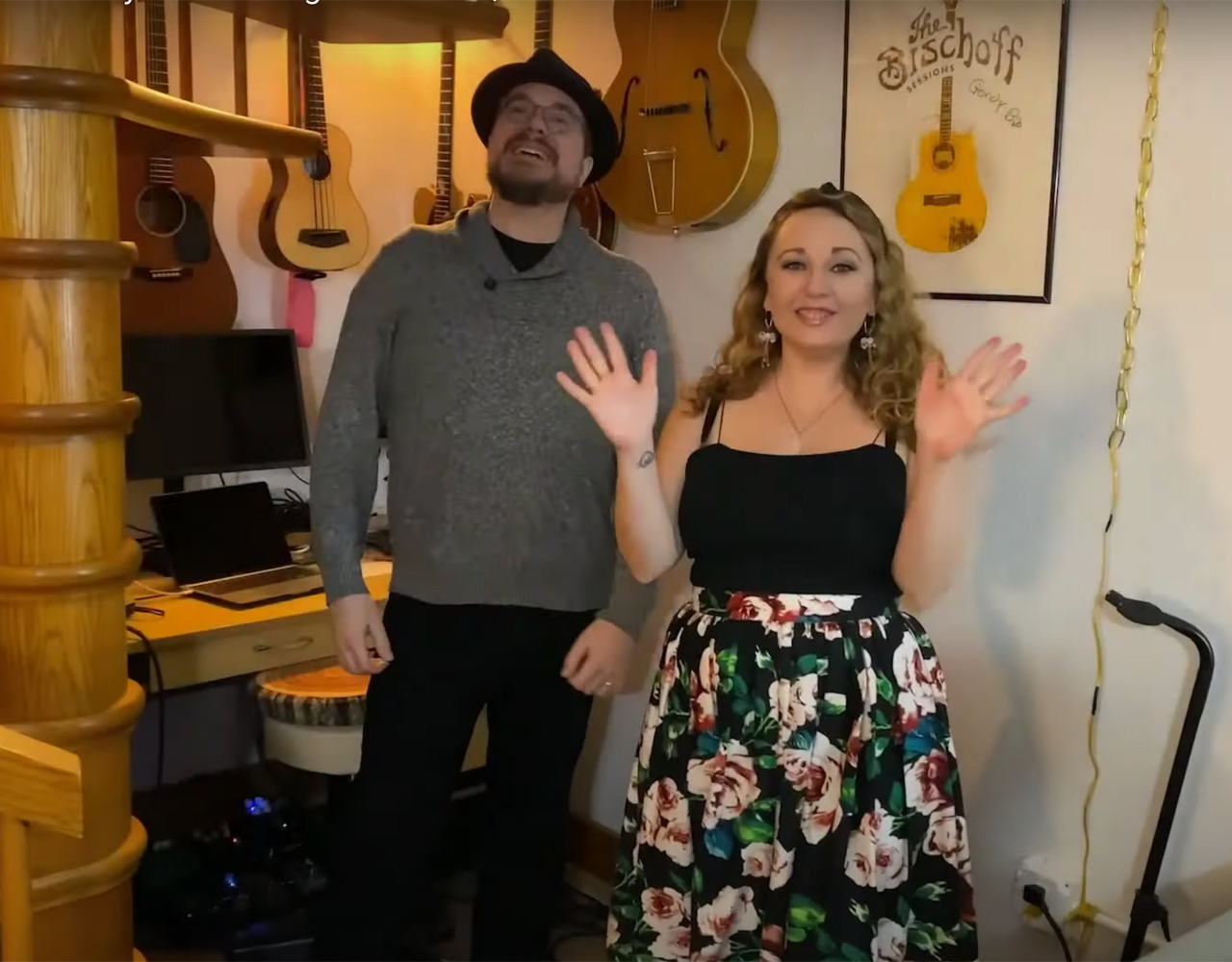 Sundae + Mr. Goessl features vocalist Kate Voss and guitarist Jason Goessl. The duo blends trad jazz with country and pop overtones, incorporating humor, wit, and an abundance of charm. Nonetheless, within the nostalgic backdrop of their performances is serious musicianship and dedication to craft. The married couple have produced six albums, and have performed over one thousand shows.
"We are so honored to be among such insanely awesome talent," offered Voss, with Goessl gesturing humorously beside her.
Voss, a protégé of Seattle Jazz Hall of Famer Greta Matassa, draws from her extensive experience in jazz and western swing, while Goessl's intricate support playing and stylish soloing are squarely rooted in traditional jazz guitar. The duo wins an award that has largely gone to more eclectic, instrumental ensembles, a valid recognition of their attention to progressive detail within the conceptual character of a bygone era.
NW RECORDING OF THE YEAR: DUENDE LIBRE, THE DANCE SHE SPOKE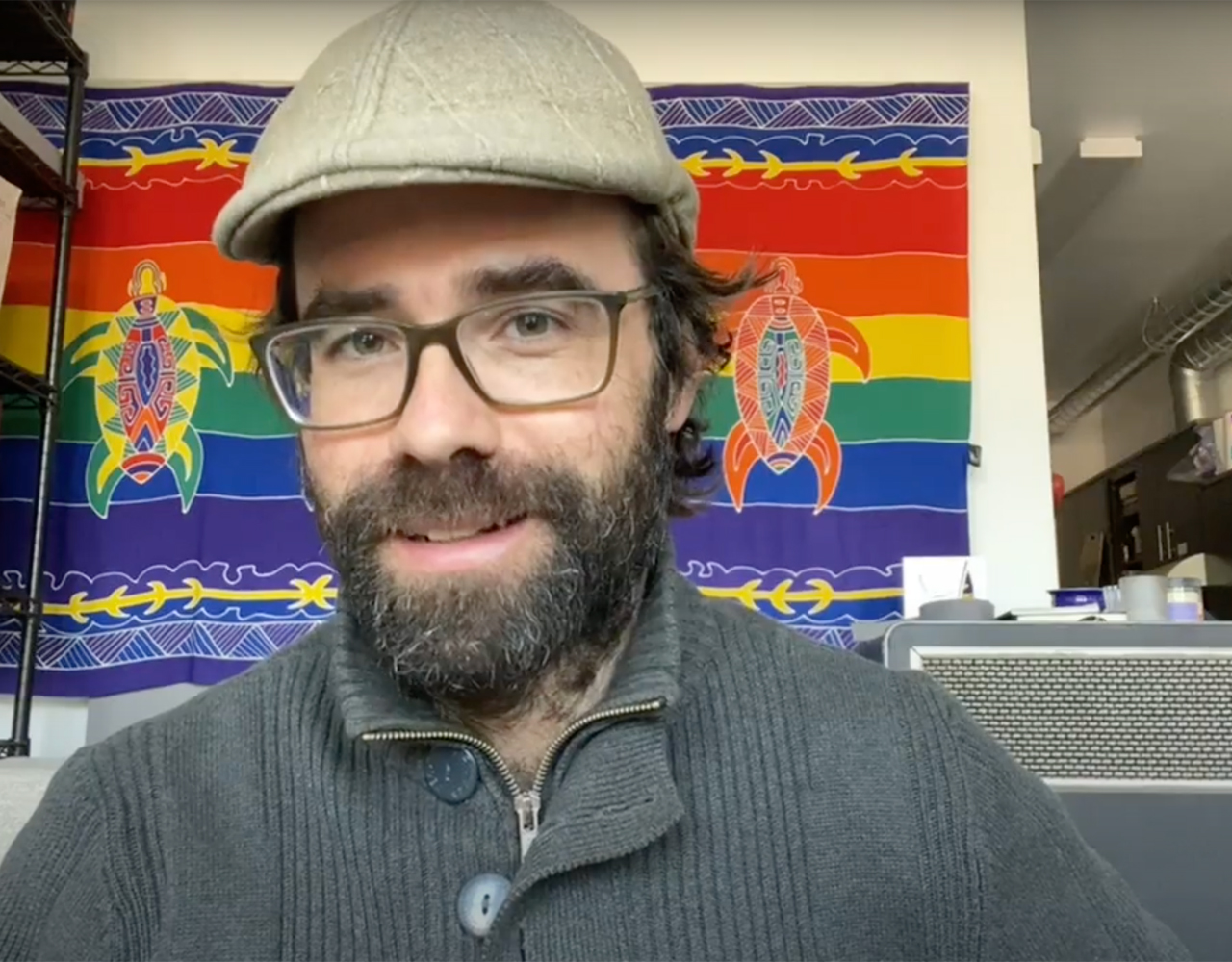 Following up on their 2018 Golden Ear nod, Duende Libre has once again been so honored for its album blending West African dance rhythms and vocals in the Maninka language with jazz. As was the case in their first two recordings, the band uses jazz as a launchpad into world music culture. The core trio of Alex Chadsey (piano), Farko Dosumov (electric bass), and Jeff Busch (drums and percussion) looked to vocalist Frank Anderson to deliver the concept for the album, drawing on his studies of West African dance. Anderson and Chava Mirel provide the vocals and present the idea that music and dance are so closely connected that one can "see the music, and hear the dance."
Bandleader Chadsey spoke to the role that music has played during these difficult times. "When so much is taken away, you learn to appreciate what you have. When the going gets tough we need music and musicians more than ever. Music wouldn't mean anything without a community to share it with," he said.
EMERGING ARTIST OF THE YEAR: ABBEY BLACKWELL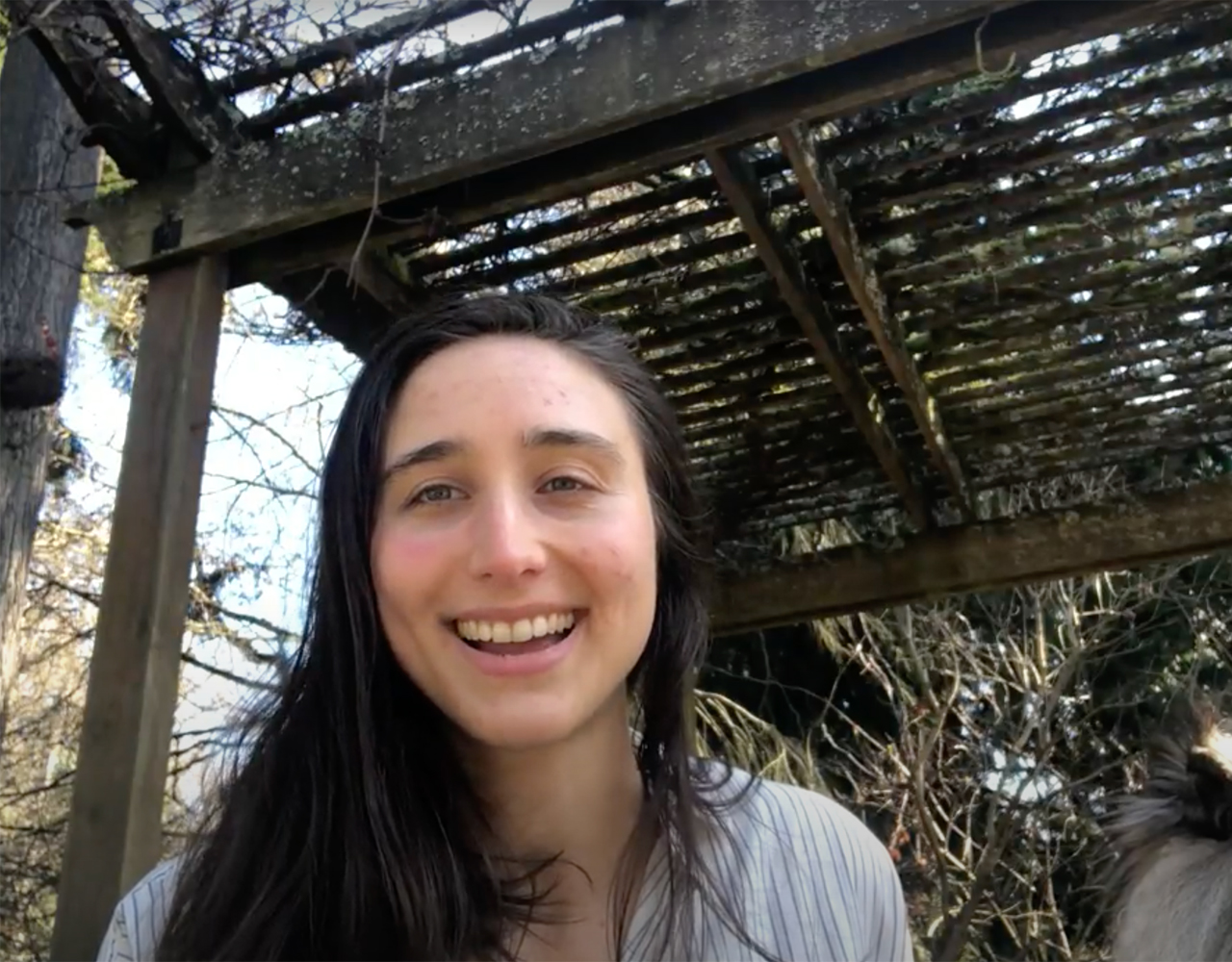 Multi-talented double/electric bassist Abbey Blackwell has been emerging as a bright star on the Seattle jazz scene for several years now, all the while creating a diverse portfolio in jazz, rock, improvised music, and classical forms. Working within the immense social obstacles of COVID-19 in 2020, Blackwell released the debut album of her new trio, RAE. Internal Volume introduced us to her trio featuring guitarist Ronan Delisle and drummer Evan Woodle. While casual listeners may refer to the music of RAE as avant-garde, the trio clearly works within the parameters of rhythm and melody, the elements most important to the bassist/composer/bandleader. The music of RAE speaks directly to Blackwell's direction as an artist, utilizing the double bass as both an anchor in the rhythm section, and a powerful solo instrument. Her elegant tone, and marvelous facility present an original and articulate musical voice. In her acceptance remarks, Blackwell expressed recognition and gratitude to our dedicated jazz community for working through these difficult times.
"Most importantly, I want to thank everyone who has been able to continue to support live and recorded music this year, as well as those who have still been able to make live and recorded music in this the toughest of all years," she said.
ALTERNATIVE JAZZ GROUP OF THE YEAR: RYAN BURNS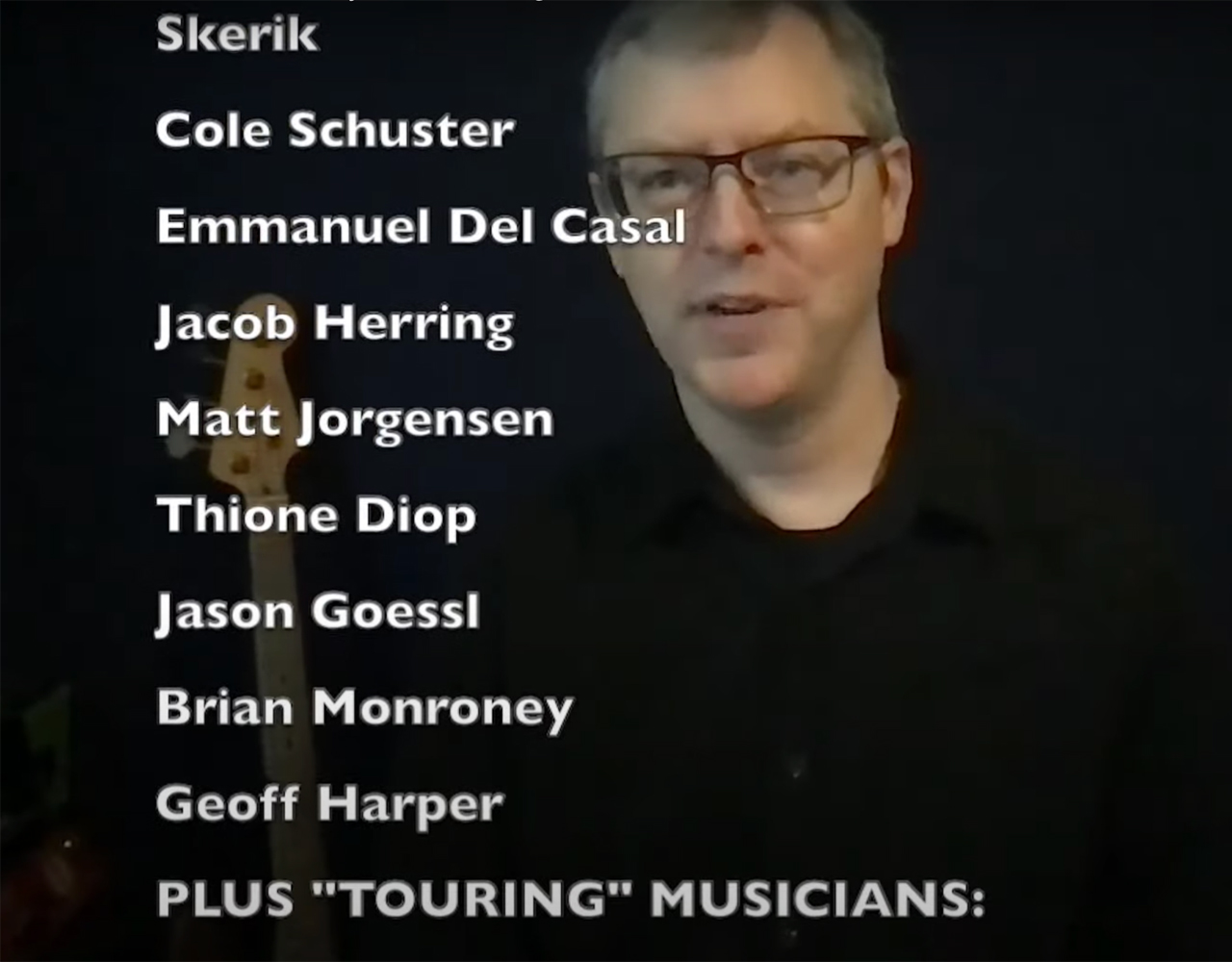 Keyboard wizard Ryan Burns has long held a reputation for being a bit of a musical mad scientist. His work early on with Matt Jorgensen +451 featured his work on a variety of electric keyboards, from Rhodes to vintage Moog. With his roots planted firmly in the jazz piano tradition, Burns has taken his considerable chops into a variety of musical worlds. When the pandemic hit, Burns conceived of a way to use technology to make a high quality recording completely remotely, with each participant sequestered in their own home studio.
Featuring an all-star Seattle cast, the ensemble wins this award without the benefit of live performances, existing entirely as a virtual entity. Burns is joined by Seattle stalwarts Skerik, Steve Treseler, Mark Taylor, Matt Jorgensen, Cole Schuster, Brian Monroney, and Thione Diop among others.
With the seven Burns originals released as singles at first, Burns assembled the tunes into an independently released album titled, Postponed Parade. The project is one of the truly remarkable tales to tell of the past year on the Seattle jazz scene. It shines as a triumph of creative intuition under the weight of arduous social circumstances.
"I'm humbled and appreciative," said Burns. "This inspires me to keep making music with my friends."
NW JAZZ INSTRUMENTALIST OF THE YEAR: ALEX DUGDALE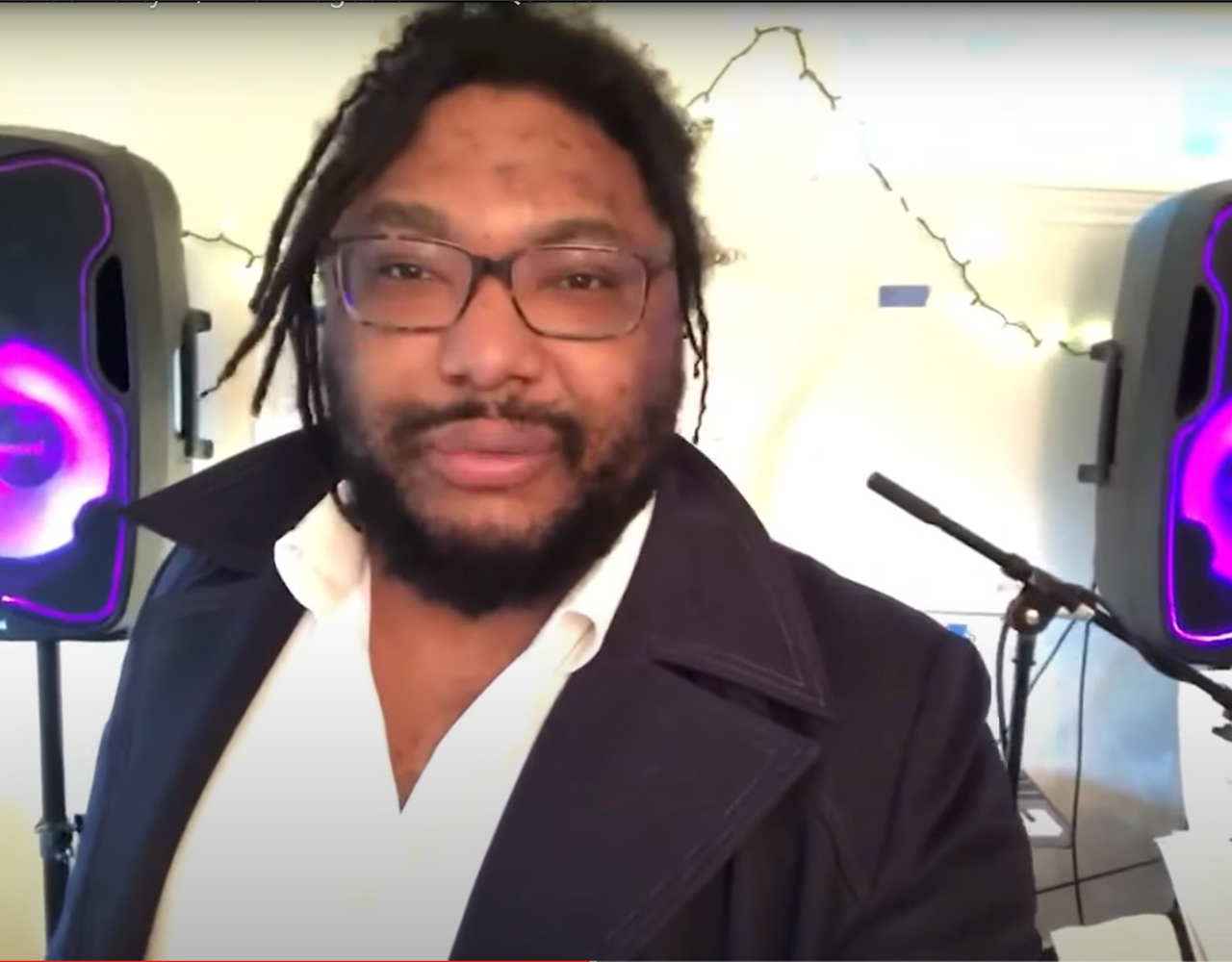 Alex Dugdale's time in the Seattle Repertory Jazz Orchestra clearly delineates his prowess as a saxophonist. Over time, he has played alto, tenor, and, most recently, baritone saxophone as part of the acclaimed ensemble. While his performance on all three instruments has highlighted his profound virtuosity, it fails to tell the full story of his contributions to the band, as Dugdale is also a top-shelf tap dancer, initially showing those skills performing Duke Ellington's Sacred Music with SRJO.
Dugdale's working quintet features him fronting the band on tenor for the first set, and alto the second. In between, he may take a solo or two on trumpet without dropping a beat. He will then incorporate tap as a vehicle for jazz improvisation in the same context as he would a musical instrument.
In his acceptance remarks, Dugdale thanked Earshot, the Seattle jazz community and area venues that have kept the torch lit by staging streaming live performances. Live performing is what the talented Dugdale looks forward to most.
"I can't wait until we can share stages again and go hear each other play," he remarked.
NW VOCALIST OF THE YEAR: JOHNAYE KENDRICK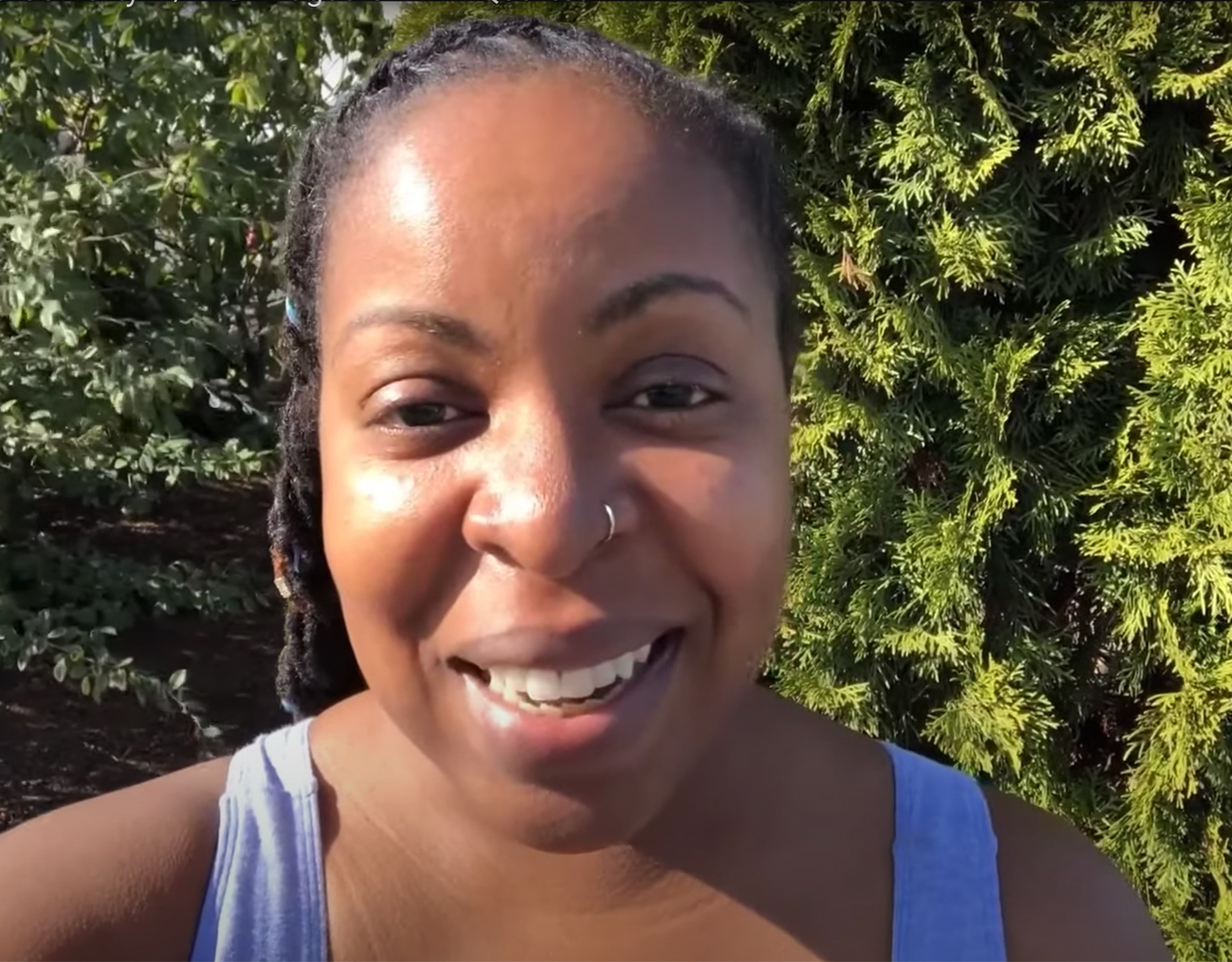 The artistry of vocalist Johnaye Kendrick has long been established in the Seattle community through her stunning live performances and two highly acclaimed albums. She has been providing real-life mentoring as a professor at Cornish College of the Arts, carrying with her the credibility of being an engaged artist of the highest caliber. Kendrick has grown before our eyes in Seattle, into a bright light in the jazz world on an international scale.
Just before the world shut down due in 2020, Kendrick joined a unique vocal ensemble named säje, featuring four female voices singing original tunes and arrangements. Seattleites Sara Gazarek and Amanda Taylor joined, along with Los Angeles resident Erin Bentlage. In early 2020, they arranged and recorded "Desert Song," their first effort as a unit. Remarkably, that debut recording granted them a Grammy nomination for Best Arrangement, Instruments and Vocals.
While highly acclaimed internationally, this marks the first Golden Ear Award for Kendrick.
"I have been nominated several times and this is the first time I have actually won," she said. "It's an honor."
NW CONCERT OF THE YEAR: AHAMEFULE J. OLUO, THE MUSIC FROM SUSAN, STREAMED AT EARSHOT JAZZ FESTIVAL 10/18/2020
It goes without saying that 2020 was a lost year for live, in-person performances. With venues shuttered on March 18, musicians had to figure out a way to reach their audience virtually. With hardship came innovation, and livestreaming became the norm. Such was the case with the 2020 Earshot Jazz Festival, and its artist-in-residence, Ahamefule J. Oluo.
Oluo can be best described as a storyteller, employing a skill set that includes stand-up comedy, screenwriting, composing, and, of course, playing the trumpet. His theatrical work is based on the highs and lows of his life. For the festival, Oluo led a seventeen-piece band performing the music from his stage show Susan, a soul-baring dark comedy about his mother. Susan debuted at On the Boards in December of 2019, three months before the pandemic shut down live performances. The festival concert gave Earshot patrons the opportunity to experience this music that was to be performed at the Paramount Theatre in the spring of 2020.
"What a complete honor to win concert of the year, especially in a city with so many incredible musicians making so many incredible things in the face of such incredible odds," offered Oluo.
SEATTLE JAZZ HALL OF FAME: HANS TEUBER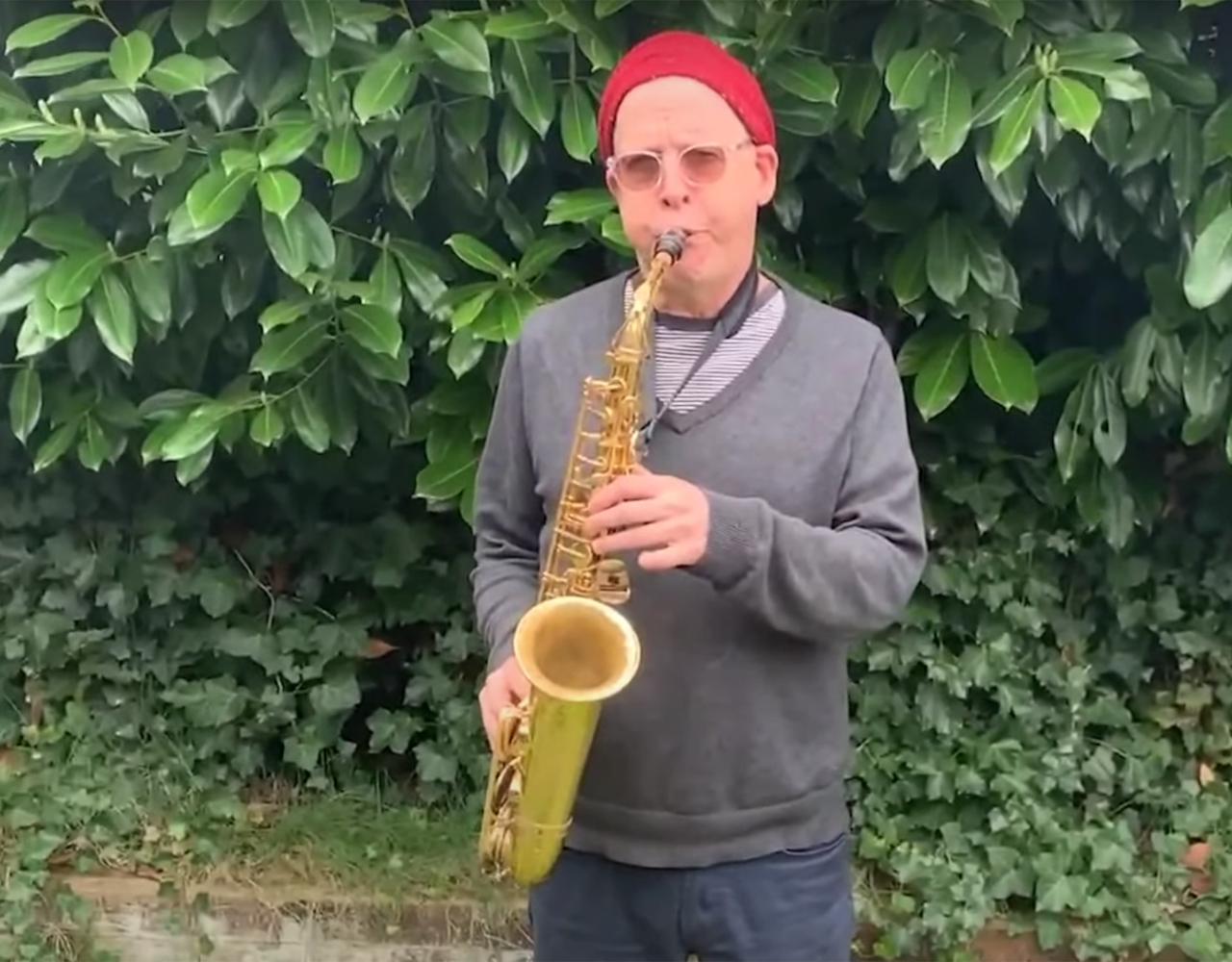 Multi-reedist Hans Teuber came to Seattle from his native South Carolina more than thirty years ago to visit a friend he had met while performing with Buddy Greco in Atlantic City. That friend, jazz drummer and now Origin Records principal John Bishop, introduced Teuber to the active jazz scene in Seattle. Over the past three decades, Seattle jazz fans have become acquainted with Teuber's original style on saxophone, clarinet, bass clarinet, and flute. Teuber has doubled as music director for the zany cabaret dinner theatre Teatro ZinZanni, playing literally any instrument the music required.
Teuber isn't known for releasing his own recordings as a leader. His mark has more been left breathing life, literally and figuratively, into the music of his fellow artists in his very personal style. Trumpeter Thomas Marriott perhaps describes Teuber's style and sound best.
"One of the things I have always admired most about Hans' playing is that he always sounds like himself. It doesn't matter what kind of gig he's playing, or what style of music, he always sounds exactly like Hans Teuber. That's very hard to do when you are a journeyman musician and play a lot of different music."
Teuber's tenure performing within the cross currents of Seattle's vibrant music scene, and contributions to the city's unique and original sound make him worthy of standing with the best of Seattle's jazz legacy. On receiving this honor, the humble and somewhat reticent Teuber remarked simply, "Thank you to my family and all my beautiful friends who I love to play music with. Hopefully, I'll see you out there soon."
SEATTLE JAZZ HALL OF FAME: ROBIN HOLCOMB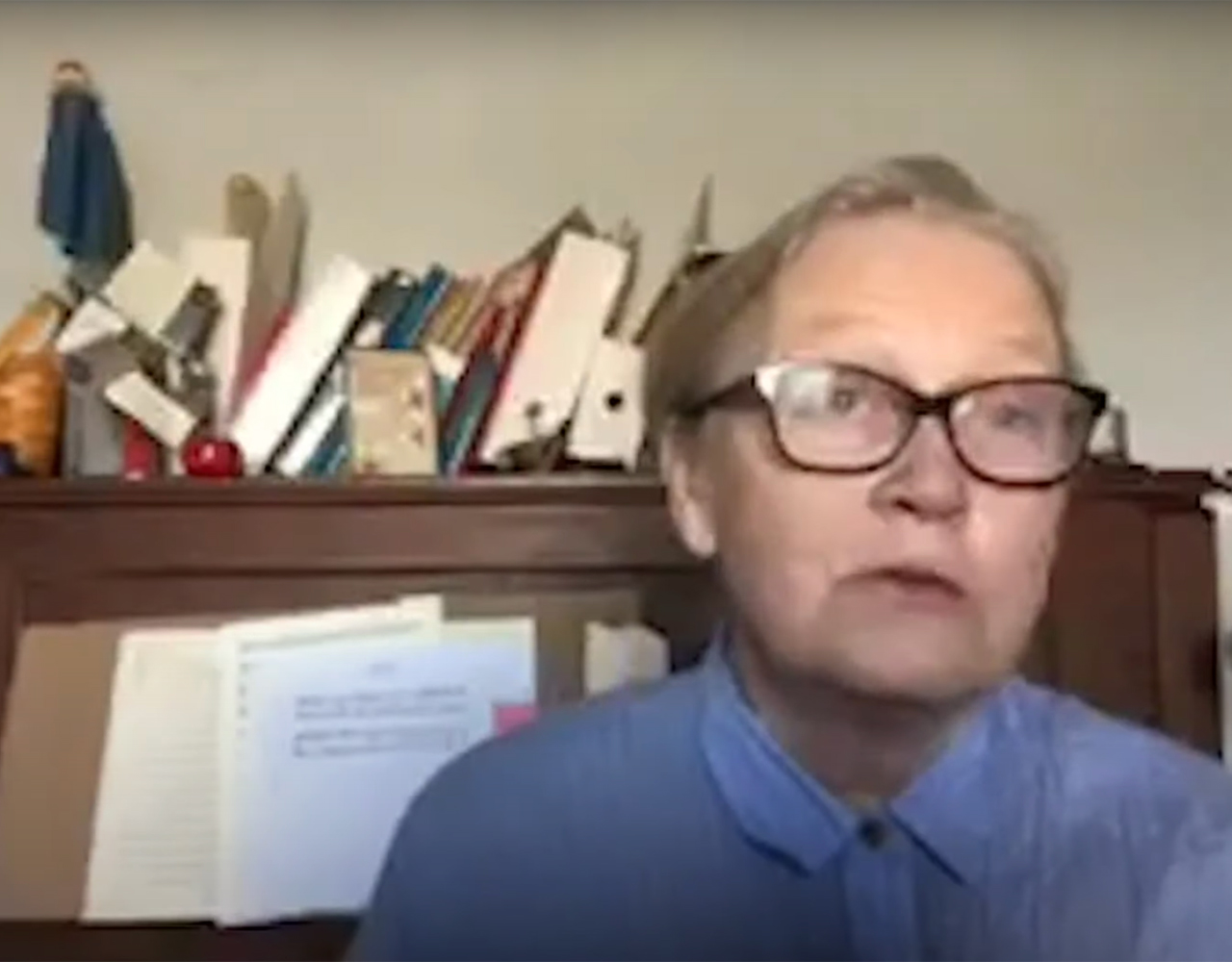 Robin Holcomb in many ways is the embodiment of the broad definition of jazz music that Earshot Jazz has traditionally employed. Her work is an amalgam of the American musical experience, employing elements of country, folk, jazz, gospel hymns, and minimalism. Her music has been compared favorably to the polytonal music of Charles Ives. Holcomb began her professional career in New York City, in the thick of an avant-garde scene there that included her future husband Wayne Horvitz, John Zorn, and Eugene Chadbourne. Her work is chronicled on seven albums as a leader.
"I'd like to thank all of the musicians in Seattle, those I've played with and those I've listened to. You're endlessly inspiring," said Holcomb.
Holcomb continues to forge forward into new territory. She was awarded a commission by the League of American Orchestras in 2017 that resulted in her composition, "No Thing Lives to Itself," a piece that premiered in January 2020 by the Portland Symphony in Maine.
SEATTLE JAZZ HALL OF FAME: MOC ESCOBEDO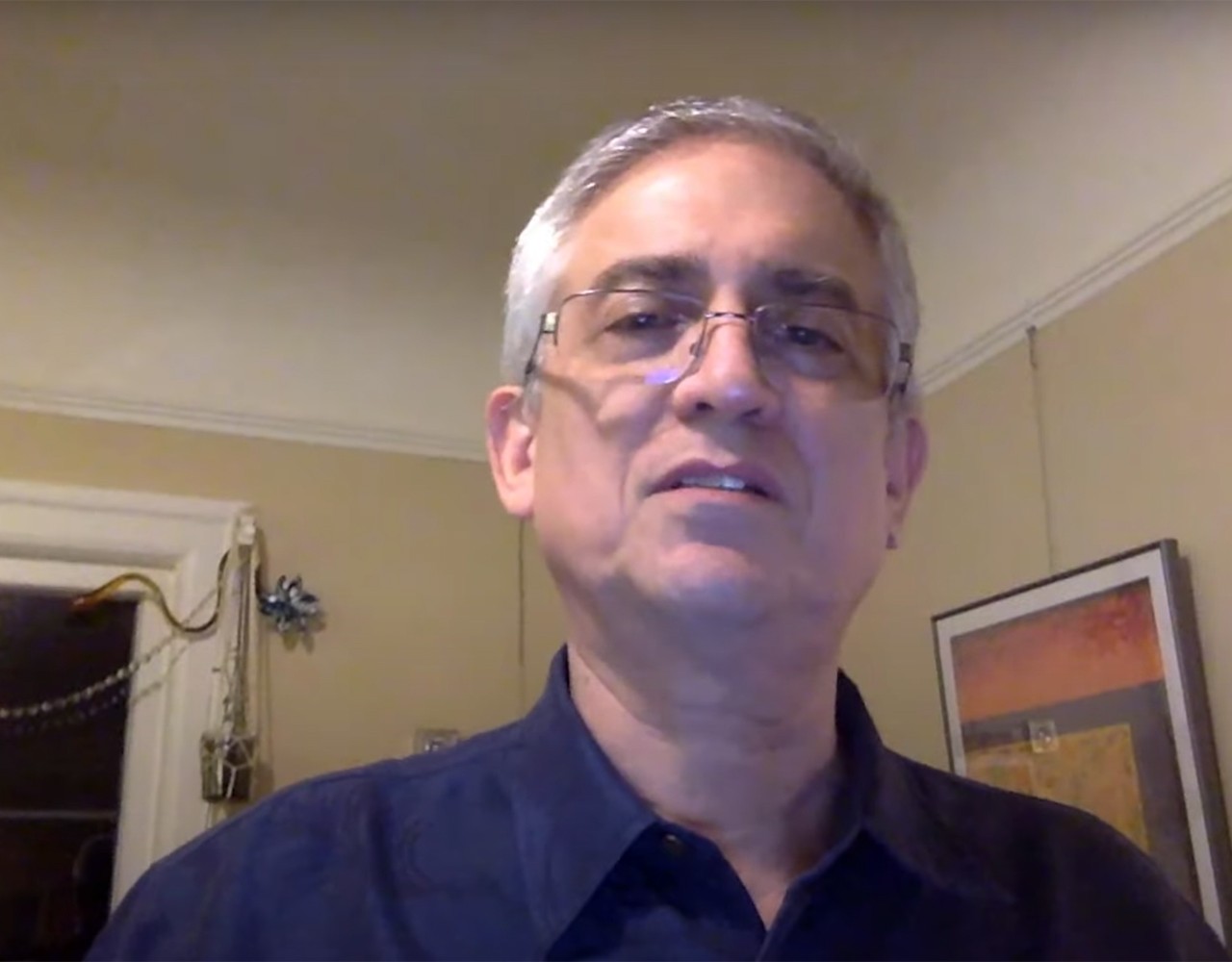 Seattle jazz education legend Moc Escobedo has just about seen it all in his twenty-six-year tenure at Eckstein Middle School in North Seattle. A man of boundless dedication to his students, he directs three jazz bands, a concert band, and a vocal ensemble. Some of Seattle's most prominent jazz artists have passed through his program over this time. Sara Gazarek, Alex Dugdale, Santosh Sharma, and Max Holmberg are among his students who have taken what they gathered under his direction before evolving into professional musicians. His students arrive from a variety of social and economic circumstances, with Escobedo embracing them all.
What he hadn't seen before 2020 was a pandemic. The challenges presented to teachers in this time have especially hit music programs hard, without the ability to bring together music ensembles that can amount to more than thirty students. Escobedo has always prioritized equity in his program, understanding that some kids just need more time to accomplish goals set. Students with economic challenges during these times are especially impacted. Escobedo's outstanding work in implementing equity throughout his program over decades of time is worthy of high praise, never more so than in 2020.
While most years include a trip to the Monterey Next Generation Jazz Festival, or festivals in Reno and Idaho, Escobedo's focus now is simply getting instruments into the hands of his students. Oftentimes he will lend out one of his own instruments to get a student started. This important work is a major point of light illuminating the future of jazz music in Seattle. For Escobedo's students, it is so much more. He looks forward to the challenges going forward, stating, "I am grateful and humbled to be able to work in a community that is so supportive. It has been a wonderful, constantly changing experience. Stay positive!"
COMMUNITY IN ACTION AWARD: THE QUARANTINE SESSIONS, MARINA ALBERO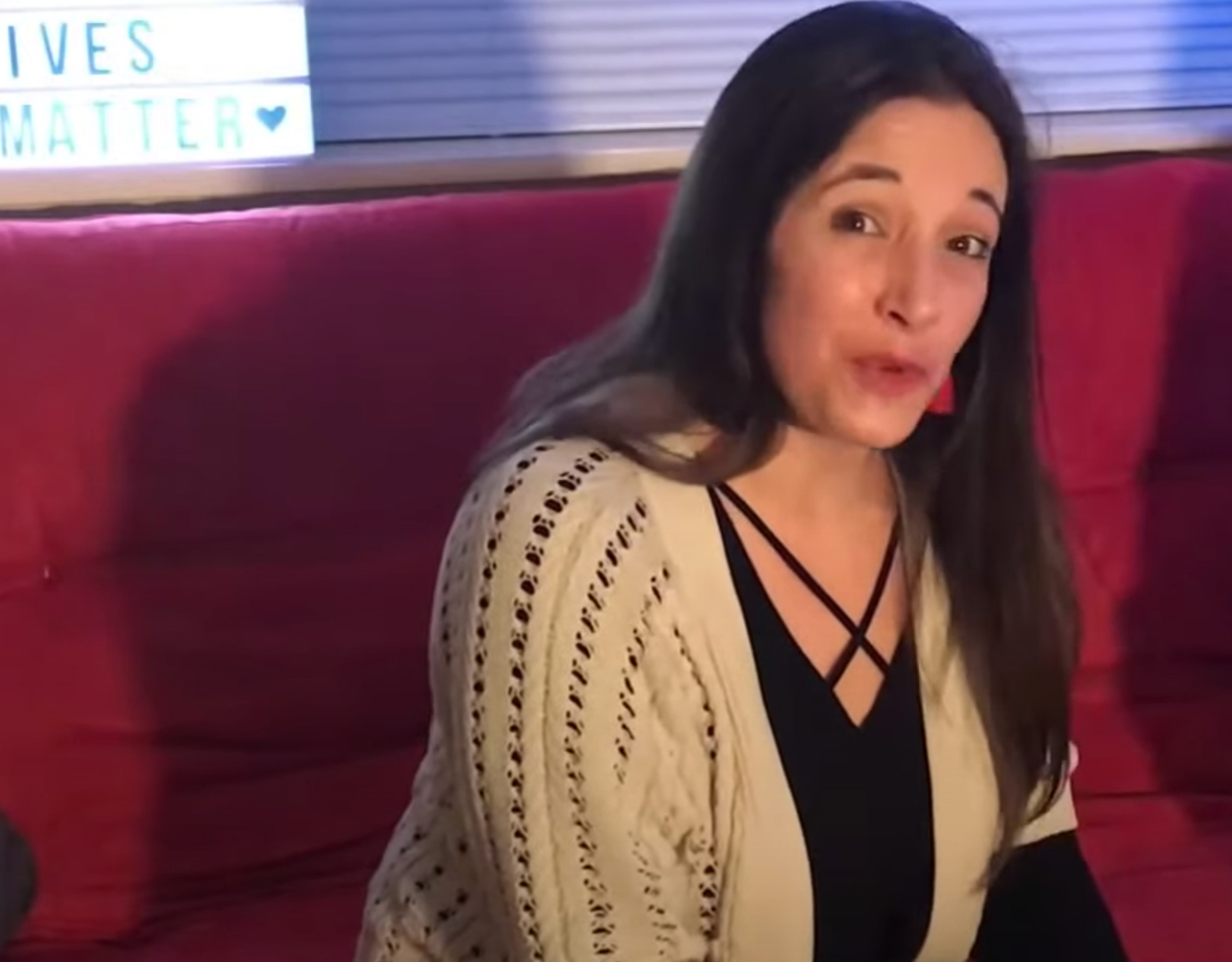 When the COVID-19 pandemic closed down local performance venues, four acclaimed female artists from Seattle decided to create and curate a streaming concert series. Dubbed "The Quarantine Sessions," pianist Marina Albero, and vocalists Jacqueline Tabor, Adriana Giordano, and Chava Mirel presented concerts that were interactive, welcoming the audience to participate. The concerts became a source of healing for both musicians and patrons in these most uncertain of times.
Seated together, Albero and Tabor spoke of the unified efforts of strong women supporters, and the assistance of strong, dynamic men.
"We are nothing alone, so thanks for keeping connected through the hardest of times. Especially the powerful women who from day one were on this journey—Adriana Giordano, Chava Mirel, Serena Dominguez, and Shaina Shepherd. We had some strong, dynamic men that allowed us females to lead as they followed very graciously—Hans Teuber, Jeff Busch, Dean Schmidt, Jerome Smith, and Floyd Reitsma."
The series began streaming live from the studio, and for the winter months, evolved into a live video program. The sliding scale pay-per-view program strived to provide the vibe of a live, in person performance. TQS donate a portion of its fees to local food banks and BLM Seattle.
COMMUNITY IN ACTION AWARD: JAZZTALK SEATTLE, JOSH HOU AND MAX HOLMBERG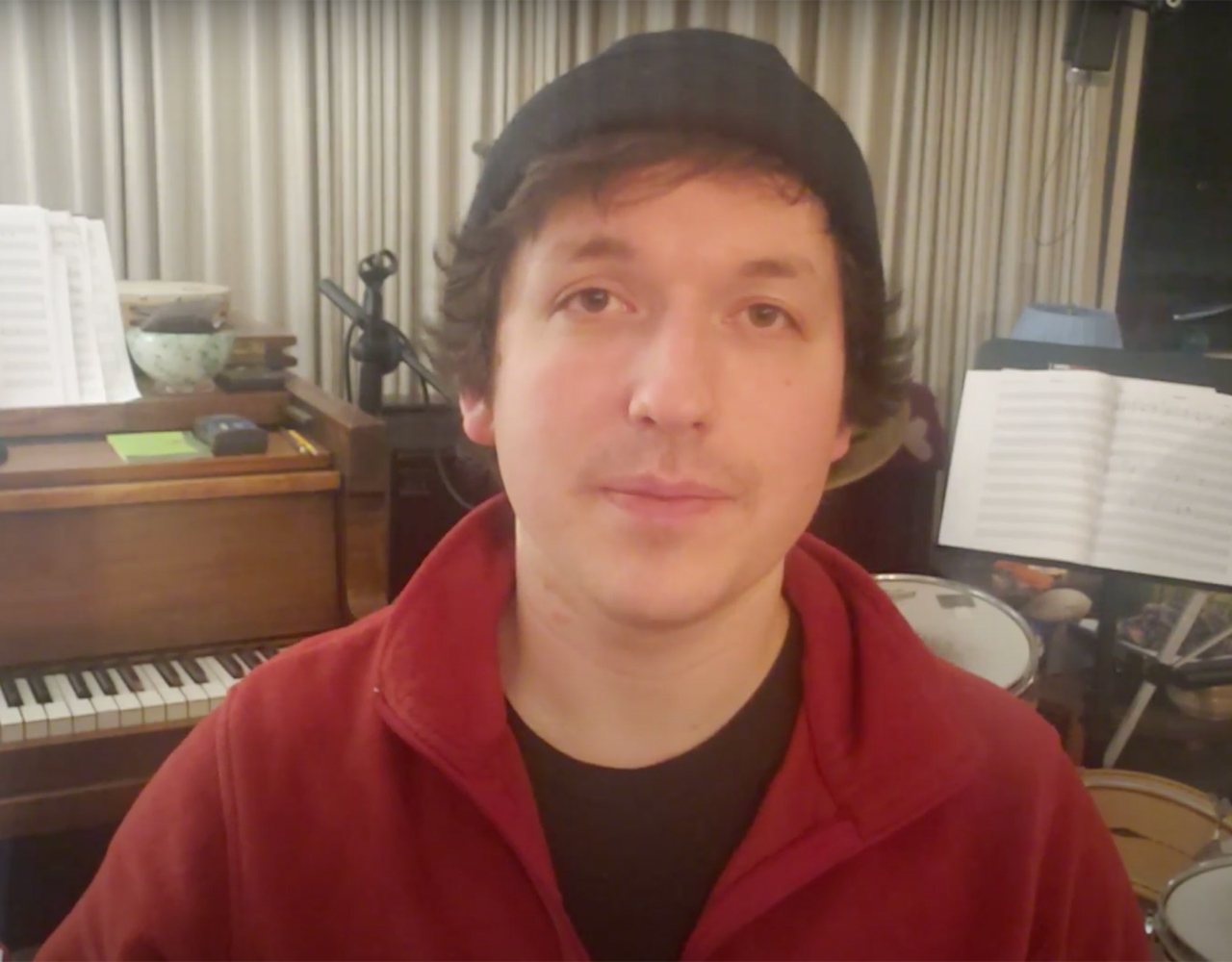 The Seattle jazz scene is a community with a real sense of fellowship. That social connection was all but lost when the pandemic shuttered local clubs and sequestered local musicians and patrons at home. Drummer Max Holmberg and accordionist Joshua Hou hatched an idea to launch a podcast that enabled area jazzers to get to know local jazz musicians in an intimate, interview format. Jazztalk Seattle has since interviewed 37 area artists, in nearly hour-long segments.
"I'm so grateful for the opportunity for me and Max to spotlight our community by talking to so many of you about your music and what's behind it," said Hou.
Listening to Holmberg and Hou informally interview artists such as Thomas Marriott and Jacqueline Tabor came off like a late night hang at a local club, providing what was essentially missing from streaming concerts. Holmberg, who was "hugely surprised and honored" by the award, understands the social connection the podcast has provided.
"The podcast has been a great way to both share what's happening on the local scene, as well as learn more about the people behind the projects," he said.
COMMUNITY IN ACTION AWARD: LOUDSWELL, GORDON BROWN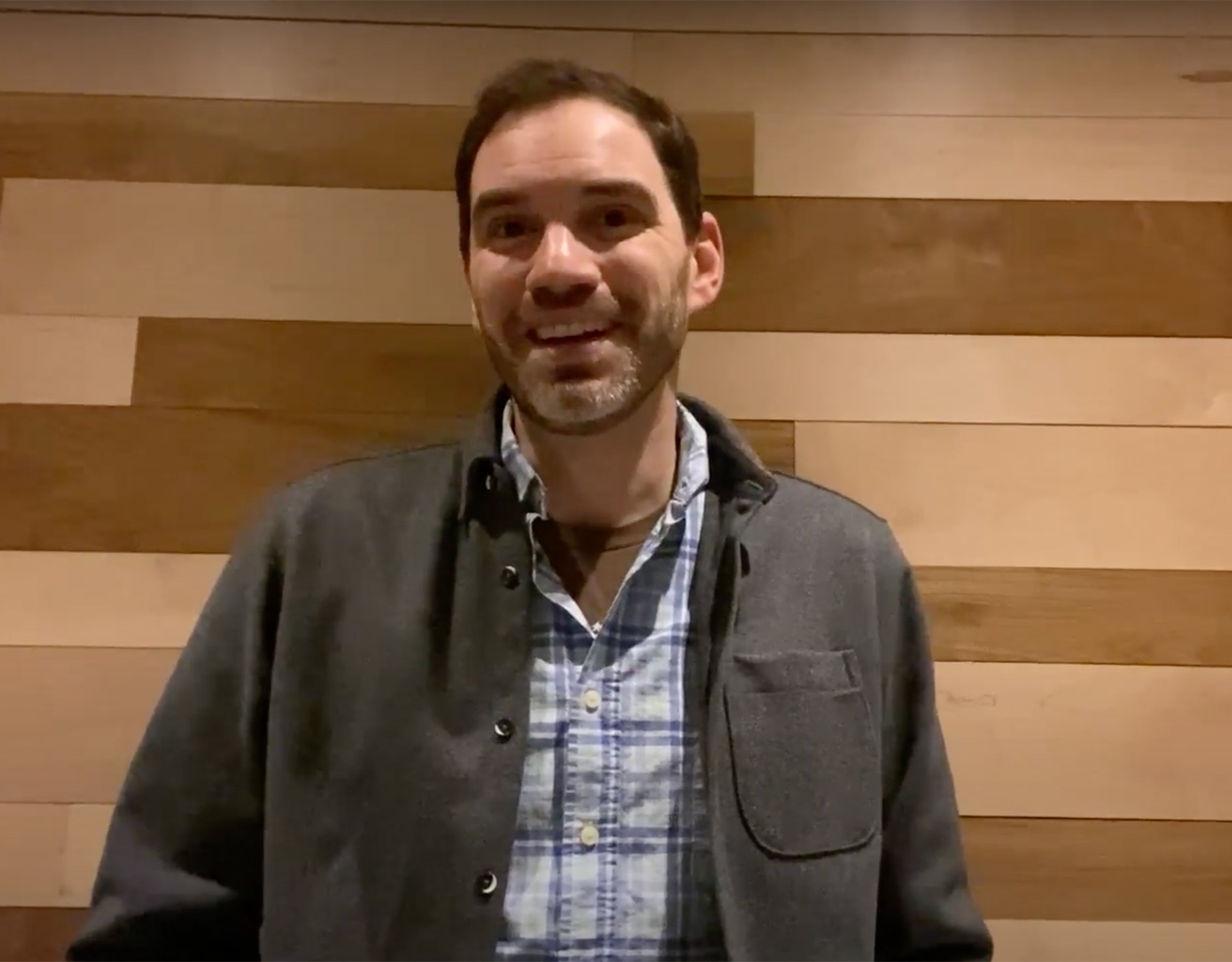 The past year of social isolation has spurred innovation among local artists to discover new pathways to perform, earn a living and provide music fans with the live music that was missing in their lives. Seattle saxophonist Gordon Brown launched Live Concerts Stream, repackaging it recently as LoudSwell. Brown did not set out to replace live performances, but to provide an alternative during the pandemic, and a resource to compliment live in-person performances post-pandemic.
LoudSwell monetized the program by providing tip contributions, broadcasting on several social media channels, promoting events, and encouraging chat participation.
Going forward, it provides a tool to expand audiences beyond single live performances. Brown turned inspiration into innovation, providing musicians with something to improve their collective lot as professionals now and in the future.
"None of this would be possible without the participation of the musicians who took a chance on us," stated Brown. "We are grateful to have the opportunity to present your music to the world. It's a responsibility we don't take lightly."