Dianne Reeves photo by Jerris Madison.
William Parker, Hamid Drake, & Patricia Nicholson
Monday October 18, 8:00pm PDT
Chapel Performance Space
In-person
Tickets $10–25
Co-presented with Nonsequitur. Tickets $10-25.
Bronx-bred bassist William Parker, who came to the fore in the 1980s with Cecil Taylor and has since forged a celebrated body of visionary work as the leader of The Little Huey Creative Music Orchestra and In Order to Survive, among other ensembles, is having a moment in 2021. Duke University Press recently published a comprehensive, penetrating biography, Universal Tonality: The Life and Music of William Parker by history professor and jazzrightnow.com editor, Cisco Bradley. Centering Records also released a 10-CD Parker box set, Migration of Silence Into and Out of the Tone World: Vol. 1-10. In addition, Parker appears on two new albums from AUM Fidelity, Mayan Space Station, with electric guitar and drums; Painters Winter, with reeds and drums; as well as a new trio album with longtime collaborator, pianist Matthew Shipp, Village Mothership, on Tao Forms.
Parker has also released No Joke, on ESP-DISK, which features Parker's wife, poet and dancer Patricia Nicholson, who appears with him in Seattle, along with drummer Hamid Drake. Nicholson produces New York's Vision Festival, which since 1996 has offered a home for avant-garde jazz that, like Parker's work, traces its origins and spirit to the late '50s and early '60s music of Taylor, Albert Ayler, Ornette Coleman, Bill Dixon and others. Though the album features a different drummer and a larger ensemble with horns and viola, it's probably a good predictor of what we'll hear at the Earshot show. That means a lot of good listening and reading ahead for Parker fans.
And that means straight-from-the-heart, no-nonsense poetry-and-jazz in a tradition that goes back to Beat era collaborations, reminiscent of Amiri Baraka. Nicholson does not varnish her anger and frustration with the state of the world, yet as always she mitigates it with compassionate optimism. Expressively declaring her lines with rhythmic verve, stretching, tightening, or repeating syllables as she goes, sometimes using a digital delay to create a flow of overlays, Nicholson takes aim at the madness around us. On "Struggle," she casts the dark observation that "they have stolen our world/ They have stolen our words," concluding, "It's no joke, man / No! No! No! No! No! /All that hate that's been bubbling up, bubbling up, bubbling up," using words as rhythmic sounds, the way Baraka used to. Through all of this comes Parker's sound—deep, brown, and blunt—and Drake's carefully punctuated drive. –Community Contributor
Jazz: The Second Century Series
Wednesday October 20, 7:00pm PDT
Livestream via Youtube
Free
Jazz: The Second Century series explores the fundamental question: "One-hundred years into the art-form, what sonic shape does jazz take in its second century?" This question has never felt more relevant—or urgent—during these times of physical distancing, where musicians are being forced to explore new and innovative ways to develop and present their art.
Like last year, the series will be presented as a pre-recorded audio or video performance instead of a live concert. Tune in to the Watch Party for a jam-packed night of artists who have delved, explored, and unpacked this vital question and enjoy a staple series of the festival that upholds the values of Earshot's first programming initiative.
The Smiley Experience
"The poems performed before you serve as a cry from the past to both the present and those who are no longer present. This work is contingent upon freedom and the need to liberate our minds. While others scratch the surface, these words break down barriers." Jamaar Smiley, also known as the "Voice of the Northwest", is a spoken word artist, poet, author, and educator. His work captures the essence of proud black men and women, youth and adults alike, by diving deep into the people, history, upbringing, communities, Ancestors, and the culture itself. Smiley's performance will be accompanied by Arsalan Ibrahim (kora), Will Dixon (horn), with video production by Crystal Brown.
Fuzzy Pink Bears
FUZZY PINK BEARS is a sonic experiment by two rhythm obsessed individuals. Dio Jean-Baptiste (drums) and Leanna Keith flutes) come together to improvise in long-form sets. With roots in Japanese traditional music, free jazz, hip-hop, "new music", and western classical music, the resulting sounds keep the focus on how we use rhythm to communicate with each other. This project is produced by Alissa Jean-Baptiste (lighting/audio engineer) and Daniel Husser (videography).
Ramen Trio
Ramen Trio was formed in 2016 by three veterans of the Seattle music scene with the purpose of writing, improvising, and performing music that branches out while at the same time acknowledges the lifeblood of music that came before. The band Doug Lilla (bass guitar), Jay Weaver (drums), James DeJoie (clarinet, bass clarinet, video production), Alicia DeJoie (video production)—combines form and freedom through composition, improvisation, jazz and contemporary classical styles while adding splashes of folk and rock resulting in an open-ended dance of ideas. The music presented for Jazz: The Second Century is from their forthcoming second album.
Heather Dio Duo
HDD is the Heather/Dio Duo, a years-long partnership between Heather Bentley, violist, and Dio Jean-Baptiste, drummer. Together with VJ Darren Palmer, they have created this sonic/visual improvisation during lockdown. HDD explores texture, rhythm, intensity, architecture, pacing, melody, and harmony through a lens best described as a foray into the passage of time. HDD met at Racer Sessions, and has performed at the Royal Room, Spite House, Gallery 1412, Cafe Racer, and Velocity Dance Center. They have collaborated with dancers, videographers, and filmmakers and have released several recordings on Bandcamp under Dio-Jean-Baptiste, including Wayward in Limbo #66.
CSTMR
CSTMR is an evolving free improvisational collaboration, sonically grasping at this moment. Rejecting borrowed nostalgia, and cynical revivalism, CSTMR confronts a future denied through the futile attempt at capturing the affirmational now. CTMR is a collaboration between sound, space, and specter. Embracing or vivisecting the demands of the instant and nothing more. CSTMR believes in the power of the transitory, the temporal, the autonomous; the post-core; the becoming of a moment that never arrives; caustic slabs, brittle tight ropes, ambient stalkings, the sounding of the liminal space between misguided cohesion and joyous collapse. CSTMR is Tom Scully and Casey Adams.
Duets: Dianne Reeves, Chucho Valdés,& Joe Lovano
Thursday October 21, 7:30pm PDT
Town Hall Great Hall
In-person only
Tickets $10–75
Welcomed by KNKX. Tickets $10-75.
When the majestic vocalist Dianne Reeves appeared with Cuban piano virtuoso Chucho Valdés at the SFJazz Gala two years ago, her delight was palpable as she spoke to the eagerly hooting crowd, which included, among other San Francisco luminaries, House Speaker Nancy Pelosi.
"Wow, this is so incredible," said Reeves, before she and Valdés launched into an exquisitely delicate "My Foolish Heart." "I have been label mates with this man for many, many years and it was a dream of Bruce Lundvall for us to get together. And all these years later, this is finally our first time."
That was in February 2019, and the label, of course, was Blue Note, the house that the late, great producer Lundvall rebuilt. The success of that first-time collaboration led Valdés to invite Reeves as a special guest for his residency at SFJazz. It didn't take too long for the International Music Network to come up with the splendid idea of putting them on tour together,with the addition of tenor saxophone titan Joe Lovano. That's the Duets program at the Earshot Festival October 21, which, like everything else, was delayed over a year by the pandemic.
But here they are now—three of the most stellar, midcareer artists in jazz, who between them have won 12 Grammy awards (if you're counting, that's Valdés, 6; Reeves, 5; Lovano, 1), topped or scored in the high end of the polls for decades, and played every major jazz festival the world. Lovano goes back a bit farther with Valdés than Reeves, having played a lovely, well-documented (on YouTube) set at Birdland with him in 2016, and a great Latin rhythm section. The two also played a lively duet at SFJazz shortly after Reeves did, a catchy gambol through Charlie Parker's "Confirmation" that they'll hopefully include in their Seattle set. Back in 2002, both Lovano and Reeves appeared as guests on Trio Da Paz's album, Café, but a search through the Lord discography yields no recordings with any other combination of any of these giants. Perhaps that will come after this tour.
It's a great match. Valdés, at 80 the senior member (Lovano and Reeves are still in their 60s), can be tender, stately or volcanic as the case may require, and in his mature years he has settled down considerably, concentrating more on musical lines and less on bombastic virtuosity. He can also mix things up on the outside edge of a tune's harmony and rhythm, which Lovano, with his chuffing tone and angular way of circling back on his phrases, loves to do. Hopefully Reeves and Valdés will perform some Latin material, which Reeves handles better than almost any North American jazz singer. I once saw her decimate a crowd in Lisbon with a surprise bossa nova set. It's not clear yet from the advances what Lovano and Reeves might do together, or whether there will be a trio grand finale. Whatever combinations these three choose, there's sure to be some magic. –Community Contributor
Immanuel Wilkins Quartet
Friday October 22 7:30pm PDT
Langston Hughes Performing Arts Institute
In-person and livestream
Tickets $10–25
2020 LetterOne Rising Stars Jazz Award recipient. Presented in partnership with Langston Seattle. Welcomed by Rainier Avenue Radio. Tickets $10-25.
Long before his premier Blue Note Records 2020 release, Omega, alto saxophonist Immanuel Wilkins was making an impression in modern jazz that tabbed him as a generational talent. Born and raised in Philadelphia, Wilkins grew up in the city's historic and vibrant jazz culture, which included a place in the village of musicians connected to pianist Orrin Evans' Grammy-nominated Captain Black Big Band. His move to New York to study at the esteemed Juilliard School of Music exposed his rare gifts to Gotham artists such as trumpeter Ambrose Akinmusire, who assisted the young saxophonist in navigating the scene in New York. The connections he made at this time enabled him to tour with ground breaking pianist Jason Moran, and impressively record his debut release on Blue Note. He has since worked with Wynton Marsalis, Gerald Clayton, Solange Knowles, Aaron Parks, and Joel Ross. Most recently, Wilkins with pianist Orrin Evans released, The Magic of Now, which is perhaps the most revealing glimpse into his playing as the main soloist in a quartet setting with Bill Stewart and Vincente Archer. While Omega featured Wilkins' adroit compositional prowess and social awareness, his role in his mentor's quartet gave the jazz world a strong impression into his improviser mind within an open setting.
With his focus on the humanity and cultural specificity of jazz, Wilkins sees the music as a means to bring people together through cooperative engagement in his art. The personal humility that accompanies his profound virtuosity allows his music to touch those vital aspects of the art of jazz, and its historically present state of being.
Wilkins will be performing with his New York quartet that is featured on Omega. Pianist Micah Thomas, much like Wilkins, is an ascendant generational artist and a musical associate during their time together at Juilliard. Taking his Omega quartet on the road will provide the opportunity to hear and see the music evolve in front of us, and the rise of the next phase of jazz innovation moving forward. Bassist Daryl Johns and drummer Kweku Sumbry round out this groundbreaking quartet whose sound may portend the directional impulse for jazz music in the decade ahead. –Paul Rauch
The Tiptons feat. Correo Aeroe: Mujer o Bruja?
Friday & Saturday October 22 & 23, 8:00pm PDT
The Chapel Performance Space
In-person, livestream/VOD
Tickets $10–20
Co-presented with Nonsequitur. Tickets $10-20. No livestream on October 23.
The Tiptons Saxophone Quartet is a study in four diverse voices that strengthen the artistic impetus of each other. The music doesn't eschew convention; it simply creates its own. Members Amy Denio, Jessica Lurie, Sue Orfield, and Tina Richardson are all trailblazers in their own right, blending influences from jazz, classical, and folk forms. In a sense, the compositions have a visual component, as the quartet moves from a variety of projects that dwell on the journey, embracing whatever destination happens to arrive.
For their performance at Earshot, the band premiers its new multimedia collaboration with the eclectic Latin American music duo Correo Aereo, comprised of Abel Rocha and Madeleine Sosin, who is also directing the project. Additionally, drummer Tarik Abouzied will be sitting in this evening. This new project, Mujer o Bruja?, also includes digital artist Jing "Jude" Dai, and is based on the 1987 Riane Eisler book, The Chalice and the Blade: Our History, Our Future. Based on the archeological work of Marija Gimbutas and other scholars, the music is a sonic remembrance of an ancient past, birth, life, death and regeneration.
Presented over two consecutive nights at the Chapel Space, the 90 minute production includes projected video and still image photography. This project is supported collaboratively by Earshot, Nonsequitur, 4Culture, and the Wayward Music Series. –Paul Rauch
Giveton Gelin Quintet
Saturday October 23, 7:30pm PDT
Langston Hughes Performing Arts Institute
In-person and livestream
Tickets $10–25
2019 LetterOne Rising Stars Jazz Award recipient. Presented in partnership with Langston Seattle. Welcomed by KNKX. Tickets $10-25.
From a young age, Giveton Gelin was adept at learning the dynamic, expressive craft of jazz. At 10 years old, the curious kid growing up in Nassau began to self-teach and explore the versatility of the trumpet by emulating records that inspired him. As he grew older and honed more of his skills under the guidance of bassist Adrian D'Aguilar, Gelin relocated to New York to begin attending the Juilliard School where he continued to master his craft and boldly make his presence known in the world of jazz.
In 2019, Gelin won the distinction of the LetterOne Rising Stars Jazz Award for emerging artists and in 2020 he self-released his debut album True Design. At 22, the rising artist has been mentored by some of the finest trumpeters including Wynton Marsalis, Nicholas Payton, and not to mention the late Roy Hargrove who Gelin often accompanied on the New York scene before the jazz giant's passing in 2018. Having such esteemed mentors is not taken lightly for Gelin. Continually centering, uplifting, and honoring the works of artists before him, Gelin is a unifying force across generations, cultures, and genres.
Gelin's quintet at Langston will be pianist Micah Thomas, saxophonist Morgan Guerin, bassist Philip Norris, and drummer Adriel Vincent-Brown. Now a recent graduate, Gelin is only at the beginning of what is sure to be a fruitful career. –Rayna Mathis
Marina Albero w/ Roosevelt High School Jazz Band
Saturday October 23, 7:00pm PDT
Livestream only
Tickets $10–25
Earshot Jazz's 2021 Resident Artist Marina Albero teams up with the award-winning Roosevelt High School Jazz Band under the baton of Scott Brown, for an evening of her original music arranged by Alex Dugdale.
Albero's music bears the mark of her life in music, with elements of classical, Afro-Cuban, flamenco, traditional Catalan, and jazz singing through her lush melodies. The concert presents some interesting objectives, with Albero's music played through the lens of a jazz arranger, and a collective of young musicians accustomed to playing mostly jazz standards. While jazz is a Black American art form, the music has traversed the globe over a century of time, gathering influences from each culture it touches. This assemblage on this evening is evident of that, with every participant both on stage and in the audience enriched by the generational unity of culture unfolding before them. While jazz has been described as the perfection of democracy, it is as well an ambassador of unity, love, humility, and creative spirit.
Arranger Alex Dugdale is a jazz multi-instrumentalist, educator, and tap dancer known for his work with the Alex Dugdale Quintet and the Seattle Repertory Jazz Orchestra. In his quintet, he is primarily a saxophonist, playing alto and tenor. He currently holds the baritone saxophone chair in the SRJO. His prowess on trumpet is less known, but equally relevant. Dugdale's personal sound is rooted in the hard bop, Art Blakey school of jazz, with deep roots in the Ellington legacy. Those roots are prominent in the music of the Roosevelt High School Jazz Band, which has gained a well deserved national reputation of excellence weighted by their success at the Essentially Ellington competition at Lincoln Center in New York City.
This project then poses two compelling currents of form merging into one. Albero has lived and performed in the jazz world, and apart from her own music, is a formidable jazz pianist in her own right. She has paid some serious dues on an international scale. The Roosevelt band will become acquainted with Albero's divergence of influences, grow with her and evolve. Albero will play piano and vibes, at times vacating the piano chair for a Roosevelt student. Dugdale's arrangements will be the tie that binds this confluence of music culture that portends to be one of the more intriguing events on the festival calendar in 2021. This performance is one of the few shows during the festival that will be available only through livestream. –Paul Rauch
Seattle Jazz Offering w/ Reggie Goings & Friends
Sunday October 24, 3:00pm PDT
Langston Hughes Performing Arts Institute
In-person only
Free with registration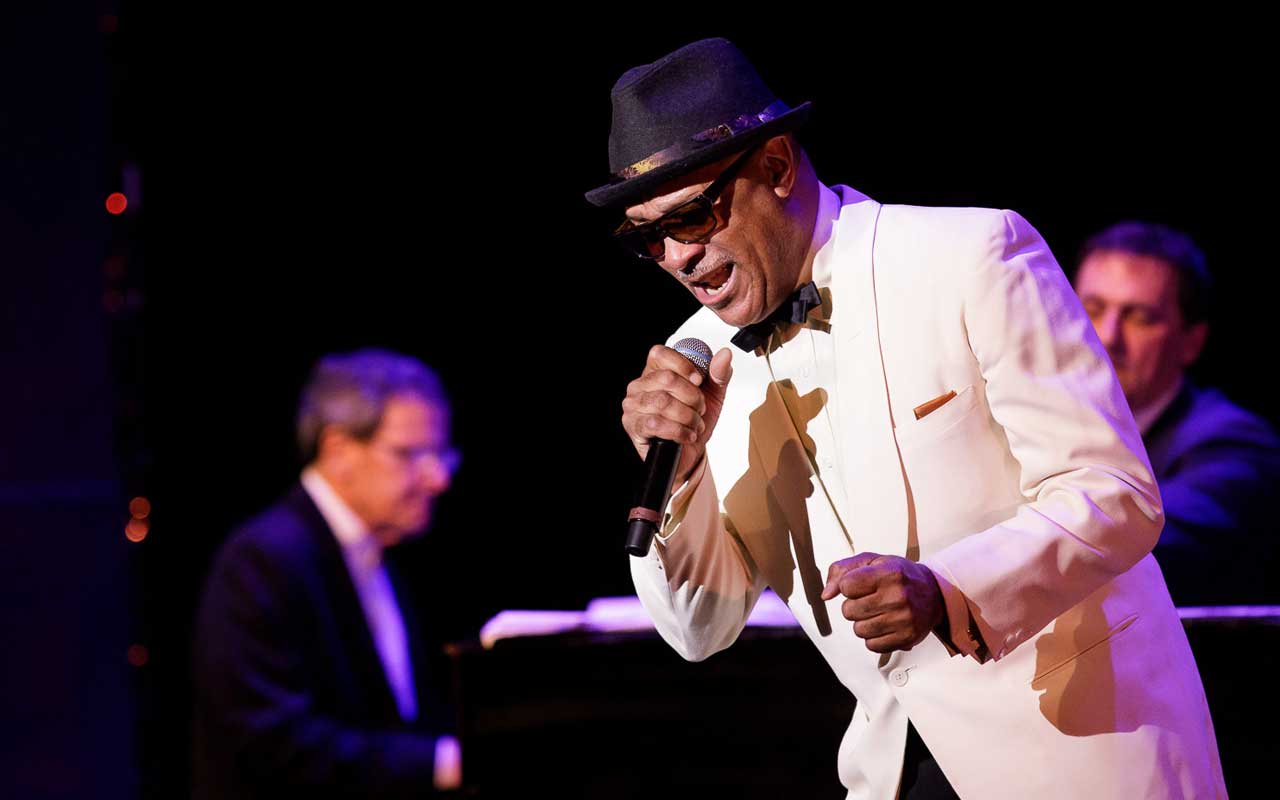 Presented in partnership with Langston Seattle. Free with registration.
On October 24, in collaboration with Langston Seattle, the Earshot Jazz Festival will welcome a longtime Seattle favorite, bebop singer Reggie Goings. Goings will be reconvening the Jazz Suspenders, the band that appeared on the Seattle jazz scene in the early 1990s. That's a prospect that makes the man with the soulful blues-infused baritone "very excited."
"The Jazz Suspenders will be on full display for a very special concert nearly 30 years later," Goings says. "It will be a double resurrection of sorts since I was recently rumored to have passed. So the Jazz Suspenders will come alive again for an evening of soul-laced straight-ahead jazz and bebop in the elegant style that the Jazz Suspenders were known for in the 90s. Be sure to look out for their signature braces/suspenders."
The Texas native's career goes back to 1974 in his native Port Arthur and later, in Houston. He moved to Seattle in the mid-80s, and from 1988 to 1991, co-hosted sessions with trumpeter Mark Henderson at Pioneer Square. He then formed the Jazz Suspenders, becoming regulars at Tula's and in 1992 the quintet recorded a live performance at Jazz Alley called "Tribute to My Mentors," a collection of standards.
"The quintet was originally composed of Randy Halberstadt, Clipper Anderson, Jamael Nance, Dan Greenblatt, and Reggie Goings," Goings says. "Clipper Anderson was replaced by Phil Sparks shortly after the group formed and will appear on this date with the original members."
Be sure to welcome them back! –Dennis Moran
Samara Joy w/ Sullivan Fortner
Sunday October 24, 7:30pm PDT
Langston Hughes Performing Arts Institute
In-person and livestream
Tickets $10–25
Presented in partnership with Langston Seattle. Welcomed by KNKX. Tickets $10-25.
Samara Joy is one of those overnight sensations who's been working up to her big splash her whole life. At 21, she released her first album, Samara Joy, in July on the Whirlwind Recordings label. On the recording she's backed by the Pasquale Grasso Trio, which includes Grasso on guitar, Ari Roland on bass, and Kenny Washington on drums.
In many ways, Joy has been working toward that release for her entire life. She grew up in New York, the granddaughter of Elder Goldwire and Ruth McLendon, who led the well-known Philadelphia-based gospel group, The Savettes. Her father toured with the renowned gospel artist Andrae Crouch. At home she was surrounded not only by her family's music, but the works of well revered gospel and R&B artists, including Stevie Wonder, George Duke, and many others. "Although I didn't grow up singing in church," explains Joy, "I constantly heard my family singing inspirational music together, which instilled in me an appreciation for my musical lineage."
Joy performed in many musicals beginning in middle school, learning how to match her voice to the various characters she portrayed. By the time she attended the Fordham High School for the Arts she joined the choir at church, became a worship leader, and sang three services a week for a couple of years. "That was my training," Joy says. She studied in the acclaimed jazz program at SUNY Purchase, with a faculty that includes many jazz masters, including Grasso and Washington.
In 2019 Joy won the Sarah Vaughan International Jazz Vocal Competition, which was slightly ironic. "I hadn't heard of Sarah Vaughan until college," Joy explains. "My friends were all into jazz and started sharing their favorite recordings with me. The turning point was when I heard Sarah's version of Lover Man—I was hooked!"
Winning the Vaughan award was transformational for Joy. "I was suddenly on the jazz radar," she notes. "It's still bizarre to think of how fast things have progressed." "Lover Man" is one of the featured tracks on the new album, along with "Stardust," "Moonglow," and other standards. Joy will be accompanied at the Earshot show by pianist Sullivan Fortner, winner of a Grammy in 2018 for Best Jazz Vocal Album for his work on The Window with vocalist Cécile McLorin Salvant. Fortner, who was the pianist in trumpeter Roy Hargrove's quintet from 2010 to 2017, was the 2015 winner of the Cole Porter Fellowship from the American Pianists Association and of the 2016 Lincoln Center Award for Emerging Artists. –Greg Scheiderer