Erika Dohi photo by Lauren Desberg.
Dawn Clement Trio w/Matt Wilson
Tuesday October 26, 7:00pm PDT
Town Hall Forum
In-person and livestream/VOD
Tickets $10–25
Sponsored by Seed IP. Tickets .
It's been years since pianist and three-time Earshot Golden Ear award-winner Dawn Clement made her second album as a leader, Break (Origin, 2008), with drummer Matt Wilson and former Seattle bassist Dean Johnson. Now Clement and the irrepressible drummer have teamed up for a new project, the Gratitude Trio, with another Seattle bassist, Chuck Deardorf.
"Matt and Chuck love each other's playing and I get to drop into that," said Clement last month in a telephone interview. "It's fun."
Clement was speaking from her car as she drove from Denver to Greeley, Colo. Since 2018, she has served on the faculty at Denver's Metropolitan State University after leaving Seattle's Cornish College. In Greeley, she was headed into her second day of recording a new album with Seattle bassist Jon Hamar and guitarist Steve Kovalcheck, who also teaches at Metropolitan. That's one of many projects the busy pianist has embraced during the pandemic, despite having contracted and recovered from COVID-19 in August. On October 1, she's releasing an ambient vocal album that she made with electronics whiz Jon Solo, Island, on Bandcamp. She also has a new quartet, Esthesis, featuring Cornish alum Elsa Nilsson (flute), Tina Raymond (drums), and Emma Dayhuff (bass). The trio with Deardorf and Wilson first performed at Jazz Port Townsend in 2017 and kicks off a West Coast tour with the Earshot show on October 26 in Town Hall's Forum. The energy and flavor of the new trio is very much in keeping with Break—spirited, flowing, soulful, and sometimes whimsical. You can get an idea of what they might be up to yourself by checking out the set they did for KNKX back in 2018, which featured a lovely rendition of Jim Knapp's ballad, "Home" (also recorded by Deardorf on his fine album, Perception); a tune from Wilson's Carl Sandburg project, Honey and Salt (which included Clement); and, "Monk's Dream" by Clement favorite Thelonious Monk. But with Wilson, says Clement, "At Port Townsend, we played a Supertramp song." –Community Contributor
Erika Dohi
Tuesday October 26, 8:00pm PDT
Chapel Performance Space
In-person and livestream
Tickets $10–20
Welcomed by KBCS. Tickets
Born in Osaka and currently based in New York, Erika Dohi is an innovative artist who has been celebrated by many as a virtuosic pianist. Easily transfusing her classical skills with bold improvisation, Dohi's unique experimental sound is mesmerizing, transporting all who welcome it in, allowing the music to take them on a journey.
Dohi's debut solo album I, Castorpollux (37d03d, 2021) is a testament to the artist's skill in wielding keys to create a sci-fi-esque, hypnotic, genre-bending story that takes the listener into another dimension. Guests on the album, to name but a few, include vocalist and keyboardist Channy Leaneagh of Poliça, trumpeter Ambrose Akinmusire, and saxophonist Immanuel Wilkins who will also be headlining his own show during the festival earlier in the week. The album has received high acclaim by Bandcamp as one of "The Best Ambient Albums in May 2021" and "Best of the Week" by Brooklyn Vegan and JAZZIZ Magazine.
Touring internationally, the brilliant pianist has rightfully earned her way onto the stages at D.C. Jazz Festival, Montreal Jazz Festival, and Tokyo Experimental Festival and more. She is a part of the six-piano ensemble Grand Band and is the pianist for the avant-garde trumpeter Wadada Leo Smith's Golden Quintet.
Dohi is set to perform at the Chapel Space, a fitting venue for what will be a transcendent performance. Seattle-based saxophonist Kate Olson will join Dohi for part of the evening. Dohi's show will be a unique highlight to the festival and is sure to leave a lasting impression on Seattle audiences. –Rayna Mathis
Francesco Crosara Trio
Wednesday October 27, 7:00pm PDT
Town Hall Forum
In-person and livestream/VOD
Tickets $10–20
"Francesco, your music is wonderful— always has been. Play what you love and saturate the world with it." –Chick Corea
And that's what pianist Francesco Crosara, the Seattle-based native of Milan, Italy, continues to do—saturate the world with his brand of "Francesco Jazz." Drawing from an array of musical traditions and influences, including classical training, jazz standards, bop, fusion, Latin, world music and more—Crosara engages audiences with joy and healing spirit.
He stands among the European-bred jazz greats, performing over the years with the likes of Lionel Hampton, Freddie Hubbard, Roy Hargrove, Richie Cole, Lilian Terry, and more. His recordings have featured a multicultural and international array of musicians. And now, since 2017, the Northwest can claim his talents, too, as he's demonstrated an eagerness to contribute to the local scene.
Completing Crosara's polished acoustic trio performing on October 27 are versatile Northwest Jazz virtuosos Clipper Anderson on bass and Mark Ivester on drums. Anderson and Ivester have both performed widely in varied styles and settings with impressive arrays of greats: Anderson with Michael Brecker, Paquito D'Rivera, and Arturo Sandoval; and Ivester with Larry Coryell, Freddie Hubbard, Diane Schuur, Mose Allison, Charlie Byrd, and Eartha Kitt. Crosara has been featured two years in a row in the trend-setting Earshot Jazz: The Second Century series for his bold and innovative music composition and video work. –Dennis Moran
Alex Dugdale CD Release
Thursday October 28, 7:00pm & 9:30pm PDT
Egan's Ballard Jam House
In-person only
Tickets $10–20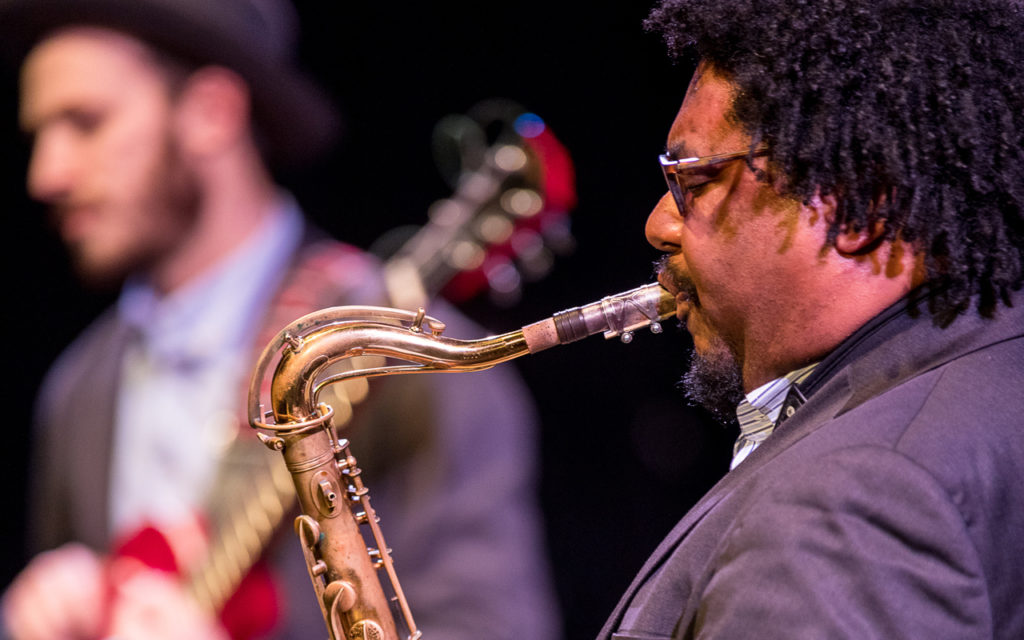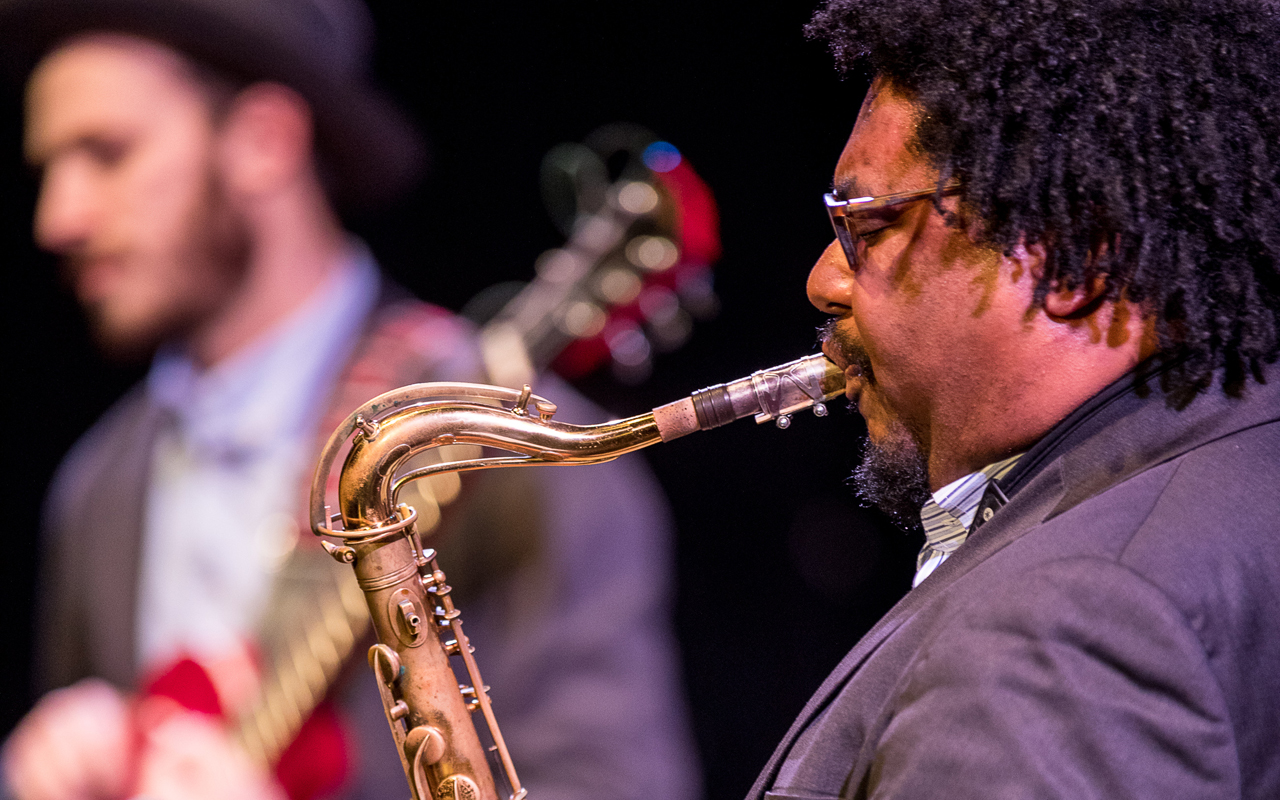 Alex Dugdale is quite familiar to Earshot audiences. In 2016 he was voted the Golden Ear Award for Emerging Artist of the Year. Four years later that emergence was complete, and he received the Golden Ear as Northwest Jazz Instrumentalist of the Year for 2020. Come late October, Dugdale will take the stage at the intimate Egan's venue to celebrate the release of his new album, The Dugout.
Dugdale was raised in Seattle and graduated from Roosevelt High School in 2008. He then headed east and studied saxophone performance at the Eastman School of Music in Rochester, New York. After graduating, he returned to Seattle in 2013 and formed his own jazz quintet, Fade. He's a valued performer around town and has worked many of Seattle's finest bands, including the Seattle Repertory Jazz Orchestra and The Seattle Symphony.
Led by Dugdale, Fade includes John Hansen on piano, Greg Feingold on bass, Max Holmberg on drums, and Cole Schuster on guitar. For this Earshot performance, trumpeter Jun Iida, who is an active player in the Los Angeles music scene, will sit in on the gig in place of Schuster.
Dugdale is more than just a sax player. He's also a passionate educator and has been teaching both tap dance and music full-time for the last decade. He currently teaches elementary band and orchestra for Seattle Public Schools and tap courses for the University of Washington dance department. –Greg Scheiderer
Scenes
Friday October 29, 7:00pm PDT
Town Hall Forum
In-person and livestream/VOD
Tickets $10–20
Sponsored by Homestreet Bank.
The storyline behind the innovative four musicians that form the band Scenes, is centered on nearly four decades of friendship. Guitarist John Stowell and drummer John Bishop began their musical kinship in 1983, performing with Bruce Phares and Jay Thomas. By the late '80s, Stowell had an international presence that saw him traversing the globe both as a performer and educator. About that time, trailblazing bassist Jeff Johnson arrived in Seattle via Minneapolis and Texas, and began playing a weekly trio gig in Seattle's Ballard neighborhood with Bishop and eclectic saxophonist Rick Mandyck. When in the Pacific Northwest, Stowell would sit in with the trio at the Ole Town Tavern in Ballard, setting a precedent for a band that to date has recorded seven albums for the respected Origin Records label.
Scenes largely gained an international reputation as a trio, with Mandyck bowing out due to health concerns after the band's first release, Scenes (Origin, 2001). The trio largely performed Stowell's vignette style compositions, and Johnson's modal tunes that feature open spaces for creative maneuvering. Mandyck's return to playing saxophone after a fourteen year hiatus eventually resulted in the band's most recent release, Trapeze (Origin, 2020). Mandyck's soaring tenor was a sound that had been in the air all those years of Scene's identity as a probing, innovative trio. The band's aesthetic still contains ample room for exploration, with Mandyck contributing as a composer as well. Forty years of musical association and more importantly, of close friendship, gives the music of Scenes a read and react unpredictability based on familiarity, steeped in a chant-like sense of repose.
The Seattle pairing of Bishop and Johnson has been the backbone of several groundbreaking trio formations over the years. Their work in the rubato style with pianist Hal Galper and trio work with pianist Jessica Williams come strongly to mind. They are the perfect counterpart to Stowell's dynamic sense of harmony. The return of Mandyck brings a deep and resonant voice on tenor, coupled with an open-ended approach to melodic improvisation. The spacious collective sound of the quartet is in essence, a Pacific Northwest sound, one born in the flash space between Portland and Seattle. –Paul Rauch
Darelle Holden
Friday October 29, 7:30pm PDT
Langston Hughes performing Arts Institute
In-person and livestream/VOD
Tickets $10–20
Presented in partnership with Langston Seattle.
If silk were a sound, it'd be Darelle Holden singing. Mix jazz, pop, and R&B and you'll have the smooth sounds of someone born into the music career she's propelling forward. As a background singer, she's performed alongside such legends as Tom Jones, Elton John, Earth, Wind & Fire, Stevie Wonder, and more.
Born and raised in Seattle, Holden saw legends on stage in her own family. Her grandfather, Oscar Holden, was a prominent Seattle jazz musician and her father, Dave Holden, and uncle, Ron Holden, were big in the 1950s and 1960s touring with the likes of James Brown.
Part genetics, part skill, part inspiration, Holden graduated from Berklee School of Music before commencing on her own musical career, both as a solo artist and as a background singer. Holden will be performing her latest self-titled album alongside Brad Boal (drums), Brian Monroney (guitar), David Dawda (bass), and Jeremy Bacon (electric keys and piano).
The dynamic performer, like many musicians, was devastated by the COVID pandemic. During that time, she took to songwriting and created some new songs including songs of encouragement and songs inspired by the nurturing power of the Pacific Northwest. Performing at the Earshot Jazz Festival will undoubtedly be nurturing for both performer and audience alike. –Jonathan Shipley
Chava Mirel
Saturday October 30, 6:30pm PDT
The Royal Room
In-person and livestream/VOD
Tickets $10–20
Welcomed by KBCS.
How might one categorize Chava Mirel? By saying she is uncategorizable. An international touring singer, guitarist, composer, spiritual leader, and activist, Mirel is a woman of the world, performing worldwide in such genres as world music, folk, and jazz.
As an activist, much of her music is suffused with what Mirel cares most about: hope, connection, inclusion, women's issues, equality, and environmental issues. How wide does she cast her musical net? She's performed with such acts as reggae artist Clinton Fearon, punk icon Ari Up, jazz fusion band Duende Libre, and comedian musician Reggie Watts.
Rick Recht said of her, "An extraordinary powerhouse in the Jewish music world." She's done synagogue residencies across the country. Her 2019 album Source of Love is a collection of songs set to prayers from the Jewish liturgy, among other songs that seek to find the spiritual core of us all. As a Jewish composer, she continually strives to find aspects of Jewish teachings that have transformative value and find those aspects of her faith that have universal resonance.
Oh, she also made a splash when she covered the song "Would?" by legendary grunge band Alice in Chains. Be sure to tune in to Mirel's show at the newly re-opened Royal Room. Mirel will be joined on stage by Marina Albero (piano), Hans Teuber (woodwinds), Jerome Smith (trombone and sousaphone), Dean Schmidt (bass), and Jeff Busch (drums). Amidst the twinkling light of the cherished Columbia City venue's stage, Mirel will be one of the many stars to shine this night. –Jonathan Shipley
Dee Daniels: Tribute to John Lewis
Saturday October 30, 7:30pm PDT
Langston Hughes performing Arts Institute
In-person and livestream/VOD
Tickets $10–25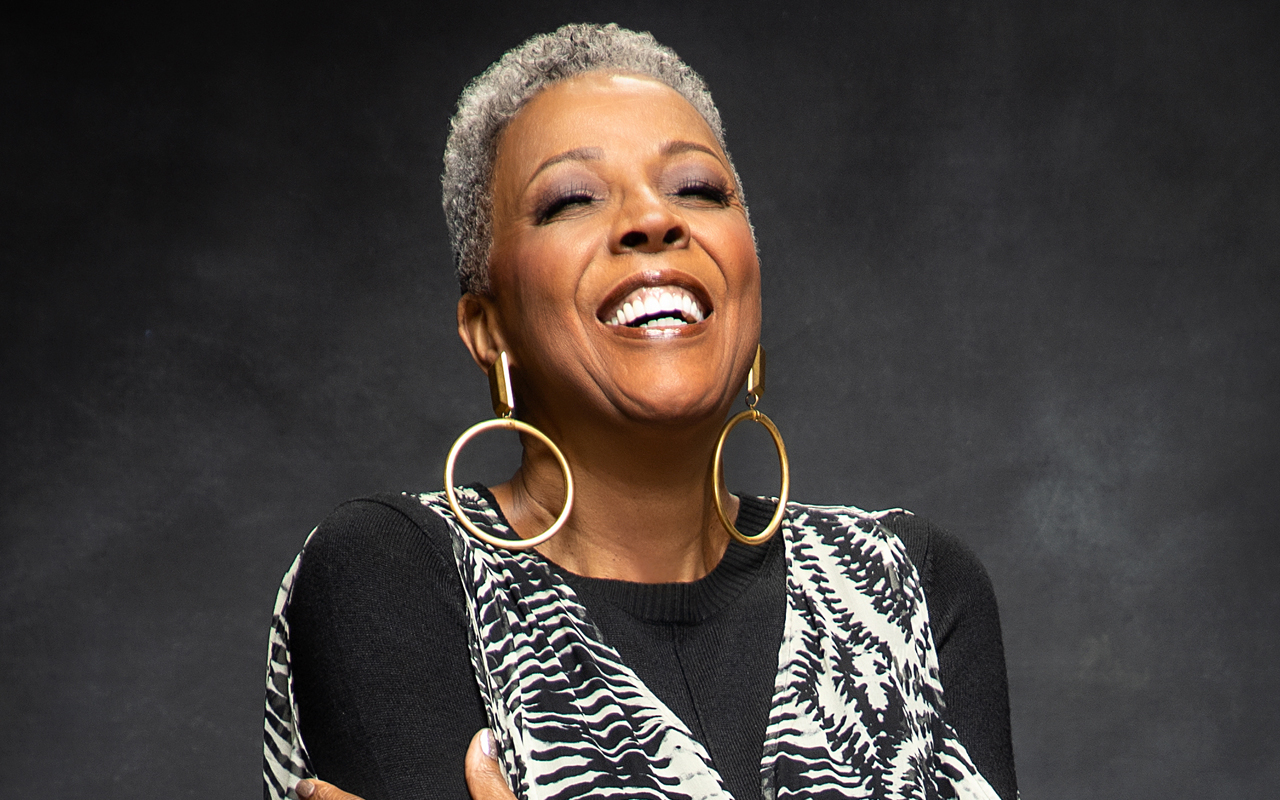 Presented in partnership with Langston Seattle.
Welcomed by Rainier Avenue Radio.
An internationally acclaimed vocalist and former Seattle resident herself, Dee Daniels is undeniably a favorite on the local jazz scene. Dee's sound is distinct: a reflection of the wide variety of musical influences she has experienced. She was born and raised in Oakland, CA, as the stepdaughter of a Baptist minister, where she began developing her vocal style while singing in the church choir. When Dee later lived in Seattle, she sang in the soul group Dynamite. Since then, she has traveled the world with her music, living for five years in the Netherlands and Belgium before moving to Vancouver, B.C., and establishing herself in the classical world with her performance of her five symphonic programs in orchestras throughout North America and Europe.
All of these influences have come together to form the rich, gospel-infused vocals that Dee Daniels delivers in her performances today. Using the entirety of her four-octave vocal range, she is sure to cross musical borders, whether she is accompanying herself at the piano or singing in front of a big band.
On October 30, she'll be honoring the late Congressman and Civil Rights Leader John Lewis, as she does on her recent CD, The Promise, with "Let Freedom Ring (The Ballad of John Lewis)." Performing at the Langston Hughes Performing Arts Center alongside her will be Bill Anschell on piano, Phil Sparks on bass, and Brian Kirk on drums.
Known for both her exciting innovation and personal warmth on stage, Dee Daniels will leave you feeling especially grateful for the gift of live music after this tribute to John Lewis. –Grace Kaste
Marina Albero: The Quarantine Sessions
Saturday October 30, 9:00pm PDT
The Royal Room
In-person and livestream/VOD
Tickets $10–20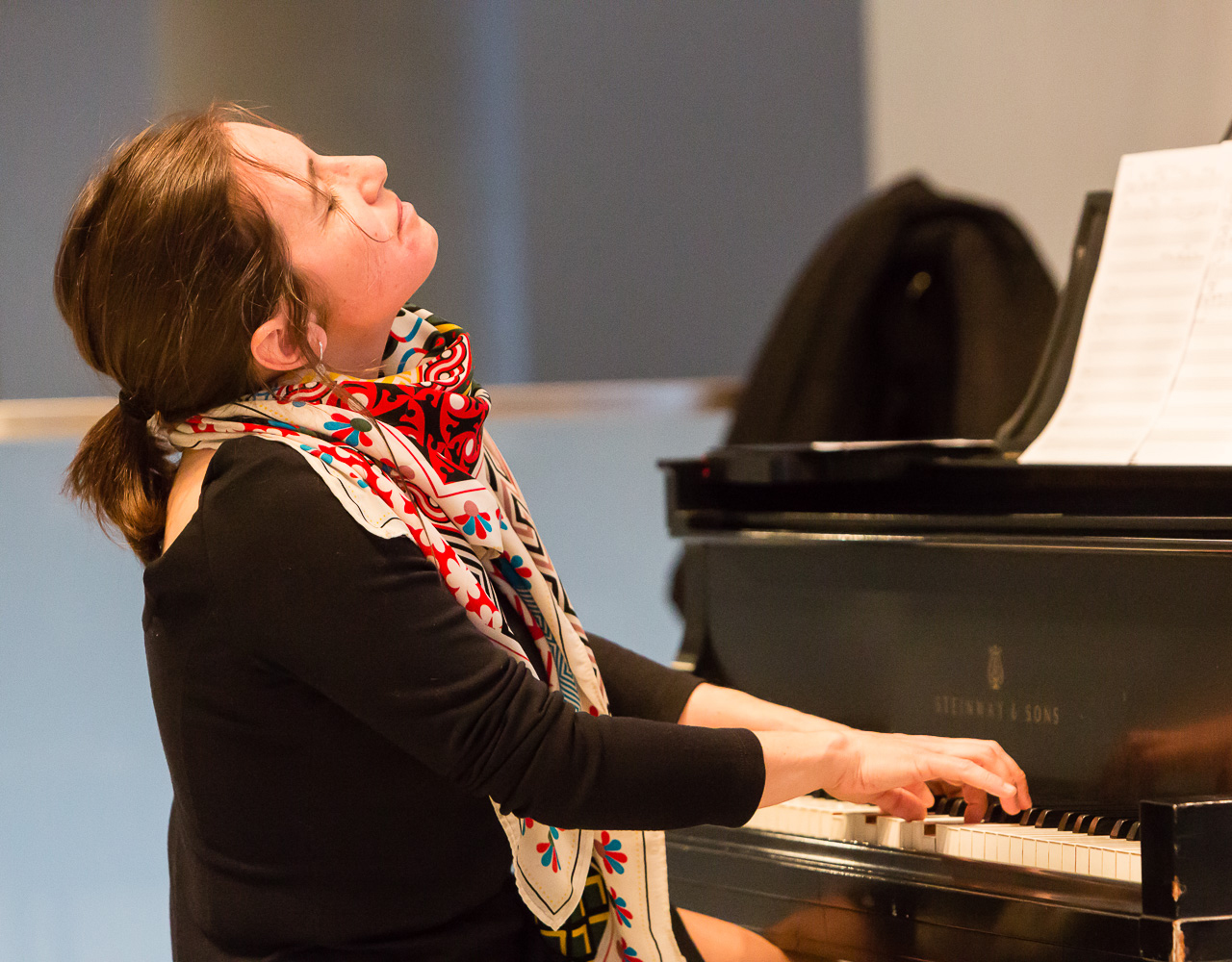 Resident Artist Marina Albero makes her third appearance at the festival, this time performing in tandem with four musicians of disparate persuasion. Joining Albero will be vocalists Adriana Giordano, Jacqueline Tabor, and Tiffany Wilson. On top of a powerhouse lineup, this performance will undoubtedly be a momentous one as Albero will celebrate The Quarantine Sessions. Over the pandemic, Albero, like many performing artists, lost not only income but a way to connect to community. In response to the harrowing times, Albero launched The Quarantine Sessions on March 15, 2020. Originally created as an experiment for musicians to live stream from wherever they were in the world, the project encouraged artists to share their Venmo, PayPal, or other mobile payment service to serve as a "tip jar" for audiences to contribute to. Now more than a year into the pandemic, The Quarantine Sessions has evolved into a womxn-led Facebook group that has since become a place for community, to share their music and messages of hope amongst each other.
While most of Albero's work to date has been of the instrumental variety, she has an extensive history with Giordano. The Brazilian vocal artist leads two Seattle-based bands in her Latin Jazz/Brazilian fusion group, Entremundos, and her forró ensemble, En Canto. She has worked with Albero in a number of combinations over the past seven years.
Jacqueline Tabor is a Seattle-based jazz vocalist known for her club performances that always include a top-shelf group of Seattle resident jazz artists. Her powerful blues-based vocal approach is accompanied by a musician's intuition as a band leader. She has brought her strong artistry and presence to the stage as a frequent guest artist of the Seattle Repertory Jazz Orchestra. Her connection with Albero joins musical influences that begin in Barcelona and Seattle and transcend the usual touch points in jazz performance.
Seattle-based, Memphis-born-and-raised soul singer Tiffany Wilson completes the vocal foursome performing with Albero. Performing in the classic blues infused soul style, Wilson has a way of getting a message across that is unrelated to, but greatly enhanced by, the sheer dynamics of her vocal talent. There is a sincerity that is immediately accessible. Typically, she is backed by a powerful grouping of the city's finest rhythm and blues stars, but for this performance, she slides into a duo grouping with Albero.
Each of Albero's musical guests on this evening brings something different for her to work with. She has been a gatherer of sounds her entire life, as she is for this performance. The art of improvisation rises up and becomes a uniting force between five strong female artists. –Paul Rauch