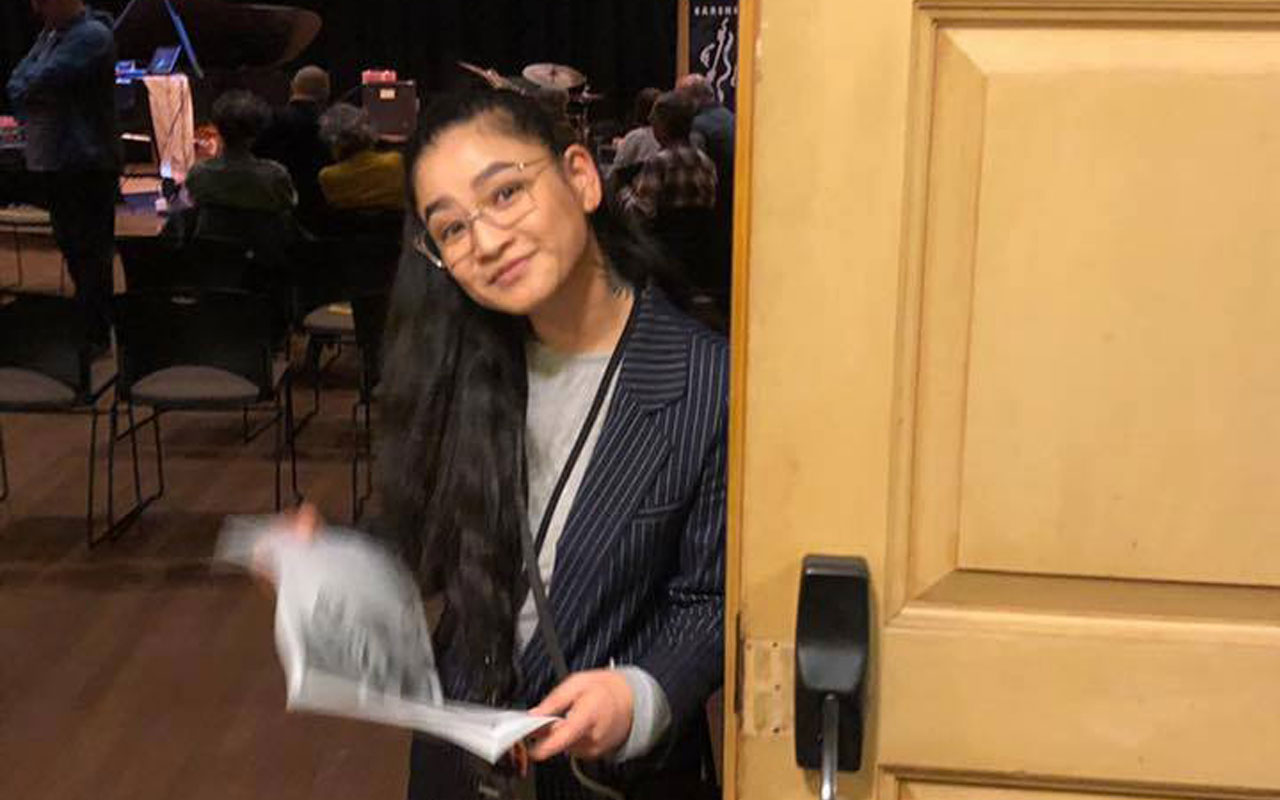 2018 Festival Intern Jojo Clio. Photo by Karen Caropepe.
Internships
Operating year-round out of our office in Fremont, Seattle, Earshot Jazz is a 501(c)(3) organization dedicated to ensuring the legacy and progression of the jazz art form. Earshot produces more than 100 concerts throughout the year, publishes the monthly Earshot Jazz magazine, provides grant assistance to resident artists, presents jazz education programs, and more.
We provide flexible internships to students at the high school or college levels who are interested in arts management, the music industry, event production, arts communication, or more. To learn more about interning with Earshot Jazz, e-mail [email protected].
Festival Internship Summary
The Earshot Jazz Festival Internship program is designed to provide interns insight into the inner-workings of a world-class music festival through hands-on experience. Internships run from September through November and are part-time, with some evening and weekend work. Intern duties will be assigned based on skill set and interest, and can range from communications/social media, multimedia, administration, production, and more. Internships are paid, and we are happy to look into offering course credit where necessary.
Intern Requirements
– Students pursuing degree in communications, arts management, arts administration, publication arts, and music/jazz studies are encouraged to apply.
– Candidates must have excellent communication, time management, and organizational skills, and professional manners.
– Experience with loading equipment, stage operations, volunteering, production, photography, videography, hospitality, Google Suites, Adobe Suites, social media (Facebook, Instagram, Twitter, TikTok) MailChimp, and Patron Manager is a plus.
– Passion for music and appreciation for jazz is essential!
Available Position(s)
2023 Earshot Jazz Festival Production Intern
About the Project  
Now in its 35th year, the annual Earshot Jazz Festival brings jazz greats from around the world (Hiromi, Chief Adjuah, Eddie Palmieri, Linda Oh, Fabian Almazan, Jane Bunnett & Maqueque, Gretchen Parlato, Lionel Loueke, Sona Jobarteh, Georgia Anne Muldrow, Omara Portuoundo, The Bad Plus, Harriet Tubman, La Dame Blanche, among others) into creative collaboration with audiences and artists while celebrating Seattle's place in the world of jazz with mainstage concerts by our award-winning student ensembles and a strong representation by our renowned resident artists (Johnaye Kendrick, Thomas Marriott, Alex Dugdale, Sheridan Riley, Camilo Estrada, Birch Perera, Kelsey Mines, Jun Ida, and more). The 2023 festival will present over 40 concerts in venues throughout the greater Seattle area.
Earshot Jazz Festival Production Dates: September 29 – October 29, 2023
Festival Concert Dates: October  6 – November 5, 2023
Number of Events you are required to attend:  6
About the Position
Earshot seeks to hire a Production Intern from the Seattle/King County area to be an integral member of the Earshot Jazz Festival team. This position reports to the Production Manager and supports back-of-house with staging and artist hospitality, and the front-of-house with box office and volunteers. Because of the event-oriented nature of the work, daily schedules are subject to change as required to fulfill the requirements of the role. Regular shifts are seven hours, typically starting 2:30p–3p and ending 9:30p–10p. 
Work conditions
On-site events at Town Hall Grea

t Hall (1119 8th Ave, Seattle, WA 98101)
Time commitment estimate
6 shows @ 7 hours on-site | 42 hrs estimated

S

un, Oct 8 Hiromi's Sonicwonder

Fri, Oct 13 säje

Sat, Oct 14 The Bad Plus & Marc Ribot's Ceramic Dog

Sun, Oct 15 Chief Adjuah (formerly Christian Scott) w/ Sona Jobarteh 

Sun, Oct 22 Eddie Palmieri 

Sun, Oct 29 Omara Portuoundo
Compensation estimate: $700
$16.50 per hour

, plus meal provided on-site

Festival Pass (non-transferrable), $450 value
Roles and Responsibilities
Loader/Stagehand  (On-site)
work closely with Production Manager to transport and set necessary staging equipment
Lead Front of House (FOH) Volunteer (On-site)
work closely with FOH staff to lead communications and support of volunteers
Hospitality Runner (On-site)
work closely with Hospitality Lead, assisting with backstage set-up per artist meal specifications and venue need/policy; on-site support in greenroom set-up or breakdown
Marketing Assistant (On-site)
create compelling stories from your experience to publish on our social media platforms (Instagram, Facebook, Twitter TikTok)

report to Marketing team for photography or video tasks as assigned
Who you are:
Required: Possesses exemplary interpersonal and customer service skills needed to interact with artists, musicians, and patrons in a courteous and professional manner. 

Required: Able to multitask, problem-solve and maintain professionalism. 

Required: Capable of lifting and carrying objects up to 40 pounds for some distance using proper handling techniques. 

Required: Has a general love for the arts. 

Preferred: Has a passion for jazz and social justice; you are committed to learning and facilitating best practices as an administrator of a Black American art form

Desired: Fluency of digital platforms (FB, IG and Twitter) and knowledge of Google Suites, Adobe Suites, MailChimp, and Patron Manager software is a plus. 
Reports To:
Halynn Blanchard, Production Manager [email protected] 
Note on COVID-19
We are committed to the safety and well-being of our staff, artists and audiences. Our best public health practices will carefully follow recommendations by the CDC. We now know that COVID-19 is here to stay for the foreseeable future. It's important to understand how to live our lives while keeping ourselves, loved ones and community as safe as possible. How can we do that? By using all the tools we've learned so far: getting vaccinated and boosted, getting tested and staying home if sick or exposed, wearing a mask in crowds, and keeping our distance.
To Apply:
Please email [email protected] with a resume and statement of interest. 
Deadline: Friday, August 18 2023, 5pm
We look forward to hearing from you!