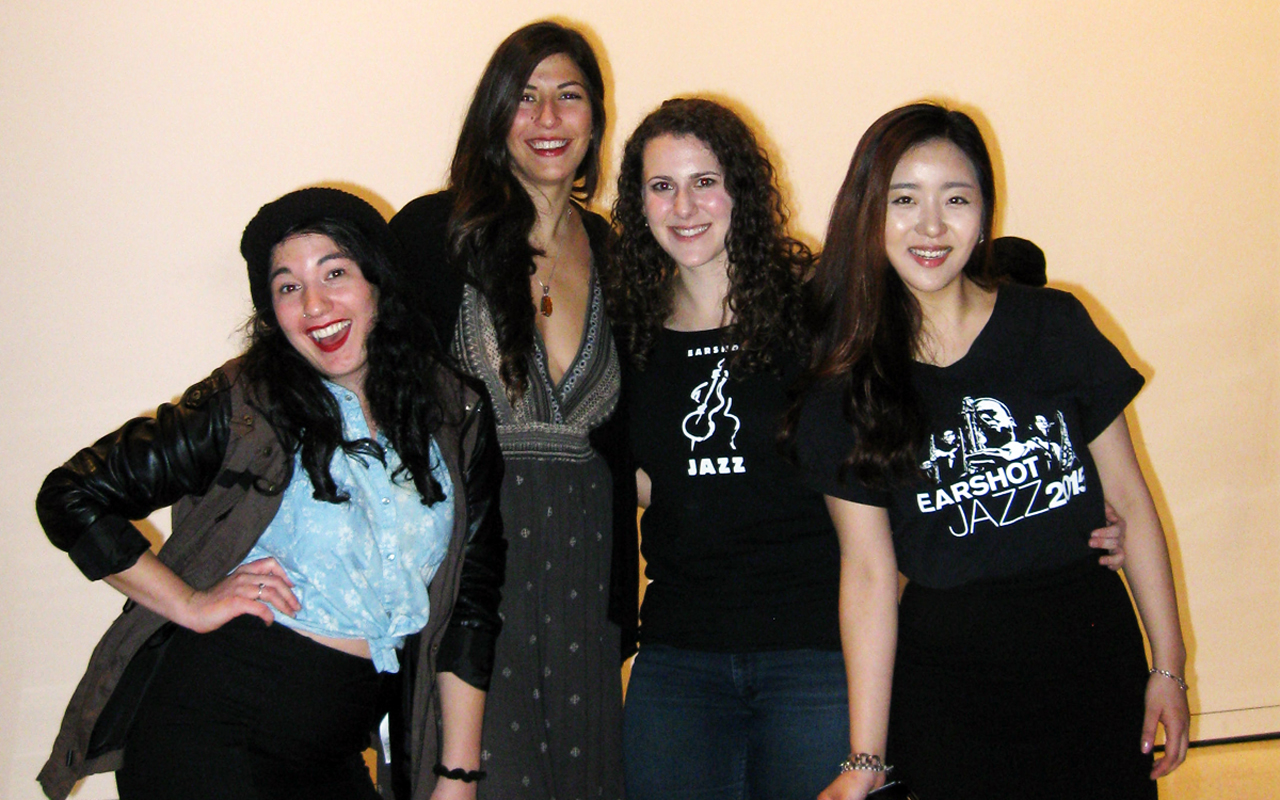 2014 interns Angela Parisi & Halynn Blanchard with Program Manager Caitlin Peterkin and 2015 intern Soohye Jang.
Photo by Sarah Russell.
Year-Round Internships
Operating year-round out of our office in Fremont, Seattle, Earshot Jazz is a 501(c)(3) organization dedicated to ensuring the legacy and progression of the jazz art form. Earshot produces more than 100 concerts throughout the year, publishes the monthly Earshot Jazz magazine, provides grant assistance to resident artists, presents jazz education programs, and more.
We provide flexible internships to students at the high school or college levels who are interested in arts management, the music industry, event production, arts communication, or more. To learn more about interning with Earshot Jazz, e-mail lydia@earshot.org.
Earshot Jazz Festival Internships
About the Festival
The Earshot Jazz Festival – "Seattle's most important annual jazz event" (DownBeat) – takes place every fall, and includes more than 50 distinctive concerts and events in venues all over the city.
Now in its 29th year, the festival brings jazz greats from around the world into creative collaboration with area audiences and artists. Earshot celebrates Seattle's place in the world of jazz with mainstage concerts by our award-winning student ensembles and a strong representation by our renowned resident artists. The festival also places an emphasis on education, featuring masterclasses, workshops, and panels throughout its run.
Internship Summary
The Earshot Jazz Festival Internship program is designed to provide interns insight into the inner-workings of a world-class music festival through hands-on experience. Internships run from September through November and are part-time, with some evening and weekend work.
Intern duties will be assigned based on skill set and interest, and can range from Communications/Social Media, Multimedia, Administration, Production, and more. Internships are unpaid, but can be for course credit where necessary.
Duties may include, but are not limited to:
-Database entry
-Creating and posting content on social media
-Assisting with the planning and executing of new media programs
-Filming festival events for archival footage
-Assisting with the monthly Earshot Jazz magazine
-Assisting with other editorial and festival promotional material
-Ticketing and box office help
-Providing on-site assistance at events
-Artist and/or equipment transportation
-Providing administrative assistance in the office
-Other duties as assigned
Intern Requirements
-Applicants must be sophomore standing or higher. Students pursuing degree in communications, arts management, arts administration, publication arts, and music/jazz studies are encouraged to apply.
-Candidates must have excellent communication, time management, and organizational skills, and professional phone and e-mail manners.
-Interns must be proficient in Microsoft Word and Excel. Experience with the Adobe Creative Suite and social media a plus.
-Passion for music is a must!
How to apply
More information on applying will be made available in July. For any questions, contact lydia@earshot.org.